Villafranca del Bierzo - What to See & Do
By Stewart Richmond (© iStock.com/Lux Blue)
There's a small town tucked away in northern Spain you need to put on your bucket list when travelling in Europe.
Villafranca del Bierzo in the province of Castilla y León is criss-crossed by narrow streets and lanes and packed with churches, monasteries, convents, and amazing old buildings.
My wife, Lorraine, and I came across it on our road trip through Spain and Portugal after booking Airbnb accommodation nearby. (As we were travelling with two elderly dogs our accommodation needed to be pet friendly and have secure areas for our furry friends.)
What makes the pretty little town of Villafranca so special is it straddles the Camino Frances pilgrimage route to Santiago de Compostela. We sat having lunch on the tables outside a café in the main square, Plaza Mayor, listening to a range of languages.
On the table next to us an Australian from northern Sydney who had started his walk in France and had so far completed over 500 miles. He said he'd really been taken by Villafranca and decided to stay for a few days before continuing his pilgrimage. He had found accommodation at an ancient monastery which lets rooms to pilgrims.
On another table there was a German pilgrim who was walking with her tiny dog. Well the dog wasn't actually walking. She had a small enclosed trolley with handles attached to her belt and the dog had a first class ride along the route.
There was obvious camaraderie between the pilgrims who filled the town. The consistent rain didn't seem to dampen their enthusiasm even though there was still more than 160 kilometres to the final destination of the Cathedral in Santiago de Compostela.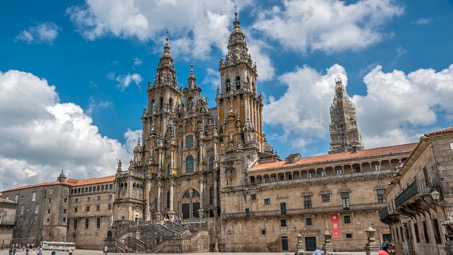 ©iStock.com/SeregaYu
Villafranca has dozens of places to stay ranging from cheap dormitory style accommodation for pilgrims starting at as little as $7 through to more luxurious hotels.
There are a range of restaurants which offer everything from tapas to gourmet meals.
Lorraine and I like to try local when we travel so for an entrée she had prawns and I had a local thick lentil soup, which on a cold rainy day was delicious. For her main course Lorraine had local trout and I had a minced spicy sausage dish which was heavy in paprika and garlic. Sensational.
For a tourist restaurant in the main square we only paid $12 each and that included dessert and coffee. The dogs were a bit disappointed as they didn't get a taste.
We walked off our lunch by strolling through the narrow ancient streets and checking out the town. Our walk took us to the, built in 1515 over the ruins of a previous fort, it was ransacked in 1809 by the English and in 1815 and 1819 by the French. Today the castle is privately owned so it's not possible to see inside.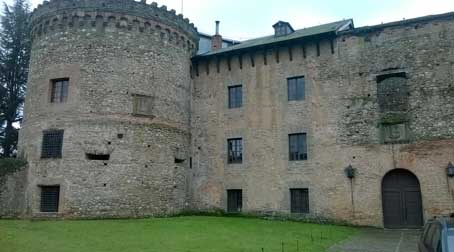 ©Stewart Richmond
A short walk away is the 12th Century Iglesia de Santiago, Saint James' Church, which has special meaning for pilgrims. It is home to the Puerta del Perdón, the gate or door of Forgiveness.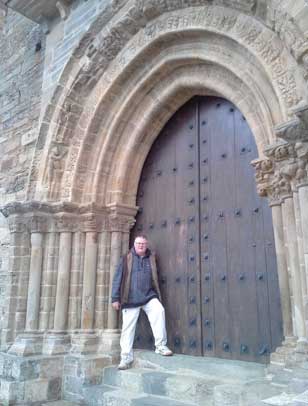 ©Stewart Richmond
It is the only church along the Camino de Santiago, besides Santiago's Cathedral, where pilgrims could, and still can, receive forgiveness. The door, like the Holy Door in Santiago's Cathedral, is only open during Holy Years (or Jacobean Years, when 25th July falls on a Sunday).
It also gives the town the nickname of 'little Compostela'.
From there we walked through the old town, along the Calle del Agua with its old houses and down to the tumbling waters of the River Burbia rushing through the valley over which is an old bridge pilgrims have to cross on their way to Santiago.
There is a well-made path along the river bank to amble on sunny days.
There are so many religious and historic buildings you would need several days to see them all. One that did attract our attention was Collegiata de Santa Maria.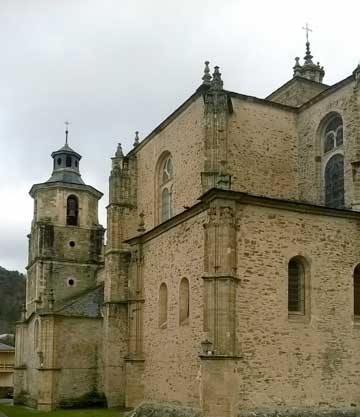 ©Stewart Richmond
There has been a church on the site since the 11th Century but the building we visited now was built in the 16th Century.
Its architecture is an amalgam of architectural styles including late Gothic, Renaissance, and Baroque. Construido principalmente en piedra, posee unas espectaculares bóvedas y cúpula en pizarra. Built mainly in stone, it has spectacular vaults and a slate dome. Well worth having a look if you have the time.
Our next stop was at the town of Arzúa in Galacia, which is where the Camino Frances meets the Camino Norde. As we drove along the highway we passed the literally hundreds of people walking along the well signposted Camino track.
Arzúa is not as pretty as Villafranca but gave an opportunity for us to try some home cooked paella with a glass of red wine.
From there we were off to the fabulous city of Santiago de Compostela on the next leg of our Spanish road trip.