By Kevin Casey
Located halfway between Seville and Granada, Cordoba is a stunningly attractive city in the Andalusia region of southern Spain. Many visitors are surprised to learn that back in the 10th Century, Cordoba was the largest city in Western Europe, surpassing Rome and Paris in artistic, architectural, and academic achievements.
Its beautiful, well-preserved architecture reflects a history that includes Roman occupation, an 8th-century Islamic influence and conquering by the Kingdom of Castile in 1236.
Being away from the coast, Cordoba doesn't get the same level of attention from potential expats as hotspots like Valencia, Barcelona, Alicante, and Marbella—but it has a lot to offer visitors and longer-term residents: an endearing medieval atmosphere, superb gastronomic adventures, impressive art, friendly, family-oriented locals, and a traditional Spanish lifestyle that oozes relaxed charm.
Wander through Moorish courtyards, take a midday tapas break in jasmine-scented squares, check out the neighborhoods on both sides of the iconic Roman Bridge or spend a leisurely afternoon canoeing the lovely Guadalquivir River that runs through the city's heart.
If you're looking for a laidback place to bask in the European sun, Cordoba ticks all the boxes. Its summers are some of the warmest in Europe and winters are mild. March-May is an especially pleasant time to visit, when the weather is dry, sunny, and temperate.
Cordoba's World Heritage-listed historical city center is one of the most enthralling in Europe, with colorful patios, jaw-dropping ancient buildings, and narrow streets that make optimum use of shade. Outside the city, the scenery is just as spectacular, with expansive olive tree groves, wine country, mountainous national parks, and pretty lakeside villages within easy reach.
Cordoba makes a handy base for exploring other parts of Spain. It's less than two hours from Madrid by high-speed (AVE) train and just over an hour from Malaga and the legendary Costa del Sol. Seville is an hour and forty minutes away by car. The nearest international airports are at Granada, Seville, Jerez, and Malaga—all less than three hours away.
Retire in Cordoba, Spain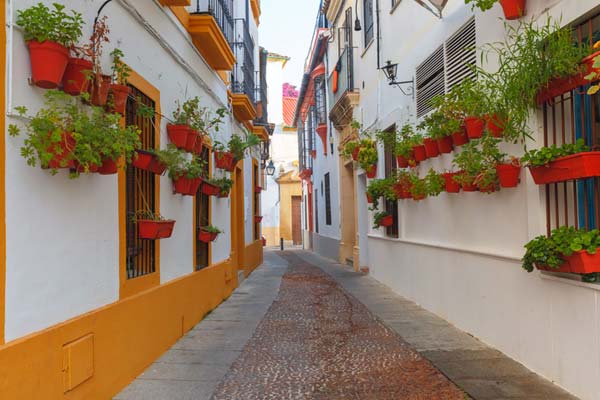 Retiring to under-the-radar Cordoba comes with a lot of pleasant surprises. Spain enjoys the second-lowest cost of living in Western Europe (Portugal is slightly cheaper), and Cordoba is especially affordable. Apartment rentals here are more than 50% cheaper than in Barcelona, restaurant prices are nearly 30% cheaper than in Madrid, and everyday groceries will cost you about 20% less than in Seville.
The region's warm climate provides a superb range of fresh, locally grown fruits and vegetables. Andalusia's olive oils, cheeses, and wines are first-class. Here, you can indulge in all the advantages of a healthy Mediterranean diet at rock-bottom prices. It's no wonder the Spanish have long enjoyed one of the world's highest average life expectancies.
Because the public transport system in Cordoba is so cheap and reliable, owning a car is completely optional—which can save you a lot of money. City buses operate between 6 a.m. and 11:30 p.m. and you can get around by taxi at all hours.
Although it boasts a population of around 350,000, Cordoba feels like a smaller city. All the major sights and attractions are reachable on foot. Strolling the cobblestoned streets —especially in the evenings—is a way of life for Cordoba locals, who can often be seen eating dinner in the city at 11 p.m. —after the tourists have all gone home to bed.
To stay in Spain longer than the normal 90-day tourism period, you need a Residency Card and a Foreign ID number. You can apply for residency at the Comisaria de Policia, the Oficina de Extranjeria or at national police stations in Spain. Expect the process to take around three months if you have all the necessary paperwork in order.
You should be able to live comfortably in Cordoba for around $26,000 a year (just over $2,000 per month), although you could manage a frugal retirement on a bit less. The unemployment rate is quite high in Spain (currently around 14%), so expats who can access a pension or other steady source of overseas income will be better off than new residents relying on finding a job within the country.
Because the U.S. and Spain share a tax treaty, you won't be taxed by both countries for the same income. And when it comes to real estate prices, Spain still offers some of Europe's best property bargains, even in popular areas. A one-bedroom apartment rental just outside the center of Cordoba, for example, averages less than $400 per month.
Insider tip: as a U.S. citizen, one of the easiest ways to get Spanish residency is through their Golden Visa program, which requires that you invest a minimum of €500,000 (currently around $550,000) in real estate. This investor visa is renewable every two years and is a convenient pathway to permanent residency (in five years) and Spanish citizenship (after 10 years).
Lifestyle in Cordoba, Spain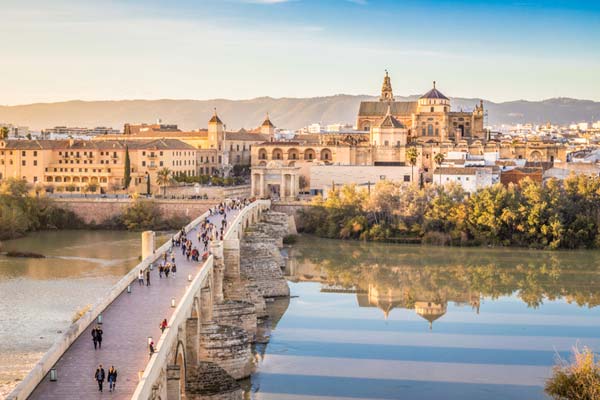 The joys of living in Cordoba come down to affordability, great weather, convenient location, and a chilled-out way of life. Mesmerizing history is everywhere you look but the city's infrastructure is impressively modern, including reliable 4G WiFi throughout the city.
Cordoba manages to provide just about every 21st century convenience you might need without sacrificing its ageless traditions, serene pace, and old-world charm. Large supermarkets (Aldi, Carrefour, and Mercadona) offer a range of groceries and household items comparable to what you'll find in the U.S. An average monthly gym membership is only around $33, with many fitness centers offering cheap daily rates as well.
Cordoba's tap water is drinkable, its residents are welcoming, and you'll find that a little English is spoken in the more touristy districts. Learning and practicing some basic Spanish will make your life easier, though, and also endear you to the locals, no matter how primitive your language skills may be.
For anyone thinking about moving to a new country, healthcare is always an important concern. According to the 2019 World Population Review, Spain is ranked 7th in the world for healthcare—30 places above the U.S.
Spain has both private and public healthcare. The type of residency visa you have will determine how much you'll be able to use the free public system. If you're in the country on a retirement (non-lucrative) visa, you're required to have a private healthcare policy.
Quality of healthcare in Spain is excellent, and Cordoba boasts a number of modern well-equipped hospitals and clinics with 24-hour emergency departments. The country is a popular destination for medical tourism, a global leader in organ transplants, and has around four doctors for every 1,000 residents—one of the highest ratios on earth.
Things to do in Cordoba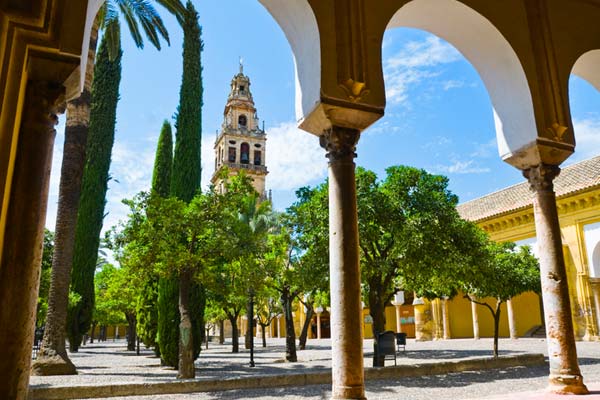 Cordoba is a vibrant, cosmopolitan city loaded with inviting attractions and unforgettable experiences. Here are just a few of the best:
The Mosque-Cathedral
This cathedral-within-a-mosque is the grandest building in the city, with a fascinating history encapsulating Roman, Visigothic, Christian, Jewish, and Muslim influences. You should allow a couple of hours to take in all its grandeur, which includes rows of candy-striped archways atop stately columns. Beautiful tiles and mosaics adorn the interior along with intricate workings in copper, silver, gold, and marble. The spacious courtyard, planted with cypresses, palms, and nearly a hundred orange trees, is a relaxing place to sit and enjoy the sunshine.
Patio Fever
Many homes in Cordoba feature enclosed patios with abundant flowers, water features, sculptures, and cooling greenery. If you're lucky enough to be in Cordoba during May, you can check out the Festival of the Patios, when residents outdo each other with brilliant patio displays. If you miss the festival, don't worry—the dozen superbly crafted courtyards at the Palacio de Viana are open all year, and provide a glimpse into Cordoba's traditional flower-focused 'patio culture'.
Indulge Your Tapas Cravings
Without exaggeration, the food scene in Cordoba can hold its own against anywhere in Europe. To experience true Cordoba dining and socializing, head out to the tapas bars. Try the salmorejo, which is a bit like gazpacho soup—but 10 times better. Honey-drizzled fried eggplant sticks are another heavenly choice.
After you've satisfied your tapas urgings, wash everything down with a $1.90 bottle of chilled craft beer. Insider tip: be sure to try the locally-sourced Manchego sheep cheese—it's thoroughly addictive.
Walk Cordoba's Neighborhoods
Strolling through the city is a popular Cordoba pastime, for good reason. Around almost every corner you'll stumble upon amazing architecture, spacious plazas, cool, relaxing parks, and unique neighborhoods. Your amblings might lead you to the Jewish Quarter, the underground Arabian Baths or the terraces and reflection pools of the Moorish Alcazar de los Reyes Cristianos palace-fortress—former headquarters of the Spanish Inquisition.
Explore the San Pedro basilica (and the buzzing nightlife area surrounding it), the Roman Bridge, or the Mercado Victoria, one of the classiest food courts on the planet.
There's so much to see and experience in Cordoba that you shouldn't rush your first trip. Stay awhile—you may even decide it's the sort of place you'll never want to leave.
Featured Image Copyright: ©iStock/carmengabriela
Córdoba: Where Spanish and Moorish Cultures Mingle
By Tricia A. Mitchell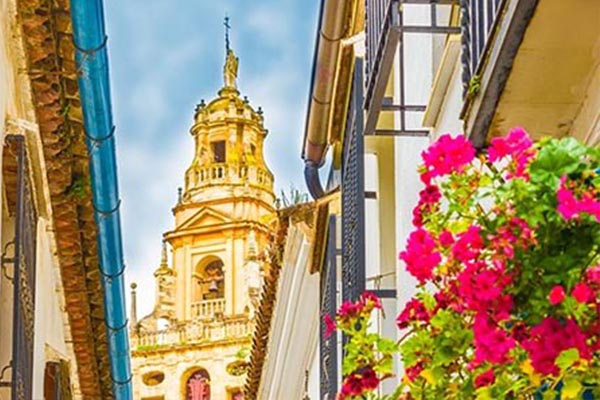 Under the canopy of a tree studded with oranges, a father lifts his son onto his shoulders so the jubilant boy can seize his prize: a plump orange. The fiery-orange fruit is almost as intense in color as the setting sun, which was now casting long shadows on the old city walls of Córdoba, Spain.
An aroma of coffee dances on the breeze. At a nearby café, locals wearing sunglasses chat. Young and old passersby, some arm-in-arm, depart the walled city. A water fountain provides a timeless and soothing soundtrack, hinting at Córdoba's rich past when it was one of Europe's most cosmopolitan cities.
More than 1,000 years ago, Córdoba was the capital of Islamic Spain (Al-Andalus). At its zenith, the city had some 900,000 residents—roughly three times its current population. Back then, Córdoba was home to palaces, public baths, libraries, and one of Europe's first universities. At a time when much of the continent was struggling through the Dark Ages, Córdoba was a great center of learning. Muslims, Christians, and Jews are said to have harmoniously brushed shoulders during this golden age, leading to an exchange of culture and ideas.
While the Moors had the greatest influence on Córdoba, other civilizations left their mark too, including the Romans and Visigoths, as well as the Spanish, who reconquered the city in the 13th century.
Córdoba's immense Mosque-Cathedral, or Mezquita-Catedral, is its most famous landmark. The building began life as a Visigoth basilica in the 6th century. Two centuries later, it was converted into a mosque. Over the next few hundred years, the Mezquita multiplied in size. Then, between the 16th and 17th centuries, a Catholic cathedral—impressive in its own right—was built right inside the mosque's walls. The result is a sprawling complex showcasing a mesmerizing blend of faiths and architectural styles, including hundreds of double arches, opulent Christian chapels, and an eye-catching mihrab (Muslim prayer niche that indicates the direction of Mecca) adorned with glittering, Byzantine-style mosaics.
The Mezquita's art history is complex, so we enjoyed having a guide to help us decipher the highlights. Several companies offer tours. We chose ArtenCórdoba (See: Artencordoba.com) and were led by a knowledgeable guide named Ana. The two-and-a-half-hour tour costs $27 per person and includes the Mosque-Cathedral's $11 entry fee. You can also explore the Mosque-Cathedral independently, and it's not necessary to purchase tickets in advance. If, however, you'd like to climb the building's minaret-turned-belltower, know that tickets are quite limited. Arrive early in the day to avoid disappointment. See: Mezquita-catedraldecordoba.es.
Colorful ceramic pottery adorns homes.
Clustered around the Mosque-Cathedral is Córdoba's Old Town, an area boasting whitewashed buildings and occasional turquoise or sunflower-yellow accents. Colorful ceramic pottery adorns many of these homes. Wander the winding lanes of the Old Town past bustling tapas bars, Moorish-style teahouses, souvenir shops, and courtyards brimming with flowers. These courtyards (or patios as the locals call them) are a subject of great pride for Córdoba residents.
Córdoba boasts a great deal of cultural attractions, including the Alcázar (a palace-fortress that was once the residence of Queen Isabella and King Ferdinand), Moorish baths, royal stables, a 14th-century synagogue, a 2,000-year-old Roman temple, and museums devoted to archaeology and flamenco. The remains of Medina Azahara, a palace-city dating back to the 10th century, are a few miles outside of the city.
The Puente Romano, an arched bridge dating back to Roman times, spans the Guadalquivir River. I spotted a massive herd of sheep grazing on the riverbank here, alongside a Moorish water wheel. Later, when I strolled across the bridge after sunset, I was treated to a saxophonist's sultry tunes. Off in the distance, palm trees danced in the breeze, while horse-drawn carriages took to Córdoba's cobbled lanes.
When it comes to eating, Córdoba will leave you spoiled for choice. From tapas to teterías (Moorish-style teahouses), the city has a lot to offer gastronomically. Since this is Andalucía, you're bound to find tortilla de patatas (a potato omelet), fried seafood, and chilled salmorejo (a thicker version of gazpacho) on menus. If you're a meat lover, you'll delight in the abundance of Iberian ham, which is displayed prominently in restaurants and storefronts.
For something light, head to a tetería for a pot of tea, accompanied by pastries, hummus, or falafel. With its Moorish-inspired courtyard, the Salón de Té on Calle Buen Pastór had me feeling as if I'd been whisked away to Morocco for an afternoon. Its "Alhambra Dreams" tea offered hints of citrus, cinnamon, honey, rose, and violet flowers, served in jewel-colored tea glasses atop an intricate brass tray.
Córdoba is located in southern Spain's Andalucía region, a two-hour high-speed train ride from Madrid. The city's historic center is easily explored on foot, and the public bus system connects other areas of the city. The beloved city of Sevilla is two hours away by bus, while ornate Granada is about three hours' journey. Busbud, a bus ticket aggregator, is useful for travel planning. (See: Busbud.com/en).