Pamplona, Spain - The Best Things To Do and Reasons To Visit The City
By Sally Pederson
Aside from popular cities like Barcelona or Madrid, another place worth visiting in Spain is Pamplona. There is so much to explore in this city apart from it being the world's bull-running nexus. This town, full of tradition and history, is the capital of Spain's Kingdom of Navarre. It is ideally located in between Aragón and the Basque Country. If you head south, you can quickly go to the La Rioja wine region. It's not just a perfect base to explore the nearby destinations, but Pamplona itself is a beautiful city.
Like other cities in Spain, Pamplona has gone through several dominations. It was in 1000 to 1035 during the reign of Sancho III when the city was made the capital of Navarre. By 1571, Pamplona became the most strongly fortified town of the north. The second half of the 20th century was the beginning of Pamplona's demographic, industrial, and economic growth. Eventually, Pamplona became known for its ancient crafts of sandals, wineskin, rope, and pottery making. The city's primary source of income comes from the manufacturing of metal, paper, kitchenware, liquor, chemicals, and the milling of sugar and flour. Furthermore, Pamplona became a vital center for communication between Spain and France.
Are you interested in retiring abroad? Yes | Not Sure Yet
In Pamplona, the climate is slightly continental. The coldest month is January, where the average temperature can drop to 41 F. Meanwhile, the hottest month is August, with the average temperature around a manageable 71 F. Spring and autumn are considered the best time to visit Pamplona as the temperature is ideal for outdoor activities. Travelers also flock to the city during summer, especially during the San Fermin Festival in July. Records show that there are over one million tourists that join this festival every year. So, if you don't like crowds, you will want to avoid the city during this time.
There is much more to Pamplona aside from the crazy San Fermin Festival. The major epicenter of Pamplona is Plaza del Castillo. It has been the venue of military parades and stage bullfights for centuries. Today, people here go to watch concerts or have a good time with friends and family at cafes and restaurants.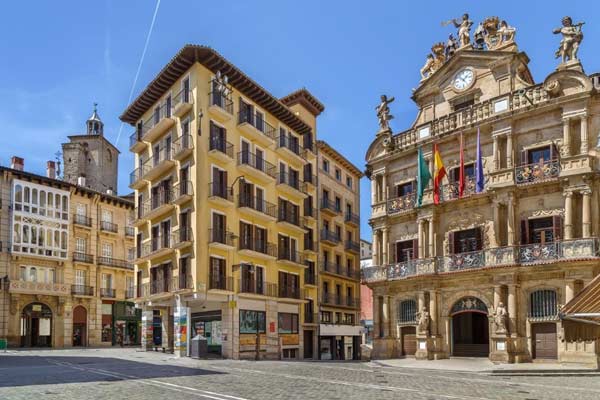 There is a wide array of museums to visit in this town. If you're interested in ancient art pieces, go to the Museo Universidad de Navarra or the Oteiza Museum. Pamplonetario is the perfect venue for astronomy enthusiasts. The fortress and walls of Pamplona may not be a typical museum, but a tour around this area will transport you to the city's rich historical past.
Pamplona is one of Spain's greenest cities ensuring nature lovers a pleasurable time. The Riverside Park and the Yamaguchi Parque are ideal places for a tranquil, leisurely walk. In Vuelta del Castillo Park, you can visit La Ciudadela and discover why it's the most impressive fortress in Spain. Don't forget to drop by the Taconera Gardens, the oldest, yet one of the most beautiful, parks in Pamplona.
A visit to Pamplona wouldn't be complete without sampling authentic Spanish cuisines. You can't leave Pamplona without trying out a lamb stew called cordero al chilindrón and a white bean dish called pochas estofadas. People in this town not only let the bulls run during the festival, but they eat them too! Have a taste of their traditional bull stew called estofado de toro.
In the southwest part of Pamplona is the stunning wine region La Rioja. Don't miss the chance to visit wineries in this area to learn how wines are made and, of course, taste them. Pacharán, a bright red digestif flavored with sloe fruits, is Navarre's signature liqueur.
Get Your Free Spain Report Here:
Learn more about Spain and other countries in our free daily postcard e-letter. Simply enter your email address below and we'll also send you a FREE REPORT - Live the Good Life in Sunny, Affordable Spain.
This report covers real estate, retirement and more in Spain and is yours free when you sign up for our IL postcards below.
10 Things to Do in Pamplona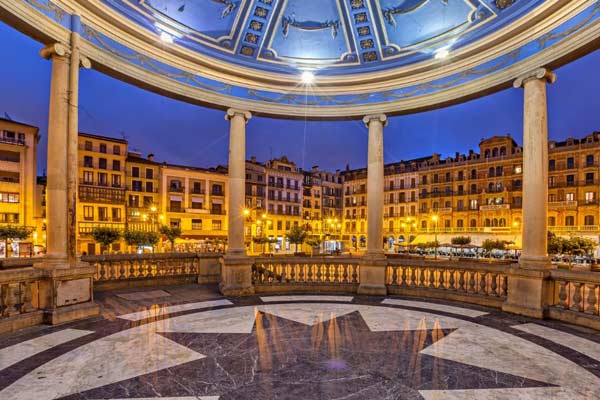 There's more to Pamplona than being the yearly venue of the "Running of the Bulls." The city's vast array of archaeological treasures and overall lush scenery will surely leave a majestic mark. Exploring the town will allow you to understand why most people, like Ernest Hemingway, have fallen in love with Navarre's capital. If you don't have a specific itinerary yet, here are some of our recommended activities in Pamplona:
1. Tour Plaza del Castillo Like Ernest Hemingway
Ernest Hemingway was an iconic American fiction writer who traveled to Pamplona several times. It was reported that he often spent many hours drinking in Café Iruña, located at Plaza del Castillo. He even immortalized the café in his famous novel The Sun Also Rises. Plaza del Castillo is a lively central square in the Old Town of Pamplona. Aside from Café Iruña, there are many tapas bars people can lounge in here. It's also where you can watch street performers, concerts, and other religious festivals. Just like Hemingway, you'll surely get an energetic vibe when you stop by this area.
2. Admire the Art Collection at Museo Universidad de Navarra
If you're an art enthusiast, the Museo Universidad de Navarra is the place to go in Pamplona. This newly built museum is comparable to the Guggenheim in Bilbao because of its similar global dimensions. It boasts of a collection of paintings by Picasso and Kandinsky. The University of Navarra also donated rare photographic materials from its chronicling artists from the 19th century. Furthermore, the museum's building is a work of art designed by the well-respected Spanish architect Rafael Moneo.
3. Pay Respects at the Cathedral of Santa Maria la Real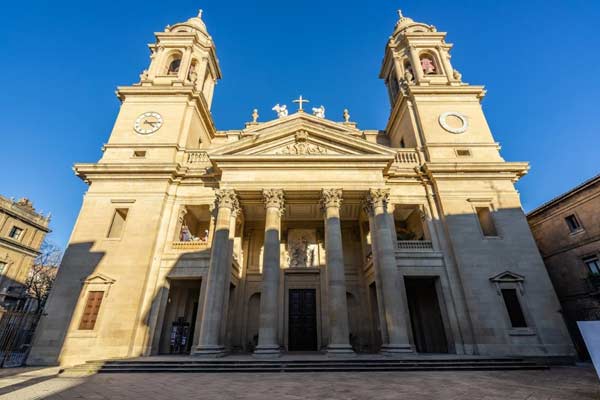 One of the most important monuments in Pamplona is the Cathedral of Santa Maria la Real. Aside from being a cathedral, it holds a large amount of artistic and historical treasures. This cathedral was built during the 14th and 15th centuries. The interior's architectural style is French Gothic. Meanwhile, it has a neoclassical façade installed in 1799 by Ventura Rodríguez. The cathedral's cloister, which was finalized in 1472, is recognized as one of the most appealing in Europe. Other notable features inside the cathedral include the 12th-century carving of the Virgin Mary, the alabaster tomb of King Carlos III ('el Noble') and his wife by Johan Lome de Tournai, the Holy Christ by Anchieta, and the octagonal Gothic vault of the Barbazana chapel. The altarpieces and choir stalls by Esteban de Obray are also impressive.
4. Pass by Casa Consistorial (City Hall)
The heart of the Old Quarter is where the historic Casa Consistorial or Pamplona's City Hall sits. The building's construction started in 1423 through the order of King Charles III. It was built exactly in the middle of the town where the three neighborhoods of the three ethnic groups meet. The building's construction symbolizes peace. The seat of municipal government has been in this historic building since being built. The original building was demolished in 1752 but was reconstructed and had an exceptional baroque civil architectural style. The building was again torn down in 1951, but the façade was preserved with its baroque style while the top section has a neoclassical style.
5. Get Lost in the City Walls of Pamplona
Fundamental to Pamplona's past is the city walls. Walking along these walls with a perimeter of 3.1 miles will transport you back to the city's rich history. After all, they wouldn't be the best-preserved city walls in all Europe for nothing. Pamplona had an ideal strategic location from the beginning, and city officials built walls to protect it from attacks. Walls were continuously being added, modified, demolished, and reconstructed throughout history. The city walls are now part of a park open to the public to explore.
6. Stroll Along Citadel and Vuelta del Castillo Park
Take it easy and drop by one of Pamplona's most important green areas, the Citadel and Vuelta del Castillo Park. The citadel served as the city's defensive wall as ordered by Philip II of Spain in 1571. It was strategically shaped into a pentagon to fight every possible angle of attack. Today, it is regarded as
an excellent example of military architecture in the Spanish renaissance style. It used to be under military supervision until 1964 but later on transformed into a national park. The buildings that the military abandoned now serve as art and cultural exhibition centers. Locals and tourists gather in this area to walk, play sports, and have a good time.
7. Have a Tranquil Excursion at Taconera Park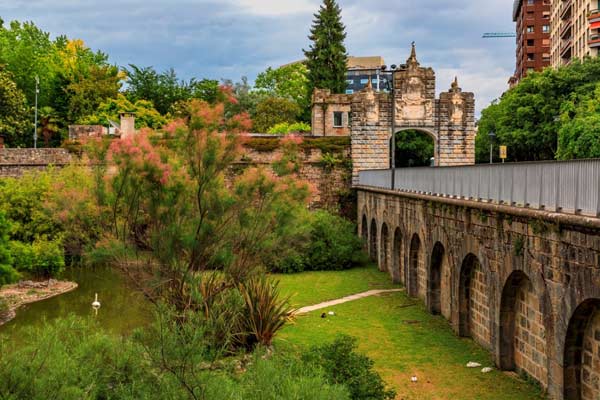 Continue discovering Pamplona's parks by scheduling a visit to Taconera Park. Established in 1830, it is the oldest, yet one of the finest, parks in Pamplona. The French-style orchard is well maintained and has a romantic feel making it the perfect venue for couples. It is surrounded by leafy magnolia trees, beech trees, and a ginkgo Biloba. It's hard to miss the presence of the Japanese pagoda in the quaint Café Vienés. Kids also love it here as the park has a small zoological park. Animals that share the space with the park are swans, ducks, rabbits, peacocks, and deer.
8. Learn More About Pamplona's History at Navarre Museum
Have a trip down memory lane through the archeological and artistic collection found at Navarre Museum. The museum's collection depicts the history of Navarre. The building has been around since the 16th century and was originally the hospital of Nuestra Señora de la Misericordia. In 1910 it was transformed into a museum. It houses pieces from prehistoric times until the 20th century, including Roman artifacts and mosaics. One of the most impressive parts of the collection is a portrait made by Francisco Goya, the Marquis of San Adrián.
9. Discover Scientific Wonders at Pamplona Planetarium
Built in 1993, the Pamplona Planetarium has welcomed hundreds of thousands of visitors every year. It uses a starry sky as a motivating element for scientific dissemination. Visitors have an exciting chance to learn more about astronomy and the mysteries of the universe through state-of-the-art presentations. It also takes pride in having one of the largest projection domes in the world, which offers a realistic view of over 9,000 stars. The planetarium also hosts exhibitions, conferences, courses, events, workshops, and more. People of all ages are inspired and entertained here.
10. Shop to Your Hearts Content in Pamplona
Pamplona has many stores and boutiques to cater to various shopping needs. Searching for some fashionable finds? Head over to the Avenida Carlos III. It is Pamplona's answer to New York City's Fifth Avenue. The fashion hub of Pamplona offers both local and international brands.
On the other hand, the Old Quarter is home to unique shops. Get a chance to bring home Running of the Bulls paraphernalia from many of the stores here. Casco Viejo contains specialty shops offering hats, vests, woodcarvings, ceramics. Interesting finds such as botas, wineskins, and gerrikos are also available here. Don't know what to get your family and friends? Head over to Vinoteca Murillo so they can have a little taste of Pamplona. You can collect local delicacies here, such as Navarra's distinguished red, white, rosé, and muscatel wines.
Get Your Free Spain Report Here:
Learn more about Spain and other countries in our free daily postcard e-letter. Simply enter your email address below and we'll also send you a FREE REPORT - Live the Good Life in Sunny, Affordable Spain.
This report covers real estate, retirement and more in Spain and is yours free when you sign up for our IL postcards below.
5 Reasons to Visit Pamplona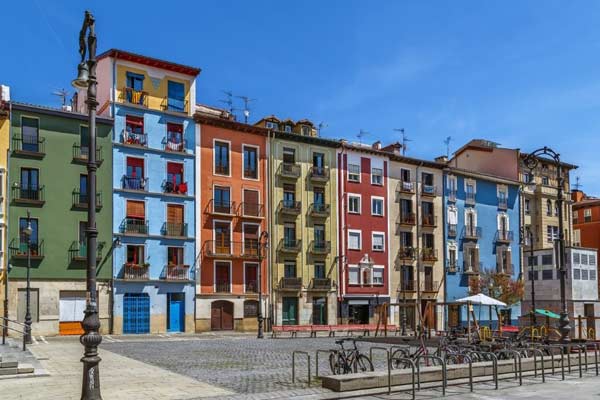 I'm sure you have heard of the famous "Running of the Bulls" in Spain. The renowned festival takes place in Pamplona. However, there is a lot more to this northern Spanish city than just one festival. Take a look at this list of what to expect from the Navarre capital.
1. Fun-Filled, Crazy Festivals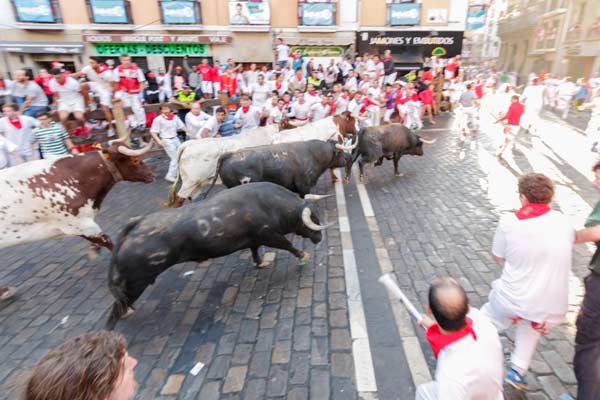 Pamplona is popularly known for the San Fermin bullfighting festival every July. Also known as the "Running of the Bulls," this week-long festival has bulls running every morning. The run starts from Santo Domingo Street to the Old Town streets, an 0.5-mile course. Runners who would like to participate should dress in traditional white clothes with a red bandana. Before the ceremony, runners pray to an image of San Fermín, the patron saint of the festival, and sing a Basque song. Loud rockets sounds are fired, indicating that the bulls are released onto the streets and again to signal it is safe to return to the streets. After the running, people celebrate by eating, drinking, and dancing with nightly firework displays. Aside from the San Fermin Festival, Pamplona has several other festive events that everyone enjoys.
2. Superb Restaurants and Bars
Travel wouldn't be as exciting without indulging in excellent food and drinks. Good thing Pamplona has them all! The city's influence from the Basque Country is evident in the variety of cuisines offered here. These are some of the must-try dishes in Pamplona:
Pintxos
Pintxos are a popular appetizer in Spain, particularly in the northern Basque Country. They are similar to tapas, typically served with a toothpick or skewer, and often displayed on the tops of bars. Also, they are best eaten with a glass of beer or wine. Pintxos consist of meat, seafood, local produce, anchovies, and other ingredients. One of the favorite types of pintxos in Pamplona is one with foie gras.
Txistorra
Txistorra is a quickly cured sausage renowned in Navarre and neighboring areas like Aragon and the Basque Country. It is similar to chorizo and packed with flavors of garlic, salt, and paprika. Txistorra can be fried, grilled, or baked. It can even be served on tapas, like pintxos, or partnered with vegetables or scrambled eggs.
Bull's Tail Stew
Pamplona is famous for its bull runs, so it's not surprising to have a bull specialty in town. Stews are popular in Pamplona, and one trendy dish you should try is the estofado de toro. This traditional stew is made of bull tails, potatoes, bell peppers, carrots, garlic, onion, tomato sauce, saffron, and red wine. Another kind of stew you shouldn't miss is the cordero al chilindrón, containing lamb and other vegetables.
Fish Specialties
If you're a fish lover, Pamplona won't disappoint. One favorite fish dish is the ajoarriero, wherein the main ingredient is cod. It is salted, mashed up, and fried with onions, garlic, tomatoes, and pepper.
Trucha a la Navarra is another typical fish dish in northern Spain. It is a Navarran-style trout stuffed with ham and fried with flour. The fish is then dusted with parsley and served.
Desserts
Of course, Pamplona will not leave sweets out of the picture. One of the most beloved desserts in town is churros with chocolate. You can easily buy them in any pastry shop or anywhere in the streets. Torrijas is another famous dessert that is similar to French toast. This traditional dessert is flavored with cinnamon and drenched in syrup or honey. Some even produce torrijas with a crunchy sugar top. Another dessert choice is the canutillos de crema or puff pastry cones filled with cream and dusted with sugar.
When it comes to drinks, wine is one of the locals' favorites. It also helps that Pamplona is near La Rioja, where the best Spanish wine is produced. You'll find plenty of merlot and cabernet sauvignon wines throughout the city. Rosé wines like garnacha are also popular in the region. Tempranillo has a special trademark in the wine industry of Pamplona. Don't forget to try kalimotxo when you're in town. Kalimotxo is a crowd-pleasing drink made from a mix of wine and cola. Locals often drink it in the summer, especially during the San Fermin Festival week. Cider is also a popular drink. While locals don't usually drink strong brandies, there is a unique liqueur called pacharan (patxaran) if you're looking for something substantial. It has a 25-30% alcohol content and is served as a digestif after lunch or dinner. Plus, there's a lot of locally produced craft beers in the area.
3. The Picturesque Old Quarter
Casco Viejo or Pamplona's Old Quarter is one of the most beautiful parts of the city. In the past, this area was surrounded by a defensive wall. Some sections of it are still visible today. This historical city center is home to palaces, medieval churches, and other important sights. The Castle Square or Plaza del Castillo is where you'll find most of the city's cafes, restaurants, and hotels. Here is where Estafeta street is located, where the "Running of the Bulls" of the San Fermin Festival occurs.
4. One of the Top Sights Along the Camino de Santiago
The Camino de Santiago is a pilgrimage route stretching through Europe and Spain. While it's initially a religious pilgrimage, people walk the path for fitness, mental health, and various other reasons throughout the year. In 1993, it was listed as one of UNESCO's designated World Heritage Sites because of its vital role in encouraging cultural exchanges between the citizens of Europe and other countries. Traversing this route is a once-in-a-lifetime experience. The tour passes through some of Spain's greatest cities, including Leon, Burgos, and Pamplona.
5. Vibrant Nightlife
The day doesn't end when the sun sets in Pamplona. Things start kicking in as the city becomes vibrant at night. The Navarre capital has a lively after-dark scene with locals flocking to bars and clubs. People begin their night in the Navarrería, San Cernin, and San Nicolás districts by sharing pintxos, beer, and wine. Aside from the bars and clubs in the Old Quarter, people can go to the trendy neighborhood of San Juan. Nightclubs, trendy dance clubs, and English pubs playing live music are open all night.
Featured Image Copyright: ©iStock/JackF