Beaches…mountains…fabulous cities…colorful festivals, and, of course, sunshine almost everyplace. It's not surprising that Spain is one of the most popular European countries for those looking to retire overseas.
This country boasts a rich history and ever-present culture, as well as fantastic food, wonderful wine, and famously friendly natives.
One of the biggest factors attracting expats here is Spain's cost of living. Right now, for expats, Spain is more affordable than it's been in decades. Day-to-day expenses, for instance, can be very low. International Living Editor Glynna Prentice says that throughout Spain "a couple can live well in many destinations for as little as about $2,200 a month—even less if they own their home."
"I love all the cultural amenities that cities offer," Glynna says. "And for me, a big plus to Spain is that you can find a good level of cultural amenities—Cineplexes, museums, and a music and theater scene—not only in the very large cities, like Madrid and Barcelona, but also in smaller cities. Alicante, San Sebastián…these cities are well under half a million people, yet they offer plenty to do." Below are seven Spanish cities that would make great retirement havens.
1. Madrid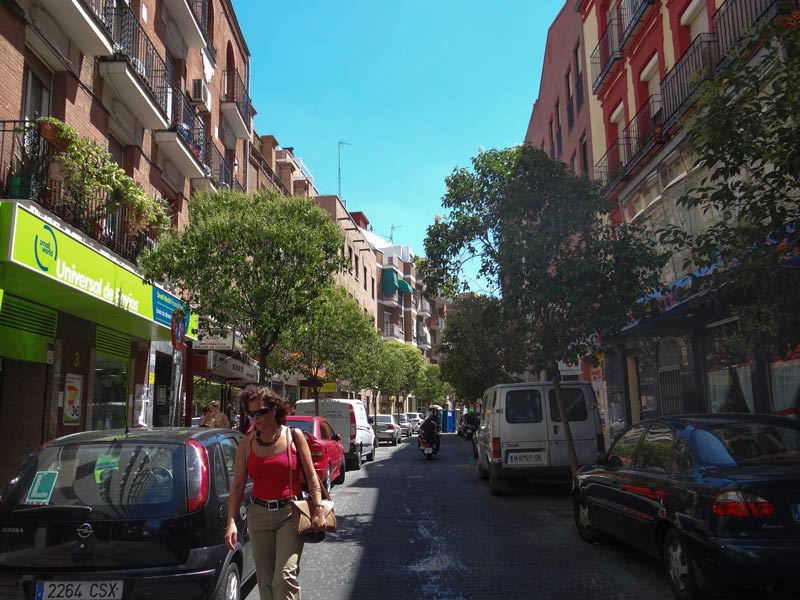 Madrid is where Spain comes to you. Cider from the Asturian Highlands, seafood from Galicia, flamenco music from the south… The Spanish capital is like a cocktail shaker full of traditions, culture, and delicious dishes. It's the place to get a taste (literally) of everything this diverse country has to offer. And it's excellent value, too.
Then there are the glorious parks and gardens. If you step out of the Prado a little overwhelmed, go around the back of the building to the Botanical Gardens for a lush and shady haven. Or, three stops away on the metro, you'll find the Retiro Park—one of the city's lungs, where you can easily spend a day lolling around one of the ponds, people-watching. Madrid is cheaper than other European cities.
"Eating out here is seriously affordable," says Lori Zaino, who moved to the city from Chicago eight years ago. "Even after all these years, I'm still shocked when the bill arrives after a night of drinks and tapas with friends, realizing I've spent just $10 all evening."
2. Alicante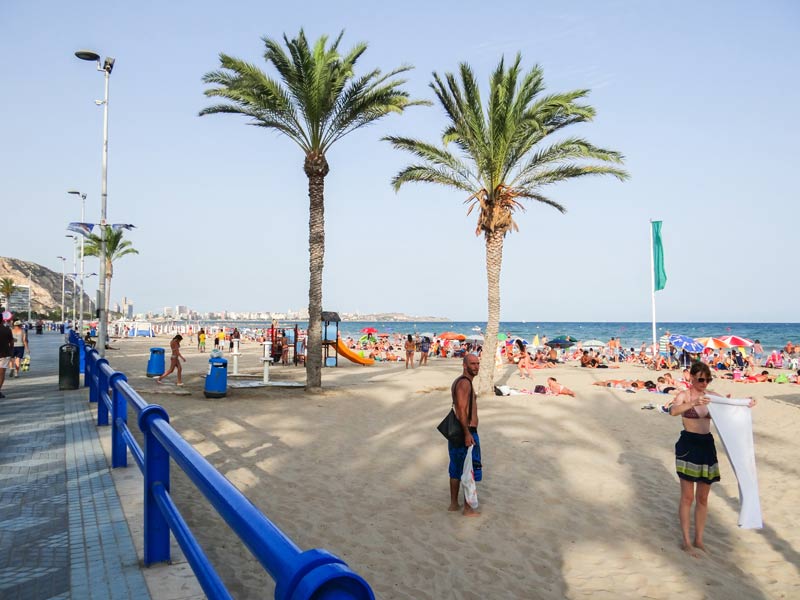 Alicante, on Spain's eastern Mediterranean coast, is a city of about 334,000 people, with all the modern conveniences—including an international airport. It is one of the country's most popular tourist destinations, attracting beach lovers from Spain, the rest of Europe, and beyond. Yet despite the tourists, this remains a very Spanish city, with a friendly, welcoming, small-town feel.
Because of its warm climate, you can stroll the beach in short sleeves as early as March and as late as October. And in the winter you need only a jacket and the sun shines most days. Just steps from its long, urban sandy beach is a historic center of flag-stoned pedestrian streets and cream-colored buildings housing cafés, restaurants, and small hotels.
Although Alicante is known as a tourist hotspot, prices here are low. "A couple should be able to live comfortably on $2,000 a month," Glynna says. In terms of real estate, you can find apartments for sale right in central Alicante for under $100,000. A decent meal in a restaurant with a caña (glass of beer) can set you back as little as $7, and there's an abundance of fresh food available at even cheaper prices at the daily central market.
3. Valencia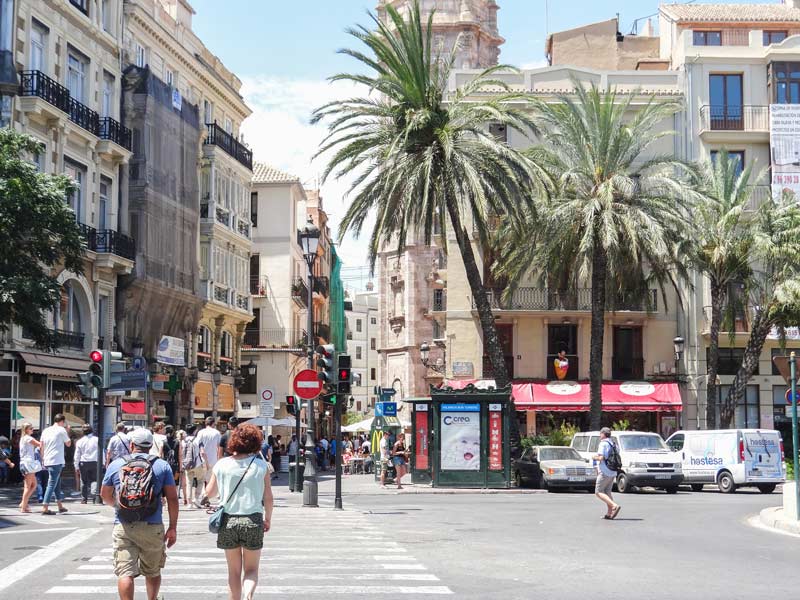 As Spain's third-largest city, Valencia has all the goodies of a major metropolis: convenient air and rail connections, major hospitals, universities, and plenty of parks. You can walk in green spaces, under leafy trees, across much of the city, and music seems always in the air. This city abounds in culture, with science and art museums, concert halls, and one of Europe's largest historic centers.
Yet it's also a beach town, right on the Mediterranean. And with a population of only about 800,000 in central Valencia, it's compact and manageable.
But while it may have a diverse range of amenities and resources, cost of living and real estate in Valencia is still much less than in Barcelona and Madrid.
Day-to-day costs are reasonable—a filling lunch special, including a beer or wine, will run to about $12. And as far as entertainment is concerned, a ticket to see a classical concert in one of Valencia's many concert halls might set you back a reasonable $17. Rents for one- and two-bedroom apartments in some of Valencia's best neighborhoods start at only about $550 a month. If you're looking to buy, sale prices start at about $110,000.
Get Your Free Spain Report Here:
Learn more about Spain and other countries in our free daily postcard e-letter. Simply enter your email address below and we'll also send you a FREE REPORT - Live the Good Life in Sunny, Affordable Spain.
This report covers real estate, retirement and more in Spain and is yours free when you sign up for our IL postcards below.
4. Málaga
Málaga is clean and bright, with a pedestrian-only city center and a revamped harbor area that is a joy to stroll. The city is brimming with museums, great dining, and plenty of shopping to suit all tastes and budgets.
There is daily sunshine, miles of seaside, winter temperatures are balmy (days average 63 F in January), and sea breezes blow off the Mediterranean, cooling the hot summer days. Málaga is cheerful and vibrant, oozing its trademark Andalusian charm. Best of all, it remains a very Spanish city, even in the prime tourist areas.
To top it all off, even the cost of living seems too good to be true. In the centro histórico (historic center), within walking distance of shops and the sea, you can get casual lunches starting at about $8 and proper sit-down meals for $15 to $20. Apartments for sale in the area start at under $200,000.
5. Barcelona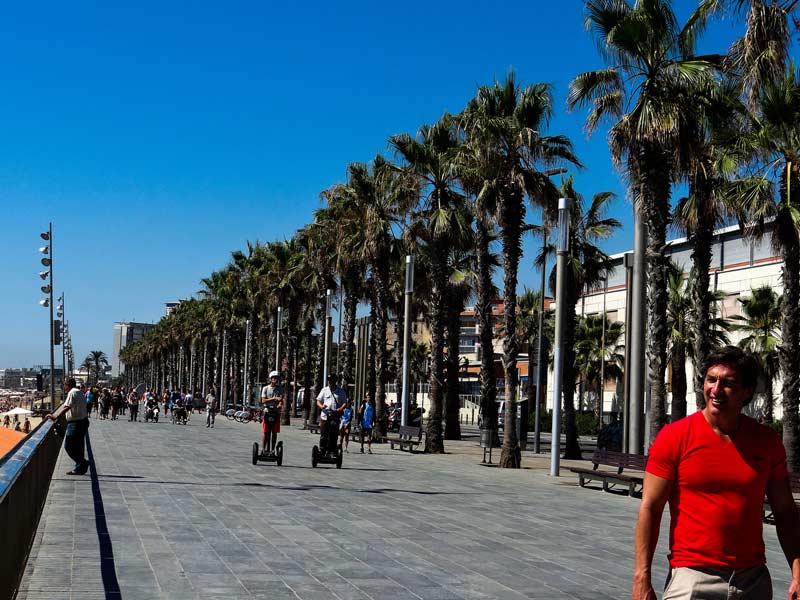 It's stylish, it's vibrant, and it charms the socks right off you. Oozing color, culture, and creativity, Barcelona offers up an intoxicating medley of old and new. Its highlights include Gaudí's eye-popping architecture, the Ramblas, and the atmospheric maze of the medieval Barri Gòtic.
Cheap eats, fine dining. High fashion, street chic. Beaches, blues, and ballet. Electric nightlife, lashings of Mediterranean sunshine. Barcelona delivers almost any pleasure you desire. Spain's second-largest city, Barcelona is the capital of the Autonomous Community of Catalonia (Cataluña).
The city's heart beats around Plaça de Catalunya, which separates old Barcelona from the grid-like streets of the late 19th century Eixample neighborhood. Below this vast square, the famous Ramblas of the flower stalls and street entertainers arrows down to the waterfront and the Columbus monument.
"I'll never get tired of mornings in our new home," says Texan Linda Fernandez of her new life in Barcelona.
Barcelona provides everything Linda and her husband Kurt were looking for in retirement: climate, culture, infrastructure, public services, cost of living, accessibility.
"We consider our living expenses to be minimal. Since we own our own apartment, our regularly occurring expenses (minus groceries and entertainment) average about $860 a month," Linda says.
6. Bilbao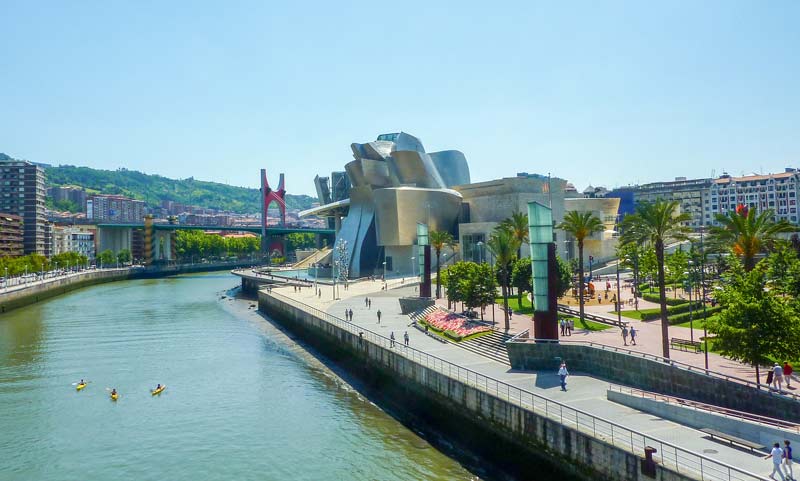 Bilbao (Bilbo in Basque), on Spain's green north coast, is a modern urban miracle. In the last 20 years this industrial port city—the pride of the Basque country—has transformed itself from a gritty metropolis into the poster child for urban renewal, all the while preserving its romantic, medieval heart. The transformation has garnered it a fistful of awards, an explosion of tourism, and made it one of the most enviably livable cities anywhere in Europe.
This city of about 352,000 people has miles of park on both sides of the estuary. You can walk through leafy green space, beside water, from one side to the other of central Bilbao—and many people do. Locals and tourists stroll, bicycle, and skate along this promenade, while children romp in playgrounds. The two sides of the estuary are connected by delicate pedestrian bridges that arc over the water.
7. San Sebastián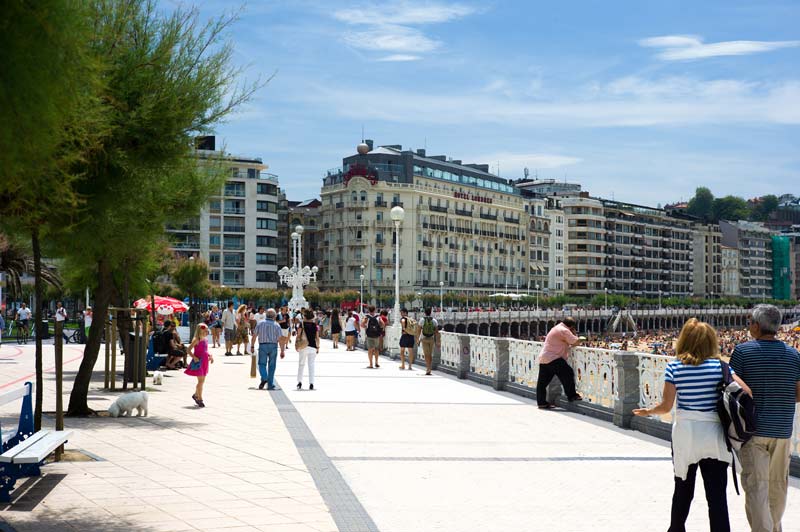 This stylish seaside city on Spain's north Atlantic coast has a legendary charm and arguably one of the world's most beautiful urban beachfronts. Here curving, golden-sand beaches like Playa de la Concha, with its long promenade, offer a feast for the eyes. Equally beautiful is the city itself, with wide boulevards and frothy belle époque buildings.
San Sebastián—Donostia, in Basque—has been a resort since the mid-1800s. It first became popular under Queen Isabella II, who summered here and wanted to create a resort to rival France's Biarritz, just over the border (which was patronized by the French empress—and fellow Spaniard—Eugénie). Where the queen went, the court followed…and over the years San Sebastián became an architectural (and shopping) delight. In fact, with all that this sophisticated city offers today, the beaches are simply the icing on the cake…
The population of the city can almost double in the peak tourist months of July to September. But crowds are thinner the rest of the year, and temperatures are mild—with averages in the mid-50s—even in the dead of winter. Off-season and long-term rentals can be very reasonable, too. For a centrally-located, two-to three-bedroom apartment, you can pay about $900 to $1,100 a month off-season or long-term. (Expect to pay several times that amount in high summer season.) But for glamour, sophistication, and sheer beauty, San Sebastián is hard to beat.
Get Your Free Spain Report Here:
Learn more about Spain and other countries in our free daily postcard e-letter. Simply enter your email address below and we'll also send you a FREE REPORT - Live the Good Life in Sunny, Affordable Spain.
This report covers real estate, retirement and more in Spain and is yours free when you sign up for our IL postcards below.
Related Articles
Málaga, Spain: Retiring, Cost of Living and Lifestyle Information
Upcoming Conferences
The Only 2023 Fast Track Costa Rica Conference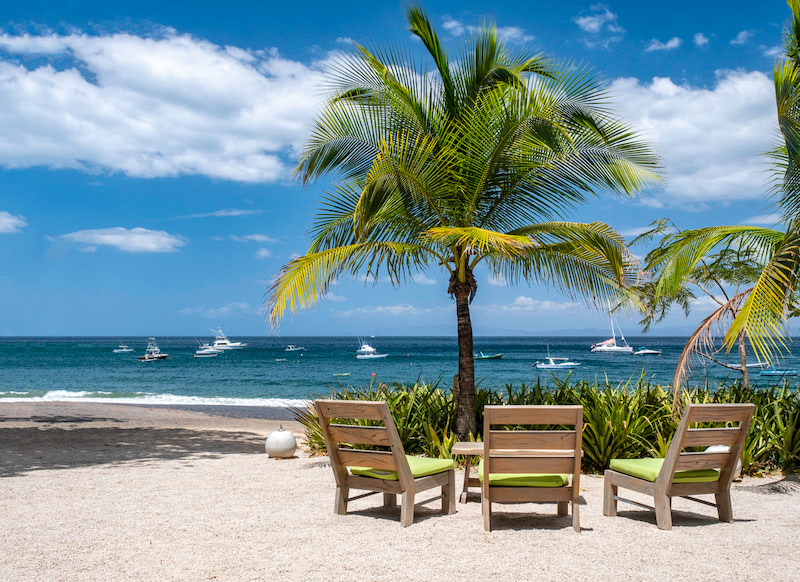 If your dream retirement involves stunning beaches… lush green mountains… a perfect year-round climate… first-rate healthcare… incredible value for money (a couple can live well on $2,109 a month—including rent!)...
Join our Costa Rica experts and expats in June and discover true Pura Vida.
REGISTER NOW, SEATS LIMITED: EARLY BIRD DISCOUNT HERE
---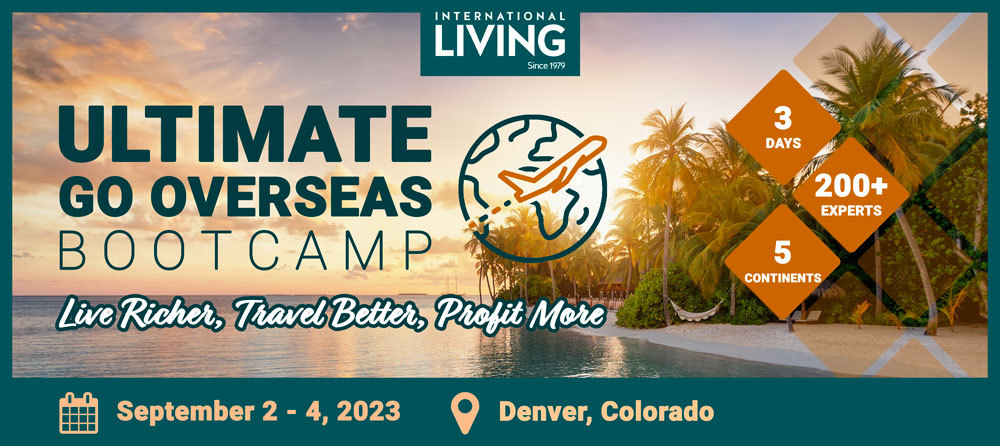 Most Popular Products