Easy, Low-cost Living on Spain's Costa Blanca
It's a mild afternoon along the Explanada de España—the lovely boardwalk, or paseo marítimo, that lines Alicante's beachfront. As the sun dips low in the sky, locals and tourists come out to stroll. On one side of them lies the city, where high-rise apartment buildings jut skyward beyond the low-rise old town, with its cream-colored, centuries-old buildings. On the other side lies a strip of golden sand and the blue waters of the Mediterranean.
Enticing shops and outdoor cafés—called terrazas in Spain—line the ground floor of the land-side buildings. Families and couples sit at umbrella-covered tables, enjoying a late lunch or snack. One favorite is the Chocolatería Valor, a chocolate shop and café run by Spain's Valor chocolate company. A cup of thick drinking chocolate and churros—crispy, fried sticks of dough—to dip into it is an indulgent, sweet alternative to a glass of crisp white wine after an afternoon at the beach.
A low rail in places is all that divides the Explanada from the sand. Sunbathers stretch out on their towels, gazing out to sea, while swimmers cut the waves with easy strokes. A few rinse the salt from their skin and hair at the open-air public shower near the boardwalk.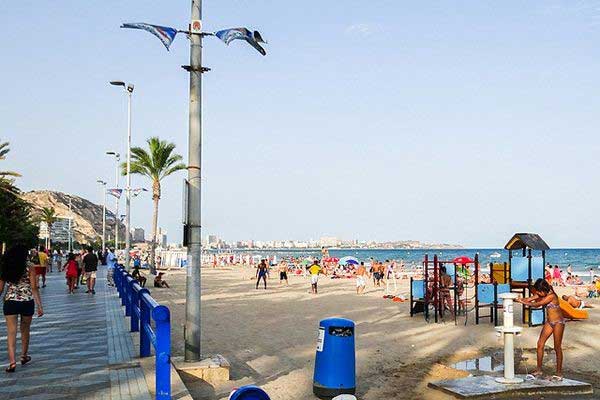 The weather here is as near perfect as it gets for a beach destination. Alicante's temperatures average in the mid-80s F in summer, and in the low to mid-60s F in winter, with only moderate humidity. And most days are sunny.
No wonder Alicante has been a favored beach resort for decades. Northern Europeans flock here for its warm sea and warmer sun. They can fly into Alicante's international airport, which connects the city to destinations all over Europe. Spaniards, too, frequently come here for their annual beach vacation.
With a population of about 330,000, Alicante is large enough to offer all the city amenities: shops and department stores; traditional markets and supermarkets; art and archaeological museums; excellent public transport (including buses out to the airport); a wealth of restaurants, bars, and cafes; and historic monuments galore. In short, there's plenty to keep visitors and residents happy and occupied.
Yet the city is also small enough to be friendly and cozy, or acogedora, as the Spanish say. Walk 10 minutes inland from the city's most famous urban beach, El Postiguet, and you'll largely leave the tourists behind. You'll find locals filling the shops and outdoor cafes, the air buzzing with chatter in Spanish and Valenciano, the local dialect. Alicante may be a popular tourist mecca…but it's also a real Spanish city.
Retire in Alicante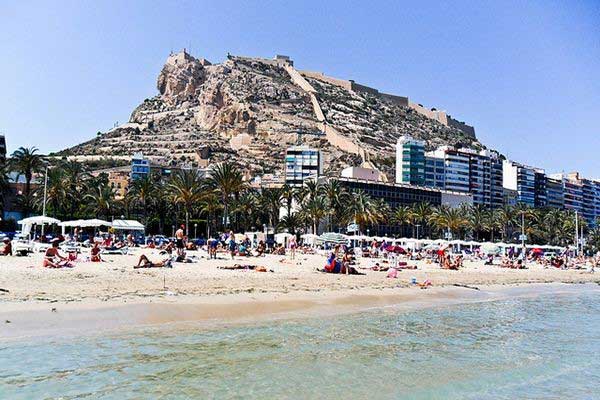 Alicante lies on the Costa Blanca, a 120-mile stretch along Spain's eastern Mediterranean coast. The Costa Blanca runs from the town of Dénia, north of Alicante, south to the province of Almería. This entire stretch of coast is dotted with small seaside villages, coves, and long swathes of beach. Some of these villages, such as Altea (population 22,000, and just a 45-minute drive north of Alicante), have expat communities of their own. But Alicante is the provincial capital, the largest city, and the communications hub for this entire coast.
It's a charming city, and a convenient place to retire. Alicante's old town, or Casco Histórico, which lies close to the sea, is a neighborhood of winding streets, shops, and a wealth of restaurants, with the towering hulk of the castle of Santa Bárbara at its north end. Beyond the seaside and the old city lie modern neighborhoods of apartment buildings, shady parks, and—just a 10-minute walk from the sea—the Mercado Central, the city's daily indoor market. Strolling its two floors of food stalls, you can shop as locals do, buying your fruits and vegetables here, your fresh fish and seafood there, and your preserved goods—nuts and dried fruits, a staggering variety of olives, and other pickled goods—at yet another stall.
For big shopping excursions, the Valencia-based supermarket chain Mercadona has numerous locations in Alicante. And El Corte Inglés, the Spanish department store that has everything from electronics to housewares to enormous food halls, is here, too.
Alicante is home to sizable numbers of expats, mostly from the U.K., northern Europe, and Latin America. While many Europeans (as well as Spaniards from interior cities like Madrid) have a second home here and live in Alicante part-time, about 15% of the permanent population is foreign. Due to this foreign presence—and the many tourists—you can get by fairly easily in Alicante with minimal Spanish.
For healthcare, the city has numerous excellent hospitals. Alicante's main hospitals include the Hospital General Universitario de Alicante and the Hospital San Vicente de Raspeig, just north of the city (both in the public healthcare system). Private hospitals include the Hospital Internacional Medimar de Alicante. There are also private hospitals and vision clinics elsewhere along the coast, especially in the towns of Torrevieja and Dénia, and in Elche, less than half an hour inland from Alicante.
Thanks to tourism, the city is easily accessible. The international Alicante-Elche Airport is the fifth-busiest in Spain, serving some 11 million passengers or more each year. Both major and discount carriers serve the airport. The busiest airlines here, in fact, are low-cost carriers Ryanair, which uses Alicante as a base, and EasyJet and Vueling. Close to 100 European destinations are served by the airport, putting all of Spain and the rest of Europe within easy reach.
In addition, Alicante is well connected by rail with the rest of Spain. Madrid is just 2.5 hours away on Spain's high-speed AVE trains; Valencia is about an hour away, and Barcelona is five hours away.
Real Estate in Alicante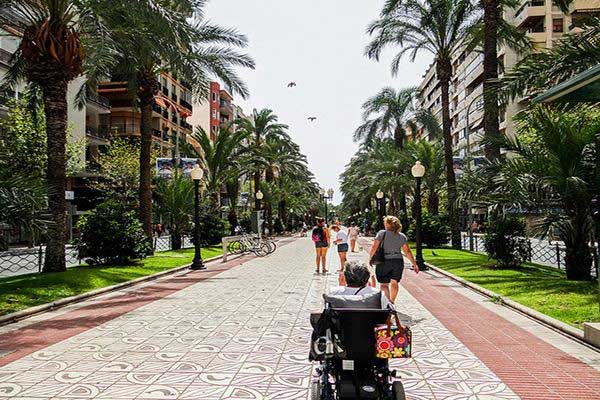 Alicante is one of the least expensive beach destinations around, whether you're looking to buy or to rent. Prices are rising here, but they remain very affordable, making the city a bargain for the level of amenities it offers.
In Alicante's historic center, the Casco Histórico (also known as the neighborhood of Santa Cruz), you can find one-bedroom apartments for rent from about $460 a month and from about $86,250 to buy. This area, though colorful and packed with bars and restaurants, is also often packed with tourists.
For central living but more modern digs, look at the traditional center, just west of the Casco Histórico. This area runs down toward the port and marina, so—depending on location—you can be an eight-minute walk or less from the water. Rental prices run slightly higher than in Santa Cruz, but one-bedroom rentals start at about €450 ($518). Spacious, modern two-bedroom apartments in this area may run from about €650 ($748) a month to rent and from about €135,000 ($155,250) to buy.
If you'd like a quieter area, move inland from the traditional center closer to the general area near the Mercado Central. You'll be near commercial shopping streets, the market, and you'll leave tourists behind. But you'll only be about a 10- to 15-minute walk to the beach. And you'll get more bang for your buck: You can get two-bedroom apartments to rent from about €550 ($633) a month. And sales prices for two- and three-bedroom apartments start well under $100,000.
Cost of Living in Alicante
Living in Alicante is pleasant and won't break the bank. The city enjoys a warm, sunny climate during much of the year. Bars and restaurants abound, with plenty of inexpensive and midrange option. (A filling menú del día, the lunch special, can run as little as about $12 per person for two courses, bread and beverage, and coffee or dessert. And dinner for two at a midrange restaurant can run less than $40.)
Here's a sample budget for a couple living very comfortably in a midrange neighborhood:
| | |
| --- | --- |
| Expense | U.S.$ |
| Rent (two-bedroom, one-bathroom) | $690 |
| Utilities | $100 |
| Groceries and household items | $400 |
| Entertainment (including lunch out twice a week, dinner out once a week, other) | $450 |
| Private health insurance x2 * | $255 |
| Media package: internet, cellphones, TV | $50 |
| Transportation | $40 |
| Monthly total: | $1,985 |