Discover Moorish Spain in Granada
There is not much of a subway in Granada. The problem, as a local professor explains, is that every time they dig a little, they find a new layer of history that compels investigation. In the end, it's easier to build on top of what's already there.
In many ways, this sums up Granada as a whole. No one is really sure how old it is, but situated at the confluence of two gentle mountain streams, the Genil and Darro rivers, everywhere one looks, there are layers to discover.
For many years, it was the epicenter of the last Moorish Kingdom in Spain, guarded by the fortress city of the Alhambra, a UNESCO World Heritage Site and one of the most revered historic spots in the world. Before that, Granada was a Visigoth settlement, and evidence has been found of a Roman circus (open air venue) present before that.
Granada came under Spanish control in 1492 when King Ferdinand and Queen Isabella completed the Reconquista of Spain by taking Granada. Rather than destroy the city, however, they recognized the grandeur of its history and added to it, creating an architectural and cultural style born of the combined Moorish/Spanish form called Mudejar. One sees it everywhere, from the 500-year-old churches abutting the main plaza to the romantic "old world" houses hidden among the serpentine streets of the ancient quarters.
Retire in Granada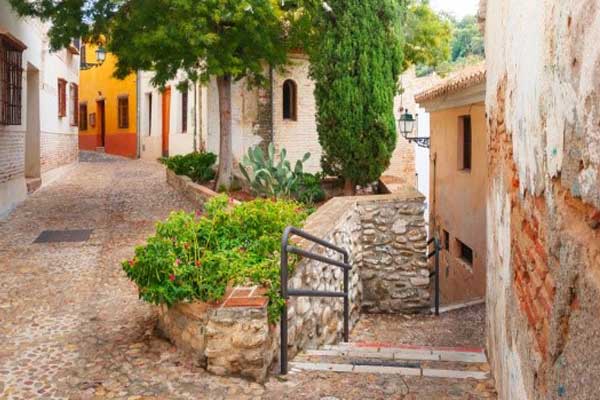 The climate and weather of Granada justify why so many peoples have sought to be here. Set at the foot of the Sierra Nevada mountains, there is low humidity, so that most every day affords opportunity to be comfortable walking about. Winters can have a chill, but snow rarely lasts in town for more than a day. The hot summers remain dry and humidity-free, nothing that a shaded café and a cold tinto de verano (iced summer wine) can't counter.
Today, Granada remains a mid-sized town (235,000 people) that one can walk the length of, though the city transit system is so easy, regular, and accessible, it is second to none. Everyone uses it, which makes it both convenient transportation and a social meet-up. The buses are convenient for transferring from the inner city (red) lines to the regional (green) lines to get out of town on a moment's whim. Surrounded by gently rolling foothills, mountains streams, and open vegas filled with olive and fruit trees, Granada is a hiker's paradise. One can find villages situated in valleys that have been occupied for 5,000 years, and with each new generation, a new layer (and outdoor wine/tapa café) is added to the area's vivacity.
One might take a day trip to Santa Fe, one of the many charming towns just outside Granada, to savor piononos, a world-famous dessert that began here, and while doing so discover as well that the city was the site of a fateful 1492 meeting, where a navigator named Cristobal Colon (Christopher Columbus) asked Ferdinand and Isabella to finance his idea of traveling westward to get to the Indies.
Within the city itself, one never stops discovering new layers; the city seems built for people to be outdoors, and every venture out is rewarded. Order a plate of local favorite boquerones (fried anchovies) at a local café, and while waiting one might see a plaque that describes how the building was originally a 16th-century mansion. Walk the twisty medieval streets of the Realejo (old Jewish quarter), and one casually discovers cisterns and fountains from a city water system 800 years older than London's. Hike up the famous hill-top, UNESCO World Heritage neighborhood of the Albaicin, and one is awed with spectacular views to take in while sipping vino or café at one of the many miradors (lookouts) while someone nearby strums a guitar. Walk towards the newer, commercial west side of town, and one comes across a spacious green park, interlaced with hedge-mazes, near what was originally the family home of world-famous writer and social advocate Frederico Garcia Lorca. Even a famed 1980s British punk rocker, Joe Strummer of The Clash, left his mark her for a time and now has a plaza named for him.
Only one hour and a half by car from the Mediterranean coast, Granada is even closer to Mt. Mulhacen, the tallest mountain in continental Spain and the tallest non-Alp on continental Europe. From hiking its gentle slopes in summer to skiing and snowboarding in winter, it waits for any Granadino who decides just that morning to visit it for the day (not to mention the legends of Moorish gold hidden in its secret caves).
Granada has its own bus station and airport. There are hourly buses that cost about $13 for the two-hour trip to or from Malaga (the closest big city). The bus to and from Madrid takes about 5 hours and costs about $22 for a regular bus or $45 for a premium bus, with a meal, movie, and wide seats.
Lifestyle in Granada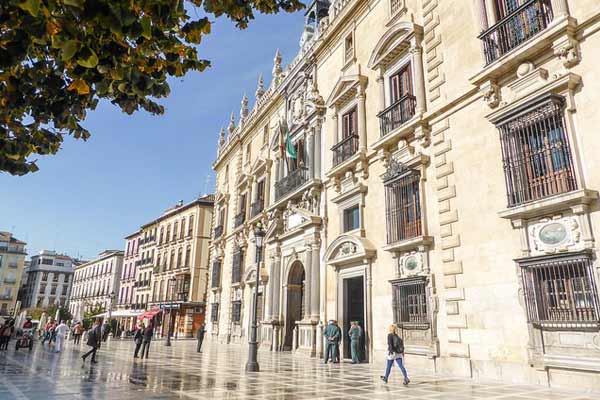 The nearly 500-year-old University of Granada plays a major role in the city's youthful vibe, as do all of the young travelers who pass through town in the summer.  The University has one of the biggest international student exchange programs in Europe, continuing Granada's legacy of taking the best of many cultures and creating something, new, better, and wholly Granadan. The University has a main campus, but also has buildings around town. There is a spirit here of learning and exploration of both the greater world and about one's self, so a common conversation is about what classes people, young and old, are taking, whether Spanish language, art history, cooking, or even flamenco dancing.
Taking a cue from the city's emphasis on cultural fusion, the expat community is a thorough mix of peoples from all over who regularly gather with each other and locals, united in a common goal of intermixing cultures rather than standing apart. There are constant meetups, from hiking, to biking, to Spanish language development over wine & tapas.
Whether people are locals, expats, or students, Granada puts its emphasis on community above all else. There are many built-in "circuit breakers" to remind people to appreciate each other. Whether shopping at one of the bigger commercial supermarkets in the city center, such as Mercadona, Corte Ingles, or Carrefour, or visiting one's neighborhood stores, such as the local fruit stand, fish market, or meat market, one should budget extra time to meet and greet friends one always bumps into in a town this size (with the requisite double-kiss greetings, chat, and double-kiss goodbyes). Cafes hum around 2:30 as schools let out and people gather from work to enjoy the light breezes that accentuate the menu del dia (menu of the day), meals that provide a two to three-course lunch, drink, and dessert for about $10 to $20. Granada takes its afternoon rest time seriously, and while many outside Spain see it as just siesta time, most people use it to casually recharge, whether by napping, reading, or taking a leisurely stroll.
At night, the city reawakens with new layers to the day. Granadinos recommune over wine and tapas at one of the many local bars. Unique to Granada is that tapa is most always free with a drink, so that it is not uncommon for a couple to feel well-fed (with drinks) for $6 to $9 each.
Alternatively, one can take a long leisurely dinner with friends, perhaps followed up by a cultural jaunt to a concert, or perhaps a flamenco show in one of the romantic gypsy cafés carved into caves in the mysterious Sacromonte section of town. The evening might be capped with a parade to commemorate one of the many celebrations, or even dancing in city hall plaza past midnight to music provided by the city.
There is very little crime in Granada, so the walk home after a long evening out is never done at one's peril (except to run into friends at an all-night Shawarma café). Just outside the city center, one can retire to bed with the windows open, a cool breeze, and the quietude coming off the mountain providing a soothing finish to one's day.
Cost of Living in Granada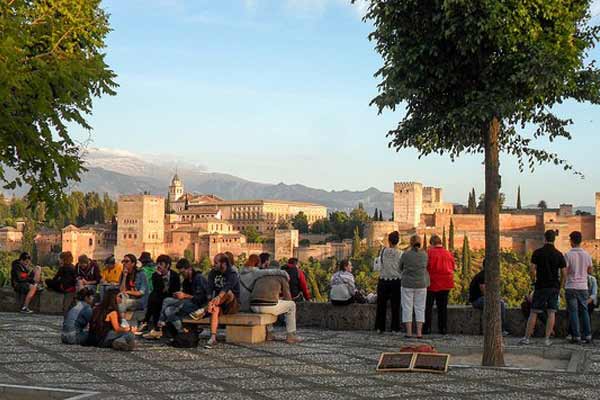 If Granada has a welcoming vibe that invites all cultures to visit, it's affordability and practical amenities coerce people to stay. It is impossible to live more than a couple of hundred meters from a grocer or pharmacist. There are large hospitals on the northern and southern ends of town where one can get regular blood work and tests done. Rental costs are relatively low, but can vary, from a house in the historic Albaicin, to an apartment in the bustling city center, to one just outside of the center, but only a 15-minute walk away. A place can be a year old or five-hundred years old, with varying amenities, so one has to do one's research before committing.
Granada is a timeless city of many layers, many people, and many stories. Almost magically, however, Granada has managed to keep its personal, not-too-big-to-see-friends-on-a-stroll, feel.  Granada welcomes all things new, never to replace, but to join in, to add one's self to the next layer of Granada's many-chaptered communal history.
Here is a sample monthly budget for two people living in the center of Granada:
It should be noted that the budget for groceries and household items includes food/litter for two cats and monthly prescription costs. This couple play tennis regularly and take numerous day trips around the countryside, so it is possible to live on much less.
| | |
| --- | --- |
| Expenses | Cost $USD |
| Rent (three-bedroom, two-bathroom, top floor, new, with terraces and a 15-minute walk from city center) | $1,130 |
| Utilities (water, electricity, and gas) | Included in Rent |
| Groceries and Household items | $510 |
| Entertainment (dining out and activities) | $570 |
| Health Insurance | $205 |
| Internet | Included in Rent |
| Mobile | $16 |
| Transportation (buses, etc.) | $45 |
| Total | $2,476 |
The following monthly budget is based on the cost of living for a single person living in Granada:
| | |
| --- | --- |
| Expenses | Cost $USD |
| Rent (two-bedroom, two-bathroom, 10-minute walk from city center) | $625 |
| Utilities (water, electricity, and gas) | $285 |
| Groceries and Household items | $340 |
| Entertainment (dining out and activities) | $285 |
| Health Insurance | $102 |
| Internet | $90 |
| Mobile | $17 |
| Transportation (buses, etc.) | $28 |
| Total | $1,772 |
Featured Image Copyright: ©iStock.com/syolacan