Enjoy Big-City Life With Laidback Charm in Málaga, Spain
By Glynna Prentice
Twenty years ago, when I first visited Málaga, it was the ugly stepsister of Spain's Costa del Sol: a little scruffy and down-at-heels (though with gloriously sunny weather and a seaside location). So it was pure pleasure to return last summer and find it transformed into a Cinderella: one of Spain's most livable—and affordable—cities for coastal living.
Today's Málaga is clean and bright, with a pedestrian-only city center and a revamped harbor area that is a joy to stroll. The city is brimming with museums, great dining, and plenty of shopping to suit all tastes and budgets.
Happily, the best of the "old" Málaga remains, as well. The sun still shines, there are miles of seaside, winter temperatures are balmy (days average 63 F in January), and sea breezes still blow off the Mediterranean, cooling the hot summer days. And Málaga is still cheerful and vibrant, oozing its trademark Andalusian charm.
Best of all, it remains a very Spanish city, even in the prime tourist areas. So if you enjoy big-city life with laidback charm and a side of seashore, give Málaga a whirl. You can even get by in English.
Simply walking up Calle Larios, the broad, pedestrian-only avenue that is the heart of Málaga's historic center, can lift the spirits. Shops and restaurants line both sides of this wide, tile-paved street. Benches, colorful flower stands, and tall, graceful streetlights march at regular intervals up the street. Four or five stories above ground level, a series of huge canopies is strung across Calle Larios, shading the strollers below from the blazing Mediterranean sun.
I spent a blissful day just being a tourist here, exploring Calle Larios and meandering along the narrow side streets that branch off this main artery. Sidewalk cafés and wine bars, their tables shaded by large umbrellas and with white-aproned waiters at attention, are everywhere. This is where trendy Malagueños come for a drink or for lunch in town after a busy morning shopping.
It's also where tourists come for some culture. The Museo Picasso—the artist is one of the city's most famous native sons—is nearby. So is the new Museo Carmen Thyssen Málaga. It holds mostly 19th-century Spanish paintings.
And you'll find street performers—mimes, mummers, and "living-sculpture" performance artists—provide entertainment many days. (I saw one fellow who'd suspended himself in the air, with no visible means of support. I still don't know how he did it…) The many artisanal ice cream parlors—such as the family-owned Casa Mira, a fixture on Calle Larios since 1941—provide just the right mid-morning or afternoon pick-me-up.
Though restaurants abound, you won't go wrong at El Pimpi, a large, rambling establishment with high, beamed ceilings and a traditional feel. A couple or three of El Pimpi's generous montaditos—open-faced sandwiches topped with a variety of fillings—apiece and a tasty salad (I like the roasted peppers and tuna myself) is enough food for two. Throw in a couple of beers each and a glass of Málaga's signature sweet dessert wine to finish, and the meal, plus tip, will cost you about $46. El Pimpi also has a large, outdoor patio for al fresco dining from which you can gaze across the square at Málaga's first-century Roman amphitheater.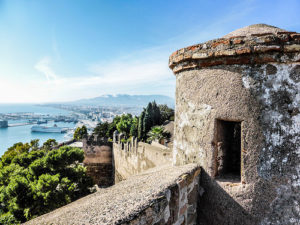 At 2,800 years old, Málaga is one of the oldest cities in the world. Founded by the Phoenicians in about 770 BCE, it's been inhabited by half-a-dozen major civilizations since then. As a result, it offers plenty for the history buff. Just past the Roman amphitheater is the Alcazaba, the medieval Moorish quarter. And you can take a bus up to the Gibralfaro, the Moorish-era fortress sitting above the city that offers one of the best views around.
But, if you spend any time here, it becomes clear that Málaga is not a city that lives in the past. Here, history is the spice, not the main course. Twelve million tourists a year pass through Málaga's international airport, and about half of them visit the city (the rest head directly to the region's many beach resorts). Yet tourism, though important, is not the only economic driver. Technology, construction, transportation, logistics, and other industries are all big here—this is Spain's fourth-most important city for economic activity, and one of its biggest ports. This means a big plus for expats and tourists: A city where English is generally understood.
Walk south from Málaga's historic center and in minutes you reach the port area. You'll find quays for commerce, cruise ships, and for yachts and pleasure boats. You can also get ferries here to Melilla, the Spanish-owned enclave in Morocco—the coast of North Africa is just 80 miles away.
In recent years part of the port area has been smartened up. Green park areas border the avenue that runs along the sea, while a long paseo marítimo (boardwalk) runs along the water itself. Muelle Uno, or Wharf One, a long wharf of shops and restaurants, is a prime draw and is nearly always hopping with activity.
Most tourism clusters in these pedestrian-friendly areas. Beyond them spreads a city of more than half-a-million people and a large metropolitan area of over a million. Go just a short distance from the centro histórico and Muelle Uno—for instance, to the train and bus stations, just five minutes from here by city bus—and you are already in the non-tourist Málaga of ordinary, work-a-day Spaniards. And prices drop accordingly.
Right in the historic center, for instance, one-bedroom apartments of around 500 to 600 square feet sell for prices starting at about €140,000. (That's about $168,000.) An apartment like this can rent long-term for around €650 a month (about $780). Go a mile or so out—though still in the central district—and you can get a third to a half more space for the same price.
One neighborhood I like is Huelin, which is just a mile or two from the centro histórico in the district known as Carretera de Cádiz. Twenty years ago, when I visited friends who lived in Huelin, the city was just expanding the paseo marítimo out this far. Since then, Huelin has cast off its working-class, fishermen's roots to become a lively, middle-class neighborhood of good-quality apartment housing, plenty of bars and restaurants, supermarkets, and other amenities. City bus and metro service is frequent, and the long-distance bus and train stations are not far away.
In Huelin you can still find some one- and two-bedroom apartments for sale for under €100,000 (about $120,000). And $800 in rent can get you up to 900 square feet of living space. Day-to-day expenses are low, too. My friends and I enjoyed a long summer evening at an outdoor café here, spending only about $5 each for generous tapas—a couple of them made a full meal.
Similar neighborhoods are nearby. If you plan a longer stay in the area, it's worth looking beyond the centro at the string of neighborhoods near the sea.  
Get Your Free Spain Report Here
Learn more about Spain and other countries in our free daily postcard e-letter. Simply enter your email address below and we'll also send you a FREE REPORT — Live the Good Life in Sunny, Affordable Spain.
This special guide covers real estate, retirement and more in Spain and is yours free when you sign up for our IL postcards below.
Get Your Free Report Here