Guide to Malaga, Spain: Enjoy Big-City Life With Laidback Charm
Twenty years ago, Málaga was a scruffy seaport that guidebooks urged tourists to avoid despite 300 days of sunshine and inviting beaches. Today, the city of 590,000 has been transformed into charming cultural destination, with the same gloriously sunny weather and seaside location.
Now Málaga is clean and bright, with a pedestrian-only city center and a revamped harbor area that are a joy to stroll. Over 30 museums tempt tourists along with great dining, and plenty of shopping to suit all tastes and budgets.
Happily, the best of the "old" Málaga remains, as well. The sun still shines on miles of seaside. Winter temperatures are balmy (days average 63 F in January). Sea breezes still blow off the Mediterranean, cooling the hot summer days. Málaga is still cheerful and vibrant, oozing its trademark Andalusian charm. It remains a very Spanish city, even in the prime tourist areas.
Málaga's status as a convenient, efficient transportation center is one of its most appealing assets. Spain's third-largest international airport is located on the outskirts of the city. Catch an urban train there, 12 minutes and less than two euros later, you will be in Málaga's slick modern train station and shopping center where high-speed trains arrive from all over Spain. Just across the street is the long-distance bus station. That urban train, called Cercanias, continues from the train station down the Costa del Sol all the way to Fuengirola. Local buses not only take you around Málaga city but also east and west along the coast. Taxis, Uber and Cabify all stand at your service.
Retire in Málaga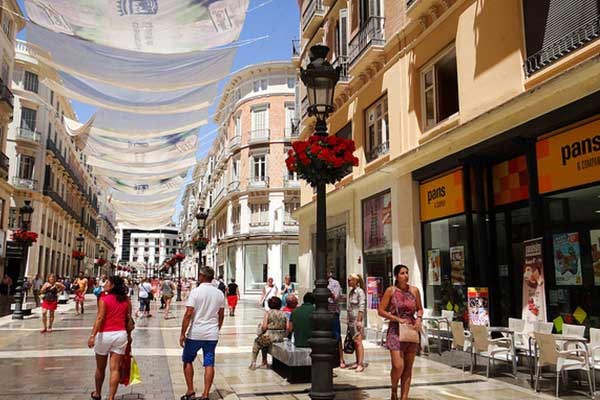 Simply walking up Calle Larios, the broad, pedestrian-only avenue that is the heart of Málaga's historic center, can lift the spirits. Shops and restaurants line both sides of this wide, tile-paved street. Benches, colorful flower stands, and tall, graceful streetlights march at regular intervals up the street. Four or five stories above ground level, a series of huge canopies is strung across Calle Larios, shading the strollers below from the blazing Mediterranean sun.
Sidewalk cafés and wine bars, their tables shaded by large umbrellas and with white-aproned waiters at attention, are everywhere. This is where trendy Malagueños come for a drink or for lunch in town after a busy morning shopping.
It's also where tourists and expats come for some culture. The nearby Museo Picasso houses works from the artist Pablo Picasso, one of the city's most famous native sons. Museo Carmen Thyssen Málaga, housed in a 16th century nobleman's residence, offers Old Masters and romantic Spanish painting from the 19th century.
Walk south from Málaga's historic center and in minutes you reach the port area. You'll find quays for commerce, cruise ships, yachts, and pleasure boats. You can also get ferries here to Melilla, the Spanish-owned enclave in Morocco, the coast of North Africa is just 80 miles away.
In recent years, the port area has been lovingly gentrified. Green park areas border the avenue beside the sea, while a long paseo marítimo (boardwalk) runs along the water itself. Muelle Uno, or Wharf One, a renovated wharf of shops and restaurants, is a prime draw, nearly always hopping with activity. Here you'll find a branch of Paris' prestigious Pompidou Museum featuring contemporary works by Spanish artists.
Lifestyle in Málaga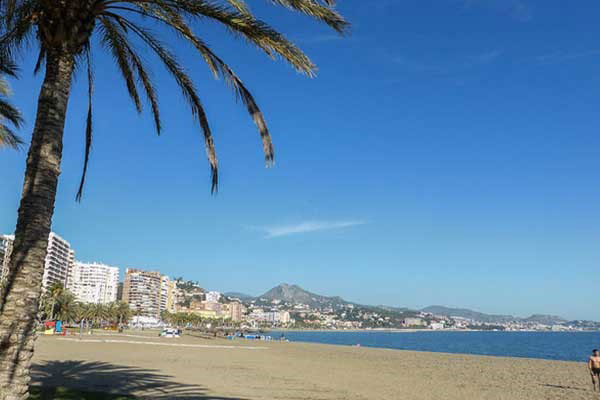 Most tourism clusters in these pedestrian-friendly areas. Beyond them spreads a city of more than half-a-million people and a large metropolitan area of over a million. Go just a short distance from the centro histórico and Muelle Uno to the train and bus stations. Five minutes from here by city bus and you are already in the non-tourist Málaga of ordinary, work-a-day Spaniards. Prices drop accordingly.
These are neighborhoods with broad sidewalks (perfect for outdoor cafés), midrise apartment buildings, and the necessities of daily life: pharmacies, small green-grocers, and wine shops, hair salons, and schools. Many buildings close to the seashore have easy access to the paseo marítimo, which runs for several miles along the coast here. (Many buildings also offer sea views.) Numerous excellent hospitals, both public and private, are located in Málaga and nearby towns along the Costa del Sol, providing high-quality and convenient medical care.
Real Estate in Málaga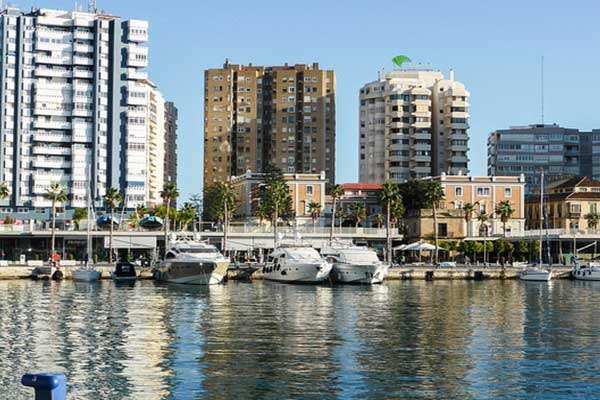 Real estate in Málaga is moderately priced for a city of its size.
Right in the historic center, for instance, one-bedroom apartments of around 500 to 600 square feet sell for prices starting at about €145,000. (That's about $173,435.) An apartment like this can rent long-term for around $658 a month (about €550). Go a mile or so out, though still in the central district and you can get a third more space for the same price.
Though the historic center is rich in charming cafes and shops, its busy tourism and its relative lack of shops for day-to-day living may make it more suitable for short-term vacation stays than for full-time living. But no worries: Málaga offers many other options.
Huelin, is just a mile or two from the centro histórico in the district known as Carretera de Cádiz. Twenty years ago, the city was just expanding the paseo marítimo out this far. Since then, Huelin has cast off its working-class, fishermen's roots to become a lively, middle-class neighborhood of good-quality apartment housing, plenty of bars and restaurants, supermarkets, and other amenities. City bus and metro service is frequent, and the long-distance bus and train stations are not far away.
In Huelin you can still find some one- and two-bedroom apartments for sale in the low €100,000s (about $120,000). And €600 ($718) in rent can get you up to 900 square feet of living space. Day-to-day expenses are low, too and you can enjoy a long summer evening at an outdoor café here, spending only about $5 each for generous tapas.
Similar neighborhoods are nearby. If you plan a longer stay in the area, it's worth looking beyond the centro at the string of neighborhoods near the sea.
Cost of Living in Málaga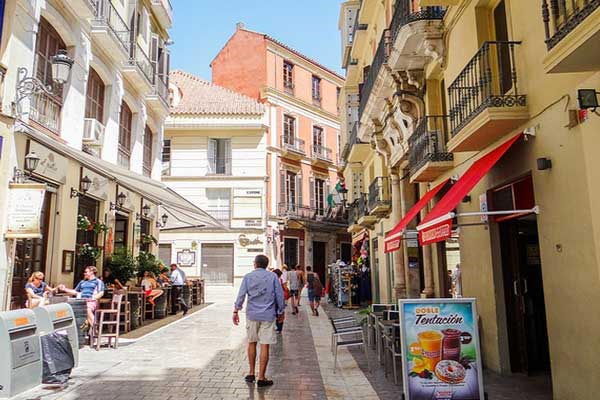 Restaurants and bars abound in Málaga. The city gets about 300 days of sunshine a year. And with temperatures even in winter reaching the 60s F, outdoor restaurants, called terrazas, are a welcome option almost all year round. Outside the historic center, tapas can run just a couple of euros apiece, and a draft beer about €1.50 ($1.79).
For grocery shopping, major supermarket chains like Mercadona, Carrefour, and the grocery floor of El Corte Inglés department store are all available, among many others.
Here's a sample budget for a couple living comfortably in a nice, midrange neighborhood:
| | |
| --- | --- |
| Expense | U.S. $ |
| Rent | $800 |
| Utilities | $110 |
| Cell phones (x2), landline, internet | $75 |
| Groceries and household items | $370 |
| Dining and entertainment | $450 |
| Health insurance (x2) | $315 |
| Gym (x2) | $100 |
| Transportation (taxis, buses) | $84 |
| Monthly total | $2,304 |
Things to Do in Málaga
By Marsha Scarbrough
Málaga, the lively city at the center of Spain's Costa del Sol, is a hot spot for culture, food, sunshine, and seaside living. You will never be at a loss for things to do, but here are a few suggestions.
Go to the Beach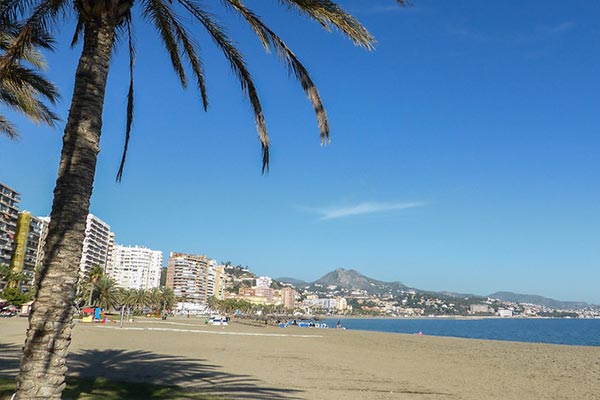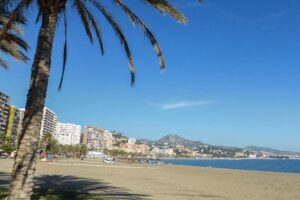 Málaga has plenty of beaches. The easiest to get to is Playa Malagueta, which is right in the city, just east of the port. A little further east is Playa de la Caleta, which fronts a stately old residential neighborhood. To the west of the port are the beaches of Huelin-San Andrés. Further west still is one of Málaga's most popular beaches, Playa de la Misericordia, where you will see tall chimneys along the promenade which are relics of 19th-century industry.
Eat Pescadito
Fried fish is the favorite local food. It tastes best when enjoyed with a view of the sea. Order it at almost any restaurant. You will get a mix of fish including filets (rosado) and whole fresh anchovies, called boquerones in Spanish. You eat the whole anchovy, but pluck the meat off the bones of the larger salmonetas. Legend has it that English fish and chips originated here when visiting English sailors ate pescadito and took the recipe back home with them.
Visit the Castle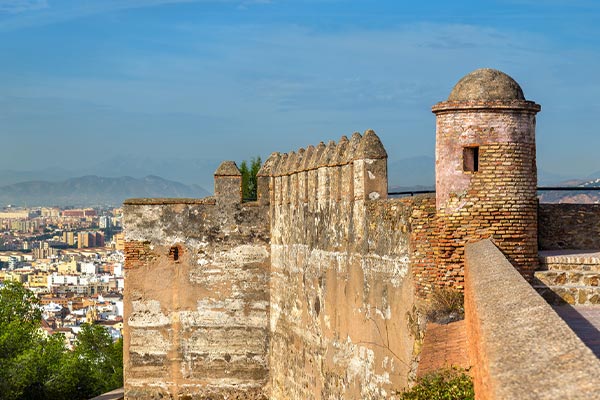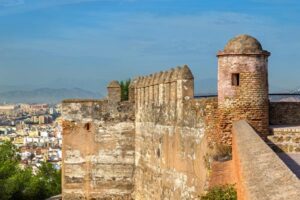 At one time, Gibralfaro Castle was considered the most impregnable fortress on the Iberian Peninsula. Built in the 14th century on the foundations of Roman and Phoenician settlements, it has housed troops and protected the city from its hilltop perch. After the siege of the Catholic Monarchs in 1487, it became the temporary home of King Ferdinand. Today, you can visit for just $4.25 to gaze at the spectacular views from atop its walls or learn about its history in the Interpretation Center. You will need to take a taxi or a bus to the entrance. For $6.70, you can get a combined ticket for the castle and the Alcazaba.
Have Wine and Tapas at El Pimpi
This Málaga institution is a restaurant and winery in a labyrinthine 18th-century mansion. Be sure to wander around and soak up the authentic Spanish atmosphere. Try Spain's famous jamon as an appetizer. Granada Street 62 at Alcazabilla Street. Email for reservations [email protected]
Explore the Ruins of the Alcazaba and Roman Amphitheater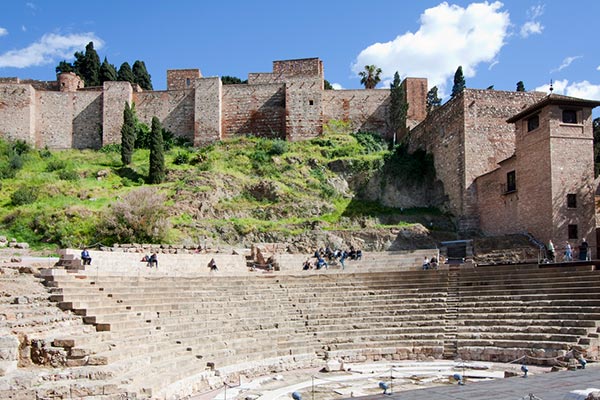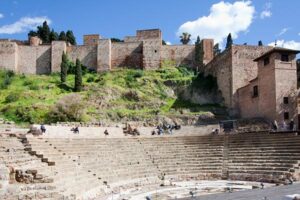 The Roman amphitheater at Calle Alcazabilla 8 is the oldest monument in Málaga City, built in the first century BC by Emperor Augustus and used until the third century AD. Admission is free. Enter through the Centro de Interpretación building. Beside the amphitheater is the entrance to the Alcazaba, the best-preserved Moorish fortress palace in Spain and Málaga's most important landmark. Built between 756 and 780 AD, the Alcazaba is 300 years older than the Alhambra in Granada. Originally, built to defend the city from pirates, it was refurbished in the 14th century and became the home to a number of Moorish rulers. Wander around. Enjoy the tranquil gardens under Moorish arches. Marvel at the vast ocean views. Admission is $4.25.
Enjoy the Picasso Museum
Internationally acclaimed artist Pablo Picasso was born in Málaga in 1881. Although he left Málaga at the age of 15 to live in Madrid, Barcelona, and France, he is one of the city's favorite native sons. Museo Picasso Málaga in the Palacio de Buenavista at Calle San Augustin 8, traces his career over 80 years, in different mediums, through various periods in a tastefully-restored 16th-century Andalusian palace. Admission $14.50, $10.90 for over 65s. For more about Picasso, visit another museum in the house where he was born at Plaza de Merced 15. Fundación Picasso Casa de Natal features family memorabilia and temporary exhibits. Admission $3.60, $2.40 for over 65s.
Shop on Larios Street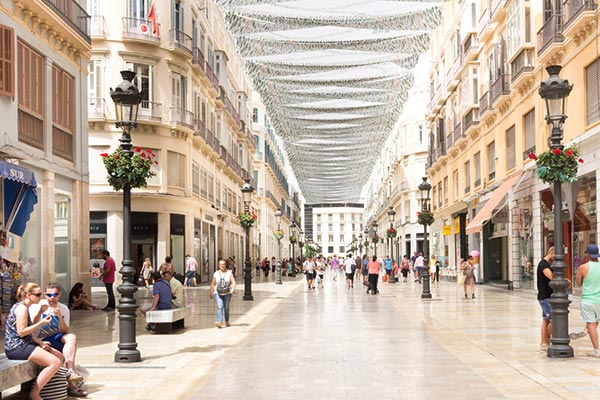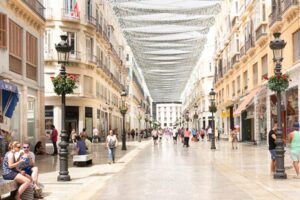 This wide pedestrian boulevard, lined with clothing stores, cafes, bars, and shops of all kinds, is the commercial heart of Málaga. It is also considered one of the most elegant examples of 19th century architecture in Spain. Window shopping is always enticing. During the Christmas holidays, Calle Larios becomes a spectacular tunnel of glittering lights. During Semana Santa (Easter Week), it's the main artery for devout religious processions.
Stroll Along Muello Uno
Muello Uno translates as Pier One. It was the old wharf of the port of Málaga which was reimagined and renovated into an open-air shopping center in 2011. Stores and restaurants face the sea. Dining options range from Burger King and KFC to luxury fine dining. Summer nights are alive with alfresco concerts, art exhibits, theater, crafts markets, and outdoor films. It's the perfect place to watch the sunset over the sea as you enjoy wine and tapas.
Visit the Centro Pompidou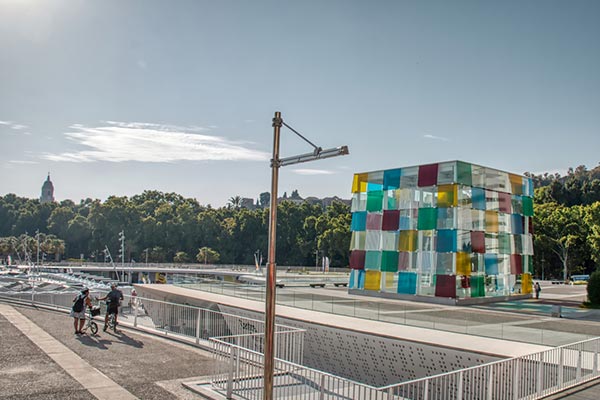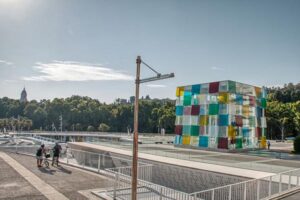 As you enter Muello Uno, you'll see a huge, multi-color, transparent plastic cube. "El Cubo" marks the spot of the Centro Pompidou Málaga, the first outpost of Paris' prestigious contemporary art museum outside of France. It's no ordinary museum. Rather, it is a journey through the provocative history of art in the 20th and 21st centuries. Be prepared to interact with unexpected and sometimes puzzlingly quirky creations. The center also offers temporary exhibits and multidisciplinary programs in dance, art, spoken words, and cinema. General admission $8.50.
Drink Sherry at the Antiqua Casa la Guardia
Experience the real Spain by sipping sherry or vermouth in a wine tavern that has been in business since 1840. Antigua Casa la Guardia is the real deal with dark wooden barrels of various local wines stacked against the wall, colorful tile wainscoting, and a well-worn wooden bar. Point to the barrel of your choice, and the barman will turn the spigot and set a small glass of amber liquid in front of you. He will write your bill in chalk on the bar and run a tab for you as you try a variety of offerings. Choose a tapa from the glass-front refrigerator. Located at Alameda Principal 18. Drinks are less than $2.40 per glass.
Day Trips from Málaga
By Marsha Scarbrough
Because Málaga sits at the center of an efficient public transportation network, it makes sense for travelers to base themselves there and take day trips throughout Andalusia. Southern Spain offers rich culture, diverse landscapes, and fascinating history. Adventures abound.
Granada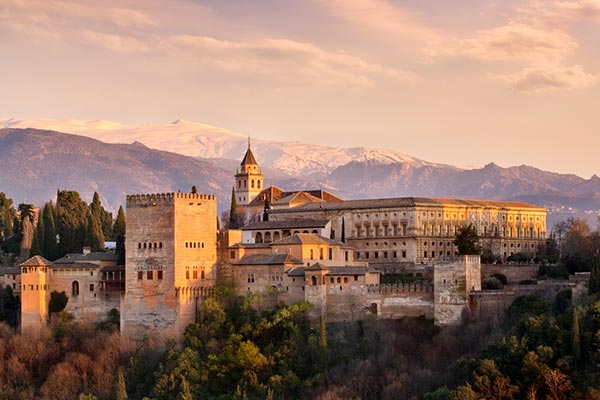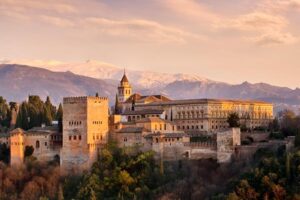 Granada is fairy-tale Spain. Its exotic Arab influences and flamenco soul conjure up visions of times past. The Alhambra, an elegant Moorish palace on a citadel, is the country's most popular tourist attraction with good reason. Book your tickets about two months in advance. This is Spain at its romantic best.
The best way to get to Granada from Málaga is by modern, air-conditioned bus. The bus company Alsa dispatches a bus every hour starting at 8 a.m. It's about two hours each way and less than $29 round trip. Book your Alhambra tickets, $17, based on the bus schedule in order to allow enough time to get to the Alhambra about 15 minutes before your entrance time. (https://tickets.alhambra-patronato.es/ ). Probably no earlier than 11 a.m.
Take a taxi to the long-distance bus station, which is beside the main train station. Pick up your ticket at the Alsa counter before boarding.
When you arrive in Granada, take a taxi to the Alhambra entrance. Enjoy this glorious Moorish palace, the jewel of the Arab empire that ruled Spain for 800 years, and one of Spain's most precious monuments. Be on time for your tour of the Nasrid palaces, but be sure to stroll the tranquil gardens of Generalife.
After you've seen it all, take a taxi down to the Albaicín, the old Arab district at the foot of the citadel. Explore the winding streets. Shop in Arabian boutiques. Eat Moroccan food, probably $12 to $18 per person depending on what you order. Have mint tea in a gracious tearoom called a Tetería.
Have Uber take you back to the bus station and catch the bus back to Málaga. The last bus back is 9 p.m.
Marbella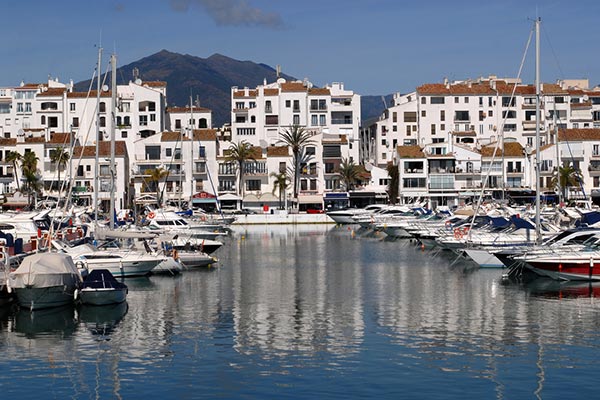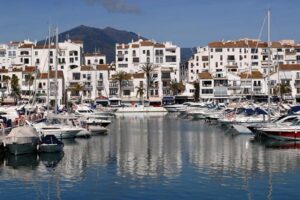 Marbella literally translated means "beautiful sea," and indeed, it is that. This "pearl of the Costa del Sol" is legendary as a playground for Saudi princes and Russian oligarchs. Marbella is one of Spain's most upscale beach towns and perhaps its most stunning.
To spend a day rubbing elbows with the international jet set, take Avanza bus from the long-distance bus station in Málaga. The fare is less than $20 round trip, and the journey is about an hour each way. When you arrive, take a taxi to the Parque de la Alameda. Free walking tours leave from here four times a day. It's a good idea to book in advance (https://freetoursmarbella.com/project/ ), and tip generously.
Marbella's beachfront promenade invites sunning on the sand, sitting in seaside cafes, or shopping in trendy boutiques. Wide Avenida del Mar, which connects downtown's boulevards with the oceanfront, displays surrealistic bronze sculptures by Spain's acclaimed artist Salvador Dalí. Marbella's historic old town oozes Andalusian charm. Cobblestone lanes create a shaded labyrinth interrupted by plazas filled with orange trees. Patrons in sidewalk cafes watch sparkling fountains as they sip cool white wine. Vivid blossoms brighten whitewashed walls.
You'll also want to visit the adjoining community of Puerto Banús where luxurious yachts crowd the marina. You can go by boat on a catamaran that leaves from Puerto Deportivo in Marbella and drops you off in the heart of Puerto Banús. A return trip is possible. It leaves hourly, takes about half an hour, and costs $11 one way, $18 return. (https://www.fly-blue.com/ferry-banus-marbella/ ). You can also walk from Marbella to Puerto Banús in about two hours (4.8 miles). Somewhere along the way stop for lunch at a place with a view of the sea. Enjoy some wine and tapas before you catch the bus back.
Mijas Pueblo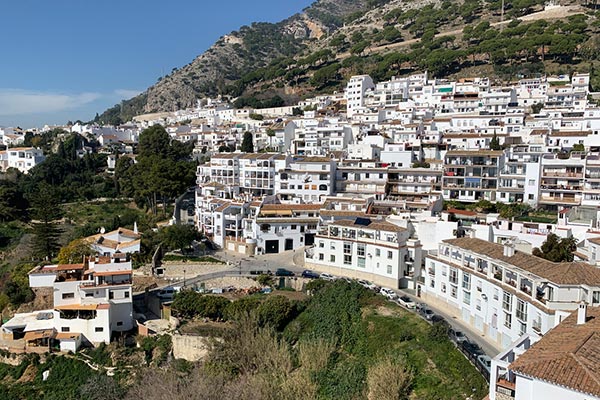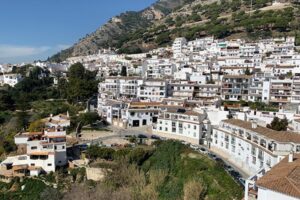 Mijas Pueblo is a charming, whitewashed, Andalusian village in the hills above the Costa del Sol. It has a special attraction for expats due to the many nearby golf courses. English is spoken widely.
The village is a seductive destination in itself, even without the allure of golf. Narrow cobblestone streets wind like white passageways between hidden plazas and warrens of shops filled with Spanish arts and crafts. Bright red geraniums spill from blue flower pots attached to stone walls.
To get there, take the Cercanias surburban train from the Málaga Centro station. You can buy a ticket from the machines or just slap your credit or debit card on the reader at the turnstile, $4.30 each way. You are going to Fuengirola, the end of the line C1 heading west. Note that trains in both directions leave from the same platform, so be sure you get on one headed for Fuengirola. This 45-minute westward train ride will take you through the train station and the airport and then through some of the most popular expat communities of the Costa del Sol. When you arrive at Fuengirola, you can take the local buses M122 or M221 from the bus station just a couple of blocks from the train station for a 20-minute ride up the mountain. Or grab a taxi for about under $25.
When you arrive, you'll find quaint carts pulled by adorable burros waiting beside the lovely large plaza to taxi you to the many restaurants, bars, shops, and churches in this labyrinthine town. Don't miss the hewn-stone hermitage of La Virgen de la Peña. Although the town has an altitude of almost 1,500 feet, outdoor cafes in shady, serene gardens offer ocean views.
Stroll, shop, sip wine, snack on tapas, and enjoy the sea breezes to the soothing sound of splashing fountains.

Nerja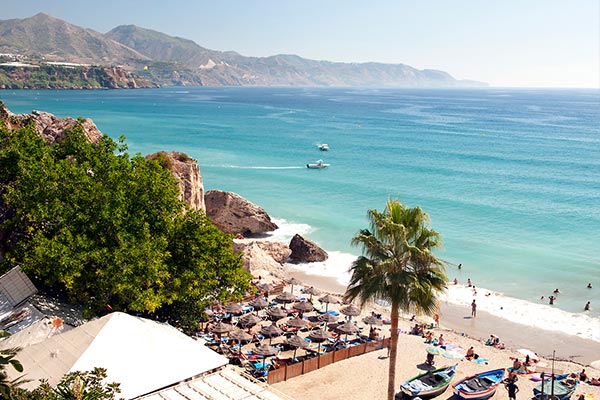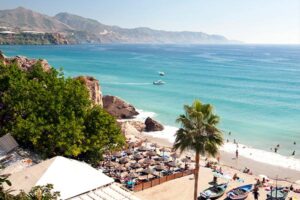 About 30 miles east of Málaga city at the eastern tip of the Costa del Sol sits Nerja. This gracious, palm-fringed haven features 10 miles of powdery beaches with crystal clear water. Views of the Mediterranean are so vast and stunning from a downtown viewpoint that the spot was named "The Balcony of Europe" by King Alfonso XII.
To get there, take an Alsa bus from Málaga's long distance bus station. The trip takes an hour to an hour and a half depending on the number of stops. Round trip fare runs less than $11.
Although it is an increasingly popular tourist destination, condo towers do not dominate the dramatic coastline. The Costa del Sol east of Málaga is much less developed than the stretch to the west. This peak-protected micro-climate is so mild all year that avocados and mangos are cultivated nearby.
Once a sleepy fishing village, Nerja now has a year-round population of about 25,000. About 30% of those residents are expats, mainly from the U.K. and Sweden. Nerja keeps its Spanish flavor by forbidding international chain restaurants like Starbucks and McDonalds.
Take in that amazing view from the "Balcony of Europe". Swim in the transparent sea. Soak up the sun as you lie on sugary sand. Visit the charming old town for tapas tasting. Be sure to try Andalusían fried eggplant with molasses. Finally, take a tour of the Nerja caves featuring the largest stalactite in the world.
Nerja has a little red tourist train that can take you to all the sights where you can hop on and off. The $18 fare includes entrance to the caves and the Nerja Caves Museum in the Plaza España. (https://www.cuevadenerja.es/en/ )
Gibraltar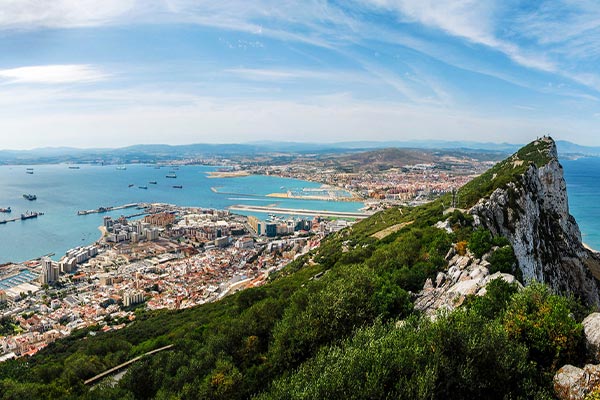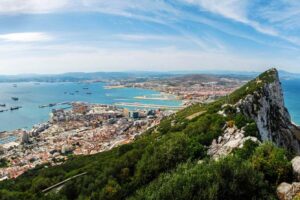 If you want to see the views of Africa from the top of the Rock of Gibraltar and meet the famous mischievous monkeys, it's best to take a full-day tour from Málaga. Prices, including travel in an air-conditioned bus and an English-speaking guide, start around $70. The bus ride is about three hours each way. (https://www.viator.com/tours/Malaga/Gibraltar-Sightseeing-Day-Trip-from-Malaga/d956-2140JTCDS12MLG )