By Cila Warncke
Cadiz boasts a rich history, sweeping golden beaches, friendly people, lush green spaces, and reasonable cost of living, without the tourist crowds of the Mediterranean. The most populous city on Spain's southern Atlantic coast, Cadiz is one of Western Europe's oldest continuously inhabited cities, having been a population center for over 3,000 years.
The location made it one of Spain's principal gateways to the new world. In fact, Christopher Columbus departed on his second voyage from its port (the first set sail from nearby Huelva). Centuries of trade, exchange, conquest, and exploration have contributed to its distinctive character—part traditional Spanish, part worldly and adventurous.
Retire in Cádiz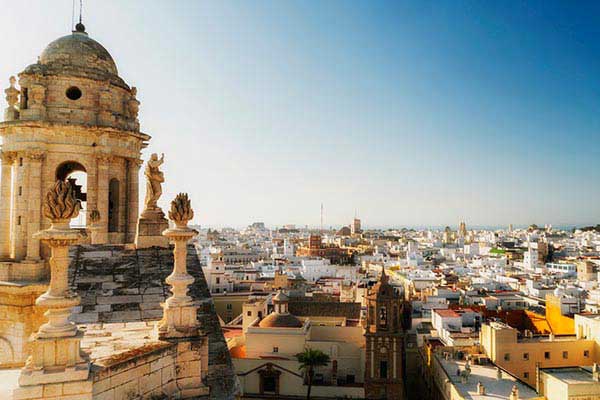 For authentic, laidback charm, Cadiz is hard to beat. Located on a spit of land in the Bay of Cadiz, the sea-level city occupies just 401 square miles making it imminently accessible and walkable. With some 110,000 inhabitants, it is a fraction of the size of coastal cities like Malaga or Alicante, creating a real sense of community. Settling here, you will quickly develop a routine full of familiar faces, from neighbors to shop owners to dog walkers. As the capital of Cadiz Province, it is a seat of government and administration, meaning you can handle everything from visas to banking to getting a driving license without leaving town.
The downside of its petite size is a tight rental market, exacerbated by seasonal demand from university students. If you want to rent in the city center start looking early and prepare to move fast. There are significantly more properties available for purchase, as is typical in Spain. Another option is to look in the adjacent towns of Puerto Santa Maria, which forms the northern shore of the Bay of Cadiz, Puerto Real, or San Fernando, to the south.
Wherever you settle, you gain access to a remarkable blend of nature, culture, and history. Cadiz sits in the center of the Costa de la Luz (the "coast of the light"). Shaped by the ebb and surge of the powerful Atlantic, it feels fresh and untamed, despite millennia of human presence. The city beaches of Santa Maria del Mar and Victoria segue into the spit that connects Cadiz to the mainland. You can set off from the town and drive all the way to the southernmost point of Spain, if you wish, along miles of sandy beaches with undulating dunes, like Zahara de los Atunes and El Palmar, and rocky coves carved into towering cliffs, such as the Calas de Roche.
You can go on an even longer journey without leaving town by traversing its colorful past. A stroll along the waterfront passes archaeological remains of the Phoenician settlement Gadir, as well as a Roman fish-processing factory. The Romans also built a theater in the city they called Gades, hewing seats straight into the rock. Fragments of the past abound, above or below ground, ranging from the 17th century Catacombs of Beaterio to the ornate Cathedral de Santa Cruz, which took over 100 years to build.
Lifestyle in Cádiz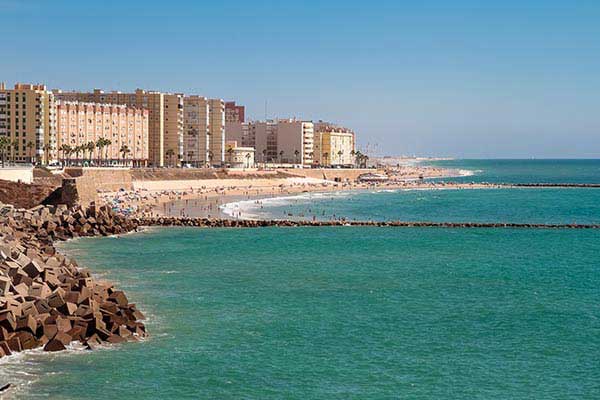 Yet Cadiz wears its 'oldest inhabited city' cloak lightly. The main route into Cadiz is the Bridge of the 1812 Constitution (Puente de la Constitucion de 1812), an immense suspension span completed in 2015. Day or night, its gleaming triangles of cable rise from the water like space-age pyramids. From its busy port and active shipyard to its university, Cadiz has the buzz of a place where the future is as near as the past.
During the warmest months—June to September—life can be lived comfortably outdoors; a season that expands from March to November with the addition of a jumper and jacket. Among the pleasures of this are coffee or tapas in one of the countless cafes that dot its plazas, beach walks, and shopping expeditions to the central market.
In contrast to destinations like Alicante, Malaga or Barcelona, the city is not overwhelmed by summer tourism. The nearest international airports are Jerez de la Frontera (a 30-minute drive) and Seville (a 90-minute drive), and while there are some unappealing hotel complexes along the coast, it is far less developed than the Costa del Sol or Costa Blanca. People choose to come to Cadiz, which creates a relaxed, communal atmosphere among tourists and expats alike.
Those who make the journey gain access to fantastic food and culture. Seafood is the pride of the city. Typical dishes include fritters made from small prawns (tortillitas de camarones), bluefin tuna, bass, gilthead bream, and other ocean fish. The sea also provides a wealth of entertainment options, from surfing and sport-fishing to sunset cruises. If you prefer dry land, activities range from hiking and horseback riding to golf or guided tours of nearby Donana National Park, a wildlife and bird refuge that is home to unique species like the Iberian lynx.
Life in Cadiz is punctuated by regular religious celebrations and parades, including spectacular solemnities during Semana Santa (holy week). At the other end of the hedonism spectrum lies Carnival, a 10 day, no-holds-barred fiesta that attracts revelers from all over Andalusia. The city is also home to the Alcances Film Festival; at more than 50 years old, it is one of Spain's longest-running cinematic events. There is no shortage of concerts, theater productions, and art exhibitions throughout the year, thanks in part to the energetic student population.
Cost of Living in Cádiz
To live in the middle of the action—Cadiz proper—implies an investment. Property costs around $2,745 per square meter to purchase and $11.45 per square meter to rent and, as mentioned, rentals can be hard to find. Expect to pay from $900 to $1,070 to rent or $300,000 to $360,000 to buy a two-bedroom, two-bathroom apartment. The short hop across the bridge to Puerto Real or San Fernando slashes costs. There, you're looking at $1,500 per square meter to buy and $7.80 per square meter for rentals. El Puerto de Santa Maria to the north has average purchase prices of $2,090 per square meter and rentals for $9.60 per square meter (around $215,000 to $290,000 for a two-bedroom, two-bathroom). If you live outside the city you're also more likely to have free allocated parking. City dwellers, however, can walk most places if they choose and public transport is cheap and plentiful. A rechargeable Transport Consortium of the Bay of Cadiz card gives discounted access to a bus network that extends inland to Jerez and its international airport, and all along the coast. There is also a regular train service, with a direct line to El Puerto Santa Maria, Puerto Real, San Fernando, and Jerez Airport.
Once you're settled, though, the cost of living is decidedly budget-friendly (especially if you frequent the central market for produce, meat, and fish). Dining options emphasize local products, especially seafood. Expect to pay around $22 to $30 for a dinner main of fresh fish, shellfish, prawns, or local delicacies like sea urchins at a chic waterfront restaurant like El Faro. Tapas bars are a great way to sample these goodies for just $3.30 to $6. Italian, Japanese and Chinese restaurants are plentiful and inexpensive. You can get a handmade pizza from local favorite Confusione for $9.50 to $12.
Below is a breakdown of average monthly expenses for a couple living in Cadiz:
| | |
| --- | --- |
| Expense | U.S. $ |
| Rent | $950 |
| Electricity | $49 |
| Gas (heating/stove) | $24 |
| Groceries | $420 |
| Cell plan | $34 |
| Internet | $30 |
| Car (maintenance/fuel) | $90 |
| Health insurance (private) | $180 |
| Dining out | $210 |
| Total: | $1,798 |
Things to Do in Cádiz, Spain (For Free)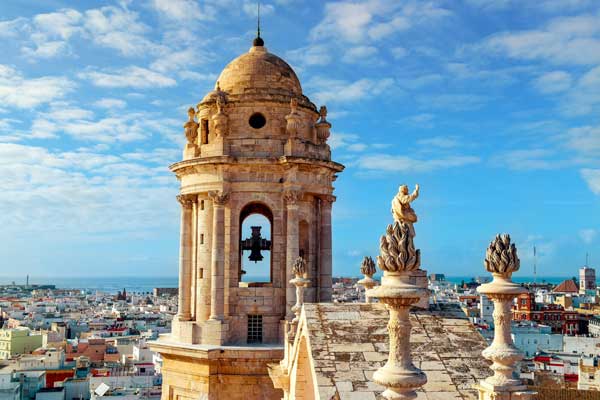 Cádiz, Spain…where ancient relics meet modern flair. Located in the southwestern corner of the Iberian Peninsula, between the Mediterranean Sea and the Atlantic Ocean, Cádiz was founded in 1104 BC by the Phoenicians and is part of the community of Andalusia. Tree-lined plazas, beachfront restaurants, tapas bars, and historical buildings dot the landscape. Cádiz offers something for everyone.
For an inexpensive day in this charming port city, I recommend this list of free, or close to free, places to visit in Cádiz.
Walk through Mercado Central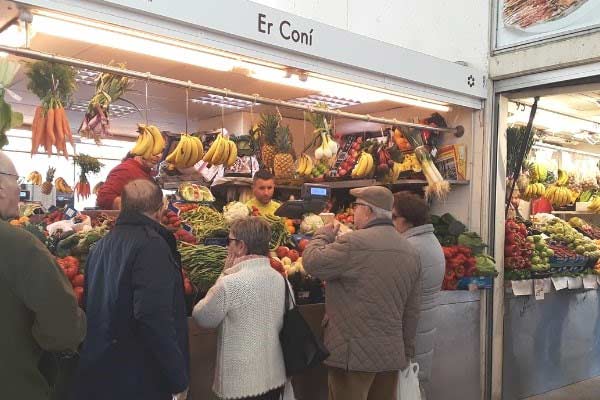 This large authentic market in Plaza Libertad is filled with stall after stall of fresh fish, produce, cured meats, and seafood. The Neo-Classical 19th century design mixed with all the colors, chatter, and people is a feast for the eyes. Locals and tourists alike browse through the locally grown produce, buying their meat or fish for dinner, milling through the many rows of locals selling their wares. There is also a cafeteria and several places to get a drink. You can find the makings for a perfect picnic lunch or dinner here but the mercado is also great for simply strolling through to people watch. It's free and it really gives you a sense of living in a southern Spanish coastal city.
Tour the Catedral de Cádiz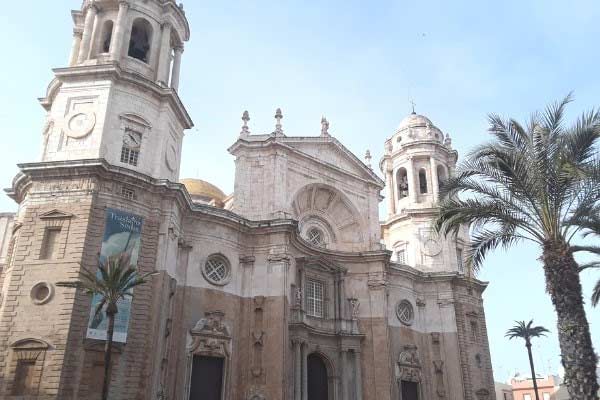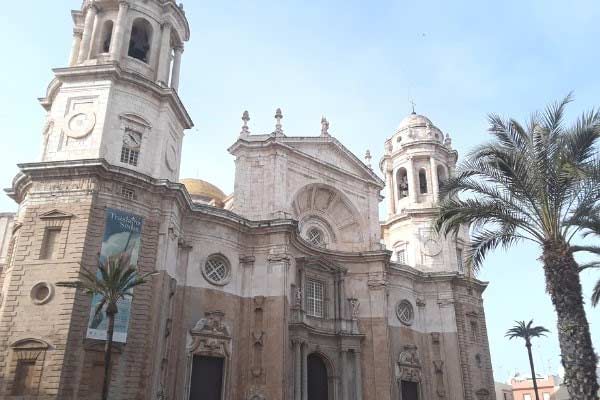 Ok, so this one isn't entirely free unless you go on Sunday before Mass, but it is very cheap at only $5.63. The hallmark of the city center is this wondrous and ornate Catholic Church. The church sits in Plaza Catedral, just a few minutes' walk from the Mercado Central, and is a massive structure. One side is on a coastal road while the front sits facing into the large, open plaza. The cathedral was built between 1722 and 1838 and took 116 years to complete, so the mix of design styles from Baroque to Neo-Classical is evident. The audio tour is long but explains all the history and artwork as it guides you through the nave, chapels, and crypt. The entrance cost includes the audio tour, a tour of the various rooms, a tour of the crypt, and admission to climb the bell tower. The climb is challenging but the views are breathtaking and worthwhile.
Stroll along Playa de la Caleta (La Caleta beach)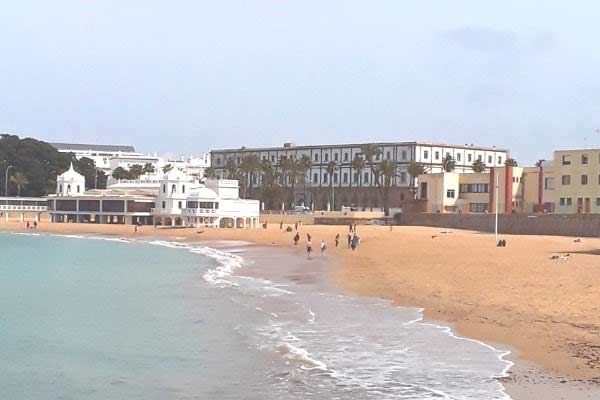 La Caleta sits in the center of two fortresses and amid the rooftop cityscape of Moorish buildings. The main street runs along the beach, filled with modern restaurants and tapas bars. Small fishing boats line the shore and bay, reminiscent of a native fishing community. Locals walk along the beach with their children or enjoy a cerveza at one of the beachfront cafes. In the center of the beach, there is a bathhouse with restrooms, and changing area. La Caleta is a popular metropolitan beach with a unique feel and a great place to relax and take in the seaside Spanish ambiance.
Visit Castillo de Santa Catalina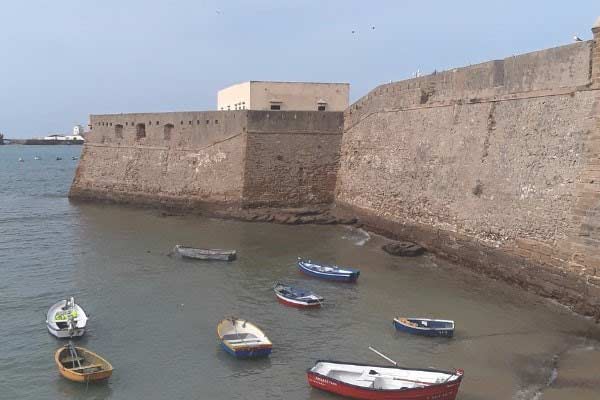 This 16th century fortress is the smaller of the two that stand like bookends to Playa de la Caleta. The star-shaped structure was built to guard the city against the British and Dutch. Small local fishing boats decorate the waters surrounding the fort. Inside the walls, you will find a quaint little chapel and barracks. Other rooms are currently used to house art exhibits. While there is not a whole lot to see inside the fortress, the sweeping views of the ocean and shoreline are spectacular. The entrance is free so if you are a history buff, this fortress is a must-see.
Visit Castillo de San Sebastian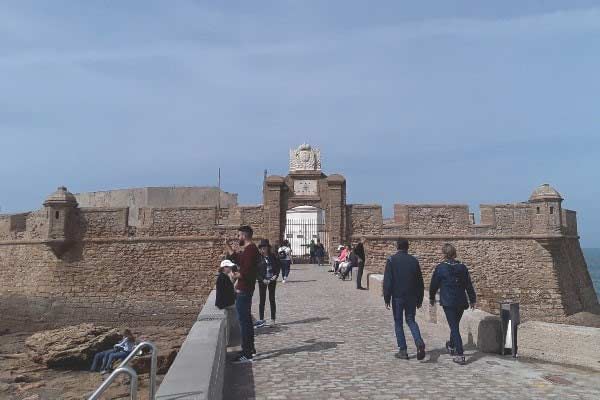 Built in the early 1700's to defend the northern flank of the city, this fortress sits majestically out in the harbor as a beacon of Spanish history. The one-mile long causeway leading to the gate of the castle is best approached during low tide, when the stones and rocks bordering the walkway are visible and reachable. The Moorish style castle has remnants of a watchtower from the Muslim period. Unfortunately, San Sebastian is currently closed for renovation but when it is open, there is no cost to enter. But the views are so stunning that you can still enjoy a visit.
Walk Amongst the Ruins of Teatro Romano (Roman Theatre)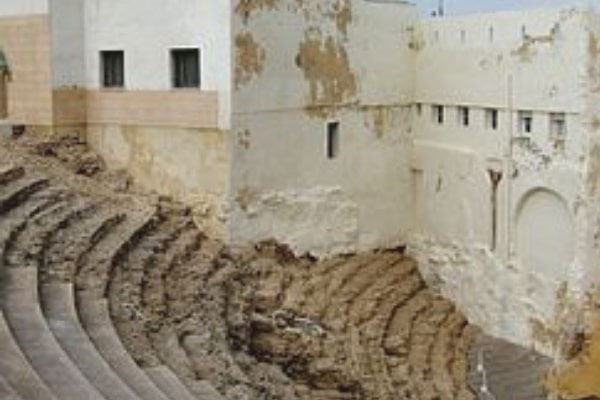 Built around 70 BC, the partially excavated ruins of the Roman Theatre are just a few minutes' walk from the Catedral. Discovered in 1980, it is said to be one of the largest theaters ever built in the Roman Empire. The horseshoe auditorium and parabolic tiered seating are reminiscent of the archaic theaters of Rome. I found myself mesmerized by the historical significance of the ruins, thinking how it would have looked in its full glory. There is no cost to walk through the ruins.
If you are ever in the area of southern Spain, Cádiz is a gem of a city and a must on your day-trip list.
Featured Image Copyright: ©iStock.com/Dark_Eni