By Cila Warncke
Jerez de la Frontera lies between nine and twelve miles as the crow flies from Spain's southern Atlantic coastline. The city of some 210,000 people is famed for sherry, horses, and flamenco. It is proud, friendly, raucous, and deeply traditional. Despite its hot climate, minimal cost of living, and good transport connections, it attracts few outsiders long-term; almost none from other parts of Spain.
Retire in Jerez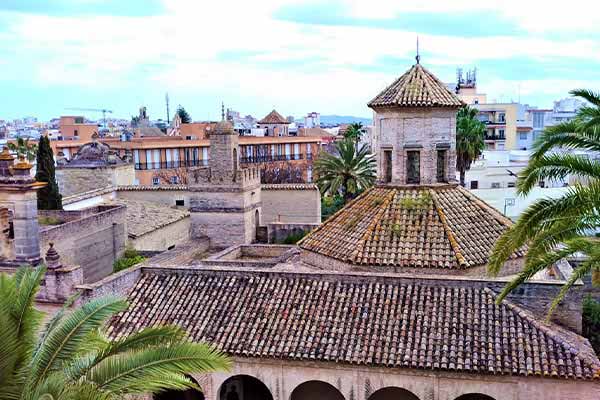 A paucity of expats distinguishes Jerez from the English-speaking enclaves of the Costa Sol, just two hours away, guaranteeing its authenticity and bargain-basement cost of living. If you want history, culture, architecture, and Spanish life as lived by Spaniards, Jerez is unparalleled.
There is a small English-speaking community, many of whom run language schools (an option for part-time teaching work, if desired). Most people over forty speak minimal English, so it helps to know basic Spanish. However, the government has made a huge push for language education in recent years; English is required from primary school through university. This means there is always someone to hand to help out in a linguistic jam.
Essential businesses like banks and real estate agents have English-speaking staff, so it is easy to manage personal affairs. If you live in or near the old town, you can walk most places comfortably, or hop on a city bus. The train and bus stations that connect Jerez to Cadiz, Seville, and numerous smaller towns are a 20-minute stroll from the main square. Apartment living is the norm, both in the old town and newer zones on the periphery. Some neighborhoods have rows of duplexes with small gardens, for those who prefer a more suburban experience. These developments usually include private parking. Apartment-dwellers should consider renting a garage space for $60 a month to save the headache of street parking.
Despite its southerly latitude, Jerez has distinct seasons. Summers are bright and hot, with temperatures in the 80s F from June to September. Spring and Fall are cooler but comfortable; January and February can be bitter. One local weather phenomenon is the levante, a fierce east wind that scours the city with desert sand from north Africa. Another is the rainstorms which can inundate Jerez in a matter of hours. These extremes are rare, though. You can sit outside at a cafe most months of the year.
Lifestyle in Jerez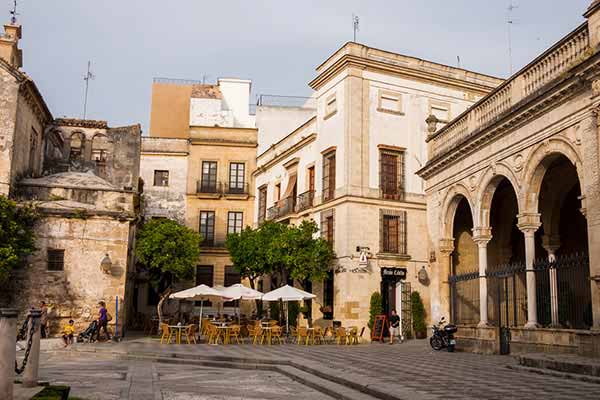 Though hard-working when a task is at hand, Jerezanas make no apology for living for the pleasures of food, family, and faith. People eat up to five times a day, starting with café con leche and toast around 9 a.m, coffee (or sherry) and a tapa at 11 a.m., a long lunch at 1 p.m. (followed by siesta), an afternoon snack (merienda) between 4 p.m. and 5 p.m., and a sumptuous dinner at 10 p.m. to 11 p.m. The latter is often followed by drinking and singing until the wee hours, including on week nights.
The cobbled city streets ring at all hours with conversation, laughter, clinking glasses, shouting children and the staccato of palmas, the hand-clapping that forms the rhythmic backbone of flamenco.
Jerez was a Moorish city for over 500 years before its conquest by Catholics in 1264. This history lives in its architecture, as well as its iconic music. The old town is dominated by the Alcazar, an 11th century fortress that was once a self-sustaining city. Its dust-colored exterior belies the elegance and symmetry inside, where you can wander through gardens, a mosque, and baths whose vaulted ceilings are pierced with star-shaped holes that create a permanent twinkling twilight.
Opposite the Alcazar, and almost equally popular as a wedding photo backdrop, is the Cathedral of the Holy Saviour. Jerez's social calendar revolves around weddings, baptisms, and Saint's days, all of which are marked with immense ceremony. Religious processions (called cabalgatas) regularly set off from one of the city's two dozen churches and parade through the streets in the colorful robes of one brotherhood (hermandad) or another, surrounded by residents dressed in Sunday finest, knocking back sherry as they salute the passing icons.
The entire city downs tools for Feria in May and Semana Santa, the week before Easter. Preparations for each of these epic celebrations begin weeks in advance. The Feria began as a horse-trading fare and buying, selling, and showing Andalusian horses is still an important part of the event; so too are the bands, cabanas, amusement park rides, and bars built in the city's principal park, turning it into a round-the-clock party. Prior to Semana Santa, viewing stands are built along the main streets and plazas, and more than 40 hermandades practice marching their designated routes while bands fill the air with solemn music.
Weddings are no equally grand. From Easter till June, the central plazas are packed each weekend with gleaming four-horse carriages, luxury cars, and crowds in tuxedos and jewel-toned formal dresses. You don't need an invite to settle on a bench, or at a cafe table, and enjoy the spectacle.
Next-door to the Cathedral is Jerez's other principal house of worship: the Gonzalez-Byass factory where Tío Pepe sherry is produced. Sherry is the lifeblood of Jerez, enjoyed by much of the mature population for breakfast and lunch, as well as before, during, and after dinner. On entering the city, you smell the sweet, heady must of fermenting grapes from the city's dozens of bodegas (wineries). If you care about fine wine, history, or both, a tour of Gonzalez-Byass is a great place to start. It explains sherry's distinctive production process and colorful past, and pours generous tasters of the principle styles including pale, dry finos; rich, russet olorosos; and the unctuous sugar-punch that is Pedro Ximenez. Aficionados could spend happy years working their way around Jerez's bodegas, immersing themselves in its culture one glass at a time.
Local cuisine tends to bold, rich, sweet flavors that complement sherry. Drinks are served with bite-sized breadsticks called picos, cubes of pungent goats' cheese (payoyo), or herb-spiked olives. Seafood is excellent and inexpensive, often simply grilled with garlic and oil. Fried or roast pork is another favorite. In season, snails, served in a glass, are a local delicacy. They are sold, live, by the carrier bag at the sprawling central market (mercado de abastos). Housed in an airy Neoclassical building, it is worth visiting for the architecture alone. Inside, it is equal parts live entertainment and budget-conscious shopping destination. A week's supply of fruit and vegetables (most local) costs about $18, half-a-dozen farm fresh eggs $1.50, a kilo of sea salt from the nearby coast $1.20. Stalls are replete with regional goods including honey, nuts, figs, olives and olive oil, and fresh-off-the-boat fish.
Cost of Living in Jerez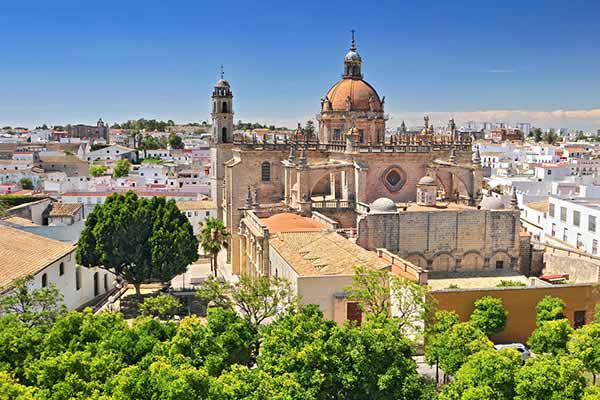 The mercado is not the only place expats can get reverse sticker shock. Casual dining costs next to nothing: a sandwich (bocadillo) or a wedge of tortilla de patatas plus a drink will fill you up and set you back $3.60 to $4.80; a beer or sherry is $1.20 to $1.80 at most bars (known as tabancos, not to be confused with small shops which are estancos). Restaurants specialize mainly in regional cuisine, with meat or seafood dinner mains for $14.50 to $18.00.
Property prices are likewise modest. The average cost is $1,340 per square meter to buy (versus $3,400 in Madrid and $3,250 in Barcelona) and $8.20 to rent compared to $17 in Madrid and Barcelona. A two-bedroom, two-bathroom apartment will cost around $120,000 in central Jerez; a larger, more modern apartment to the north or south will be around $180,000 to $220,000.
Rentals are around $600 for a two-bedroom, two-bathroom property, depending on the size and location. Three and four-bed homes can be had for around $840.
Public transportation is reliable and inexpensive. With the purchase of a rechargeable swipe card, a 45-minute bus journey to Cadiz is $3.60, to Sanlucar de Barrameda (famous for manzanilla, its version of fino sherry) is $1.60and coastal beauty spot Chiclana is $2.60. The international airport is 15 to 20 minutes and $18 by taxi. There is sporadic bus and train service, too; if it suits your flight time you can get to the airport for a couple of dollars.
Below is a breakdown of average monthly expenses for two people living in Jerez:
| | |
| --- | --- |
| Expense | U.S. $ |
| Rent (two-bedroom apartment) | $715 |
| Electricity | $48 |
| Gas (heating/stove) | $18 |
| Groceries | $400 |
| Cell plan | $35 |
| Internet | $30 |
| Car (maintenance/fuel) | $120 |
| Health insurance (private) | $180 |
| Dining out | $170 |
| Total: | $1,716 |
Featured Image Copyright: ©iStock.com/JackF