Spain's Mediterranean beach resorts and dynamic cities are alluring destinations for most expats. However, for those seeking a quieter life immersed in traditional Spanish culture, small pueblos off the beaten path offer tranquil pieces of paradise.
Spain has an embarrassment of riches when it comes to gorgeous tiny towns. In fact, the country has an organization that keeps track of the most beautiful villages and adds a few new ones each year. Browse the website of Los Pueblos Más Bonitos de España to get an idea of the range of options. Scroll down to the map at the bottom of the home page and explore by region.
Are you interested in retiring abroad? Yes | Not Sure Yet
Below are two places filled with Spanish magic.
Liérganes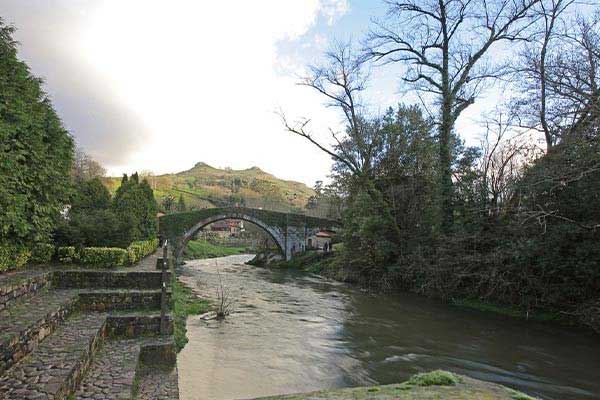 In the lush countryside of Cantabria, Northern Spain, the exquisite pueblo of Liérganes shines like a jewel nestled in a green valley. You'll feel like you stepped back in time as you wander between impressive, well-preserved mansions from the 18th and 19th centuries. These elegant edifices are remnants of the thriving economy generated by the first Royal Artillery Factory of Spain which began manufacturing cannons there in the 17th century.
During summer, brilliant flowers spill from balconies and overflow every garden. The crystal-clear Miera River flows through town and under the picturesque "Roman bridge" which was actually built in 1587 by master builder Bartolomé de la Hermosa. In this village with a population of just over 2,400 people, upscale restaurants and high-end shops are part of the landscape. Since the popular beach resort of Santander is just a little over 30-minutes away by suburban train, summer delivers plenty of day-tripping tourists.
Visitors also come to Liérganes to take the thermal waters at the balneario (which is what spas are called in Spain). The healing powers of the sulfurous waters of a "holy fountain" were known as early as the 1600s. Demand for this cure for rheumatism, respiratory illness, skin and stomach conditions lead to the opening of the spa in 1862. Some years later, a grand hotel was added and remains in business today. In the early 20th century, King Alfonso XIII and Victoria Eugenia "took the baths", and Liérganes soon became a center of leisure and health. Today, you can even soak in the renovated "King's Pool", the same one Alfonse XIII himself enjoyed. Surrounded by park-like grounds, the balneario offers rooms, meals, thermal waters, beauty treatments, and therapeutic programs.
Summer weather in Liérganes can be mild and glorious. Winters can be cold, wet, and windy. Average temperatures range from 40 to 74 F but rarely fall below 31 or go above 80 F.
Part of Liérganes' charm is its very own legend: the tale of the Fish-Man. In the 1670s, a quiet young man, Franciso de la Vega, lived with his family in the village. He loved to swim and spent most of his days in the river. After his father died, his mother was left with four children and little means to support them. She found the pale, red-headed boy in an apprenticeship with a carpenter in Bilbao. On June 20, 1674, he went swimming in the estuary of Bilbao and swam out of sight of his co-workers. Since they knew he was an excellent swimmer, they didn't worry, but after a whole day passed, they thought he had drowned. Five years later, fishermen in the Bay of Cádiz (Southern Spain) found an odd creature tangled in their nets. It appeared to have a human form, a pale complexion, and red hair, but with fish-like scales covering part of its chest and spine. They took him to the church where monks interrogated him in several languages. Finally, the Fish-Man spoke one word, "Liérganes."
One of the monks took him to the village where the Fish-Man walked straight to the house of his mother who recognized him as her lost son. He stayed with his family but only spoke a few words. He never got used to clothes or shoes and would walk around the village naked and barefoot. Nine years later, he went swimming in the sea again….and never returned. Today there is a statue of the Fish-Man beside the Roman Bridge and an orientation center with information about his story in an old mill nearby.
You can rent a furnished, two-bedroom, two-bathroom apartment in Liérganes for $522 a month You can buy a similar apartment but with one bathroom and a terrace for $121,718.
Alhama de Granada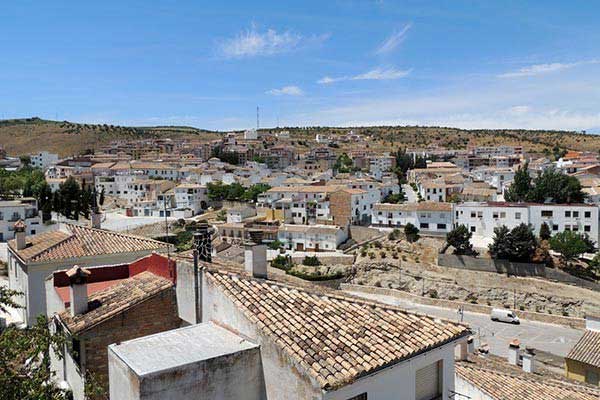 Although not included in the website of Los Pueblos Más Bonitos de España, its dramatic setting and rich history deserve that designation. Halfway between Granada and Málaga in Andalusia, perched on the edge of a breathtaking gorge carved by the Alhama River in the Sierra de Tejeda mountains, this village of around 6,000 people offers pleasant mild summers and cold winters. Founded by the Romans, who built bathhouses to take advantage of the natural hot springs, Alhama was later ruled by the Arabs and finally conquered by the Catholic Kings. Its monumental architecture reflects all of these periods of its history. The surrounding mountains, lake, and canyons provide opportunities for hiking, swimming, mountaineering, canyoning, kayaking, hang gliding, paragliding, and cycling, or just gazing at the gorgeous scenery. It's perfect for those seeking an outdoor lifestyle infused with medieval charm.
At close to 3,000 feet above sea level, average temperatures range from 70 F to 46 F. July can hit 90 F. November is rainy. Winter may fall below freezing.
The name, Alhama, comes from the Arabic word for "bath". In fact, the Arabs built their own baths on the Roman ruins and made Alhama a healing center during their time. Today the hot springs are the site of a popular balneario. The original 12th-century pool is preserved inside the spa building. The healing waters are especially helpful for osteoarthritis, respiratory ailments, and stress. In modern facilities surrounded by lush gardens, qualified professionals offer a variety of health and beauty treatments.
Alhama is also known for its unique and colorful Carnival celebration, which has been declared a Festival of Tourist Interest in Andalusia. It also offers a music festival, a short film festival, and a wine pilgrimage in August.
You can rent a furnished country home with three bedrooms, two bathrooms, a terrace, a balcony, a fireplace, and a swimming pool on three acres of private land for $852 a month. For $79,113, you can buy a renovated four-bedroom, two-bathroom, three-level, 1,500-square-foot house in the center of the village with balconies, an interior patio, and a garage.
Get Your Free Spain Report Here:
Learn more about Spain and other countries in our free daily postcard e-letter. Simply enter your email address below and we'll also send you a FREE REPORT - Live the Good Life in Sunny, Affordable Spain.
This report covers real estate, retirement and more in Spain and is yours free when you sign up for our IL postcards below.
Related Articles
There Are Many Reasons for Moving to Spain
The Best Places For Every Budget in Spain
Is Spain a Safe Place to Live?
Popular Articles You May Also Like