Kuala Lumpur, or KL to the locals, is Malaysia's largest city. It's a fun place to explore and the more time you spend here, the more interesting places you'll discover.
This is where you'll find the best shopping, the fanciest country clubs, and the biggest markets. Museums, orchestras, and concerts are on offer and the selection of restaurants is the largest and most varied in Malaysia. There is a seemingly endless selection of Chinese, Indian, and Malaysian restaurants, as well as cuisines from all over the world—steakhouses, European, Australian, American, Asian, and Middle Eastern restaurants are scattered throughout the city.
The glittering Petronas Towers may be more famous, but I prefer the Menara. It's one of the tallest telecommunication towers in the world and you can see it from just about anywhere in the city. It's located on a small hill called Bukit Nanas, in the heart of downtown KL.
One clear day, I took the elevator to the top and found the 360-degree views of the city to be unsurpassed. The whole of the Klang valley—in which KL is nestled—was laid out before my eyes like a picture postcard. I could see all the way to the glistening waters of the Straits of Malacca 30 miles away.
It's also worth going to the Menara at night; there's a revolving restaurant at the top—Atmosphere 360—where you can get a full view of the twinkling lights of the city spread out before you.
There's a thriving expat community here with organizations such as The Expat Group running regular meet-ups and mingles. Restaurants, nightclubs, and bars are also popular places to meet new friends. Time Out KL and the free magazine, The Expat, both have listings of various happenings and events.
On a budget of around $1,900 per month, a couple can live comfortably in a well-located, furnished apartment, eat frequent meals, out and have plenty left over for incidentals.
Centrally located two-bedroom apartments start at around $530 per month. A fully-furnished 915-square-feet apartment in Brickfields, an easy walk to KL Sentral (the monorail and light rail hub of the city) currently lists for $540 per month.
Brickfields is where I used to live; it's a charming and friendly neighborhood also known as Little India. You would be welcome to participate in the many celebrations held at the local Hindu temples and have the opportunity to feast on curry puffs and other Indian treats. It is wonderfully quiet at night. The only sound you'll ever hear is the occasional distant pop and fizz of fireworks—holiday, celebrations, festivals… Malaysia loves to party.
Just a short distance out of the city center, in trendy neighborhoods such as Bangsar and Damansara Heights, rents can often be even less.
Foreigners must spend at least RM1 million ($245,695) to purchase property in KL, which buys a nice place in this city. A fully furnished, two-bedroom, two-bathroom freehold apartment with parking in a complex with a pool, sauna, gym, and 24-hour security is listed for RM1 million ($245,695).
It really isn't necessary to learn the language here, since the majority of Malaysians speak English. "I know very little Malay because I don't have to," says expat Karl Hutchison, who has lived in KL for over 10 years.
Throughout the city, you will find hawker centers serving up vast selections of Chinese, Indian, and Malay cuisine. The vendors are true specialists. They may have been making the same dish or two for a generation and the food they cook is fresh, wholesome, and delicious.
A hearty dinner for two from a hawker center or a sidewalk vendor won't cost more than $3 or $4. Hawker centers don't just sell local specialties, either; the larger centers will have vendors selling pizza, hamburgers, and other Western favorites, too.
One of my favorite dining experiences in KL has been to go out for afternoon tea. These feasts are offered by many hotels, as well as at some of the better restaurants in town. Typical afternoon teas include a buffet of choices, ranging from pastries and salads to roasts, fresh seafood, and meat pies. There is always a bountiful dessert table laden with cakes, fresh tropical fruits, and chocolate. It's an affordable indulgence; afternoon tea at the five-star Ritz Carlton costs just $20.
KL is located about halfway between Thailand and Singapore and is a major transportation hub. Flights originating in KL depart to destinations throughout the world and Air Asia, the largest budget airline in Southeast Asia, is headquartered here. Imagine flying to Singapore, Thailand or Vietnam for less than $15… Efficient high-speed rail lines run between KL and Butterworth, which is directly across the Straits of Malacca from the island of Penang, where the historic city of George Town is located. Travel that used to take most of the day now takes less than four hours.
You can easily get around in KL. It's one of the few places in Malaysia where relying on taxis or owning a car is optional. Light rail trains and a super-modern monorail make getting around fast and affordable. A comprehensive bus system provides excellent accessibility to local areas. Fares to most places in the city and surrounding area cost less than $1. Comfortable long-distance buses serve destinations throughout the country. If you want to have your own vehicle for those out of town trips, you'll find that well-maintained streets and motorways make travel simple and stress-free.
Gleneagles Medical Centre is one of several internationally accredited hospitals in KL. Karl broke his arm and spoke very highly of the care that he received there. "I had to have surgery. They put rods in my arm and kept me there for two nights. For all that, including a private room, medications, everything—it cost me about $2,840."
KL has all the big city amenities you could want: Lush parks, modern infrastructure, excellent healthcare, incredible shopping, and friendly, English-speaking locals. All of which make this city an easy place to settle in to and an exciting place to live.
Related Articles
The Cheapest Places in the World to Live
The 3 Best Places to Live in Malaysia
Thailand, Cambodia and Malaysia: Three Great Destinations to Live in Southeast Asia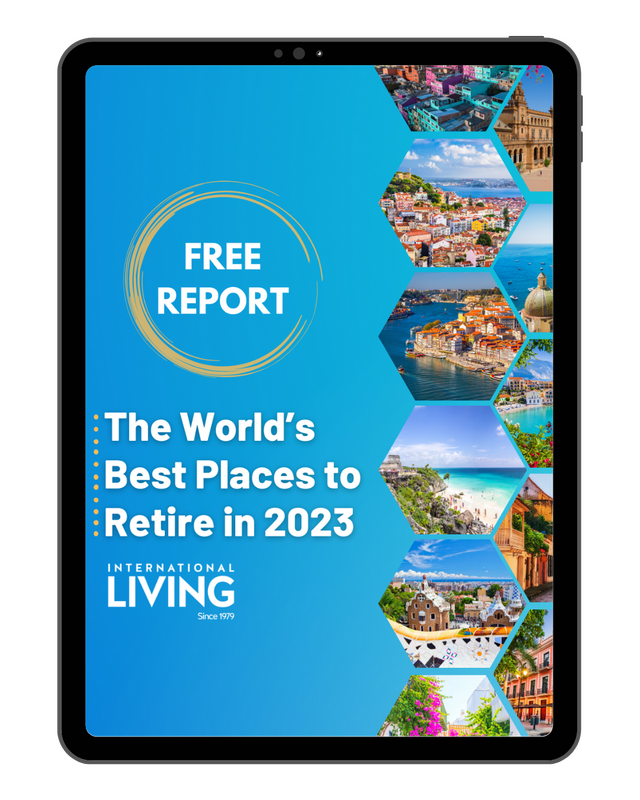 Get Your Free Report on the World's Best Places to Retire:
Learn more about the best places in the world to retire in our daily postcard e-letter.
Simply enter your email address below to sign up for our free daily postcards and we'll also send you a FREE report on The World's Top 10 Retirement Havens, plus access to over 10 more free reports. Our gift to you, on our favorite destinations.