Living in Southeast Asia is a lot easier than you probably think…it's easier to get around, to get what you need, to find a community that will welcome you.
While the distance may be intimidating, the reality on the ground is much less so than you may imagine. Expats living in this part of the world report that life is at once exhilarating, comfortable and affordable.
In Chiang Mai, Thailand, $2,000 a month buys you royal treatment and a relaxed lifestyle among a friendly local population with a vibrant expatriate community. The crime rate is low, and you have access to excellent medical care.
Malaysia flies under the radar for most Americans, but it, too, deserves your attention. Where else can you live in a high-rise that looks and feels like high-end Miami…but pay less in rent than you would in Boise, Idaho? Nowhere else we know.
Cambodia is a relatively new frontier for expats – and no question it's an adventuresome sort who thrives there – but with its smiling people, entrepreneurial opportunities, and rock-bottom pricing, it's got plenty to recommend it.
Where the exotic is an everyday offering, it's easy to assume you'd never fit in. But, as our writers report in the July issue of International Living magazine, they've found just the opposite to be true. Locals are welcoming, warm and generous. So don't resist the tug of exotic Asia. Instead, explore.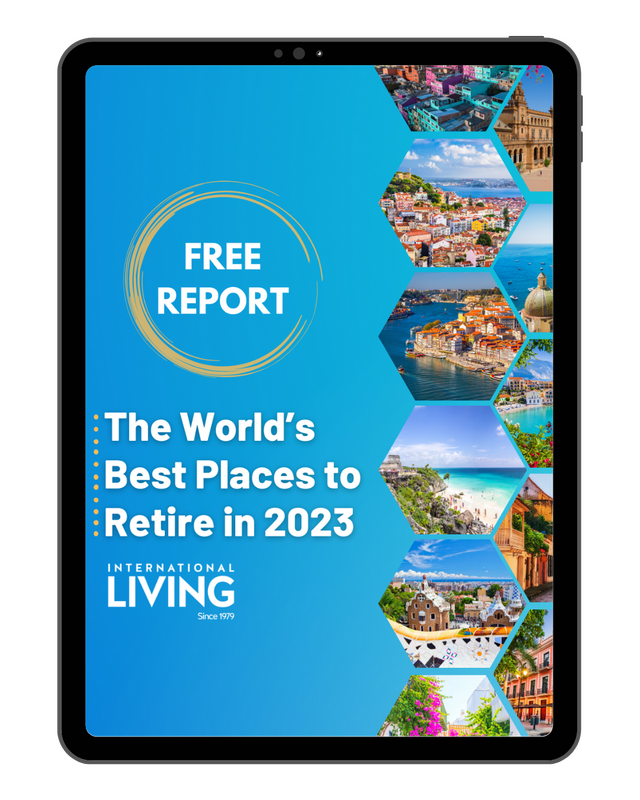 Get Your Free Report on the World's Best Places to Retire:
Learn more about the best places in the world to retire in our daily postcard e-letter.
Simply enter your email address below to sign up for our free daily postcards and we'll also send you a FREE report on The World's Top 10 Retirement Havens, plus access to over 10 more free reports. Our gift to you, on our favorite destinations.
Why Expats are Choosing to Live in Bangkok, Thailand
Bangkok has long been a mecca for expats seeking a mix of adventure and western conveniences, along with a low cost of living. It's possible to live comfortably here, whether part-time or year-round. From the tropical climate and the tempting cuisine to the welcoming culture and the pulsing nightlife, there's something for everyone.
Costs in Bangkok are extremely reasonable. A bowl of noodles from a street stall costs less than a dollar; a three-course meal for two with drinks at a mid-to-upper-range restaurant will set you back $60. A taxi ride across town costs less than five bucks. Or, for pocket change, you can ride the elevated "Skytrain" or the MRT subway to your destination.
A modern, two-bedroom, fully-furnished apartment located near the Skytrain, with 24-hour security, a pool, and gym, starts from $1,000 a month. Moving out from the heart of the city center, but still near the action, you'll find similar offerings for much less. And in the gated communities of Bangkok's suburbs, you can rent a furnished three-bedroom, three-bathroom house, with all the amenities, for $1,000 to $1,200 per month.
English is widely spoken throughout the city and there's a sizeable expat population. Bangkok makes a great base for exploring the rest of the country—from the beaches in the south to the northern mountainous regions. The city also serves as a regional hub for southeast Asia, providing endless travel options.—Heather Van Deest
40,000 Expats Living in Chiang Mai, Thailand
An hours' flight from Bangkok is the city of Chiang Mai—home to about 40,000 foreigners.
"By many polls, and my own reckoning, Chiang Mai remains one of the most livable places in Asia," reports Denis Gray.
Seven years ago, Denis and his wife (originally from Britain) built their retirement home near the city. She lives there full-time, along with two dogs and other gentle creatures. He still plies his trade as a foreign correspondent for the Associated Press and commutes up as often as possible from his base in Bangkok. "Both of us have no regrets so far. We love the place," he says.
And so do an increasing number of retirees, Americans and others, who call Chiang Mai home. "The pluses they cite are generally uniform," says Denis. "A relaxed lifestyle among a friendly local population, a vibrant expatriate community, low crime rate, cool 'winters,' varied activities and services, excellent medical care, and a low cost of living."
"This is arguably the cheapest place on earth to live well" is the way a Huffington Post blog put it, rating Chiang Mai number five in the world's top 10 retirement havens for 2013. "I live like a king for $2,000 a month,'' trumpets an expat friend of Denis. Numbeo, the online database that tracks cost of living in cities around the world, says consumer prices in Chiang Mai are 59% lower than in Boston.
With an ongoing boom in housing construction for both foreigners and Thais moving up from Bangkok, the city offers a wide price range in rentals and purchases. A few planned retirement communities have also opened their gates. A pleasant suburban house can be rented for $400 a month and lower-end condominiums go for as little as $30,000.
"Since most foreigners cannot own land in Thailand, a number of luxury condos have been developed in recent years aimed at retirees," Denis reports. "For those who can buy house and land (marriage to a Thai is one way), $100,000 should be enough for a three-bedroom home with a small garden in a gated community."
Malaysia Ticks All the Boxes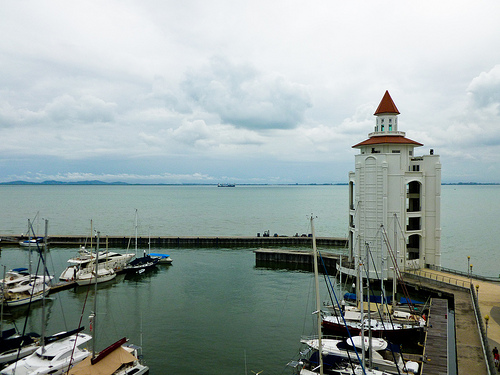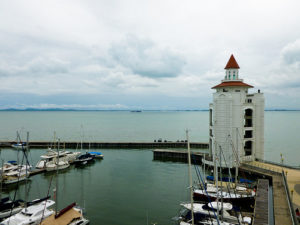 "Malaysia is under the radar for North Americans," says IL writer Frances Wilks. "But it ticks all the boxes of an outstanding retirement haven. It's a big country with a lot to explore."
Malaysia isn't like anyplace else. From here, all of Asia is on your doorstep—deserted islands, fascinating cities, mountainous rainforests, as well as some of the best diving and yachting anywhere. And because it's profoundly multi-cultural already, it's very welcoming towards foreigners.
Frances grew up in Penang, as an expat nomad kid, and after a couple of decades away, returned to live here fulltime.
"Alongside the exotic and strange, the lifestyle is comfortable and your costs incredibly low, says Frances. "Housing, home help, health care, food and transportation are all much cheaper than in North America or Europe.
"A couple can live on a budget of $1,750 a month including rent. Spend $3,500 a month and you'll live like royalty. Both health care and health insurance are much less expensive than in the States or Europe. In general, facilities are state of the art, with well-trained medical personnel and an excellent standard of care."
The majority of retirees tend to choose either the capital KL (Kuala Lumpur), or the islands of Penang and Langkawi as a base.
Janet and John Nisted live in Penang—and asked why they chose to live here, the answer, for them, is simple.
"We felt trapped back home by the soaring cost of living that continually pushed dreams of retirement further away.
"The question: 'Is this as good as it gets?' niggled at us. While friends planned a frugal retirement in the suburbs, we planned our escape.
"Escape to where? Somewhere with a lower cost of living, a warm coastal climate, an English-speaking culture, affordable health care, and flexible visa options. Googling our way across the globe, Malaysia jumped to the top of the shortlist. Grabbing a flight to Kuala Lumpur, John dashed through the capital and the island state of Penang. It ticked all the boxes on our checklist," Janet says.
Cambodia: "One of the Easiest Countries in the World to Move to"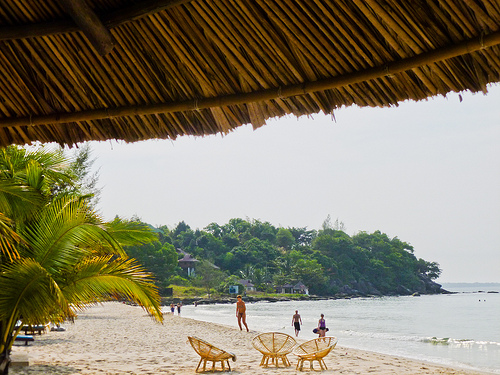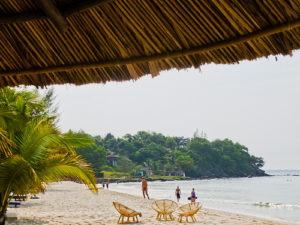 "Like many expats in Cambodia, I ended up in 'the Kingdom of Wonder' completely by accident," says Lina Goldberg.
"But living in the capital Phnom Penh, I feel like I have discovered the secret to a laid-back lifestyle. Life here is almost entirely devoid of the high-pressure stress I endured when I worked in a cubicle in New York."
Lina has been in Cambodia for three years now, and that has allowed her to pursue a career that she loves.
"I'm a freelance writer, publishing articles about food and travel for local and international newspapers and magazines. Recently I even wrote a book.
"I love the freedom that being a freelancer affords me. And making my base in Cambodia, where the cost of living is so low, allows me to have the lifestyle I'd always dreamed about but never thought possible.
"In Phnom Penh, a one-bedroom apartment can be had for between $150 and $500 per month, depending on what level of luxury you require. If you are frugal, you can live here on less than $1,000 per month, although most expats prefer to budget a bit more. "Luxuries that I'd never allow myself at home are easily affordable," reports Lina.
The expatriate population in Phnom Penh is large—although Cambodia's laxity about gathering statistics means no one is quite sure how large—and very diverse. Cambodia offers a readily attainable long-stay visa, with a year-long visa available to most nationalities for just under $300. The expat social scene is friendly and it's easy to meet other foreigners who have made a home here.
"Cambodia is one of the easiest countries in the world to move to. Since I left the States, this is the third country I've relocated to, and although it's the most 'foreign' it was also the most painless one to settle in. The commitment level is low, apartment leases can be had for as little as three months' rent with a month's deposit, the visa is easy and anything you need can be found in Phnom Penh."
For those thinking of coming, Lina suggests not wasting any time…
Living Affordably by the Beach
Rob Schneider moved to the beach town of Sihanoukville, Cambodia six years ago and reports that you don't need to be rich to enjoy life there. "My Saturday breakfast costs just $3, and last Saturday, between breakfast, renting a catamaran, and dinner for two, I came away with change out of the $25 I had in my pocket that morning," says Rob. "I can easily afford to indulge myself whenever I want. An upper-middle-class salary in Cambodia is around $1,200 a month, and you can live that kind of lifestyle if your pension, salary, or investments earn you that much."
Rob reports that life here wasn't always easy. There were few western amenities when he first arrived. But ever since this once-sleepy part of the Cambodian coast, formerly called Kampong Saom ("Agreeable Port"), became the province of Preah Sihanouk in 2009, the area has really blossomed. Following its official declaration as a province, land titles were quickly issued and development took off at a dizzying pace.
"When I started working online as a freelance writer, I had to work out of an Internet café. Now I have a world-class WiFi connection and a fiber-optic cable connection at home if I needed it. When I want to talk to my kids back home, I just pick up my cell phone and dial.
"Progress usually comes at a price to the average person, but in Sihanoukville the price has been negligible. In fact, all the modern new apartment complexes that have been springing up in town have resulted in rent decreases, not increases.
"It's easy to find a comfortable studio apartment for under $100 a month, and if you stay awhile and get to know the ropes, you can rent a brick home like mine for $250. Only Cambodians are allowed to own land, but foreigners can get around that with long-term leases," says Rob.
The 5 Best Places for Expats to live in Thailand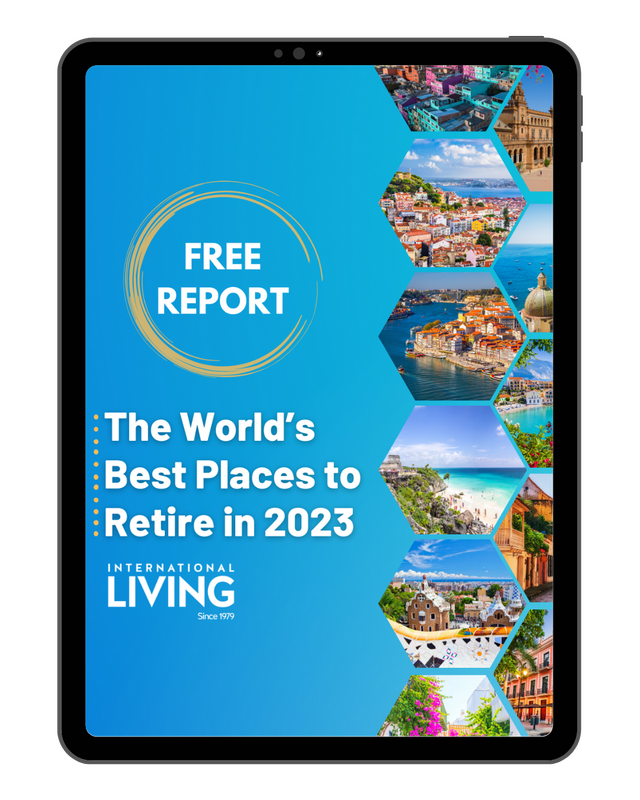 Get Your Free Report on the World's Best Places to Retire:
Learn more about the best places in the world to retire in our daily postcard e-letter.
Simply enter your email address below to sign up for our free daily postcards and we'll also send you a FREE report on The World's Top 10 Retirement Havens, plus access to over 10 more free reports. Our gift to you, on our favorite destinations.