There was a time when Portugal was viewed as the "poor cousin" of Western Europe. For decades it was overlooked by tourists and expats who instead flocked to the neighboring countries of Spain, France, and Italy, in search of better weather, beautiful beaches, intriguing history and culture, and a higher quality of life with lower costs.
Today, however, Portugal has arrived on the international tourist (and expat) scene. Pre-pandemic, Portugal saw a record 16 million visitors in 2019 and as travel comes back with a bang this summer, the country is reporting a huge uptick in visitor numbers. Tourism officials say they're optimistic, expecting close to pre-COVID visitor levels by the end of this year.
Here at International Living, we've been singing the praises of this peaceful country for years. As a European retirement destination, it has a lot to offer: a variety of locations from buzzing cities to beach towns to tranquil villages, one of the lowest costs of living in Europe—yet with a high quality of life. There's a lifestyle to suit every budget but a couple can live comfortably on $2,200 a month. Portugal has a climate to suit every taste, superb fresh local food and wine, and a laidback and friendly atmosphere that will force you to slow down and appreciate the good things in life.
It's no surprise that folks from all around the world are choosing to make Portugal their home. When we first explored Portugal as a retirement destination, it was difficult to find American expats living in any part of the country. Now, walk around any of the big towns and cities, and you'll hear lots more North American accents.
Although it's fair to say Portugal has been "discovered," there are still lots of good-value, good-living secrets packed into this slice of Western Europe. That's why we recently sent three members of our team on an extensive exploratory trip to get the lowdown on the best retirement spots Portugal has to offer.
From trendy Porto in the north, down to the golden beaches of the Algarve, they covered hundreds of miles, and in this special extended report, they share details of the locations they explored—some old favorites and some new discoveries that are worth your attention.
World-class golf and untamed beaches.
Portugal's Diverse Central Heartland
By Paul O'Sullivan
Portugal's Central Heartland is one of the most diverse regions in Europe. Mediterranean by nature and Atlantic by location, you can spend your morning sipping coffee in a buzzing capital city, catch waves on a sweeping Atlantic beach in the afternoon, and take your dinner al fresco in a medieval town…accompanied by the soulful sounds of traditional Portuguese Fado.
It's inexpensive, friendly, and easy to explore. With an oversized history, rich culture, and lots of sardines…
Secret, Wild Atlantic Coast
About an hour from Lisbon is one of Europe's best-kept secrets. The Costa de Prata, the Silver Coast, runs about 155 miles, offering up wide and bracing beaches, pounded by the majestic Atlantic. Its white fishing villages offer simple restaurants that serve up exquisite seafood, and its interior is dominated by sprawling pine forest and lush, rolling vineyards.
Yet, while Portuguese city dwellers spill out here during summer weekends, not many international visitors have discovered this coast. That's all the more baffling when you consider the location. The Silver Coast stretches from Assenta, an hour north of Lisbon, to the mouth of the Douro at Porto. It's easy to get to and easy to get around.
For the beach connoisseur, Peniche is as good as it gets. I spent an afternoon in the historic center, strolling its calçada portuguesa, the embroidered pavement of black and white hand-cut stones that's unique to Portuguese towns. An impressive cliff-top fortress controls its port and stocky 15th-century churches lend grandeur to each of its small-town squares. But most of the action in Peniche happens around its perimeter, where miles of sandy beaches offer up some the best surf breaks in Europe.
What I like about Peniche is that it's a real working town. You'll see leathery-skinned fishermen in tattered caps relaxing outside bars. There's a shabby charm to it. But visitors are certainly well served with sublime seafood restaurants serving up delicious charcoal-grilled sardines for about $10 a plate.
Golfers should head about 20 minutes north of Peniche, where a cluster of resort communities offers world-class golf and untamed beaches.
From a second-home perspective, there's good value here too. In Praia D'El Rey, you can own a villa from €260,000 ($273,520). Landscaped garden areas, community pools, villas and apartment buildings of no more than four floors are the standard arrangement. These aren't technically gated communities, as anyone is free to drive in. But gates are unnecessary here. Portugal is remarkably safe.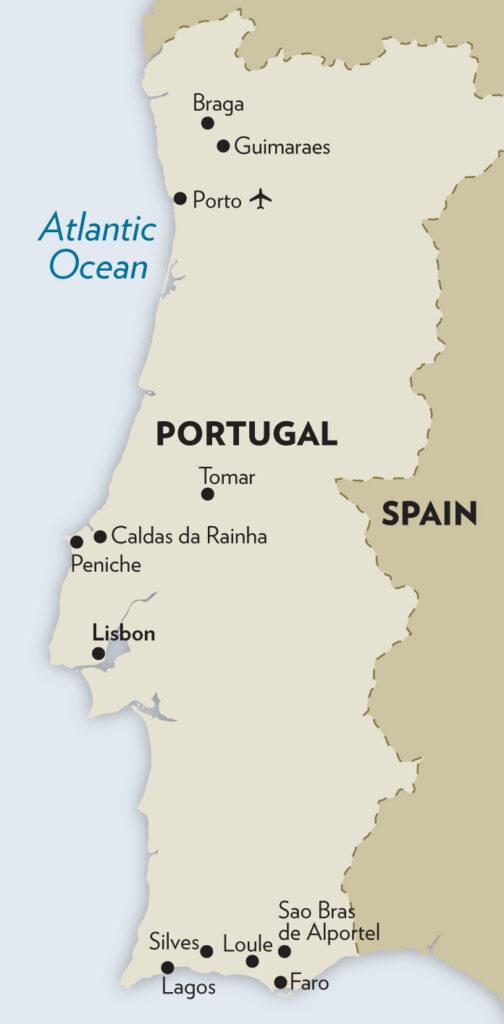 Inland for Values and Knights Templar
If you're worried about keeping to a modest budget, consider heading inland. As a rule of thumb, the best bang for your buck starts about an hour from the coast. A pleasant drive through pine forests and undulating hills took me to the city of Tomar, the former seat of the Order of the Knights Templar. The cityscape is dominated by the vast monumental complex of the Convent of Christ, which sits on an overlooking hilltop.
Away from the ocean, temperatures here soar in summer into the high 80s F, but Tomar is a very livable city (and in 70 minutes you can have your toes in the sand). Buildings are white and gleaming. Streets are wide and leafy. There's a large indoor market. A lovely manicured park with weeping willows and an old wooden waterwheel right on the Nabão River set a tranquil stage for a leisurely life.
Historic homes within the medieval center are reasonably priced. I came across a renovated three-bedroom house listing for €170,000 ($178,671). And a large five-bedroom place with a garage right on one of the city's main squares for €260,000 ($273,262).
The beauty of the Silver Coast is that there is such variety packed into a relatively small area. From traditional Portuguese villages, to expat enclaves, resorts, historic walled cities and buzzing beach towns.
A SLICE OF PARADISE ON THE SILVER COAST
Catherine Kreston moved to the Silver Coast from Dallas, Texas after a brief stint in Italy. "Portugal is obviously top of the chart. The ease of getting a visa. The cost of getting a visa. And the climate… Last summer on the Silver Coast, it got to just 82 F, so I didn't need air conditioning. The climate here is a lot more comfortable than it is in the south or the eastern reaches."
She rents an apartment in the town of Foz do Arelho, where the Obidos Lagoon meets the Atlantic Ocean. The town is low-rise and local, with a succession of beach-shack bars and restaurants along its promenade. It's serviced by the nearby city of Caldas da Rainha, which has a hospital, supermarkets, and the only daily open-air market in the country. But most expats stay in Foz. The beach here is a natural wonder. It's vast, almost desert-like, and cradles long pools of warm lagoon water, ideal for swimming and water sports—it's even said to have therapeutic properties.
"In Caldas da Rainha, you could rent a two-bed for €500 to €700 ($525 to $735) a month," says Catherine. "Here in Foz, you'll pay a little more, but I saw an apartment recently listing for €700 ($735) a month.
"It's like a little slice of paradise. The beach is beautiful. We have so many different types of birds at the lagoon, such as wild parrots and flamingos. And everything you stick in the dirt here grows."
An Affordable Idyll in the Hidden East
Alto Alentejo (the upper Alentejo) is just two hours' drive northeast of Lisbon, but it feels like a world apart. It's a vast and sparsely populated region of heath and rolling hills, punctuated by patchworks of cork and olive trees. Traditions here are strong. Herdsmen tending sheep and goats wear traditional sheep-skin vests. The old hilltop towns look unchanged since their medieval origins.
That's not to say they're without sophistication. The town of Castelo de Vide softly pumps classical music through speakers into its main square. You can listen to Bach or Vivaldi while you shop for fresh fish and vegetables at the weekly market. The medieval town is beautifully preserved, but it's lived in and lively. The locals go about their day in that unrushed manner the Portuguese have perfected. Tradesmen drink espressos from café counters. Old men in flat caps converse under a shaded enclave at the town hall.
The main street is busy with cafés and pastelarias. You can get pasteis de nata or pastries stuffed with chicken and a coffee for $2. On the large baroque central square, a hip little restaurant called Jerico serves up seasoned rabbit and fries for $7. For a real threat, try A Confraria, where there's no set menu but a chalkboard with local favorites that can change from night to night—Iberian pig cheeks, Alentejo soups, roasted lamb. Or dine al fresco at a new steakhouse called Aqui ao Lado and feel like you're on a quiet street in Lisbon.
Castelo's steep cobbled streets provide beautiful views of the whitewashed town against a backdrop of olive groves and hills. Pots of geraniums and dazzling flower beds line its many winding lanes. And Gothic designs adorn the old stone doorframes. I dare you to resist its charms.
Historically, this was a spa town, renowned for its fresh mountain springs that feed a fountain in the main square today. The water is so good that bottling it is the main industry in the area.
It is one of those places that's just far enough off the beaten track to be unknown to most tourists, but it's slowly being discovered. There are some European expats here and the Spanish and Portuguese visit. The last few years have seen an influx of Portuguese moving out from bigger cities—young families who want space and a nice environment in which to raise kids. They've bought up homes at the edge of town that come with some land. So there isn't a whole lot of that sort of property remaining here. But you can still find some incredible deals in the heart of town.
In the old Jewish quarter, a renovated one-bedroom historical home lists for just €65,000 ($68,315). A four-bedroom apartment looking right across at the Church of Santa Maria da Devesa on the main square lists for just €125,000 ($131,355, see: nacoes.century21.pt). And if you choose to rent here, you'd be paying as little as €550 ($578) a month.
You'll find similarly good deals in the nearby village of Marvão, a medieval fortress town built atop a sheer rock cliff with spectacular 360-degree views of the surrounding landscape. It's an incredible place to visit—and maybe spend a few weeks at a stretch—but its small size—just 120 inhabitants—may render it a bit too quiet for year-round living (it all depends on what you're after).
Portalegre—just 20 to 30 minutes away and bigger—struck me as a bit stuffy and hectic, so not my recommendation for a home base. But it does fill the gap for any services or amenities missing from the smaller towns.
The "Hidden" Algarve…Away From the Crowds
By Nazareen Heazle
The hot summer sun is beating down as I sit in the shade of the lavender-colored jacaranda trees, sipping a coffee and enjoying a creamy pastel de nata (custard tart) in the small town of Estoi. Towering above me in the main square is the Igreja Matriz de Estoi, a 16th-century church, the altar of which was said to have been constructed from the wood of local fishing boats. At the table beside me, a British couple is relaxing, and behind me an elderly local man is holding court with his dog and the café owner.
The only other sounds are some chirping birds and the odd car that passes along the cobblestone street a couple hundred feet away. It's hard to believe the beach resort towns this part of Portugal is famous for are only a 20-minute drive away. I'm on the Algarve, in the south of the country, but I've skipped the beaches, and the summer crowds and have headed inland to explore the smaller, quieter— and incredibly charming—towns of the Algarve's interior.
BIG CITY LIFE IN THE HAVANA OF EUROPE
Lisbon is more than just a city of terracotta rooftops, white cobblestones, and rickety yellow trams. Years of urban regeneration and investment, along with huge tourism growth and a booming tech scene have changed the Portuguese capital from something of a cultural backwater into an exciting and contemporary European city.
It has a red-hot culinary scene and impressive cultural institutions, including a new world-class museum on the waterfront; the LX Factory district, an old industrial textile complex turned into a creative and artsy village within the city, where trendy cafes, bohemian shops, and art studios occupy abandoned warehouses; and the Time Out Market, one of the world's largest gourmet food venues, where you can eat from a new vendor every day for almost a month.
You'll see colorful murals by internationally renowned street artists, some of Europe's finest galleries and cultural centers, and the city has been gaining a reputation as one of the best spots on the continent for live music—from rock to jazz and classical, to the traditional Fado.
This melding of Old World charm with a hip, contemporary cultural scene is what makes it one of the most exciting cities in the world today.
Lisbon's warm climate, bright colors and party atmosphere have earned it a reputation as the Havana of Europe. Even with its thriving tech economy, there's no sense of the rat-race. A laidback, festival spirit permeates each of the central districts. In Bairro Alto and Chiado, you can dine al fresco late into the night or party until the early morning.
The low cost, too, draws comparison to its Caribbean counterpart. With its newfound popularity, prices have started to rise. Booming tourism and the city's rising economic status have driven up the cost of living. But you can still easily find great value here, if you know where to look.
U.S. expat Chris Campbell, an attorney from South Carolina, has been living part-time in Lisbon with his partner since 2015. "For me, and for a lot of Americans, there's the perception that Europe is expensive," he says. "Because the first places that come to mind are Milan, London, and Paris. Those cities are expensive. But then you find a place like Lisbon, and the cost of living is not back-breaking."
According to Chris, it's all about where you spend your money. When it comes to dining, for instance, you can eat at a trendy restaurant with a celebrity chef and pay "international prices" or eat at a family-run tascas, which serves local food, and where you'll rarely see anything on the menu for more than $10.
Likewise, you need to be savvy about where you rent or buy. The historic center has become expensive by Portuguese standards. And foreigners tend to pay more than they need to. For best value, look around the city's perimeter. On Lisbon's lesser-explored south bank, for instance, across its Golden Gate-like 25th April Bridge, you'll find two-bedroom condos from about €150,000 ($157,620) and furnished two-bedroom rentals from about €900 ($945) a month.
As Chris says, "It's a good quality life. Good food, good culture. And pretty much whatever lifestyle you want to live is within an easy reach. The beach is within 15 minutes. The mountains are a couple hours away. I think all those things being in such close proximity, being affordable, having good public infrastructure, both in healthcare, education, and public transport makes Lisbon a great choice for anyone."
Historic Silves: Best for Small-Town Living
Once you get away from the Algarve's golden-sand beaches and up into the hills, you'll find a plethora of tranquil towns that offer a much less-hurried and more relaxed lifestyle than the coast delivers. The town that charmed me the most, and a place I'd consider living myself, is Silves.
Located in the western Algarve, this historic town is about a 35-minute drive from the tourist favorite of Lagos. Yet it feels like a world away. Centuries under Moorish rule have left its mark on this small town of 37,000 people, and there are echoes of its colorful past all around. The Praca Al Mouhatamid Ibn Abbad is a tranquil park named after the 11th-century governor of the town who later went on to inherit Seville. Here, you'll find a poignant group of statues, all carved from different local stone, depicting the Arabic people of that time going about their daily business.
The red sandstone Silves Castle sits on a hill in the center of town, still casting its protective eye on the white-washed, red-tiled buildings below. A walk along the battlements gives you birds-eye views of the green rolling hills in the surrounding countryside. Stroll down the cobblestone streets from the castle into the old town, and you'll find a warren of narrow streets filled with cute cafes (you can get a coffee and custard tart here for just $1.60), colorful restaurants, and artisan shops selling ceramics, locally made jewelry, and wooden toys.
Silves has a peaceful vibe to it, and I can see it being a very livable town, despite the interest from day trippers from the coast. There's a large Lidl supermarket just outside town and banks, real estate offices, and small corner stores in the old town. The buildings in Silves are a mix of traditional and more modern, but they combine and live side-by-side seamlessly. All of which serves to maintain its historic charm.
Properties in Silves run the gamut, but this is where I found some of the most affordable real estate in the interior. For example, a two-bedroom, one-bathroom townhouse, with a kitchen, living room, and an outside patio in the historic center lists for €162,000 ($169,900). If you're looking for a home that's literally part of history, there's a two-story townhouse built right into the city walls. It has a modern kitchen, living room, and one bedroom, and the asking price is €145,000 ($152,070). (See: minitarealestate.com)
São Bras de Alportel: Where Old and New Collide
A three-bedroom townhouse for $188,890.
If you still want an unhurried and laidback lifestyle but would like to be a bit closer to an international airport, then you should consider São Bras de Alportel (referred to as simply São Bras). Faro, with its international airport, is just a 25-minute drive away.
Sitting at the foothills of the Serra do Caldeirão, São Bras was once the center of cork production in all of Portugal, before it moved north. You can see evidence of the town's prosperity in the beautiful tilefacade mansions dotted around the town.
Though it's smaller than Silves, with a population of just 11,000, São Bras feels bigger. From the large main square in the center of town, small cobblestone streets radiate out in one direction into the cobblestone streets of the old town. Brilliant whitewashed buildings are home to small restaurants serving fish-of-the-day lunches for about $5.70 and charming shops selling local produce like honey and handcrafted jewelry.
Turn around and go in the other direction from the main square and things get decidedly more modern. A wide avenue, lined with offices, more cafes, take-out storefronts, shops and modern (but tasteful) apartment buildings. But none of it feels out of place. São Bras is a town that embraces the old and the new. On the outskirts of town, three big-brand supermarkets provide for your everyday needs—Lidl, Pingo Doce, and Intermarche (you'll find branches of all these supermarkets all over Portugal).
Looking at property in and around São Bras, there are a lot of fixer-uppers on the market right now, and some are literally ruins. But I did find a three-bedroom, one-bathroom townhouse in the center of town that needs some modernization. It also features a roof terrace and is located close to the Jardim Verbena, once the bishop's palace but now the location for the outdoor municipal swimming pool. The asking price is €180,000 ($188,890).
If you want something turnkey and a bit bigger, a short walk from the center of town is a four-bedroom, two-bathroom home with a large living room, a kitchen, and an outside patio area. This one is priced at €275,000 ($288,580). (For both properties, see: divine-home.co.uk)
"MY DOCTOR'S BILL COST LESS THAN A NIGHT OUT ON THE TOWN"
"On one of my first trips to Portugal I needed to get eczema medicine because I was having a flare up," says North Carolina native, Chris Campbell. "In the U.S. I don't know if I could have gotten prescription medicine for what I needed. But here I just went to the pharmacy, they diagnosed me on the spot and gave me a provisional prescription. It lasted me the entire trip, there was no need for insurance, and I ended up paying $20".
Chris is now living in Portugal's capital of Lisbon. When he moved to Portugal, he had three or four visits to his doctor for general check-ups, blood work, and a dental visit. "In the U.S. it would have cost me hundreds of dollars, maybe even thousands—especially when you consider that I just showed up without insurance. Here I paid about €165 ($173). I've spent more than that on a crazy night out."
As a long-term resident, Chris has a national healthcare number but he supplements that with private health insurance. "I have one policy that I got through the bank," he says. "That was a weird sort of feature you get when you open an account that gives you access to a doctor who will come to your house. It's just an additional €10 ($10.50) a month on top of my bank account fees."
Get Your Buzz on in Loulé
The Algarve's interior isn't all small whitewashed hill towns. If you are looking for a bit more buzz in your Portuguese town, Loulé is the answer. It's about a 20-minute drive from both Faro and the resort town of Vilamoura, right on the coast. With a population of over 70,000, Loulé is the biggest town I visited on this trip. It doesn't have quite the same charm as its smaller hilltop counterparts, but that's not to say it wouldn't be a pleasant place to live.
It has an historic center, Cidade Velha, dominated by the 13th-century Loulé Castle and the Mercado de Loulé, the town's famous covered market. Opened in 1908, it's housed in a neo-Arabic-inspired building that was built in the 1900s and underwent extensive renovations in 2014. Inside you'll find stalls selling local fresh fruit and veg, fresh seafood, honey, cork products (think handbags and hats), pastries, nuts, ceramics, and wines and liquor. It's not just a tourist attraction, it's also where the locals come. Saturday is the best (and busiest) day for the market, and it's also when the farmers' market sets up right outside the Mercado.
The area outside the twisty, cobblestone streets of the old town is where the everyday living happens. It's busy, serving as the main town for many of those who live in the hills and smaller communities in this part of the Algarve. You have everything you need here from lawyers, to real estate agents, to supermarkets, pharmacies, and boho chic boutiques. They don't depend on tourism here, and the town has a very lived-in feel to it. I liked Loulé…it has a buzz to it that is lacking a little in the smaller towns but it's not so big that it feels frantic or fast-paced. It maintains that laidback Portuguese vibe.
In the heart of Loulé, I found a two-bedroom, one-bathroom townhouse in the historic center, just around the corner from my Airbnb. It has a living room, kitchen, two outdoor patio areas, and a roof terrace. It's smack bang in the middle of the action, on a pedestrianized street, with cafes, restaurants, and shops on your doorstep. It has an open-plan kitchen/living area, a rear courtyard, and a roof terrace. Asking price is €225,000 ($236,100). (See: remax.pt/mercado.)
If you want something bigger, you'll have to head out of the center of town and increase your budget. On the outskirts of Loulé, there's a five-bedroom, three-bathroom villa for sale for €495,000 ($519,415). It has just over 2,300 square feet of living space and is configured so the first floor could be used as a separate living space, which could work as a vacation rental or as a mother-in-law suite. See: www.divinehome.co.uk
The Overlooked North
By Declan Aylward
Most visitors to Portugal head south to the sunny shores of the Algarve, or to the capital city of Lisbon. But you shouldn't overlook the country's north. This is a land of lush forested mountains, springlike warm weather, and historic towns and villages that have retained their traditional Portuguese feel.
Braga: An Old City With a Young Soul
The Romans started building Braga about 2,000 years ago. And from what I can see, the construction is ongoing. A forest of cranes surrounds the historic city center of this community of 193,000. A university town, it's full of young people—which earns it the reputation as both the oldest and youngest city in Portugal.
The walkable city center preserves the Old World feel, with cobbled streets and historic facades. And, despite being in the mountainous north of Portugal, Braga itself is quite flat—unlike hilly Porto to the south.
The city is known for its festivals and events. The day I arrived, preparations were underway for the festival of São João, the city's patron saint. A rainbow of streamers and pictures of the saint festooned the streets. The festive atmosphere was heightened…but Braga is always ready to celebrate.
Bob Carver, a retired military lawyer from California, and his wife Laraine moved here about two and a half years ago. "We scouted out a few places in Portugal before we moved," Bob says. "But when we got to Braga, I made my decision before we even left the hotel room. There was just so much going on!"
Maria del Pilar Singleton and her husband David moved here from New England earlier this year and joined the local Theatre Circo, with its beautiful interior dating from 1907, for just €25 ($26) per year, and they get entrance to every event half price. "It brings the cost of admission down to about the price of a cup of coffee," Maria laughs.
The cost of living in Braga is extremely low. You can rent an apartment right in the historic center from around €600 to €800 ($630 to $840) per month. Groceries in the supermarkets are a fraction of what you're probably used to paying at home (bottles of good wine from $4, essentials like milk and bread starting at a dollar), but you can save even more if you shop like a local and buy in the traditional vegetable shops and butchers. And thanks to Braga's walkable center, shopping this way makes for a fun activity.
"We live here in the centro and can walk everywhere," Maria tells me. "It's nothing like back home. We walk to the vegetable store and to the butchers, we eat out a lot. We get together with expat friends every other week to try new places."
"I tell you what, I could not recreate this kind of life back in Napa," Bob sums it up for me. "It's half the cost, and you can live well."
Guimarães: The Birthplace of Portugal
In a valley, 20 minutes southeast of Braga, lies the quieter and more traditionally Portuguese city of Guimarães. Surrounded by green hills visible from everywhere in town, this community of 152,000 feels like it's tucked into a forest.
Stretching out from the town center a shaded, leafy park finds old timers chatting on benches and couples dancing arm-in-arm to traditional music playing softly from portable radios.
This is the birthplace of Portugal—the first king was born here in 1109. And that history attracts tourists who come on day trips to visit the medieval castle. But here's the thing: Once they've looked around, these visitors go back to Porto or other nearby cities, leaving behind a very nice, mostly tourist-free zone that lacks the vacation-market cafes and bars. Instead, upscale boutiques and stores selling designer furniture line the historic center.
The population skews older than in university-town Braga or bustling Porto, and there is overall a more refined, monied feel to the people walking the streets. That shabby-chic feeling that many Portuguese cities exude is mostly absent in Guimarães. The historic buildings in the center are well preserved, as befits such a historically important place.
Being a smaller town, rental options are more limited (I found only 26 available on Idealista.com, the popular rental website, at time of writing). You can expect to pay around €550 ($577) a month for an apartment or €950 ($997) for a terraced house.
Costs of groceries and other essentials are comparable to those in Braga, and with a large Mercadona supermarket on the outskirts of town, you won't want for anything despite the sleepy feel of Guimarães.
A WARM WELCOME AND PLENTY OF FRIENDS IN PORTO
Warm in more ways than just its weather, Porto is a welcoming place to live. It's got an active expat community and the presence of a university and tourist attractions mean there is a sense of life and bustle to the city.
"We have friends we meet up with and every time they have somebody new to introduce us to, who they know but isn't in our circle," says Josh Sokolow from Virginia. He has been living in Porto with his wife, Kalie, and two-year-old daughter for about a year and a half.
Portugal's second city lies north of Lisbon on the Douro River, and you'll find its most historic districts along the river's banks. The buildings are classically Portuguese, with a shabby-chic look—all red-tiled roofs and wrought-iron balconies supporting flower pots bursting with red, white, and yellow blooms. Every now and then you'll turn a corner and come face-to-face with a building finished entirely in blue and white tiles. Steep cobbled streets wind up the hills from the river to more residential areas, extending that Old World feel.
Porto is filled with options when it comes to dining out. The local take on tapas features lots of sausage, bread, potato served with a rich red wine. You can eat out in an upmarket restaurant for only around €20 ($21) per person, including wine.
In a city so popular with expats and tourists, rentals can be pricey when compared to smaller towns. You can rent close to the center from €600 ($630) per month for a basic one-bedroom apartment or pay up to €2,390 ($2,511) per month for a three-bedroom with a roof terrace and views over the city (see: www.idealista.pt).
If you don't want to live in the busy city center, but like the idea of being walking distance from it, try the quieter residential neighborhood of Bonfim, about a 35-minute stroll from the historic center. It feels authentically Portuguese. In addition to cafes and bars, you'll find mom 'n' pop grocery stores, fishmongers, and vegetable sellers. Thanks to its charm, Bonfim is a popular place for expats to settle—yet it remains good value. Rentals here go from around €850 ($893) to €1,300 ($1,366) a month (see: www.idealista.pt).

Editor's note: In Portugal, summers are long and costs are low. Café-lined cobblestone streets, ancient Moorish castles, and pristine golden-sand beaches beckon. In our special resource Escape to Portugal: Everything You Need to Know to Retire Better, Invest Well, and Enjoy the Good Life For Less, find out everything you need to know about retiring in this sophisticated, low-cost paradise. Get your copy here.
 Next