"I Teach People to be Mermaids"
Name: Carmen Adriana Mantione
From: New York City
Living in: Tulum, Mexico
"I offer a tour where I teach people how to be mermaids," says Carmen Adriana Mantione. "I have a partnership with a hotel on the beach road with a cenote on the property. We can swim out into the open water, and we have special permission to go on the Tulum reef in our tails if the weather permits."
Carmen lives in the Caribbean resort town of Tulum, Mexico, and she has recently been developing her passion for the ocean into a bona fide source of income for her life here. Tulum is a tropical mecca for tourists, expats, internaional digital nomads, and locals.
"Mermaiding" is a sport where you put your feet into a monofin, so they're confined. With your feet secure in the fin, you slide into the water and discover how to glide "like a mermaid." Carmen adds more glamour to the experience (as a former stylist) with shimmering lamé tails, matching tops, and other accessories to complete the mermaid look.
And while Carmen does get hired to "play mermaid" for corporate events sometimes, her real focus is feeling part of the ocean as a mermaid by free-diving.
"Free-diving is when you're looking to go down as far as you can without any equipment," she says. "PADI, the dive organization, has recognized mermaiding as a sport. It's taken a while for the die-hard scuba divers to take the mermaids seriously, but now there's a certification people can get. You learn to breathe effectively to hold your breath and stay under longer. It's all about feeling like you're part of the environment." Carmen is living life to the fullest in Tulum, and a recently purchased new home is another exciting endevour.
"I've bought a penthouse with a private pool, and it's built in the trees. I'm on the second and third floor," says Carmen. "I've outgrown my current place, my creative projects are taking over. I'm ready for something more luxurious."
Her new two-bedroom, two-bathroom condo cost $200,000 and she can't wait to move in. "I have a rock-climbing wall, a dog park, a yoga room, and a community swimming pool with a monthly HOA of $250 a month," she says. She plans to keep current residence for now, and her expenses remain low. "My electric bill is around $50 a month, and water is around $15 a month. I have private health insurance at about $120 a month."
At home, Carmen's always busy. When she's not practicing her salsa dancing, or studying Spanish, she's fostering dogs for a local dog rescue or working on her sewing skills.
"I've been working on improving my costume skills," she says. "I made a beautiful sequined tail, but the zipper promptly broke. I have to order an industrial zipper from the U.S." That's what happens when you're in the first wave of a very new sport, and everything's custom-made.
It's not enough to bring her down, though. "I have a wonderful life," Carmen says. "This week, I picked up my new car in Playa del Carmen, had lunch in a seafood restaurant on the way home, and stopped at a cenote. In the evening, I taught salsa class, and then had a salsa social. In the past, any one of those would have been amazing. Now it's just another day. Plus, I get to make people mermaids and do mermaid classes." —Jen Phillips April
There's a Budding Craft Brewing Community Here"
Name: Jeff and Linda Sanchez
From: Laredo, Texas
Living in: Volcan region, Panama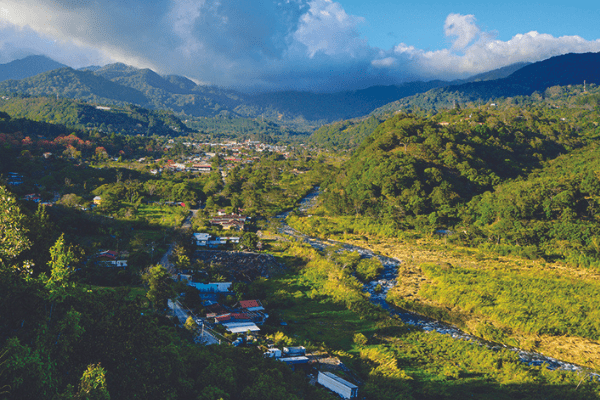 Like many retirees moving to Panama, Jeff and his wife Linda envisioned a life where the cost of living was manageable, with access to decent healthcare. They also wanted to use the relocation process to fit their life to their passions. At the time, for Jeff, that meant world-class fishing. For Linda, it meant good birdwatching opportunities.
This is definitely not a rocking-chair retirement
They built their dream home in the mountains above the city of David and it's a hiker's and birdwatcher's delight with floor-to-ceiling glass in every room and the grounds feature forest vegetation (some of which Jeff planted to attract birds) and luscious flowers. At the bottom of one of the slopes, a mountain river cuts through exposed rock and splashes up against the banks. It's one of the natural boundaries for their property.
Living in the mountains, more than an hour away from town, has made Jeff and Linda very self-sufficient. While Linda enjoys her solitude as an avid birdwatcher, Jeff continues to explore new avenues for his active mind.
This is definitely not a rocking-chair retirement for Jeff. He has designed his own charcoal oven and makes his own charcoal. He's installed his own electricity backup system with battery banks to keep his computer, TV, and other equipment up and running. He's even designed and built his own lake on the property.
This is a far cry from Jeff 's previous occupation as a trial attorney in the U.S. He and Linda spent years looking for the right place to retire. When they settled in Panama, they took steps to learn the language and immerse themselves in the culture. They use local workers for maintenance and have made friends with local municipalities and their neighbors.
They've built their own road to their house, they conserve water from the mountains, recycle much of all they use, and have opened their hearts and home to other nature lovers and avid birdwatchers. Recently, though, Jeff 's found a passion that is all-consuming: beer-brewing. He's invested in his own brewing station outside his house in a staging area with stainless steel kettles and fermenters.
"When I first started brewing," he says, "all the ingredients had to be imported from North America, as there were very few brewing ingredients readily available in Panama. However, in the last few years, a couple of brewing suppliers have opened businesses providing malts, hops, yeasts, etc. to provide the basic brewing supplies. There's a budding craft brewing community growing throughout the country."
When Jeff started brewing beer, he found other enthusiasts around Panama, and formed a beer-brewing club. It currently has six members. Each is responsible for one brew and bottling session per year. This involves the selection of the beer(s) to be brewed, acquirng the ingredients, and all decisions concerning the brewing, fermentation, and bottling process.
The approach provides for a continual learning experience in both brewing techniques and tasting, which gives club members insight into the processes and styles of beer to which they otherwise might not have been exposed.
"My tastes are very eclectic," Jeff says. "from ciders to very malty beers, Pilsners to Belgian 'sours'. But if I'm absolutely forced to choose, it would be malty beers including Bocks, Scottish Ales, and Stouts at the top of the list." What do Jeff and Linda enjoy the most about living in Panama? "The simple life," Jeff says. "Panamanians are among the friendliest people in the world." —Fred Fleet
"We Sell Milk at the Organic Market"
Name: Julie and Luke Martin
From: Washington, D.C.
Living in: Chiquintad, Ecuador
"I dropped the kids off at seven in the morning," Julie Martin says, "and picked them up at 4:30. We ate dinner, and they went to bed. We asked ourselves, what are we doing? Somebody else is raising our kids."
Julie and her husband Luke both had good jobs in the U.S. but after another long day of hardly seeing each other or their children, they had an epiphany. It was time to take stock of everything, follow the dream they had of owning their own farm, and moving to a place they could make that happen. Eight years ago, they moved with their five children from Washington, D.C. to the rural Andean community of Chiquintad, Ecuador. At that time, their youngest child was two and their oldest was nine.
Their initial idea was to travel around Colombia, Peru, and Ecuador. "We wanted to find a place that had grass year-round for cows,"
Luke explains. Ecuador made the most sense because "the price of milk is controlled and milk prices are twice what farmers get in Colombia and Peru." They found a dairy farm in Chiquintad that fit what they were looking for and purchased it.
"The farm seller wanted $40,000 of the money in cash and carried it out of the bank in his backpack," Luke says. "I told him, 'if you get robbed going out the door, it's not my problem'." Now, Luke and Julie run the place as Hacienda Chan Chan.
"The majority of our farm income is commodity milk sales," Luke says, "so the truck comes to take it every morning, and we get paid per liter of milk."
Julie also drives into Cuenca once a week to sell milk products at an organic market.
While they do maintain a garden, Julie says, "Vegetables are so cheap and healthy, it's almost easier to buy from vendors in Chiquintad."
Besides milk sales, the Martins have income from Hacienda Chan Chan on Airbnb. They offer three spacious cabins and plan to build two more by the end of the year (see: Haciendachanchan.com).
Home school for the children consists of an online curriculum that will result in U.S.-recognized high school diplomas. As for their social education, Julie says, "We get a variety of guests from all parts of the world and the kids get to interact with kids their own age. They're exposed to a lot of different thoughts and beliefs and cultures, because while we have the flexibility to travel a little, the world kind of comes to us here."
Hacienda Chan Chan supports the Martin family and the cows on a total of 280 acres. Other animals include pigs, ducks, chickens, horses, and of course, dogs and cats. And their daughter just added "four starter rabbits" to the collection. —Carolyn V. Hamilton
Previous
Next