I thought I knew what to expect the first time I came to Oaxaca. I was sure that I'd see some grand Baroque churches, cool colonial-era buildings, and some impressive street art, and I'd heard that Oaxaca was the capital of mezcal, the smoky, tequila-like drink that comes from the agave cactus. I'd seen Oaxacan handicrafts before, even in the U.S.—brightly painted carvings of hummingbirds and armadillos, day-glow dogs, and other fantastic psychedelic creatures.
What I didn't know was how much Oaxaca would exceed my expectations. I was awed by the rich, sophisticated, and varied cuisine, full of dishes with nuanced sauces, exciting flavors, and complex seasonings that are different from the food I'm used to in my home town of Querétaro in the central highlands.
In Oaxaca, I was charmed by the nearly infinite number of murals, paintings, art museums, galleries, and public art exhibits in the Centro Histórico. Neighborhoods like Barrio de Jalatlaco have murals on practically every other building; I saw them wherever I went. I walked everywhere, along the cobblestone streets, past churches, colorful residential neighborhoods, and peaceful parks, taking one photo after another. There was always something to catch my attention, to make me want to pause, reflect, and admire.
I was amazed by the pre-Hispanic ruins where the indigenous Zapotec people mastered not only art but astronomy, the 10,000- foot mountains, hot springs and petrified waterfalls, and market villages tucked away in quiet valleys.
I was surprised at the number of expats in Oaxaca. They tell me they've come for the art, the colonial-era architecture, the exquisite food, the genuinely welcoming locals, and for Oaxaca's low cost of living. I understand why.
Diversity Makes Oaxaca Interesting
Oaxaca de Juárez, or just Oaxaca City, is the capital of the state of Oaxaca (pronounced wah-HAH-kah) located in the highlands of southern Mexico. Its population of approximately 715,000 consists of more than a dozen ethnic minorities. A full 48% of Oaxaqueños are indigenous to the area, including the Zapotec and Mixtec people who make up a significant minority of the inhabitants. Oaxaqueño native, Benito Juárez, the president of Mexico from 1858 until 1872, was a Zapotec and Mexico's first indigenous president.
Spain conquered most of Mexico in the early 1500s and ruled Oaxaca for 300 years, establishing churches, schools, and—sometimes forcibly—converting the populace to Catholicism. When the Spanish ceded control of the state to Mexican revolutionaries in 1811, they left behind parks, plazas, churches, and residences that have shaped modern day Oaxaca City. The Centro Histórico has so many breathtaking buildings and monuments from this era that it's designated as a UNESCO World Heritage site.
Oaxaca City is also home to several thousand expats, most of whom come from the U.S. and Canada. Many of them are remote workers, though there is also a sizeable community of retirees.
WHAT TO SAMPLE IN THE LAND OF SEVEN MOLES
Mole (pronounced MO-lay) are a family of sauces found throughout Mexico that are as complex and unique as curries. Moles date to pre-Hispanic times and are a national dish of Mexico. The best moles in the country come from Oaxaca.
These distinctively complicated, subtle sauces come in seven main varieties—yellow, green, almond, chocolate, toasted chilies flavored with avocado leaves, and two especially elaborate ones, a red and a black, made from blends of 31 different ingredients including four types of chilies. They can take several days to prepare. I ordered a tasting platter that included all seven moles at the Los Pacos Centro restaurant in the historic district (see: lospacosoaxaca.com/ la-empresa). It was a wonderful introduction to Oaxaca's signature dish.
Oaxacan cheese is milky, melty, and mild, popular in a variety of Mexican dishes. The cheese is exceedingly fresh, reminiscent of string cheese, and if you're buying it at the traditional markets, they'll roll ropes of it into a ball as you wait.
Molotes are a popular local street food and a perfect light meal. Similar to empanadas or pot stickers, they're dumplings made from corn masa flour, filled with chorizo and potatoes and topped with salsa, crema (similar to sour cream), Oaxacan cheese, shredded cabbage, and sliced radishes.
We were challenged to eat some chapulines…fried grasshoppers. They are found in the markets and many restaurants, usually seasoned with chili or garlic and lime. I've heard that they are tasty in tacos or ground into mayonnaise and guacamole. Those who know say the smaller ones are crunchier and less chewy. I'll take their word for it. Chapulines, or any food really, if you're talking with a local, go better with mezcal, the potent beverage distilled from agave cactus. A cousin to tequila, it has a distinctly smoky flavor that comes from the underground ovens used to cook the agave. It's often taken straight, though we found mixing it with pineapple juice takes the bite out of it.
Vendors throughout the city sell a wonderful treat called nieve. The word nieve literally means snow, but nieve Oaxacana is more like a frozen sorbet that comes in dozens of varieties—everything from corn and nuts, to mescal, fruits, and angel's kisses (whatever those are). I tried a cup of piña colada-flavored nieve on a hot afternoon, and it was cold, refreshing, and delicious.
Dark, rich Oaxacan Pluma coffee is some of the finest grown in Mexico. Small shops throughout the city sell ground or whole-bean organic varieties. It's also exported to other parts of Mexico, and it's what I drink at home in Querétaro.
Centro Histórico: A Step Back in Time
Oaxaca's historic district—which encompasses all of downtown—is one of the finest reasons to visit the city, and it's certainly why so many foreigners have chosen to live here. Brimming with Spanish-colonial charm, it's packed with plazas, fountains and shady trees, museums, galleries, parks, and plenty of street art. Murals, statues, and public exhibits decorate practically every block in the city. I heard the chime of church bells and listened to talented street singers and musicians perform traditional and modern songs. My husband David and I passed by a noisy, swirling, impromptu parade, then found a tranquil place on the edge of one of the plazas and relaxed over cool drinks. It was a perfect spot to soak up the sights and sounds of the city.
We took so many pictures. Oaxaca is a photographer's dream. From the main town square, or zócalo, we were within a short walk of Oaxaca's most impressive sites. The imposing centuries-old Cathedral of Our Lady of the Assumption is adjacent to the zócalo. The Baroque-era Templo de Santo Domingo de Guzmán is a short walk from there along picturesque cobblestone streets, past gaily painted art galleries and colorful residences.
Brimming with Spanish colonial charm.
We almost got lost exploring the Mercado Benito Juárez—one of the city's largest traditional markets. It has aisles of handwoven textiles, shops with locally produced handicrafts, blocks of rich, dark Oaxacan chocolate, and innumerable shelves full of fiery mezcal.
The sprawling Mercado 20 de Noviembre covers two full blocks; one building offers mostly prepared food—breads, tacos, enchiladas, and local specialties— while the other part is a more traditional market where vendors sell meat, eggs, and staples. This is where I'd buy my groceries if I lived in Oaxaca…but I'd go on an empty stomach and explore the busy and inexpensive little food stalls first.
I had underestimated the food scene here. Restaurants, even the most humble, made the most flavorful, freshest, and creative traditional and locally influenced food. Oaxaca has a well-deserved reputation as a foodie's paradise.
A Budget-Friendly City
It costs less to live in Oaxaca than in many Mexican urban centers. Two people could easily live well on a monthly budget of $1,500 or less. Rents will range from around $400 for a one-bedroom apartment in a good neighborhood to more than $1,000 for three bedrooms, which hands you a lot of value. Since there's little need for either heating or cooling, most landlords include utilities with the rent.
Well-deserved reputation as a foodie paradise.
Aside from rent, your biggest monthly expense is likely to be eating out—the food is so good you'll want to go out at every opportunity. We enjoyed a tasty al fresco lunch of steak, tlayudas (Oaxacan-style pizza), and beverages at Bar Jardin, next to the zócalo, for only $17 including the tip. We had three delicious quesadillas with savory green chili salsa, a molote, and Mexican hot chocolate at a little no-name restaurant for only $5. Even our mole splurge at the upscale Los Pacos Centro cost less than $50, including beverages and a decadent dessert.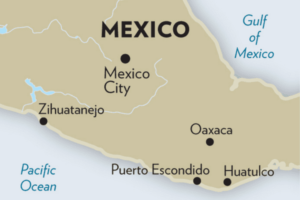 California native M'kali-Hashiki Nln says her average monthly budget in Oaxaca is between $800 and $900 per month. North Carolina retiree Cheryl Goldberg says that she and her husband average $4,000 to $4,500 a month here for their higher-end lifestyle.
There isn't a part of town where expats are most likely to live—they're scattered throughout the area. Living in the city center, you'll likely pay higher rent than in the suburbs. M'kali-Hashiki, who pays $475 per month for her one-bedroom apartment, lives in the Barrio de Xochimilco, which is an easy walk from the historic district; she says that she would have a difficult time finding a place in her price range in the city center. When I went to the Xochimilco neighborhood, I noticed an expat influence, with several international-themed restaurants and a few stores selling organic and natural foods. The beautiful, mural-laden Barrio de Jalatlaco, and the Reforma boroughs are other popular neighborhoods for expats.
LIVING AND EATING WELL IN OAXACA: AN EXPAT'S STORY
"I love living in Oaxaca," says 54-year-old Oakland, California native, M'kali- Hashiki Nln. She had visited Oaxaca, but it wasn't until she met the teachers at the La Guarida Spanish language school (see: laguaridacoop.com) that she decided to make this her new home.
The school provides weekly instruction, city walking tours, craft days, and language exchange. The language exchange has been particularly enjoyable, she says. "They organize hour-long conversations between you and a local person. I spoke with a Zapotec elder once; since he wasn't fluent in Spanish either, he had to learn it in school. He remembered when somebody in the village first got a radio.
"On craft days," she says, "we may embroider, make notebooks, or learn how to make molotes. I'm paying $70 per week for two hours of class, the language exchange, walking tours, and crafts."
M'kali-Hashiki lives in a furnished, two-bedroom apartment in the Xochimilco neighborhood. "The main bedroom is huge with a big walk-in closet. The kitchen has lots of shelving, and there's a big dining room. I have a patio with lots of plants. The rent, which is $475 per month, includes all utilities, though I choose to pay about $12 extra for an upgraded WiFi plan. I love my neighborhood. It's one of the oldest in Oaxaca, a short distance north of the Centro Histórico," she says. "There's a lot of artwork in my neighborhood and throughout the city."
M'kali-Hashiki says that she spends between $800 and $900 per month living in Oaxaca, including her school tuition and frequent meals out. "In all the time that I've been in Oaxaca, I've never had a bad meal," she says. "La Gran Torta has a different pozole [a rich, hominy-based soup] every day. Boulenc is great, and Los Danzantes, if you want to spend a little more, is fantastic. Okame has an excellent vegan ramen. Usually, I might spend $10 to $15 for a good meal. There's a little café down the street that has molotes and great milkshakes. That meal costs about $6. The hippy shops in my neighborhood have dairy-free products, but they're expensive."
"Try to learn a little bit of Spanish before you come here," she advises. "As long as you can say 'I don't know how to say that in Spanish,' you'll do fine."
High-Quality Healthcare
Hospitals providing international-standard care and English-speaking doctors in Oaxaca include Hospital del Valle (see: hospitaldelvalle.mx), Clínica Hospital Carmen, and Hospital Reforma (see: hospitalreforma- oaxaca.miadn.mx). If you participate in Mexico's national healthcare plan, there is also an IMSS hospital.
$475 for a two-bed apartment, utilities included.
New York expat Julie May Locke says, "My daughter was hospitalized for kidney stones. She spent the night in the hospital, and with IVs and meds—everything— it cost about $400."
Oaxacan expats speak highly of the healthcare provided by doctors who practice out of private clinics. A doctor's visit at a private clinic costs about $20 or $25 and they'll likely spend an hour or longer with you.
With such low prices, many expats haven't felt the need to keep health insurance. That's the case with M'kali-Hashiki Nln, who says, "I saw a doctor here and paid $20 for the visit. It's cheaper to pay out of pocket than to pay for insurance."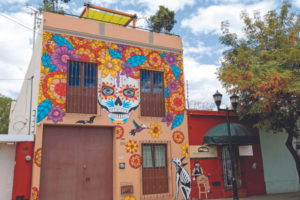 An Active Expat Community
Thousands of expats have settled in Oaxaca City. Long-time resident John Brough from Santa Cruz, CA, says he'd noticed that many retirees had returned to their home countries since the pandemic began, while more remote workers moved in. I saw plenty of expats of all ages living in the city. The majority come from the U.S. and Canada.
The Oaxaca Lending Library (see: oaxlibrary.org), a non-profit, Englishlanguage library in the historic district, is a gem. Besides having a respectable selection of books and DVDs, the library is an active expat community center. They hold newcomer meetings every Monday, and their bulletin board lists all sorts of events—from yoga classes, hiking groups, and language exchanges, to picnics and volunteering opportunities. The staff is knowledgeable and helpful, able to advise on nearly anything regarding life in Oaxaca. Every expat I met here said that the Oaxaca Lending Library should be the first place to go if you're a newcomer.
To explore what's currently happening around town of interest to the English-speaking community, there's also the Oaxaca Events informative website (see: oaxacaevents.com).
Oaxaca has many restaurants with loyal expat followings. The Chepiche Café (see: chepichecafe.com) gets high marks among hungry diners, and wildly popular Boulenc, which I visited twice during my stay, has delicious baked goods, pastas, burgers, and sandwiches, though the service is a bit hit-and-miss. The cozy Tastavins wine bar comes highly recommended for their wine selection, tapas, and pasta dishes, and the Oaxaca Brewing Company is popular for their selection of quality craft beers. The friendly El Tendajon restaurant has a broad selection of local mezcals, as well as great breakfasts and what I think are some of the best fish tacos outside of Baja California. (If you'd like more info on these bars and restaurants, they all have pages on Facebook, just search by their name.)
Ideal Year-Round Climate
Oaxaca's 5,102-foot elevation moderates the temperature; it's cooler and less humid than in the lowlands. Though the city's average annual temperature is a balmy 70 F, days may top 90 F any time of the year. Fortunately, evenings are cooler, with daily lows usually in the high 40s or 50s F. The high-altitude sunlight is quite strong even on mild days (travel tip, bring a hat). The average annual rainfall is about 30 inches, most of which occurs during brief afternoon storms between June and September.
A Regional Transport Hub
Oaxaca is served by the Oaxaca-Xoxocotlan airport (code: OAX). Most flights require a change of plane in Mexico City, though American Airlines, through Dallas, and United Airlines, via Houston, offer direct flights to Oaxaca; that trip takes less than three hours. Mexican budget airline Volaris has direct flights from Los Angeles. It's also possible to fly nonstop from Oaxaca to a few Mexican destinations including Tijuana and Cancún.
If you're driving to Oaxaca on the safe, well-maintained toll roads, the 800-mile trip from the U.S. border takes about 16 hours. Several major bus lines also serve Oaxaca, and are useful for regional travel to the beaches and beyond.
If you're staying in or near the Centro Histórico, you'll be able to walk just about everywhere you need. The city center is level and many central streets are pedestrian only. To go beyond the center, there's DiDi taxi—a ride-hailing service similar to Uber—and public metered taxis. For short trips beyond the city, collectivos— shared taxis that pick up and discharge passengers en route—and private drivers are the best way to get around. Prices for private drivers range from around $85 to $200 per day. Collectivos cost less than a dollar. Oaxaca also has a public bus system. The buses aren't fancy, but for about 40 cents, you can catch a ride to most parts of the city.
Come Home to Oaxaca
Oaxaca doesn't have the glamour and glitz you may find in some of Mexico's more popular retirement havens, and that's a large part of its charm. If you know a little Spanish, or are willing to learn some, Oaxaca could be a perfect place to call home.
WHAT TO KNOW ABOUT COLONIAL HOMES IN OAXACA CITY
Oaxaca has a beautiful historic district; it's the type of place where you might contemplate buying one of those stunning colonial-era homes to make your own.
Real estate has become more expensive since 1987 when the central historic district was made a UNESCO World Heritage site, and deals that you might find elsewhere in Mexico can be elusive here. Carlos Cervantes, a local real estate mediator, explains, "UNESCO put Oaxaca on the radar for the rest of the world; a lot of people have moved here since then and it's driven the prices up."
Historic, or heritage homes, in the Centro Histórico start at around $1 million. Many of these old homes are in move-in condition, or may need only minor restoration.
Carlos says, "For UNESCO, you need to keep the façade the same style. On the interior, you need permission from the local government, but you can do whatever you want. Most people want to maintain the interior as much as possible." Carlos says that a million-dollar heritage house would likely include a 4,000-squarefoot lot and 3,500 square feet of living space, with two bedrooms, a kitchen, a patio, and a rooftop terrace.
Because of their age, most heritage homes are constructed of adobe and rock, which can absorb a lot of moisture. Maintenance is usually more involved with these homes. Carlos' home is 400 years old, and he says he spends $1,000 to $2,500 annually to keep it in top condition.
If you want to live in the center but buying a heritage home isn't a necessity, newer homes start at around $250,000 to $350,000 and range up to around $2.5 million. These homes still aren't a bargain because of their prime location. Outside of Centro but still in Oaxaca City, you can find newer homes in move-in condition for around $200,000.
If you're considering buying here, it's important to have a real estate agent and an attorney verify that the house is truly private property and not split among family members.
Carlos says that it's best to work with a well-regarded architect who can arrange for construction, upgrades, or home improvements. As a fluent bilingual mediator, he helps expats work with local Spanish-speaking real estate agents to find and purchase a home, and also help new buyers find reputable architects, contractors, and attorneys.
"Oaxaca has many skilled and talented artisans," Carlos says, "and you can buy any building materials locally. Both construction supplies and labor are inexpensive, and the work is generally excellent." Note: Carlos can be contacted on WhatsApp at: +52 1951 550 5152.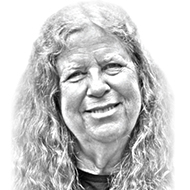 Wendy Justice, IL's Mexico Correspondent, took early retirement at the age of 51 and has lived abroad, traveling, writing, and taking photos, since 2005.
Previous
Next