"Without exception, everyone I have ever met has been friendly and welcoming. Perhaps this all has something to do with the idea that 'rushing' isn't living. It seems everyone has time to say bonjour or bonsoir as we encounter each other on the streets."
David Brych discovered this relaxing retirement in a town of around 1,600 people tucked away in the rolling hills of France's Loire Valley. This town has a reputation for producing world-class wine. Vineyards stretching to the horizon define the landscape here. Those same vineyards also drew David to the area.
Are you interested in retiring abroad? Yes | Not Sure Yet
"Wine and the wine industry is a small hobby of mine," says David. "Did it influence my decision? Perhaps. Certainly, the availability of a broad variety of Sauvignon blanc, Pinot noir, and rosé wines, at prices unheard of in the States, makes living here attractive. Driving or cycling in the nearby area lets you stop at a winery and sample the product. The local café conversations often touch on wine making."
But wine isn't all that makes this area special. It also provides excellent outdoor activities. "There is barge-boating on the Loire River canal, horseback riding, kayak and canoe trips on the river, and plenty of walking paths and trails," says David. "The scenery is spectacular."
David makes it a daily routine to get out and interact with as many people as possible. "As a retiree who is interested in absorbing as much of French culture as possible, my daily activity always has me out and around town. Most days start with a leisurely walk to the bakery for fresh bread. Language study time next, followed by a walk to the grocery or hardware store, and then it's time for lunch."
Many days, lunch is at a café on the town square, having a baguette with ham and cheese for $4, with some local wine. This provides many opportunities to interact with both residents and visitors. He particularly enjoys talking with the students of all ages who have come to study French.
"I also enjoy an evening visit to a small restaurant or pub where dinner is roughly $13 to $30, depending on the wine. Here I have met many locals, including some wine growers.
"Trying to identify a favorite food might shortchange one of the many fine restaurants here. The town offers me a range of restaurants and cafés that could let me avoid cooking or eating at home for over a week. Selections range from 'pub grub' to handmade pizza, to Michelin-star dining."
David lived and worked for over 40 years in the hectic world of the Washington, D.C., metro area. Now he's pleased to call the Loire Valley home.
"When I was approaching retirement, moving away from Washington wasn't a given," said David. "But after much thinking, I was convinced that, wherever I went, I wanted a little 'unknown' and a little 'wow… how interesting' in a destination." With these thoughts in mind, David began to focus on France. "After all, I never spent any time there, didn't speak the language, and knew the wine was definitely a 'wow.'"
His new hometown offers life at a much more affordable cost.
"Most everything is cheaper," says David. "The variety of artisanal cheeses is phenomenal, at prices that are dramatically lower than the U.S. If I really want to splurge, the fresh-fruit homemade tortes are out of this world and set me back only about $2. Depending on where you buy wine (from the wine maker or the local grocery), quality wines range from under $10 to $20."
David bought his late-1940s house, with around 1,000 square feet of living space, for $99,500. His property taxes are roughly $5,000 a year.
"Simply put, I don't think I could find a comparable home in the Washington area for that," he says. "My home is one block from the town square, within minutes of stores and restaurants. There really isn't a setting comparable in the Washington area. Something close would cost at least $250,000."
Get Your Free Real Estate Report Now
Sign up for our free daily Postcard e-letter and get a valuable free report on the The 5 Best Places to Buy Real Estate In 2023.
Related Articles
Guide to Real Estate in France
5 Best Cities and Towns to Live and Retire in France
Upcoming Conferences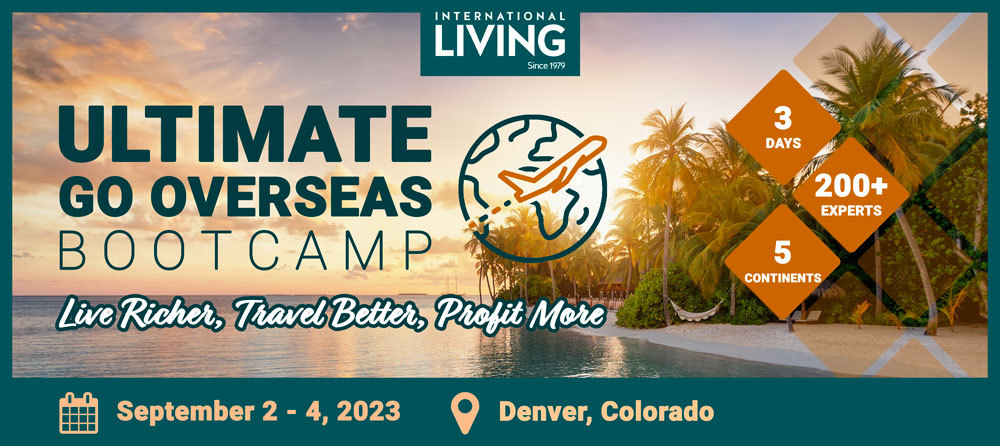 Most Popular Products
Popular Articles You May Also Like