Moving to France Will Be the Best Move You've Ever Made
If you're looking to move to Europe, then moving to France should be at the top of your list of possibilities. It has all the ingredients that we at International Living look for: a good climate, unspoiled countryside, top-notch culture, excellent health care, colorful traditions and history, and, of course, the glitter and sophistication of Paris—arguably the world's most bewitching capital. It's not surprising that France is the world's favorite destination, receiving in excess of 70 million overseas visitors each year.
If you are contemplating a move to France, the trickiest thing will be deciding which region of France has the qualities you're looking for. For some, it's the wild, rocky shores of Celtic Brittany, steeped in old customs and traditions. Others cannot resist the allure of sun-drenched Provence, a beautiful region of hill towns and lavender fields, fringed by a turquoise sea and the shady palm trees of the Côte d'Azur. Then there's the Dordogne département in Aquitaine, a lush land of castles and quaint little villages that still seem to be sleeping their way through the Middle Ages. If you're mad for markets, you'll be in paradise here. The Dordogne has dozens, and it's renowned for its gastronomic specialties, such as foie gras, truffles, and other wild mushrooms.
The Logistics of Moving to France
Moving to France may seem like a daunting task, but logistically speaking, this move can be simpler than you think. English is widely spoken, especially in Paris. Most real estate agencies will have at least one English speaker available to assist you. What's more, there are relocation agencies and individuals that specialize in assisting Anglophone clients move to France. The country also has a large American and British expat population, making social connections quite easy. Paris and other large French cities have major international airports with direct flights to numerous U.S. and UK cities, making visiting friends and family once you move here a breeze.
Moving to France for the Climate
France offers numerous climates all within a few hours' train ride. A move to France means you have the mountains, beaches, and countryside at your disposal. In the summer months, when you need to escape the Paris heat, Brittany, with a Pacific Northwest-like climate, is the perfect retreat. In the winter, take one of your five (paid) weeks' vacation time and head to the Alps for a family ski trip. As you can see, moving to France has numerous benefits.
---
How to Move Out of the U.S.
(and Where to Escape to)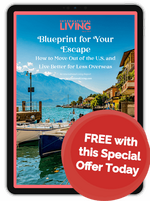 In lots of safe, warm, friendly spots abroad, a couple can live well for around $2,000 a month. Hundreds of thousands of Americans have already escaped—and you could, too. International Living shows you—step-by-step—how (and where) to go. You may be stuck at home right now—but it's the ideal time to put your escape plan in place.
Subscribe to International Living with this special discount offer today—and we'll give you a blueprint for your own escape.
Claim Your FREE copy of this Special Report now when you subscribe to International Living
---
Move to France for a Better Work-Life Balance
The French enjoy five weeks of paid vacation per year, they work fewer hours weekly, and have the best healthcare system in the world according to the World Health Organization. You too can leave the rat race behind and move to France. This move may even help you live longer: the French, on average, live longer, healthier lives than Americans. Some believe it's due to their lowered stress levels.
Moving your household goods: If you are relocating to France on a permanent basis and you have been living outside the European Union for the last 12 months, you may import a number of items free of duty and tax. Personal items include: clothing, jewelry, hunting and fishing equipment, and similar effects. Household goods include: furniture, carpets, dishes, linen, books, pictures, and other household furnishings.
Moving with your pets: France has no quarantine and you are allowed to bring certain types of pets—lizards and rats included—into the country, providing you follow correct procedures.
Travelers may bring their dogs and cats from the U.S. into France under the following conditions:
Each family is limited to three animals, only one of which can be a puppy or a kitten (which much be at least 12 weeks old)
Every animal must be identified by a microchip (standard ISO 11784 or annex A ISO standard 11785) or a tattoo. In case of identification with a tattoo, the tattoo must be clearly readable and applied before July 2011.
Dogs and cats have a rabies vaccination certificate signed by a legally practicing veterinarian in the U.S. This certificate must be presented at the port of entry in France and must accurately identify the pets. The vaccination must have taken place after the implantation of the microchip.
Someone must be in charge of the pet(s) for the duration of the trip and also at the airport (owner, representative of the airline, etc.).
For more information on bringing pets to France, check the Embassy of France website.
Making the Move to France
France is a modern first-class country with all the amenities and infrastructure you could ask for. With high-speed trains connecting you to all parts of Europe, WiFi at most neighborhood cafés, and enough culture to satisfy any appetite, moving to France can be a seamless transition. And International Living is here to help. We can provide you with all the information and resources necessary to make a successful move.