Your Essential Guide to Lyon, France
To the uninitiated, beautiful Lyon, France's third largest city, is often thought of as a runner-up to Paris. But for many of those who live there—natives, former Parisians, and international residents alike—Lyon stands in a class of its own.
Populated by a half-million, Lyon has all the usual offerings of a large, sophisticated city. With its wide assortment of excellent museums, theaters, and festivals, you'll never suffer from a shortage of cultural events. It has an extensive and inexpensive public transportation system. There are farmers' markets and restaurants galore. You'll have your choice of doctors and pharmacies, bookstores, boutiques, galleries, and gyms… Lyon has it all.
But there's a reason why Lyon's slogan is "Only Lyon." Outwardly, it might seem like your typical big city, but upon closer look you'll see that it's got dozens of fascinating elements that make it a truly unique and special place.
First, there's its beauty. Lyon is not a city of grim skyscrapers, perpetually clogged with traffic and impatient city-dwellers. Rather, it's a tranquil city filled with elegant buildings painted in the warm yellow-orange-ochre hues of the Mediterranean. Not one but two rivers—the Saône and Rhône—cut right through the center of town, and locals often picnic, stroll, and bike along their banks. Few big, thriving cities offer the calm and loveliness of Lyon.
Then there's the food. Paris may be the capital of France, but Lyon is the capital of French gastronomy. The Lyonnais are deeply proud of this role, and take great pride in preparing their food with the highest quality local ingredients and the utmost care.
The city has more than 2,000 restaurants—22 of which have at least one prestigious Michelin star—including several founded by the late Chef Paul Bocuse, legendary father of nouvelle cuisine and native son of Lyon.
You'll also find dozens of authentic Lyonnais bouchons, a special kind of home-style, low-cost restaurant that stuffs you with traditional (and very hearty) Lyonnais dishes until you're ready to burst.
Another unique feature? The public art. Throughout all corners of Lyon, you'll find fantastic artwork, from sculptures to paintings.
Lyon is best known for its gigantic trompe l'oeil (optical illusion) murals. These beautiful themed paintings look so realistic you might literally find yourself rubbing your eyes, uncertain whether you're looking at a painting or real life.
There's also Lyon's traboules, the fascinating secret passageways used by 18th-century silk workers to protect their delicate creations from the rain; "Vieux Lyon," a beautifully preserved Renaissance neighborhood that's a UNESCO World Heritage site; the "Fêtes des Lumières," an annual festival where the entire city is transformed by colorful light displays and shows for three days; and the amazingly intact Roman ruins that you can explore on Fourvière Hill… There's hardly the space to talk about it all here—you'll have to visit Lyon and see for yourself why it's so special.
Lyon is also the home of the annual Festival Lumière, founded in 2008.
The birthplace of cinema, Lyon celebrates cinema by honoring and attracting world-class renowned filmmakers and artists. Film screenings and master classes take place in theaters throughout the city.
In 2019, the recipient of the Lumière Prize was Francis Ford Coppola. Previous recipients include Martin Scorsese, Jane Fonda, Catherine Deneuve, Quentin Tarantino, Milos Forman, and Clint Eastwood.
Lifestyle in Lyon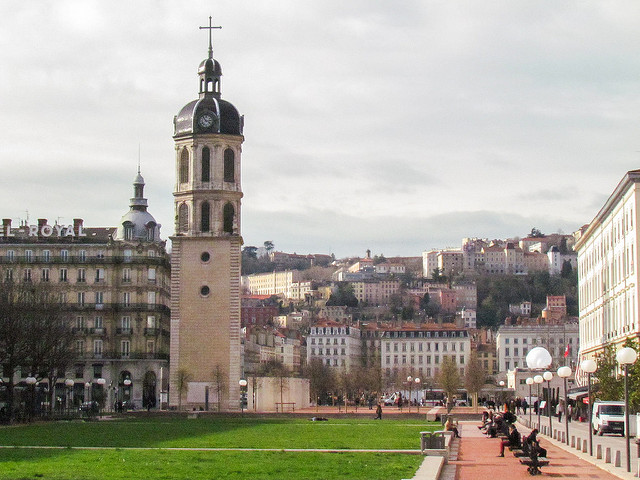 For anyone seeking all the advantages of a big French city with few drawbacks, Lyon is definitely the place to be. For a large city it has incredible generosity and calm. Its abundance of large parks (especially the sprawling Parc de la Tête d'Or) and river-side paths practically beg you to jog, cycle, or stroll, and many people do.
If swimming is your thing, there are also 12 large indoor pools in the city, and a popular outdoor one near the Rhône.
While public transportation in Lyon in excellent, you can easily walk everywhere.
Lyon is also less than a two-hour drive away from the French Alps.
Residents flock to the slopes during both summer and winter, for top-notch hiking and skiing. Lyon is also a perfect spot to explore the little medieval towns of the Rhone-Alps, including the exquisite town of Annecy, which looks like it's straight out of a fairy tale.
For the expat, Lyon is a particularly wonderful place to land.
Thanks to its many cultural offerings, you'll never lack for things to do. And if you don't speak French, you've got many opportunities to speak and hear English. For example, it's easy to find movie theaters that feature the latest English-language movies.
There are also several Anglophone expats groups, from all-inclusive "meet up" groups to specific organizations, such as the Women's Professional Networking Group and the American Club of Lyon.
Cost of Living in Lyon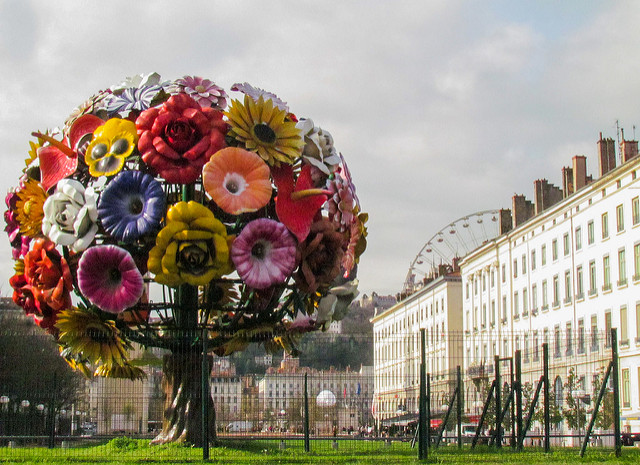 The cost of living in Lyon is the icing on the cake. Given all that Lyon has to offer, you'd think that the price of living would be sky-high, on par with Paris. But it's not.
Renting an unfurnished 850-square-foot apartment in one of the most elegant sections of Lyon costs about $1,100 to $1,400 per month (a comparable apartment in Paris would cost you at least $2,700). A smaller one-bedroom apartment in the same area would likely cost about $700 a month.
The markets also offer very reasonable prices, especially given the high quality and freshness of the local foods.
For example, you can get a couple of pounds of potatoes or onions for just over $2 and a dozen farm-fresh organic eggs for about $3.
You can also dine out for great value, with a mid-range restaurant costing around $27 per person, including a glass of wine. And remember: this is Lyon. A mid-range restaurant here is bound to be excellent by any other city's standard.
Below is a sample budget for a couple living in Lyon.
| | |
| --- | --- |
| Expense | U.S. $ |
| Rent (two-bedroom apartment) | $1,100 |
| Utilities (electricity, water, gas) | $180 |
| Internet/Cellphone/Cable TV | $100 |
| Transportation (Monthly bus pass) | $70 |
| Entertainment/Dining | $200 |
| Groceries | $400 |
| Miscellaneous | $200 |
| Monthly total | $2,250 |
10 Things to do in Lyon, France
By Liz Reding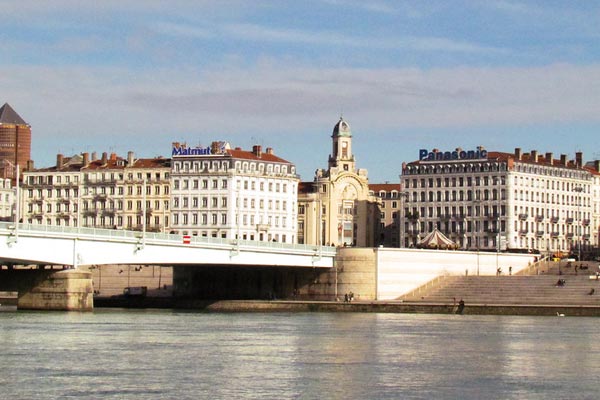 Lyon is a UNESCO World Heritage City with an amazing history. Because it is a relatively small city, you can walk everywhere (which you'll need to if you sample all the incredible food.) When you tire of walking, the public transportation system will get you where you need to go in a flash so you can explore so much of Lyon in only one visit.
Here's my list of things to do in the vibrant city of Lyon.
1. Get a Lyon City Card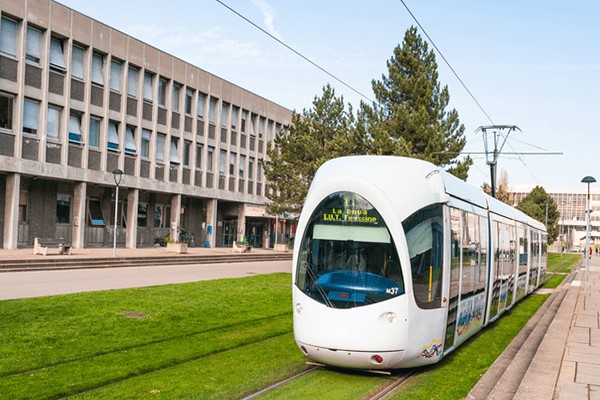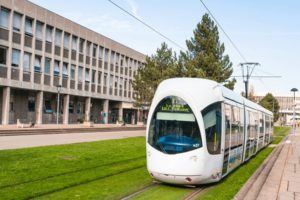 The absolute first thing you need to do when visiting Lyon is to go to  the Lyon Visitor Center at Place Bellecour (among other locations) and purchase a Lyon City Card. Like most city cards found around the world, the Lyon City Card can be purchased for 1 to 4 days, and gives you free access to the public transportation system, and free or discounted admission to 23 museums in the city.
2. Eat Lots of Bread and Pastry… and Drink Lots of Wine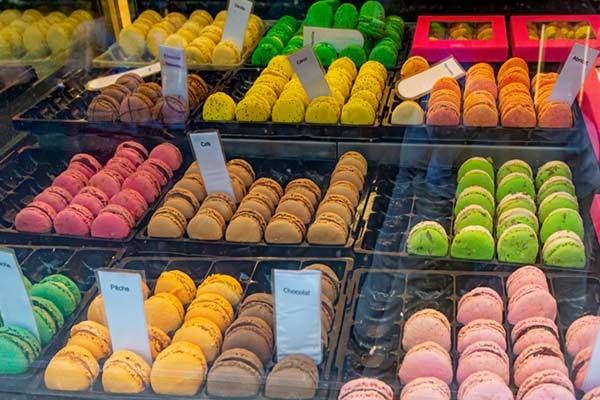 You can find boulangeries (bakeries) on almost every street: you should consider this a research project. You'll have to try many samples in order to choose your favorite. And wine can be purchased in any grocery store. You'll be astounded at how many wine choices there are and how much fun they can be to sample. Remember, practice makes perfect…
3. Lyon Sightseeing Cruise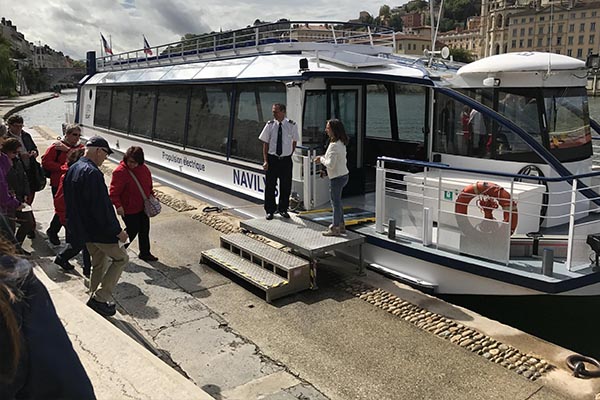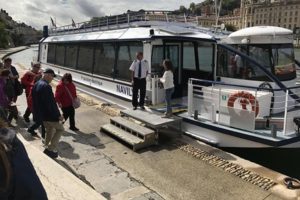 See the beautiful city of Lyon from the Saône (rhymes with cone) River, and learn a lot about the city from the great commentary provided by the crew. Every time I take one of the cruises, I always come away with something new. If you're lucky and the weather is favorable, you'll be able to sit on top and take in some sun. This is a great afternoon or evening activity when you've walked your feet off and need some rest and relaxation. This is free with the Lyon City Card, or $14 per person without the Lyon City Card
4. La Basilique Notre Dame de Fourvière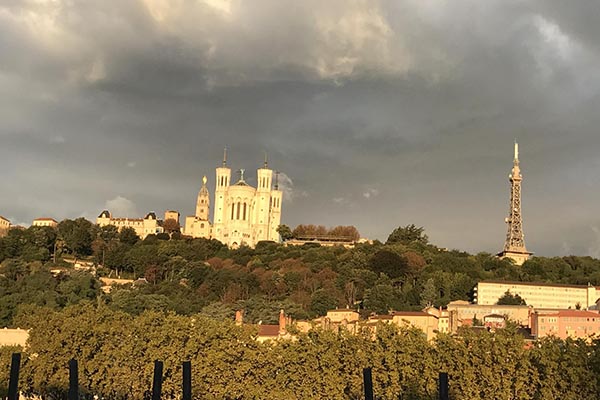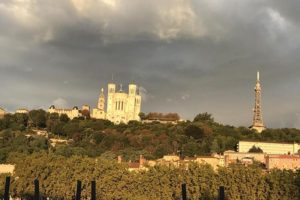 It is difficult (if not impossible) to not be awed by this building and the view you get of Lyon from the overlook. Fourvière, as it's called by locals, is a great landmark and can be viewed by almost everywhere within the city. This basilica was built between 1872 and 1884 and has become a symbol of the city of Lyon. Fourvière is dedicated to the Virgin Mary. The annual Fête de Lumières (Festival of Lights), held in early December, is Lyon's way of thanking the Virgin for saving the city from the bubonic plague that swept through Europe in 1643.
5. Les Halle de Lyon – Paul Bocuse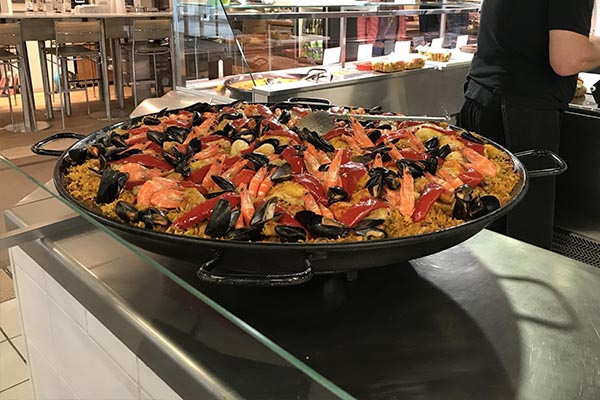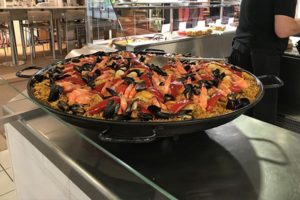 This is an exquisite indoor food market selling the best of Lyon produce, named after the famous French Chef Paul Bocuse. And what kind of food can you find here? Bread, cheese, meat, fish, oils and vinegars, wine, and of course, chocolates and pastries—all of mind-boggling depth. From the simple to the exotic, you'll find it here. You'll also find a dizzying array of restaurants tucked in and around the vendor shops. The exploration is part of the fun.
6. Croix-Rousse Marché (or any of the Numerous Markets)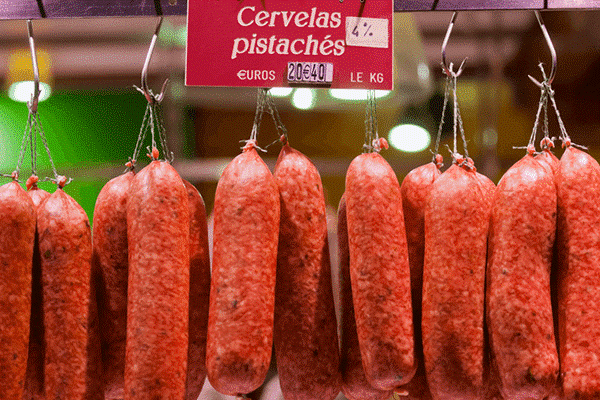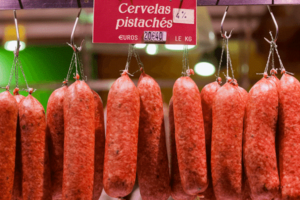 Open every day (except Monday), this market is like no other. It's huge and has both organic and non-organic produce. Every arrondissement has at least one marché: most start early in the morning and end around 1p.m. although there are a few that are on in the afternoons. One of the few markets that opens later in the day is located just above the Metro stop at Place Jean Jaures. This market is smaller than most, but has a great selection of produce, cheeses, and meat. It is held on Thursday afternoon from approximately 2 p.m. to 7 p.m.
7. City Tram Tour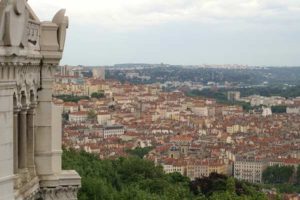 This motorized tour takes you up to the Croix-Rousse area and shows you many important features of this city-within-a-city in Lyon. Unlike the rest of the city, Croix-Rouse sits on top of a hill. You can access Croix-Rousse by foot, Metro, bus, and funicular (a transportation system designed for steep inclines) if you haven't ridden one, you really must. This attraction is free with the Lyon City Card, or around $10 without the card.
8. Center of History of Resistance and Deportation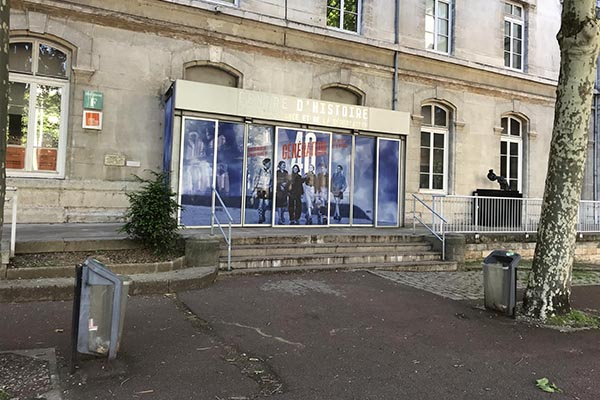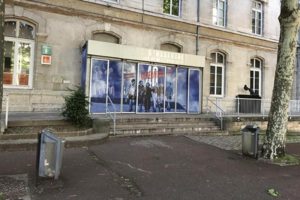 This sobering, reflective, and reverent collection is how Lyon commemorates its role in the deportation of enemies-of-the-state during World War II. While this sounds like a major drag, it is truly my favorite of all the museums in Lyon. I love the artifacts it contains and how they are presented. But most of all, every time I go there, I always encounter a group of students who are learning about this important time in the history of their city. I'm always struck by the attention they are paying and the respect they are showing. Entry is free with the Lyon City Card, or around $7 per person without the card.
9. Tour Vieux Lyon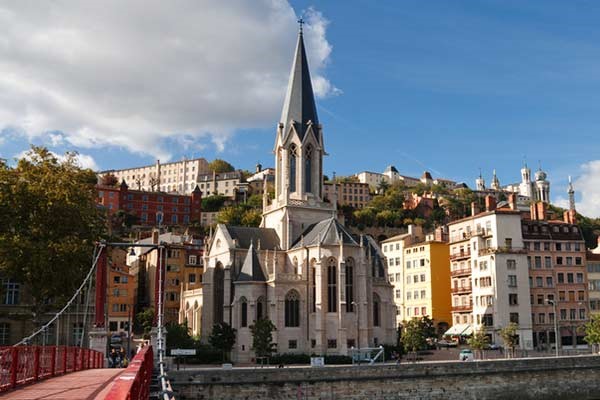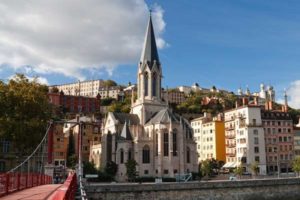 The old town of Lyon is quaint, charming, and full of mystery. While sampling the local fare, you'll also discover the system of traboules (tunnels) and the roles they played throughout the city's history.
10. Visit A Museum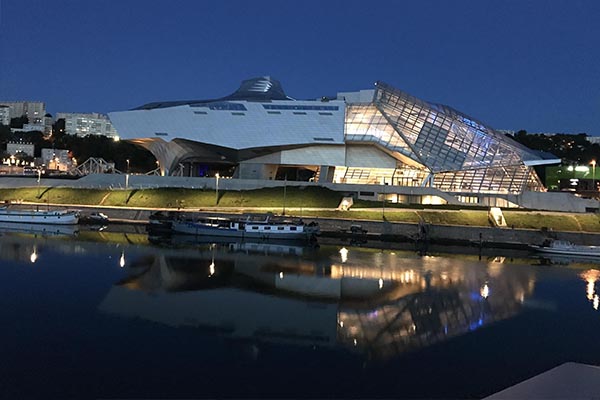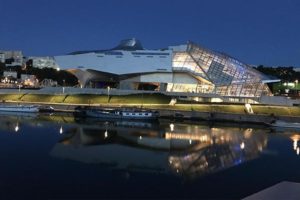 Museum of Confluences
This giant of a building is worth seeing even if you don't go in: it's that dynamic and eye-catching. The museum has a collection of 2.2 million objects from the fields of paleontology, mineralogy, entomology, ethnology, Egyptology, and technology and is divided into three main areas: natural sciences, human sciences, and science and technology. While the physical location of the museum is located at the confluence of the Rhône and Saône Rivers, it is also named for the confluences of cultures. You can see a breathtaking view of Lyon from the observation decks at the top of the building, but really, the whole building is an exhibit. You'll love seeing the interior structure of this monument to modern architecture. This attraction is free with the Lyon City Card, or around $10 per person without the Lyon City Card.
http://www.museedesconfluences.fr/
Gadagne Musée: Lyon History Museum
Another favorite of mine, this museum traces the history of the city from the Capital of the Gauls to the present. If you love urban planning and want to see how Lyon got to where it is today, this is for you.
Bonus fact: did you know that Lyon had the same mayor (Edward Herriot) for over 50 years? He was the mayor of Lyon from 1905-1940 and 1945-1957. As you leave this exhibit, you'll see a beautiful recreation of a residential parlor during World War II, and a great film on the history of Lyon during the early 1900s. This attraction is free with the Lyon City Card, or $9 per person without the card.
Lumière Museum
The museum celebrates the achievements of the Lumière brothers (Auguste and Louis) and is located in the house in which the family lived. Louis Lumière invented the Cinématograph in 1895, as well as various cameras,  and relief photographs. The first film was made in the garden of the home and at the time, it was the largest factory in Europe for the production of photographic plates. The Institut Lumière holds the annual Festival Lumière every October. If you're interested in film, you'll be dazzled by the silent films in this exhibit. The technology on display has been lovingly preserved. This attraction is free with the Lyon City Card, or $8 per person without the card.
http://www.institut-lumiere.org/
Tony Garnier Urban Museum
This outdoor museum is in the district of Lyon known as Etats-Unis. The buildings within the district were designed by the architect Tony Garnier, who worked with long-time friend Edward Herriot. Garnier was responsible for much of the infrastructure of the City of Lyon. Tony Garnier designed the housing development in what is known as the Etats-Unis area in the 8th arrondissement. Somewhat of a rebel, he wanted to create new ways of thinking about solving modern housing problems. You will find many tributes to Tony Garnier throughout the City of Lyon. This attraction is free with the Lyon City Card, or $7 per person without the card.
Featured Image Copyright: ©Flickr/sky_hlv