A Rich, Gourmet Lifestyle in Provence's Capital of Culture
Nestled in between some of the most picturesque villages of Southern France, the town of Avignon occupies an enviable position along the banks of the Rhone River—the natural line between the French departments of Gard and Vaucluse.
This sun-washed and olive-orchard dotted region of Provence has seduced travelers for decades, many opting to trade in their suitcases for a plot of farmland or the opportunity to restore a countryside villa. Indeed, the Vaucluse department, of which Avignon is the administrative head, gained international notoriety thanks to British author Peter Mayle's publication of A Year in Provence—the ultimate "how to" guide to enjoying the riches of a Southern France lifestyle.
If you'd like to opt into "la belle vie" in Provence, Avignon is an excellent retirement option. An active, mid-sized city (last census numbers put the population near 92,000), you'll have modern comforts at your doorstep while enjoying the romance of old-world France.
One of the few preserved fortified cities in the south of France, life within the walls includes a panoply of social and cultural activities; vibrant farmers markets, theatre and arts festivals, and the best of Provençal cooking and dining. Moreover, residents enjoy a relaxed, laidback lifestyle among some of the most captivating architecture in all of France. The seat of papal rule from 1309 to 1423, Avignon's Palais des Papes (Papal Palace) is Europe's most important gothic building and the focal-point of city-living. Other impressive structures include the Pont d'Avignon (Avignon Bridge), the Cathedral of Notre-Dame des Doms, and the Petit Palais—a former bishop's residence turned art museum. This entire section of the historic center is classified as a UNESCO world heritage site.
Retire in Avignon, France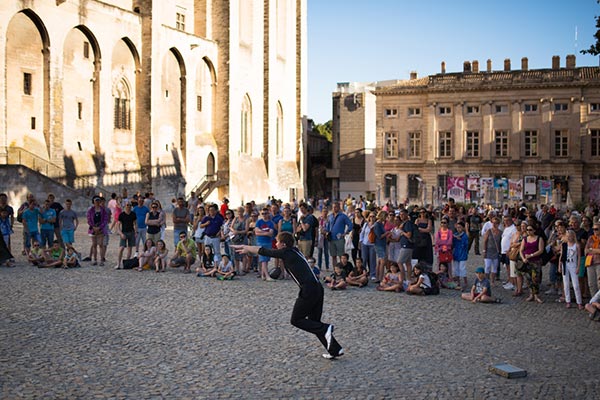 Avignon is, above all, an artistic city. Retirees will be attracted not only to the easy-going, south-of-France rhythms but also to the opportunity to be immersed in Avignon's cultural scene. With almost as many theatre venues as street corners, the city hosts an internationally-acclaimed theatre festival every summer: The Festival of Avignon (https://festival-avignon.com/). In 2019, 1,592 shows took place during the festival, at 124 different theatres.
The Avignon Opera is home to classical productions, concerts by the Avignon-Provence Regional Orchestra, and music selections from Baroque to modern jazz. Outside concerts and shows, you'll find an impressive number of museums and art galleries in town. The Museum du Petit Palais contains mainly Italian and Provençal works of art, while Musée Calvet houses different collections of paintings (notably Manet and Sisley). The city is also home to an archeology museum, a natural history museum (dating to 1840), as well as several smaller galleries.
Retirees can also explore the surrounding Provençal countryside of cobblestoned, hilltop villages and charming riverside towns. Known as the Venice of Provence, Isle-sur-la-Sorgue (a 40-minute drive from Avignon), is one of the top destinations in Europe for antiques. The town's Sunday market, along the Sorgue River, includes an open-air farmers market and an eclectic flea market.
Other must-see villages include Gordes, Fontaine-de-Vaucluse, Les Baux de Provence, and Ménerbes. Avignon has a cheap and efficient bus service and is on the TGV (France's high-speed train) route. A tramway runs through the city center and connects directly to the train station.
https://www.orizo.fr/ (Avignon transportation hub)
Lifestyle in Avignon, France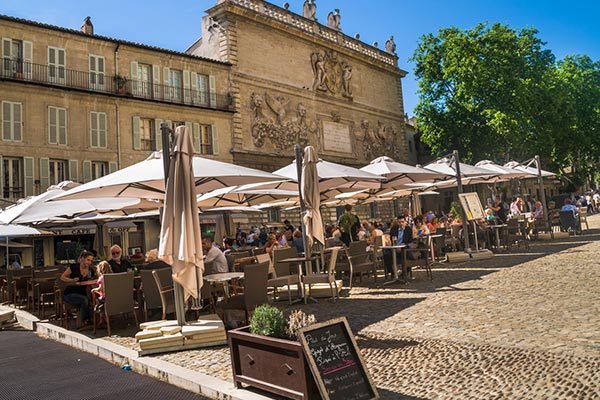 Even with all of the shows, art exhibits, and cultural events taking place in Avignon, life in the south of France is never hurried or rushed. Residents are interested in living life to the fullest, taking advantage of the sunny climate, abundant natural resources, and rich historical surroundings. Like in many Provençal towns, a large part of the day is focused on gourmet activities. Residents enjoy waking up early and meeting friends for a croissant and coffee at a local café. The Place de l'Horloge is Avignon's main square and a perfect spot to grab a café au lait and do a bit of people-watching. Encircled by pedestrian-friendly side streets, the square is home to the city's town hall and picturesque Opera House.
The French are creatures of habit, and a daily stop at the local farmers market is a must-do for residents. Keeping with the chic, design-conscious nature of Avignon, the prestigious Les Halles market houses 40 different merchants in a lofty, plant-covered building. Within the walls, you'll find an impressive selection of shopping options. Everything from bakeries to organic fruit and vegetable stands, to flower stands and olive oil vendors are on display at Les Halles. You can pick up a few creamy cheeses at a fromagerie, and dip in at the wine merchant, Le Cave des Halles, for a nice bottle of red or rosé.
Perhaps you'd like to stock up for a lunchtime meal at home, or choose to dine at one of the nearby French bistros. La Cuisine du Dimanche, on Place de l'Horloge, is an excellent gourmet restaurant to try.
Afternoons can be spent strolling or cycling along the Rhone River, catching a show or exhibition in the historic center, or going wine-tasting at the beguiling Châteauneuf du Pape vineyards.
Cost of Living in Avignon, France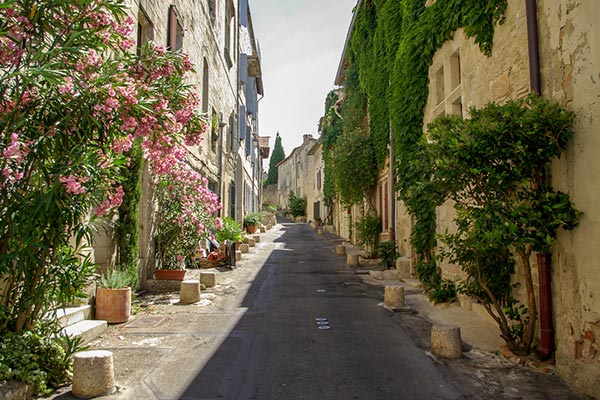 Most Southern France cities are similar in regards to cost, with daily budgets of food, transport, and entertainment varying in terms of tastes and habits. You'll save considerably more if you shop at farmers markets and discount supermarket chains (Lidl, Aldi, and Leader Price) than boutique food shops. Fine, 5-star restaurants are available in Avignon, as well as cheaper set-menu options. You can get a great meal at a local bistro for $22. This could be a goat-cheese salad as a starter, an entrecote (steak) with fries, and a dessert selection (chocolate mousse or vanilla flan) …or a similar combination of simple, French classics. A glass of table wine will run you between $3.50 to $5.80.
French housing costs are relatively cheap when compared to the U.S., and Avignon is no exception. Since it is a larger city, relatively speaking, prices will be higher than in surrounding villages – but still quite affordable.
Renting can be a great option to start. A two-bedroom, one-bathroom, 830-square-foot furnished apartment averages around $1,018 a month in the city center. If you'd like to purchase an apartment of the same size (two-bedroom, one-bathroom) you can expect to pay from $250,000 to around $361,000, on the high end. Prices decrease outside of the city walls, in the area known as "Extra-Muros".
Buying a house in Avignon will depend on where you'd like to live. In the historic center, many houses are "maison de ville" (similar to U.S.-style townhomes) with little or no garden space. With commodities at your doorstep, they provide a perfect city-living location… but you'll need to be prepared to share a wall with your neighbors. A three-bedroom, two-bathroom, 1,380-square-foot "maison de ville" starts at around $270,000—renovated and move-in ready.