One of the Most Geographically-Blessed Cities in France
By Tuula Rampont
It's no surprise that the city of Pau (pronounced "Po") is casually creeping into more and more "top 10 places to retire" lists. Geographically, you'd be hard-pressed to find a better location. A stone's throw from the Spanish border (30 miles to be exact), Pau enjoys an enviable position between the majestic Pyrenees Mountains and the cool waters of the Atlantic Ocean. An hour's drive to the Basque and Landes coasts, it's easy to imagine summer trips to the stunning beaches of Biarritz, while enjoying the off-season pastimes of walking, hiking, and skiing.
Pau earned considerable fame during the 19th century when British visitors touted the city's mild climate (the average temperature in winter is 54 F, summers range from 68 F to 86 F) as possessing curative properties and elevated it to a top vacation destination. The panoramic Boulevard des Pyrénées, which treats visitors to an awe-inspiring view of the Pyrenees Mountain range, was inspired by the Promenade des Anglais in Nice, France—a spot where vacationers could enjoy relaxing strolls along the elegant boulevard, immersed in natural beauty.
Apart from the city's attractive climate and beautiful, natural landscapes, residents are privy to a wide range of cultural and sporting activities. A vibrant university city, second only to Toulouse in the region, numerous conferences and lectures take place every year. A frequent fixture on the Tour de France cycling route, other sporting highlights include the Grand Prix de Pau and Les 4 Etoiles horse race. Museums, classical chateaux (castles), festivals, and an exclusive shopping center (Les Halles) all contribute to the allure of elegant Pau.
Retire in Pau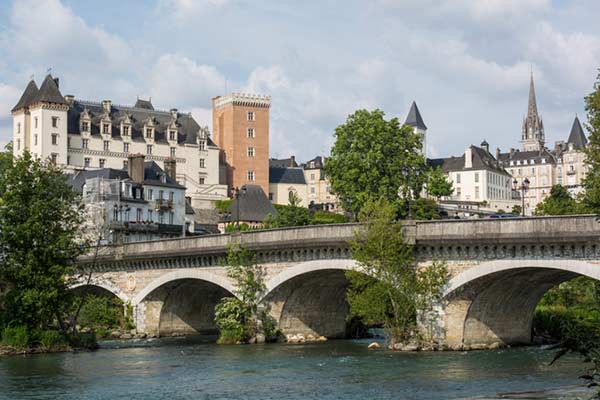 As the capital of the Pyrénées-Atlantiques department, Pau benefits from a well-organized, invested regional government and outstanding local services. Along with access to a large selection of entertainment opportunities—diverse restaurants, cafés, cinema, and concert venues—retirees will appreciate the city's top-notch hospitals and medical facilities.
With an established international community, newcomers can connect with other English speakers through expat groups and associations. A relatively small city, with about 80,000 residents, Pau has a friendly, open reputation where retirees can expect to feel welcome among their fellow French Palois (residents of Pau). Opportunities for French-language study exist at the University of Pau and through several language schools.
The city also offers many interesting and innovative means of transportation. Through the program IDEcycle, locals can rent bicycles (starting at $1.15 a ride) to cycle around the city or along any of the city's many green spaces. A well-designed bus service connects residents to the urban center and surrounding suburbs—a standard monthly pass will run you $34, passengers over 65 pay $17. A free, funicular rail service exists which connects travelers from Pau's train station to the city center.
The city is equipped with its own airport, Pau-Pyrenees Airport, which serves several destinations around France. International flights are gaining popularity, with destinations including Egypt, Jordan, Malta, and Italy on the books.
Lifestyle in Pau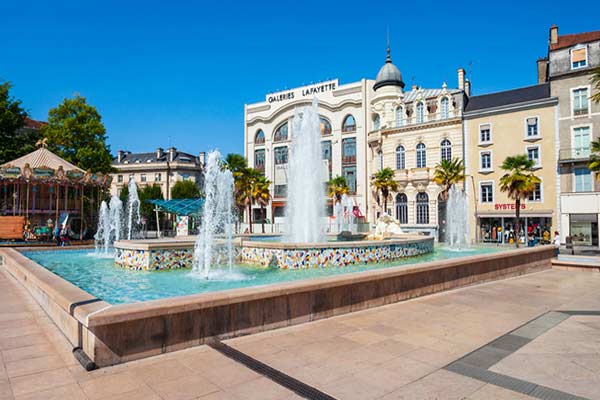 Pau is one of the top cities in France to live due to its sublime natural setting, abundant gardens, and outdoor spaces. In fact, the city has earned the designation as one of the greenest cities in Europe—with over 1,900 acres of green space.
When residents aren't admiring the spectacular views of the Pyrenees, or relaxing in the many gardens and parks (Beaumont Park and the garden at Pau Castle take top spots), they're likely to be engaged in any number of gourmet activities.
A morning visit to the extensive food market, Les Halles, is a great way to start the day and one of the top shopping hubs in the city. Completely rebuilt in 2018, this modern complex houses traditional fruit and vegetable stands (local and organic options are available), bakeries, cheese merchants, butchers, and fresh fish sellers, as well as international products (Spanish and Italian). You can pick out your favorite wine for lunch (Jurancon is the regional variety) with the local wine merchant, or opt for a savory crepe among the food choices on the second floor.
Open-air markets exist in other neighborhoods of Pau, and residents enjoy the ease of moving around the city. A very walkable city, you can easily meet friends for a morning café au lait or afternoon aperitif. And when the sun goes down, you're spoiled for choice when it comes to local eateries. Traditional French restaurants like L'Opera offer good value-for-money (a three-course meal costs $32 a person), and the city is full to the brim with international offerings—Chinese, Japanese, Thai, Indian, Italian, and Moroccan food are among a few of Pau's ethnic offerings.
Cost of Living in Pau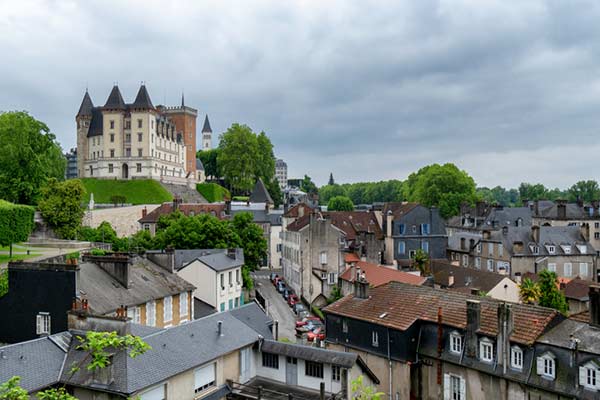 Despite its enviable location and lifestyle, real estate prices in Pau have remained reasonable.
Renting an apartment can be one of the best options. You can rent a furnished, two-bedroom, one-bathroom, 1,000-square-foot apartment starting at $784 and topping out at around $1,250 (for ultra-modern, entirely renovated digs in the center).
If you'd like to invest in your own apartment, you can purchase a two-bedroom, one-bathroom, 1,000-square-foot apartment for $133,000 to $284,000. Prices vary according to proximity to the city center.
Many options exist for buying homes as well.
In the heart of the historic center, a fully-renovated village house with two bedrooms, an office, and two bathrooms (1,075 square feet) is for sale at $300,270. Many retirees prefer to go a bit further outside the city where they can get more bang for their buck. Ten minutes from downtown, a two-bedroom, two-bathroom, 1,938-square-foot villa with a view of the Pyrenees mountains and a 23,680-square foot, manicured garden comes in at $319,000.
Daily living costs for Pau are no greater than other cities of similar size in France. As with each region, everything depends on your own, personal lifestyle. You can eat at the finest gourmet restaurants where a three-course "tasting meal" starts at $68 for lunch—set menu prices coming in at $16. Good ways to save money include shopping at the farmer's markets, taking advantage of transportation discounts (for 65+), and joining the French healthcare system at the three-month residency mark.