Old-World Charm and Modern-Day Class
Written by Tuula Rampont
Enjoying a privileged location in the heart of the sunny South of France, Aix-en-Provence captivates visitors with its beauty and simple charm. The painter Cézanne is quoted as saying, "I thought I could leave Aix, but once you've lived here, you're ruined for all other places". The town's most famous son seems to have gotten it right, as many travelers are known to visit the city and never want to leave.
The real draw of Aix is the beauty of its historic center and the opportunities the city affords to stop and appreciate the best of the French lifestyle. Stately mansions, inspired by Baroque and Renaissance styles, border Aix's elegant main street, Cours Mirabeau. Now converted into boutiques, cafés, and classy restaurants, these mansions provide a stunning architectural backdrop in which to admire the city. Etched into their façades, you'll find religious figures and historical symbols of a bygone era, when the main transport along the avenue was the horse and buggy.
Although the buggies are long gone from Cours Mirabeau, they've been replaced by the elegant Aixois (residents of Aix) who are enjoying the French lifestyle to the fullest. Lingering over long lunches, shopping at the daily outdoor market, or simply enjoying a chilled glass of rosé and watching the world go by, it's easy to envy their "belle vie".
Located in the fertile countryside of the southern region known as Provence, Aix's nearest neighbor is Marseille (the second largest city in France) which is easily reached by car, rail, or bus service. A bit further out, about a 30-minute drive, are the azure waters of the Mediterranean Sea and the fabled Côte d'Azur beach towns. The area around Aix-en-Provence produces excellent rosé wines, rich olive oils, and artisanal goods such as Provençal pottery.
Retiring in Aix-en-Provence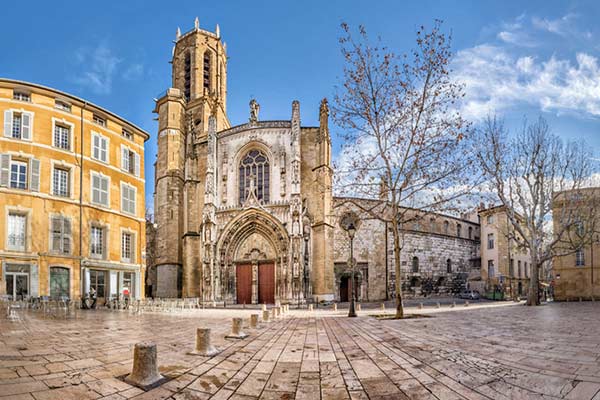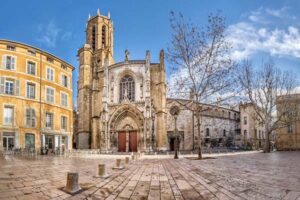 Aix is one of the top choices for Americans wishing to retire in Southern France. Other Europeans, as well as the French themselves, are drawn to the city's vibrant lifestyle, great weather, and cultural scene. This makes Aix-en-Provence a slightly more expensive retirement choice than other destinations in the south. Nonetheless, since the city is not along the popular Côted'Azur with its sought-afterMediterranean views, prices in Aix still remain reasonable and well-below comparable American cities.
Retirees in Aix enjoy a rich and varied lifestyle with activities on the city's active social calendar. Unlike other cities in Provence, which tend to become a bit "sleepy" outside the spring and summer months, Aix-en-Provence stays "open for business" throughout the fall and winter seasons. There's always a festival to attend (gourmet, wine, theater, cultural, or artistic) or an exhibition to visit. Earning the label "Ville d'Art" (City of Art), Aix-en-Provence has 11 museums, artistic foundations, and cultural spaces. The nationally renowned theater festival, Festival d'Aix, takes place every July and attracts some of the top acts from around the country.
Another benefit to retiring in Aix is the large, English-speaking expat population that exists in the region. Known as the Anglo-American Group of Provence, the group boasts over 400 members and has its headquarters in Aix and the "Pays d'Aix"—the towns and villages that surround the city. An active and well-organized association, members plan monthly activities including dinner groups, gourmet excursions, book clubs, artistic visits, family picnics, walking clubs, and much more. They also maintain their own library in Aix where visitors can borrow books in English.
The city is well served by public transport and the French high-speed train (TGV) will take you to Paris in a little over three hours. Locally, retirees can enjoy day trips to the beautiful Provençal countryside just outside their doorsteps. The towns around Aix make for perfect day trips and wine-tasting excursions. The charming hilltop villages of the Luberon (made famous by Peter Mayle's book, A Year in Provence) are about a 40-minute drive from the city. In the other direction, heading east, you'll find the beach towns of Cassis, Bandol, and Sanary-sur-Mer. On any given day, you're about a half hour's drive from rolling out your beach towel along Mediterranean Sea.
Lifestyle in Aix-en-Provence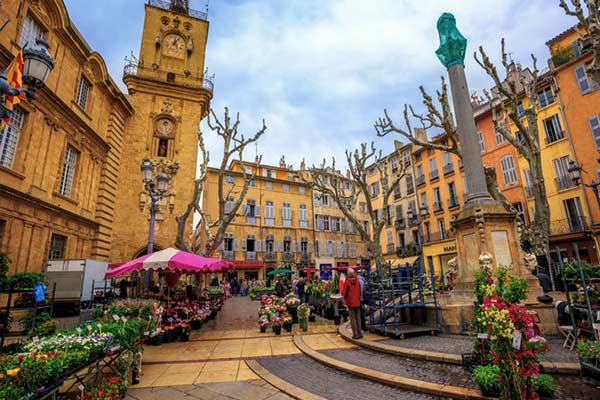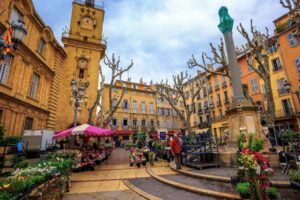 Since Aix is a very easy-going city, the pace of daily life tends to be on the slower side. A typical day might start at one of the many outdoor markets with a quick shopping trip to pick-up some items for lunch. You might chat with the local sellers about which vegetables to use for a traditional pot au feu French stew or which goat cheeses to choose for your guests. You'll find that food is one of the favorite topics of the French, and with Aix-en-Provence being quite a foodie town, a lot of your day can be spent thinking about your next gourmet experience. Home cooking is a popular activity, and Aix has many excellent restaurants for eating out. All budgets are represented, and great deals are available at lunchtime it you opt for the "set-menu" price.
After the market, you can pop in at a local café and spend some time relaxing or reading at your leisure. Café-life is another important aspect of the city. You'll see residents of all ages having a coffee, a glass of wine, or Martini cocktail on the main boulevard of Aix-en-Provence, Cours Mirabeau, and at many of the pretty squares that dot the historic center. There's never any rush to leave your table, and many friends meet at cafés to spend the afternoon together.
In the afternoon or early evening, you might opt to stroll around any of the city's parks or green space—there are many. At the Promenade de le Torse, popular activities include walking the length of the park (on a guided trail), picnicking on the shady banks of the Torse river, or joining in a game of petanque—the south's most popular leisure sport known to most as "bocce ball".
As with many mid-size towns in Provence, many sports activities exist—to participate in or enjoy as a spectator. A tennis club (Country Club Aixois) is available for friendly matches, and several other sports centers or gyms offer weekly classes. Yoga is another activity widely practiced in the city and Aix has a municipal pool for classes or free swim. The city has their own rugby team, Provence Rugby, and hosts an annual tennis tournament on the APT circuit: the Open du Pays d'Aix.
Aix-en-Provence is an important university town and continuing education and French courses are available to its residents.
Cost of Living in Aix-en-Provence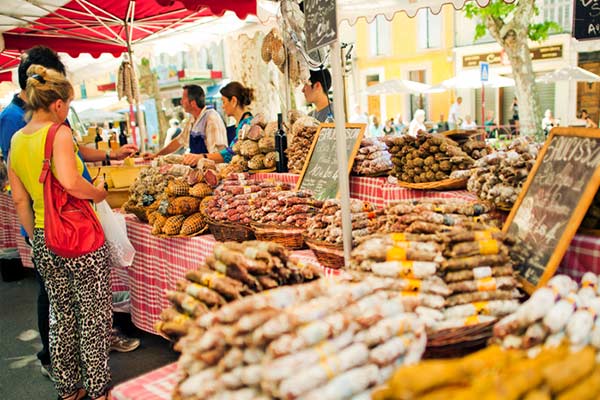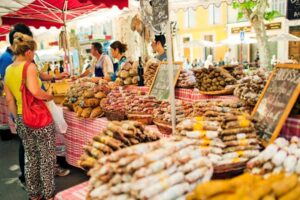 As a university town, Aix has a huge rental market with many options for living in the historic center or a bit further afield. As mentioned, rents are higher than other towns in the south, but not exorbitant. When looking for a rental, it's best to weigh the pros and cons of the price related to its location. Although the city does have excellent transport, renting in the historic center is considered ideal. Here you'll have access to the best of Aix—cafés, markets, museums, restaurants at your doorstep—and it will be easier to mix with the locals.
For a furnished one-bedroom, one-bathroom, 860-square-foot apartment in the historic center you can expect to pay around $1,390. The same size apartment, furnished, in the suburbs of Aix will run you about $1,200—keeping in mind that "suburbs" in a smaller-size city like Aix-en-Provence are not the same thing, distance-wise, as in the U.S. A city bus will take you to the center in around 10 minutes, and you may even be able to walk into town.
The same price rules apply if you'd like to buy an apartment. Buying in the center is definitely on the higher side. A two-bedroom, one-bathroom, 880-square-foot apartment starts at $377,000. On the outskirts of town, apartments of the same size are available for purchase at around $289,000.
One of the most interesting real estate options for Aix-en-Provence, and one more and more expats are taking advantage of, is to buy an apartment or house in one of the neighboring villages. Known as the "Pays d'Aix", these villages are all served by public transport and have growing English-speaking populations. You can buy the equivalent of a French "town home" (maison de village) in the village of Eguilles for $306,000. This will get you a two-bedroom, one-bathroom, 860-square-foot home in the center of the village—with a rooftop terrace. Similar offerings exist in the villages of Ventabren and Pélissanne.
Housing costs, renting or buying, will probably be your largest expense in Aix-en-Provence. Otherwise, the city is comparable to other towns in Southern France when it comes to cost of living. Of course, you could shop in the high-end boutiques, buy designer clothes and home goods, or eat in Michelin-star restaurants, but you don't have to by any means. Aix has all of the affordable, high-quality stores where budget-conscience French folks like to shop.
The Monoprix department store on Cours Mirabeau is a perfect example. The equivalent of a Target or Kohl's in the United States, they sell everything from jeans, to lamps, to cartons of milk. This is where the French bargain-hunters go, and during the bi-annual sales, prices come down up to 70%. Pants and t-shirts drop to $10 to $16, coats and jackets to $20 or less, and you'll find similar discounts on home goods.
Monoprix offers great weekly promotions on food, and for even bigger discounts there are the local Lidl and Aldi supermarkets. The real savings here are on cheese, meats, dairy, pantry staples, and wine. Good French cheese (cantal, comte, bleu) starts at $3, a liter of milk is about $1.40, and wine starts at an amazing $4 a bottle.
Everyone shops at the local outdoor markets for the cheapest, and freshest, selection of fruits and vegetables. At the daily market on Place Richelme, a pound of vegetables— carrots, zucchini, peppers, onions—starts at around $1.70. Tomatoes will go for a bit more at about $2.55. A head of lettuce starts at $1.20 and is never higher than $2.00. Apples and peaches can be found for $1.40 a pound and you can even pick up fresh bread at the market or at the bakeries that line the square. A simple baguette will run you $1, a more "sophisticated" bread baked with nuts and seeds will be about $1.50.
Eating out can put quite a dent in your bank account, but if you listen to where the locals eat you can get out the door for around $17 a person for a set-lunch menu. This will get you a starter and main dish, or a main dish and dessert, and a glass of wine.
Here is a sample monthly budget for two people living in Aix-en-Provence
| | |
| --- | --- |
| Expense | U.S. $ |
| Rent | $1200 to $1400 |
| Groceries | $425 |
| Cable TV | $30 |
| Internet | $45 |
| Water | $40 |
| Electricity | $90 |
| Phone | $50 |
| Entertainment and Dining out | $350 |
| Transportation | $31 |
| Healthcare | $170 |
| Monthly Total | $2,431 to $2,631 |
10 Things to Do in Aix-en-Provence
This sun-drenched city in Southern France was the original capital of Provence, and its flare for pageantry and culture remains. One of the most beautiful boulevards in France, and arguably one of the top in all of Europe, is located in Aix-en-Provence: Cours Mirabeau. Daily life centers on the comings and goings along this elegant avenue. Quaint cafés, classic French bistros, trendy boutiques, and Aix's weekly market all have a foothold here.
Since the town is renowned for its easy, laidback lifestyle and focus on the finer things in life—good food, great wine, and an appreciation of the arts—any visit to Aix will likely include a sampling of the city's gourmet experiences and cultural events. The helpful tourist office hosts local tours and guided visits, including walking tours in English. As the city has had many industrious (and wealthy) patrons over the years, it is, itself like an outdoor museum. Stroll through the Mazarin quarter and admire its sumptuous exteriors—built in the Italian Renaissance style favored by the archbishop of Aix-en-Provence at the time, Michel Mazarin. Just at the end of the street, you'll find Aix's famous gothic church, Saint-Jean-de-Malte, and one of the city's most important museums: Musée Garnet.
It's hard to miss Aix's many ornate fountains, as there are over 20 of them, which you'll come across while walking down Cours Mirabeau and throughout the historic center.
The birthplace of the painter Cézanne, Aix-en-Provence has a special quality of "light" that attracts artists and photographers from all over the world. Walk through the center of town at dusk and watch the colors change along the buildings and alleyways. You'll understand why Aix has been a favorite travel destination since Mazarin's time and continues to be one of the most romantic destinations in all of France. There's a reason the city is nicknamed: "Paris of the South."
This guide will get you started on the ins and outs of visiting this pretty Provençal town, and give you some top tips to take with you on your trip.
Start Your Morning with a Café au Lait on Cours Mirabeau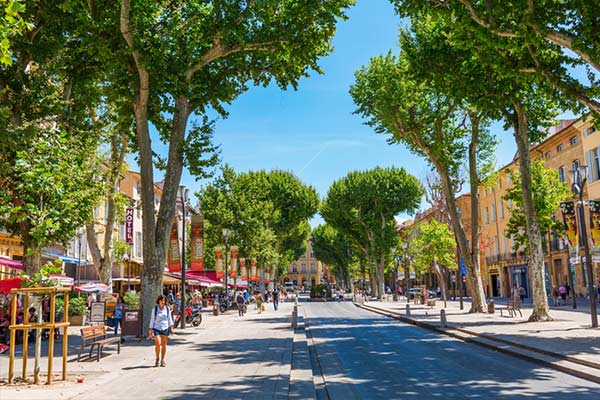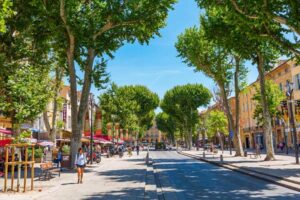 If there was a motto for Southern France, it might be "never in a hurry, never in a rush" colwould be its perfect poster child. Whether you come to shop, dine, or simply people-watch, any time spent on the Cours is time well spent. One of the nicest ways to start the day in Aix-en-Provence is to grab a coffee at any of the cafés that line the boulevard and simply enjoy your surroundings. Lined on each side with towering plane trees and boarded on the lower end by the impressive Rotonde Fountain, one of the main symbols of the town, Cours Mirabeau is a beautiful spot to spend your day. One of the chicest places to "see and be seen" in the south, you can plan the rest of your visit while leisurely sipping on a café au lait and admiring the stately buildings and rich architecture that make up the Cours.
Shop the Provençal Market at Place Richelme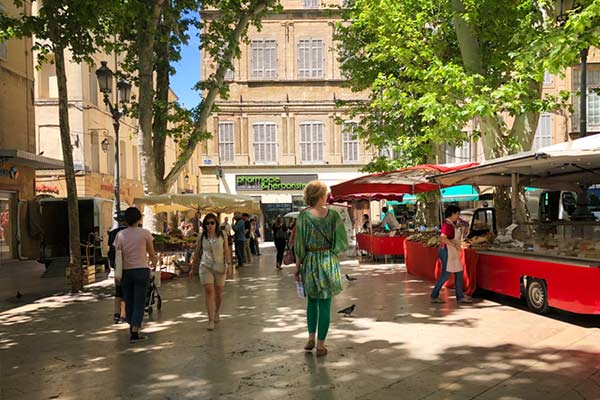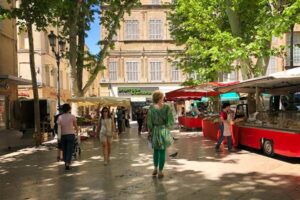 A visit to the outdoor market on Place Richelme is a must-do for any visit to Aix-en-Provence. For travelers who have already visited the city, this market tends to be one of their favorite memories. There's so much to see and experience, you could spend a whole morning in the shade of the plane trees that circle this bustling square.
Of course, there are traditional fruit and vegetable stands as found in other markets, but something about the way they're presented makes them particularly stand out. All the colors of the seasons are present. The rich reds of summer tomatoes and the trio of bell peppers that goes into making a French ratatouille or the more subdued colors of fall represented in local mushrooms, pumpkins, and squash. Delicately piled high next to bouquets of sunflowers or bushels of dried lavender, the Place Richelme market is a foodie's (and photographer's) dream.
In addition to the fruit and vegetables, you'll find stands full of all things lavender (soaps, oils, sachets, etc.), "calisson" sellers (Aix's famous almond and orange-blossom cookies), fresh loaves of bread, goat cheese, fresh seafood, and bowls of local olives on sale.
If you haven't had enough of the "wow" factor for the day, head up to the neighboring flower market in front of the town hall (L'hôtel de Ville). As delicately as the food market stands are prepared, so are the bouquets and arrangements that line the flower market. As one visitor recently remarked, "thank goodness I don't live near the flower market in Aix, or I'd go broke".
Have a Gourmet Lunch, on a Small Budget, at Il Etait Une Fois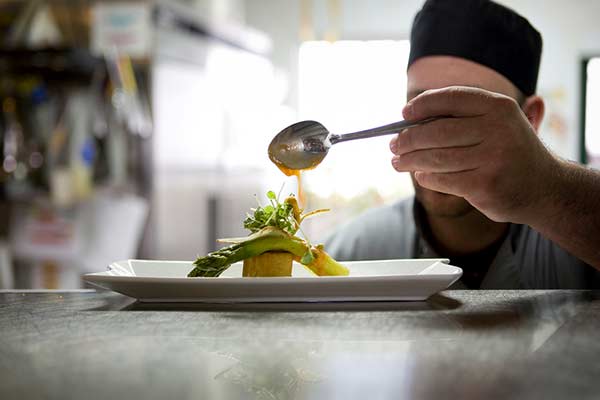 Aix is full of restaurants and you'll find that every turn in the historic center gives you a new dining option. You have French, Italian, Greek, Indian, Thai, and even a Mexican taco place. The choices are endless… and so are the budgets. Thankfully, there is a great option that will give you the best of French cooking without breaking the bank: Il Etait Une Fois.
Il Etait Une Fois is about a five-minute walk from Cours Mirabeau on a quiet side street in the historic center. Lunchtime prices are cheaper than the evening menu, and they often offer set-menu specials. You can chose from a starter and main dish, or a main dish and dessert for $21.60, and a lunch special with a starter, main dish, and dessert will cost you $27.70.
For lunchtime, typical starters include citrus-marinated tuna or broccoli "beignets" with a wine-reduction sauce. Your main dish might be an Angus steak with a parsnip "risotto" or sautéed duck with gratin potatoes.
For dessert, you can choose from a salted-caramel baked apple with sweet "croutons", an orange-infused chocolate mousse, or a coconut "Ile flottante"—a rich and creamy French dessert.
https://www.iletaitunefois-aix.fr/en/
Take a Walking Tour of the Fountains of Aix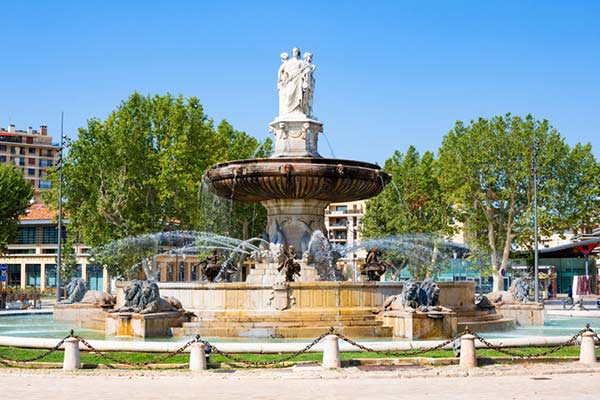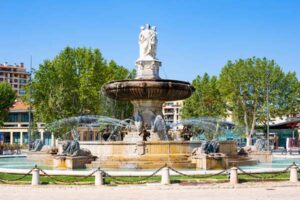 A nice way to work off a bit of your French lunch is to take a walking tour of Aix-en-Provence's many fountains. There are four fountains alone on Cours Mirabeau, one being the Fountaine d'Eau Chaude —a "hot water" fountain that finds its source from one of Aix's many thermal springs. There are over 20 fountains to visit in the historic center. Fountain tours are organized by the Aix-en-Provence tourist office, which also offers several other tours including: In the Footsteps of Cezanne, the Hidden Side of Aix, Gardens of Aix, and Aix Off-the-Beaten Path, to name a few.
Relax and Admire the View at the Hotel Caumont – Centre d'Art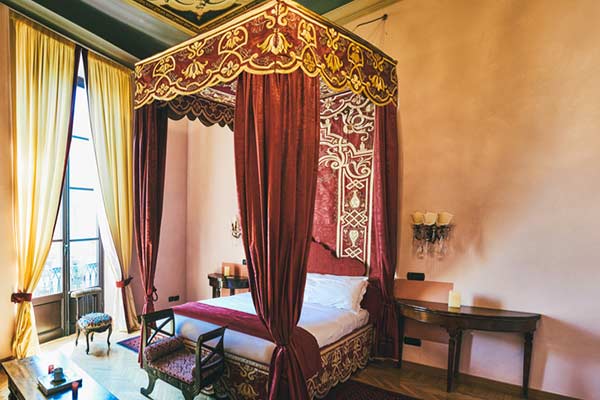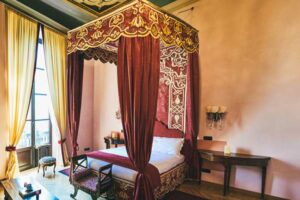 During the18th century, the term "hôtel " was given to elaborate mansions that were constructed in Aix-en-Provence. Called a "hôtel particulier" at the time, the Hotel Caumont was originally intended as a large family estate modelled after Parisian estates of the era. Restored to its former glory, in 2013, the estate has been turned into a museum and exhibition center with the house and gardens available for tours. Located in the Mazarin neighborhood, it makes for an easy detour on any visit to Aix and you can check on their website to see what current exhibitions are on view. The Café Caumont sells tea and cakes from a terrace overlooking the property's French gardens.
https://www.caumont-centredart.com/
Visit Cézanne's Painting Studio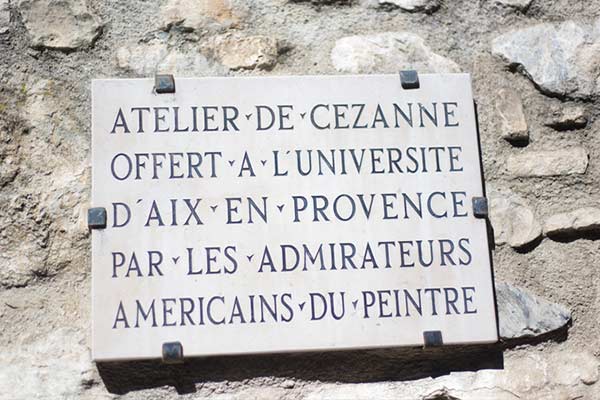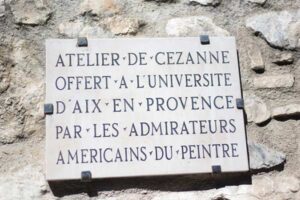 The painter Cézanne was born in Aix-en-Provence and the town and surrounding landscapes provided inspiration for many of his most celebrated works. You can visit his painting workshop, on the outskirts of Aix, and discover the intimate environment in which he created his masterpieces.
Close to the studio, the city has created the "Painter's grounds"—nine reproductions of Cézanne's original paintings facing one of his most treasured inspirations: the Sainte Victoire mountain.
The Aix tourist office provides guided tours in English for $10.50.
Do a "Pastry-Crawl" of the Historic Center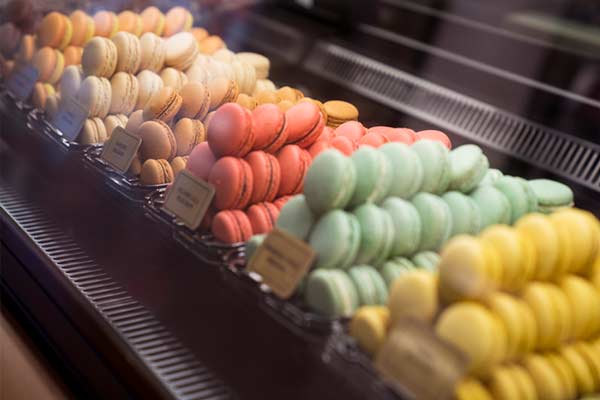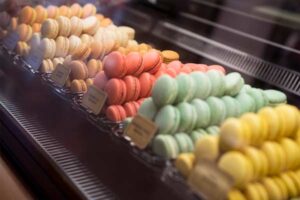 The French are famous for good food and equally amazing pastries. Aix-en-Provence is home to some high-quality pastry chefs who have boutiques in the center of town. Three very well known boutiques are Riederer, Philippe Segond, and Weibel. There are companies in Aix that provide food tours (Tastes of Provence) and tasting visits, but you can always do your own "pastry crawl" sampling the best of French macarons, layered chocolate cakes (known as "opéras"), and tempting fruit and cream creations. Since these pastry shops also house tearooms, you'll have plenty of time to sit, taste, and enjoy.
Browse Aix's Many Boutiques and Gourmet Food-Shops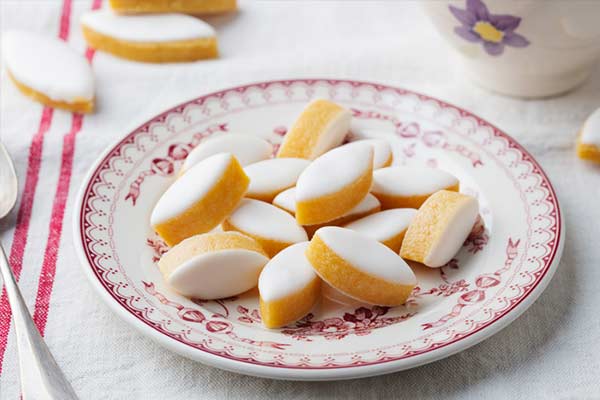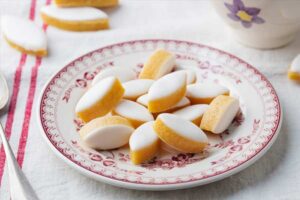 Along with pastry shops, the city is known as one of the south's top spots for shopping of all kinds. Low-end to high-end clothing stores can be found all around the city, along with bookstores, small size department stores, and gourmet specialty shops. Looking for a souvenir of your time in Provence (lavender sachets, calendars, olive oil, wine, etc.), look no further than Rue Gaston de Saporta, the street that runs between the town hall and Aix-en-Provence's cathedral. Here, you can stop in at the Roy René boutique. An emblematic and charismatic figure from the city's past, King René was responsible for the creation of the city's signature cookie: the calisson. A combination of ground almonds, orange-blossom, and a hint of icing on top, the calisson is a hit with residents and tourists alike. The modern-day Roy René is one of the top producers in the area and you can sample calissons, and Provençal nougat, in their boutique on Sporta street.
Visit a Gothic Wonder at Saint-Jean-de-Malte Church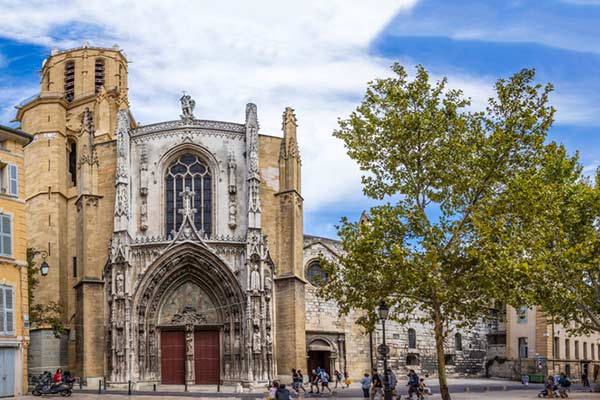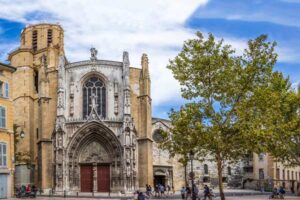 Saint-Jean-de-Malte was the first gothic church built in Provence, and was constructed between 1272 to 1277. At that time, it was surrounded by fields near a main thoroughfare, la route d'Italie, which connected Aix with other important southern towns of the period. Although the façade is rather austere, the interior houses three notable religious depictions, including Christ on the Cross by Eugène Delacroix.
An impressive structure, which can be seen from various points throughout the city, it's a must-see for architecture and history buffs. Returning to its origins, the church has welcomed monks from the Saint-Jean-de-Malte order since 1977.
To the right of the church, the old priory building was converted to the Granet Museum, which houses important French and international works of art.
Wash Your Cares Away at the Thermes Sextius Spa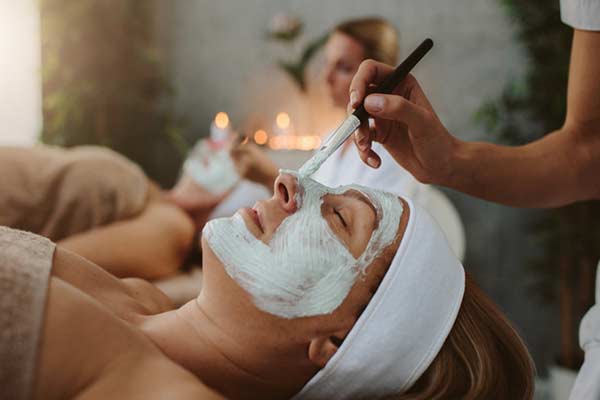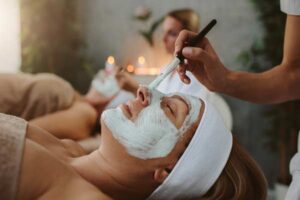 The word Aix is an ancient term for "water" and comes from the discovery of a thermal spring that led to the founding of the town. Modern visitors can still indulge in these thermal waters at Thermes Sextius, a spa and relaxation center located on the ring-road that encircles the historic center. Spend an afternoon in the calming waters and indulge in a spa treatment such as mud baths, facials, purification sessions, and body scrubs.