Nimes: Live Comfortably in the Rome of Southern France
By Tuula Rampont
With some of the best-preserved Roman ruins the world over, and an enviable geographic position, the city of Nimes is a festival of cultural and social events—and an intriguing destination for retirement.
Under the gleaming rays of the south of France (Nimes logs an average of 300 sunny days a year), you'll find a captivatingly attractive city that combines the charms of antiquity with a modern, leisure-centered infrastructure. Residents are as at home attending a classical music concert at Nimes' world-famous Roman amphitheater (a UNESCO World Heritage candidate) as enjoying opening-night cocktails at the ultra-chic Carré d'Art museum—modeled after the Georges Pompidou Centre in Paris.
Located in the Gard department, Nimes is a short drive, or train ride, to some of the most scenic coastlines in all of France. The Camargue natural reserve is a preserved wetlands area, home to a protected bird sanctuary where pink flamingos can be spotted nestling in the area's lagoons. Bordering the Mediterranean Sea, the resort towns of Le Grau-du-Roi and La Grande Motte—with their long, sandy beaches and café-lined seaports—are about a 40-minute drive away.
Nimes also keeps good company with a host of interesting, culturally-rich Provençal towns and villages. Nearby Arles, on the road to the Camargue, is both a gourmet and artistically important destination. The sprawling outdoor farmers market is one of the best in all of southern France, and visitors can stroll the same sun-washed streets that inspired the painter Van Gogh during his tenure in the city.
For a quieter slice of Provençal life, day-trippers can head to the cobblestoned villages of Uzes and Saint-Quentin-la-Poterie—the former being a jumping-off point for visits to the Pont du Gard Roman aqueduct.
Above all, residents of Nimes will find themselves in a region full of natural beauty. Outside of the Roman ruins, picturesque Provençal towns, and seascapes of the Mediterranean, the Cévennes National Park is a paradise for nature lovers. In the heart of the Cévennes mountain range, the park offers outdoor activities for every level and ability. Over 300 hiking paths cross through the park, as well as 32 cycling trails and one equestrian circuit which departs from the village of Floriac. A map of the trails, and activities, can be downloaded from the Cévennes National Park website, and includes skiing and snow-shoe opportunities during the winter months.
Retire in Nimes, France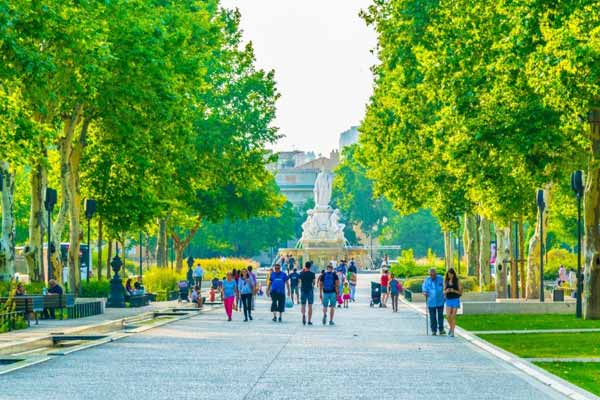 Although the region of southern France is considered one of the top retirement havens in the country, Nimes has not seen the same influx of retirees as other, better known, cities like Avignon, Aix-en-Provence, and Montpellier. This undercover status has helped keep down real estate prices, while still maintaining the same level of health and wellness care reputed across France.
Retirees will appreciate access to a wealth of cultural activities, a historic center brimming with shops, cafés, and gourmet restaurants, and a wide selection of healthcare facilities. Along with several clinics and emergency care services, Nimes has a top-rated hospital: the Centre Hospitalier Universitaire (CHU). A large complex, the CHU maintains a high-tech infrastructure and includes oncology, rehabilitation, geriatrics, and psychological services—among many others. As a teaching and research center, the hospital trains future doctors, nurses, and nursing assistants.
With well-connected transportation services (rail, bus, and air), residents travel easily around the city and region. Although the historic center is quite walkable (and a great spot to purchase or rent an apartment), a one-way ticket on the efficient TANGO city bus is $1.53, and an unlimited ride day pass costs $3.88. The centrally located train station is a short, six-minute walk from the Roman amphitheater and the region's airport is located 15 minutes, by car, from the city center.
The Nîmes-Alès-Camargue-Cévennes airport serves London, Paris, and some international destinations like Marrakech.
Lifestyle in Nimes, France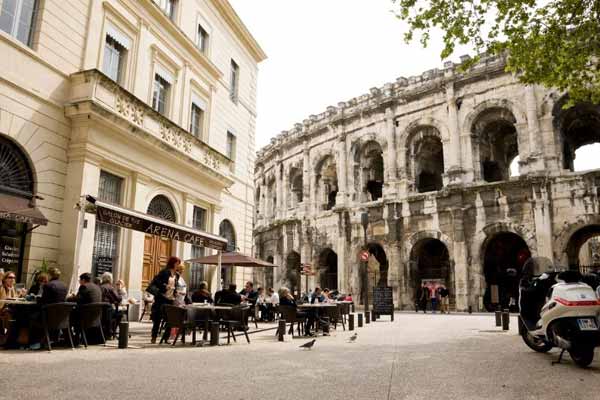 Nicknamed the "French Rome", Nimes is a city steeped in history, with an emphasis on the arts and preservation of its Roman past. Local institutions are committed to the "culturally deep" lifestyle of Nimes, and residents can expect to have a dynamic social calendar throughout the year. Numerous conferences, shows, markets, guided visits, parades, and concerts take place in the historic center of town. The Roman amphitheater (Arènes) is host to everything from The Great Roman Games (Julius Caesar was the latest honoree) to rock and jazz concerts—having seen such big names as the Dire Straits and Depeche Mode.
There are nearly 700 associations and clubs in Nimes—ranging from dance, theater appreciation, music, visual arts, and cinema. The clubs are supported by the town hall and have a dedicated meeting/administrative space recently constructed by the city – the Maison des Associations.
While the Feria de Nimes (Nimes Festival) and The Great Roman Games are important yearly events, daily activities in the historic center are focused on the slow rhythms of life in southern France. Meeting friends for an early-morning café au lait in a pretty square or strolling through beautiful Jardin de La Fontaine (a 17th-century park and botanic gardens), are some of the pastimes enjoyed by the Nimoise (residents of Nimes).
A visit to Les Halles covered market is another popular, and tasty, activity. In the heart of the historic center, the market is the go-to spot to sample local specialties and stock up on gourmet French fare.  Within its large, air-conditioned walls, you'll find bakeries, cheese shops, fruit and vegetable stands, pastry shops, French deli products (including Provençal olives), fresh pasta, and wine caves. Les Halles also has two on-site restaurants and a small cantina.
Cost of Living in Nimes, France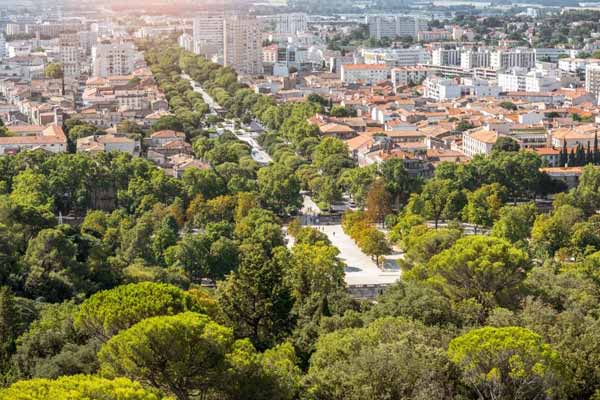 Daily living costs for Nimes are similar to other cities in the south of France when it comes to food prices, utilities, and transportation. Individual budgets will vary depending on investment in the local arts (concerts, cinema, theatre, etc.) and number of meals out a month.
Retirees, or those seeking short or long-term accommodations in Nimes, will find significant savings on housing. A two-bedroom, one-bathroom, 960-square-foot apartment in the historic center averages around $233,689 to purchase. The same size apartment runs for about $424,890 in the historic center of Aix-en-Provence.
For those seeking to rent in the city, furnished, two-bedroom, one-bath, 860-square-foot apartments are, on average, $1,121 a month in the heart of the center. Prices drop as you move away from the Arènes (Roman amphitheater) area.
Featured Image Copyright: ©iStock/saiko3p