If you've ever considered a trip to France, chances are you've heard a lot of chatter about the south of France—glitzy beaches, lavish resorts, gourmet bistros, and a bevy of stars and celebrities.
Most often, talks about le sud (the south) reference a well-heeled path along the French Riviera, also known as the Côte d'Azur. Nice, Antibes, Cannes, and farther-flung destinations like Cassis (near Marseille) draw large tourist crowds every year. And with good reason. These are some of the most picturesque, and culturally noteworthy, spots along this dazzling corner of the Mediterranean Sea.
Are you interested in retiring abroad? Yes | Not Sure Yet
This is lounge-chair and umbrella-drink territory. The lunches are long, and the aperitif hours even longer. It's a pretty great lifestyle, which, not surprisingly, attracts vacationers from all over France and Europe. If you can avoid the high-traffic months of July and August, it's certainly a nice spot to lay down your beach towel.
There is, however, another south of France—less talked about, and less visited than her more glamorous, and better-dressed, neighbor, but nonetheless charming and evocative.
The region of Occitanie, formerly known as the Languedoc, borders the Provençal city of Avignon in the east and snakes its way as far as the Midi-Pyrenees region to the west—following a beguiling route along the Canal du Midi waterway—and shares a common border with Spain on its southern tip.
From striking natural landscapes like the Massif Central and the Pyrenees Mountain ranges (which, combined, cover around 54% of the region), to the pink-flamingo and wild-horse territory of the Camargue wetlands, Occitanie offers another version of southern France.
This seven-day itinerary lands you at some of the region's must-sees, while leaving a bit of space to venture hors-piste (off-road) to a spattering of local villages and beachside hamlets which make this corner of France so alluring.
Montpellier and the Beach Towns of the Camargue (Days 1 and 2):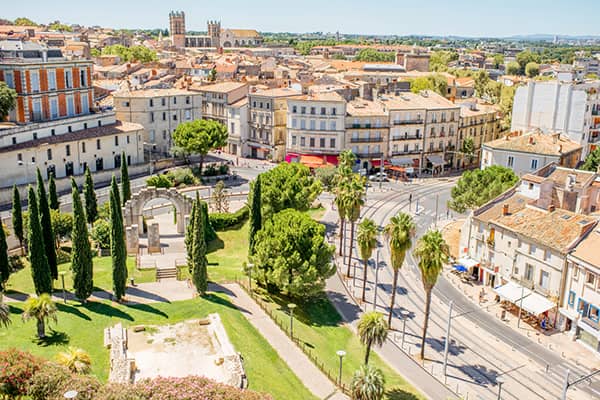 One of the fastest-growing urban areas in all of France, Montpellier is a youthful, dynamic city known for its somewhat provocative architecture (see the Arbre Blanc apartment building, with balconies shaped to look like the leaves of a tree), university life (students make up a fourth of the population), and a joie de vivre lifestyle.
There's an international airport on the outskirts of the city (Montpellier-Méditerranée Airport), with connections to other destinations in France, and it's best to consider renting a car for getting around the area – especially for visits to the Camargue wetlands.
One of the sunniest cities in all of France, life in Montpellier is made to be lived out-of-doors – which leaves one to wonder if the city planners had that in mind when they designed the pedestrian-friendly, central promenade, the Place de la Comédie. Lined with restaurants, cafés, boutiques, and dominated by a striking opera house of the same name, the place is a great jumping-off point for exploring the city on foot.
Gaze up at the 17th to 19th-century mansions called hôtels particuliers or take a tour of Montpellier's historical monuments on the Petit Train tour, which leaves from the lush Jardin des Plants park adjacent to the Place de la Comédie.  Visit the Palace Royale du Peyrou royal gardens (a nod to Louis XIV, France's "Sun King") and admire the views of the city's stately Arc de Triomphe – standing some 50-feet high.
Montpellier easily merits a two-day stay. Architecture buffs can admire the column-inspired Antigone district (designed by Catalonian architect Ricardo Boffil), the Montpellier Contemporain building and modern art center, or the RBC Design Center.
Ease into south-of-France life with a stroll through the outdoor markets, or slip into a local bistro for some moules-frites (mussels and fries), and end the day at Musée Fabre fine art museum – admiring the works of Monet, Rubens, and Degas.
Beach fans can opt to spend Day Two at any of the seaside towns in nearby Camargue. La Grande Motte resort is a 15-minute drive from the city proper.
Arles – Van Gogh's Muse Along the Rhone River (Day 3):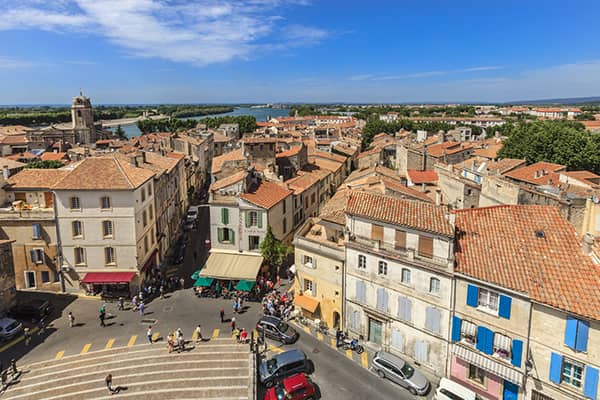 While one of the main draws of this somewhat sleepy town along the Rhone River is its well-preserved Roman arena, Arles packs a sizable punch when it comes to southern culture. Its sprawling, blocks-long Provençal market is one of the best in the region, and the rhythms of flamenco guitars can often be heard adding a Spanish vibe to the local cafes and bistros.
This is Camargue country, a mixing of French, Spanish, and Provençal cultures typified by what you'll find on restaurant menus – hearty gardiane de taureau (bull) stews and Camarguaise wild rice (30% of France's rice production comes from the Camargue)—and the variety of accents you'll hear on the city streets.
Colorful, lively, and moving to a beat all their own, the Arlésiens are a fascinating bunch – with some 2,500 years of history under their belts. Arriving in 1888, Vincent Van Gogh spent 14 months in Arles, painting local landscapes, still lifes, and city scenes – like the evocative Café Terrace at Night.
A visit to the Vincent Van Gogh Foundation is one of the top stops in the city, and the Arles Tourist Office has helpful tips for planning your stay.
Arles is around a one-hour drive from Montpellier.
Nimes: Ancient Rome in a Festival of Culture (Day 4):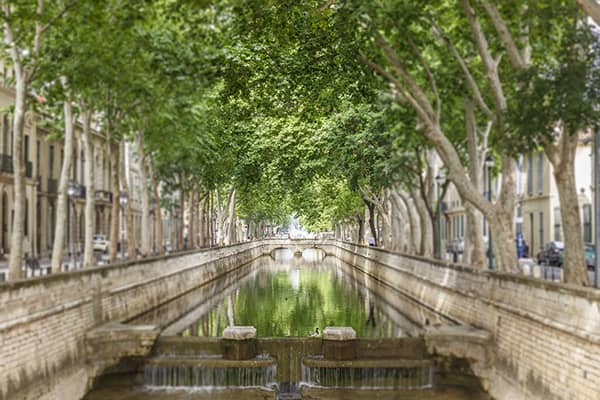 Thought by many as the "French Rome," the city of Nimes has an impressive series of well-preserved Roman ruins. The renowned Roman amphitheater (a UNESCO World Heritage candidate) presides majestically over the historic center, and is the site of several cultural events during the year – everything from Roman battle reenactments to a summer concert series featuring international acts like Sting and the Black-Eyed Peas (Festival de Nimes).  
Famously home to the first pair of blue jeans (the word denim comes from "de Nimes," from Nimes), the city has long been host to French art and creativity. Standing in stark contrast to its neighbor, the ancient Roman temple, the Maison Carrée, the glass and steel Carré d' Art Museum features a range of contemporary and futurist modern art.
The historic center of Nimes can be explored on foot, with plenty of dining opportunities. Travelers can load up on gourmet goodies at the Les Halles covered market, or enjoy the views from one of the bistros which circle the amphitheater.
Traveling time from Arles to Nimes is around 30 minutes on the A54 autoroute (freeway).
Toulouse, the South's Pink Wonder (via Carcassonne) (Days 5 to 7):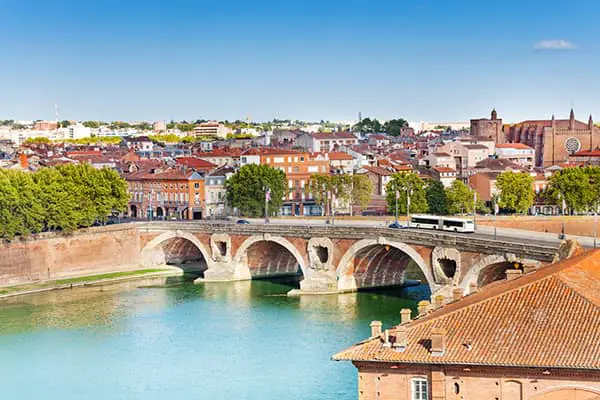 After Nimes, visitors can decide to continue by car to Toulouse, or take advantage of France's efficient rail system and travel by train. The route includes some lovely scenery, and the chance to hop on, hop off, at a host of interesting towns along the way—including Carcassonne, whose citadel and ramparts are classified UNESCO World Heritage sites.
If traveling by train directly to Toulouse, the journey takes around three hours and 15 minutes to quite four hours, depending on the day and number of stops. Train tickets can be purchased in advance on the SNCF website.
Once in Toulouse, you can cover the entire historic center on foot – starting with the spectacular Place du Capitole with its eye-catching red brick façade which characterizes the architecture of the city, giving Toulouse a somewhat pinkish hue (La Ville Rose).
Dating from 1750, this large Neoclassical square is the heart of city life. Pause for a café au lait and take in the sights—weekly outdoor markets, local festivals, and music concerts all have their home here.
Like Montpellier, Toulouse is full of architectural wonders. You can find a full list of historical sites to visit, in English, on the city's official tourism site.
One of the nicest things to do in Toulouse is simply enjoy the local southern atmosphere. It's a city with a lot of Spanish influence—in the dishes served at the local covered farmers' market (legs of cured Spanish ham dangle from the stalls), Victor Hugo (a five-minute walk from Place du Capitole), and the easy-going, open nature of its residents.
A plate of tapas under the southern sunshine, with a nice glass of local rosé, is perhaps the best introduction to one of the most festive cities in Occitanie.
Toulouse has an international airport, if you choose to end your itinerary here, or you can continue along the train route to Bordeaux in the Nouvelle-Aquitaine region.
Related Articles
Moving to France Will Be the Best Move You've Ever Made
5 Best Cities and Towns to Live and Retire in France
5 Places to Live in France; 2 to Avoid
Upcoming Conferences
The Only 2023 Fast Track Costa Rica Conference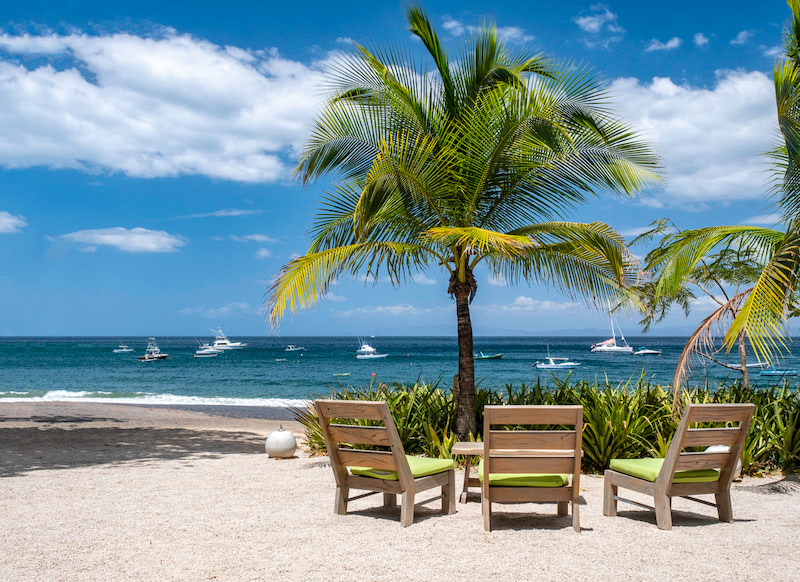 If your dream retirement involves stunning beaches… lush green mountains… a perfect year-round climate… first-rate healthcare… incredible value for money (a couple can live well on $2,109 a month—including rent!)...
Join our Costa Rica experts and expats in June and discover true Pura Vida.
REGISTER NOW, SEATS LIMITED: EARLY BIRD DISCOUNT HERE
---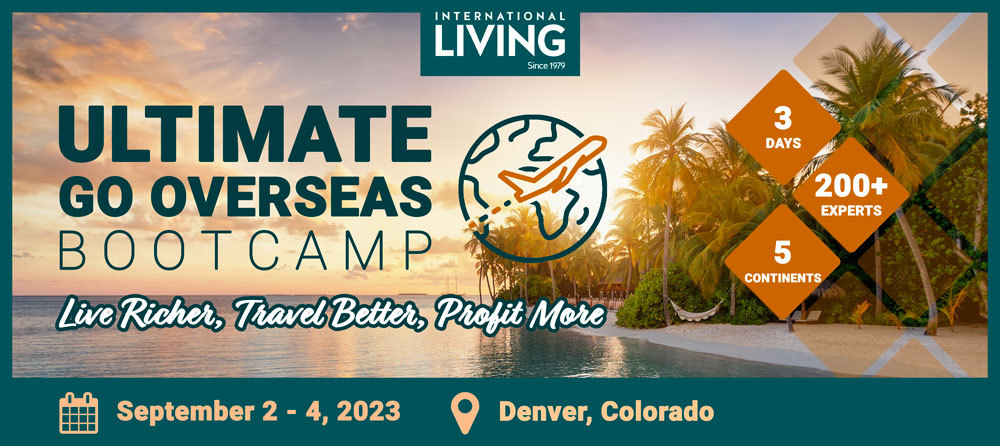 Most Popular Products
Popular Articles You May Also Like