When my husband Michael and I decided to visit England this summer, I saw a great opportunity for him to see a different side of life than our normal quick visit to my hometown.
With visions of old stone houses, thatched cottages and friendly pubs clustered around the village green. I looked to see what opportunities I could find and found a selection of wonderful homes in need of sitters right across the United Kingdom. However as we didn't want to spend hours driving all over the country we focused on finding sits in the South.
Are you interested in retiring abroad? Yes | Not Sure Yet
Our first English sit of the summer was in Alderbury, near Salisbury and its majestic Cathedral. As we got closer to our destination, the roads became increasingly twisty and narrow. In some places they felt even narrower as the trees entwined overhead, creating sun dappled leafy tunnels.
Our home for the next few days was down a narrow, graveled track. Nestled in a sunny hollow and draped with wisteria, it was a welcome sight. A gate at the bottom of the garden opened up onto a tract of woodland, bisected by walking trails and home to many a creature including owls and deer.
The house was surrounded by a wide flagged patio, perfect for enjoying the first rays of sun in the morning or for an evening BBQ. It was wonderful, and so was the local pub where we enjoyed a traditional Sunday Roast out in the Beer Garden.
A Centuries-Old Home in Sussex
Next was a sit in a tiny village in West Sussex on the edge of the South Downs. The original house was built in the 1650s and had been tastefully expanded and renovated. We spent many happy hours with the two energetic spaniels we were caring for, exploring all the various trails around. We could even pick up fresh eggs on the way home, courtesy of the honor box left by the trail.
We seldom saw or heard a car here, just birdsong, and the baa of the sheep on the common behind us. As dusk settled in the nocturnal creatures began to stir, bats winged silently overhead and we heard male and female Tawny Owls calling to each other as the night deepened.
This was the leafy, green England that I wanted us both to experience, but we weren't done yet.
Next up was a fairly new home right on the edge of Hazeley Heath in Hartley Wintney. Just a few steps from home and we were onto the Heath. Here, our dog companion had space to run, find sticks for throwing, catch her Frisbee, or better yet chase her tennis ball. She covered miles catching and returning that ball. On hot days we visited the river at the far end of the Heath, to go for a swim—and to retrieve a few sticks of course.
We all spent hours on the Heath, man and dog playing catch and yours truly collecting fat juicy blackberries from the brambles that abound there. There's nothing more satisfying than turning a big bowl of handpicked berries into a mouth-watering blackberry crumble to go with dinner.
The Downton Abbey Manor
Our last sit of the summer was the pièce de résistance. We could not believe our eyes when we rounded the corner for the first time and saw the main house. It was something right out of Downton Abbey; we half expected a horse drawn coach to pull up and a liveried servant appear to greet the Lord of the Manor.
Thankfully we were not looking after the "big house." We were looking after what used to be the "Old Squash Court." All of what used to be the various outbuildings on the manor grounds had been upgraded, extended, and converted into a series of wonderfully individual homes.
Our neighbor's home was the "Fire Station" and there were also families living in the "Courtyard" and the "Stables." All of these homes sit on extensive acreage at the end of a long, winding private road.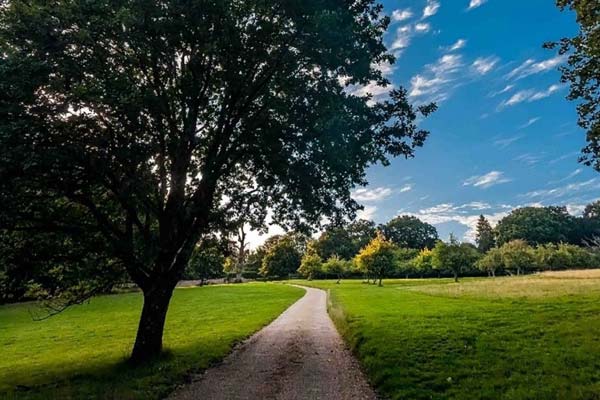 Our home for the week was unique, with huge windows looking out over the surrounding gardens and fields. We backed on to an extensive garden, where we regularly saw deer, foxes and squirrels. It was idyllic. We had long leafy lanes to walk the dogs, landscaped gardens alongside the lake to admire and wide open spaces for the dogs to run and play ball.
I can't disclose exactly where we were, but the ruins of Bayham Abbey in Kent are nearby. This was an amazing property and has to be our most unique to date.
Michael now agrees with me that there's a lot more to England than we had seen before. We loved it and are planning to return next year to do some exploring in the North.
Related Articles
Housesitting in Europe: Everything You Need to Know
A Week of Fun in London…For Just $15 Dollars a Day
Popular Articles You May Also Like