My husband Tim and I like to consider ourselves expert housesitters. It's something we've been doing for more than five years now. We've house-sat all over Canada, the United States, Asia, and Australia. I estimate we've saved over six figures during our travels with the help of housesitting programs.
Are you interested in retiring abroad? Yes | Not Sure Yet
Most recently, we've been touring Europe and the U.K, and that's where we stumbled across a post for a housesitting opportunity in London. A quiet little apartment located in the inner-London borough of Hammersmith. The chance was too good to pass up. We had been to London before, but that was more than 25 years ago. We were only able to spend a handful of days there then, which had left us wanting to see and experience more of the city. London is so vast, and so chock-full of things to do, and sites to see, that you need weeks, if not months, to really enjoy everything it has to offer. We came to England's old capital determined to visit some of the best art galleries and museums that the country had to offer.
The main draw was the Victoria and Albert Museum (V&A). This place is just stunning, and that's before you even step inside. The impressive building is a unique blend of architectural styles; Renaissance, Romanesque, and the enormous main tower looming above the main entrance is Gothic. It's a place that lives up to its name, exuding a regal aura. Inside, the museum boasts an enormous array of fascinating collections. The world's most expansive museum of art and design, its exhibits range from architecture, furniture, fashion, textiles, photography, sculpture, painting, jewelry, glass, ceramics, and even more. It's host to over 2.8 million pieces and books, spanning upwards of 5,000 years of human creativity.
London is packed with incredible museums and art galleries like the V&A. Tate Britain showcases the best of Britain's national artwork, dating all the way back to 1500 until today, along with international and modern pieces. Admission is free, although certain collections may require you to book in advance on their website. Special exhibitions, in most places, also have a price of admission; the Satchi museum had a Bob Marley exhibit that had an entry cost of £21 ($25)! We found this to be the case for most of the galleries and museums we visited; free admission, but with the option to donate a small amount. We usually gave £5 ($6) or so.
Get Your Free Report on Europe Here:
Learn more about countries in Europe and other countries from around the world in our daily postcard e-letter.
Simply enter your email address below and we'll also send you a FREE report - All the Charm and Romance of Europe…at a Price You Can Afford.
When we weren't checking out the best of London's artistic offerings, we were usually out exploring the city on foot. We created our own walking tours, allowing us to hit key sites. Our favorite took us through the gorgeous Kensington Palace and Gardens, to St. James' Park, and finally to the immense Buckingham Palace. London is so densely populated with sites to see that you can't go more than a couple of hundred feet without stopping to check something out.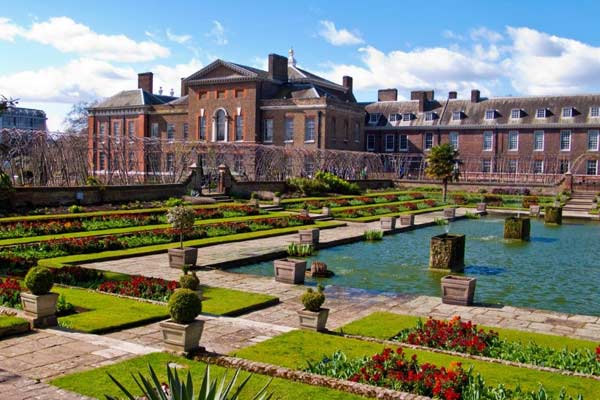 At the end of a long day indulging in London's artistic pedigree, and wandering the bustling city streets, there's nothing we enjoyed more than hunting down niche little pubs to discuss the wonders we'd seen earlier…and sip on some cold beers, of course. Unsurprisingly, London offers a splendid variety. Just down the road from our temporary apartment, "The Curtain's Up" served not only as a charming bar and restaurant, but also has an attached theater! We found out that a local production would be having their opening night during the duration of our stay.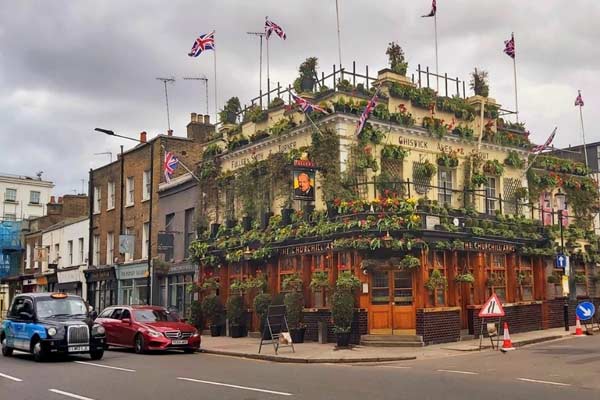 We also loved The Dove, right on the river Thames. Dating back to the mid 19th century, it's associated with a number of historical figures, most notably Ernest Hemingway. The Churchill Arms, in Kensington, is the perfect, quintessential British pub, with a unique décor inside and out, offering cold craft beers and a great atmosphere.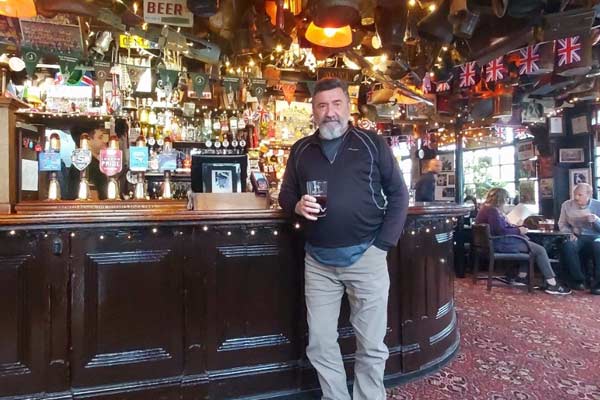 After an entire week of visiting some of London's pre-eminent tourist attractions and landmarks, it was in The Churchill Arms that we sat down and took a look at how much this had set us back financially. London is one of the most expensive cities in the world, so imagine my delight when I realized that we'd spent just under $15 each per day—$30 in total—not counting alcohol.
So how exactly did we pull this off?
Accommodation in London
As I said before, we didn't pay for our accommodation. We were housesitting, and the use of the apartment was completely free in exchange for feeding Smudge, the cute resident cat, and giving her a few cuddles each day. This saved us a mountain of cash. If we'd stayed in dorms in a dodgy hostel, it would have cost us at least $220. An Airbnb of a similar standard and area to our apartment would be about $1,250. And a CHEAP hotel would have cost at least $750. We use a website called Trusted Housesitters, where we have a five-star profile. Building a reputable profile is the key to sourcing opportunities similar to the one we had in London. A large component of Trusted Housesitters is pet-sitting, so if you have experience in minding friends or neighbor's pets, that'll definitely help you.
When we arrived at the apartment, we couldn't believe our luck. We had a fully equipped kitchen with an oven, microwave, full-sized refrigerator, coffee maker, crockery, cutlery, condiments, and everything required to cook up a storm. In addition to the spacious double bedroom and private bathroom, there was a large comfortable sofa, widescreen internet TV, and a small dining table to set up our computers if we decided we wanted to work. Smudge appeared to demand some cuddles and attention before retiring to her hidey-hole while we unpacked our bags. I couldn't believe that we were getting to avail of such commodities for the absurd, grand price of zero dollars.
Get Your Free Report on Europe Here:
Learn more about countries in Europe and other countries from around the world in our daily postcard e-letter.
Simply enter your email address below and we'll also send you a FREE report - All the Charm and Romance of Europe…at a Price You Can Afford.
Dining in London
With a fully equipped kitchen, we ended up making most of our meals at home. It worked out that it only cost us around $14 per day to eat instead of $75-$100. So, for the week, we saved a minimum of about $420. London is notoriously expensive, so preparing most meals ourselves meant we could eat well while saving a bundle of cash. The excellent location meant that within a 10-minute walk, we had access to three popular supermarkets and several convenience stores.
When we didn't fancy actually cooking, we'd skip the restaurant experience that would cost us an arm and a leg, and just hit the Marks and Spencer's food hall, or one of the many sandwich kiosks that were nearby our apartment. Local pubs, like the aforementioned Curtains Up offer seasonal brunch and lunch menus, but be prepared to pay up for the experience.
Transport in London
Transport in London can be outrageously expensive if you've got to travel far, and getting around during peak hours can really start to add up. Forget about taxis outright. The Tube (London Underground) charges more if you're traveling between 06:30-09:30, and then again at 16:00-19:00, Monday-Friday. If you can plan your travel accordingly, you can make some nice savings. For the sake of simplicity, we linked our credit card to the Oyster app (the Oyster card is a contactless transport card used for paying for public transport in London). After a certain number of travels, you'll be charged for a full day pass, but by traveling during off-peak times, we never reached that point.
Our apartment was close to the center, we had all the amenities we needed, and we further reduced costs by planning our activities so that we weren't racing around all over town. Our central location also meant we saved time getting to places, allowing us to travel off-peak and still see everything we wanted to on the day. So instead of $20 to $25 a day, we spent less than $12, even on the busiest days.
That takes care of accommodation, food, transport, and activities…the significant parts of any travel budget. On adding it up, looking after the delightful Smudge for a week saved us at least $1,250, probably more! And we'd stayed in nicer, quieter, more comfortable accommodation, eating better food than if we'd had to pay.
We were totally satisfied at the end of a busy week in London. We couldn't believe we'd seen as much as we had. We were able to enjoy the many world-class museums, iconic London tourist attractions, and breath-taking parks and gardens as they embraced the beginnings of spring, while only paying a mere fraction of the price most people do when visiting.
Get Your Free Report on Europe Here:
Learn more about countries in Europe and other countries from around the world in our daily postcard e-letter.
Simply enter your email address below and we'll also send you a FREE report - All the Charm and Romance of Europe…at a Price You Can Afford.
Related Articles
Why More and More Americans Are Choosing Europe
Europe's Top 5 Affordable Retirement Havens
Upcoming Conferences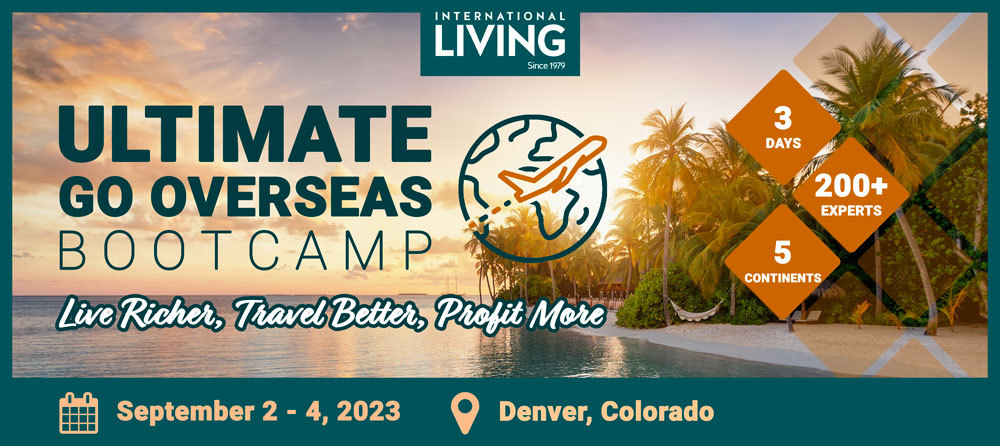 Most Popular Products
Popular Articles You May Also Like