Lounging in an ornate dining room with long brocade curtains, textured wallpaper, and floor-to-ceiling windows looking onto the lake, I was half expecting somebody at the next table to die under mysterious circumstances. Montreaux can feel a little like it's been scripted by Agatha Christie.
Of course, no such thing happened. But the Golf-Hotel René Capt exudes that sort of vibe—belle époque stylish, but with a few modern touches. It's a city that's synonymous with expense and indulgence, but what I've learned—whisper it—is that you can have a great time in the Montreux Riviera without breaking the bank. (Unless you choose to.)
Are you interested in retiring abroad? Yes | Not Sure Yet
Famous for its summer Jazz Festival, Montreux, on the eastern shores of Lake Geneva, exudes Old World European elegance and oozes natural beauty. Mountains rise sharply from the lakeside in this region, giving the whole town an air of drama. Foliage ranges from ubiquitous Washington Palms to an interesting mix of conifers and deciduous trees. Things move at a slow pace here, with delicious chocolate and pastry shops nestled downtown between high-end luxury boutiques like Patek Philippe and Hermes, with glimpses of the water always beckoning just around the corner.
Cruise the Lake with the Belle Epoque Steamer Fleet
A cruise on picturesque Lake Geneva with CGN's fleet of pre-WWI steam paddle boats offers a unique experience and is a wonderful way to spend part of your day. The boats are lovely, painted white with period-correct light fixtures, wicker furniture, and a waterborne theme.
When your Montreux Riviera Card (issued to all guests staying in town) makes it 50% off, it's worth splurging on a 1st-class ticket upstairs. A two-hour tour is just $28. Or, enjoy a lunch cruise in their elegant dining room for $26, if you choose the plate rather than the three-course meal.
The steamer departs Montreux and heads to the fabled Château de Chillon, a dramatic medieval island fortress, inspiration for poets and artists over the centuries. The Château's authentic architecture and its dungeon make it a continual draw. Cruise on past the striking views of the jagged Dents du Midi, over to the charming old lake towns of Le Bouveret and St-Gingolph on the Swiss-French border. They both perch on the edge of the lake at the mouth of the Rhone, with a backdrop of towering Alps. It's terrific to be out on the water in these surroundings, gliding slowly past rugged mountaintops skirted with greenery and flowers, beneath an azure blue sky.
Cute Markets
On Fridays, a fun outing is a visit to the flea market that arises at the north end of the promenade running along the shore of the lake. Browse through antiques, jewelry, and a selection of curios. One of the best stalls is a colorful table of exotic dried spices and teas from faraway lands. Make a stop for coffee at the lovely café at the front of the Garden of Eden Hotel.
The same day hosts a traditional Farmers' Market from 8 a.m. to 2 p.m., where you can find an abundance of local produce and meats. It's set in an majestic stone market building just past the crowds of fans taking photos with the Freddie Mercury statue.
Get Your Free Report on Europe Here:
Learn more about countries in Europe and other countries from around the world in our daily postcard e-letter.
Simply enter your email address below and we'll also send you a FREE report - All the Charm and Romance of Europe…at a Price You Can Afford.
Lavaux Terraced Vineyards
The 12th century Lavaux Vineyards, terraced into the hillsides above Lake Geneva, are a UNESCO-protected World Cultural Heritage site. They are easily one of the best attractions of the Swiss Riviera. Take the train from Montreux to Vevey for free with your Montreux Riviera Card, and then grab a seat on the "Train des Vignes," which departs hourly from Vevey. Exit at the Chexbres station in Lavaux (a 15-minute ride).
The vineyards are just gorgeous and there are multiple ways to take in the scene. For example, rent a bike and bring it from Vevey Station. Or hop on another scenic train (the Lavaux Panoramic Tourist Train) to tour around the area or set off along the hiking trails. Be sure to taste a glass or two of the regional Chasselas or Pinot Gris at one of the many cellars (caves à vin) that lie along the hiking trails. And whatever you do, don't forget to turn around and admire the lake and Alps panorama, including Mont Blanc.
Queen, the Studio Experience
For fans of the rock phenomenon Queen, Montreux hosts an unparalleled homage to the group in its "Queen, the Studio Experience" museum. Entry is free to all, courtesy of the Mercury Phoenix Trust. Located in the Montreux Casino—of Deep Purple's "Smoke on the Water" fame and home to much of the Montreux Jazz Festival—the shrine is housed in the original Mountain Studios. It's here that the band recorded seven albums, among them, their final Made in Heaven LP. The place is now a love letter to Freddie Mercury and the band, and is a treat to visit.
Its hallowed walls hold costumes, like the iconic heavy satin cape shirt made for Mercury by designer Zandra Rhodes, along with gold and platinum records, instruments, and memorabilia. Queen settled in Montreux in the late 1970s for the very reasons you might also find most attractive: It's a respite from more vigorous cities, and overwhelmingly relaxing in its natural beauty. The museum's outside wall is covered in messages and tributes from loving fans.
Enjoy the Jazz Café
If you're up for an indulgent meal, I suggest the Montreux Jazz Café. Situated in the classy Fairmont Hotel right on the promenade, the Café is an icon of the prominent festival. Its décor features memorabilia from the world's most famous jazz and rock acts over the decades, the likes of Nina Simone, Ray Charles, Marvin Gaye, and Jamiroquai.
The menu is excellent, and you can also relax in the Lounge Café for something more casual. It's heady to just be in the ambiance of such storied jazz performances and encounters, and the Fairmont's grand lakeside Belle Époque architecture makes this a special place for a break.
Ride the Cog-Wheeled Train to Rochers de Naye
Another enchanting activity is to ride on the cog-wheeled train, or funicular, for a trip up 2,042 meters (that's 6,126 feet) into the Swiss Alps. Once again, your Montreux Riviera Card will serve you well with a 50% discount and the ride is about 55 minutes. Check the weather as it can become quite cool at such heights. And check the return schedule down.
On the way, you'll pass scenes of quiet mountain life in alpine summer houses with red geranium window-boxes and bell-swinging cows in fields. Winding rails give rise to spectacular panoramic views of Lake Geneva and the Alps, and the scenery changes markedly as the funicular chugs above the tree line.
Hiking trails depart from various alpine stops, like Jaman and Plein Roc, and you'll soon witness just how seriously the Swiss take their sport. It's a heavenly climb, at times a bit harrowing. The Plein Roc restaurant sits at the top where you can sip a cup of tea or savor a meal overlooking the world from the crown of Switzerland.
Stroll Along the Promenade (…all the way to Vevey!)
Each afternoon about 4:30 p.m., you'll see all generations out promenading on the colorful, flower-bordered lakefront, dressed in their finery for a stroll with their dogs, or pushing prams. A hidden bench, one of the many recessed at various junctures around the lake, creates a little private spot from which to enjoy the atmosphere. Artists paint, lovers cuddle, and others quietly sit in silent meditation.
Montreaux feels like it's scripted by Agatha Christie.
Taking a different tack, it's a pleasant walk to take the promenade all the way to Vevey, home to numerous museums and attractions and worth a full day on its own. The four-mile distance will take about an hour and a half along the waterway.
A fun destination is the fabulously plush Hotel Grand du Lac Vevey and its Les Saisons, right on the promenade. Feast on a light salad and a glass of the finest Swiss wine on the veranda side of this Michelinstarred restaurant, overlooking the crystal-clear water. Then wander over to visit the statue of silent film star Charlie Chaplin, who called Vevey home for the last 27 years of his life.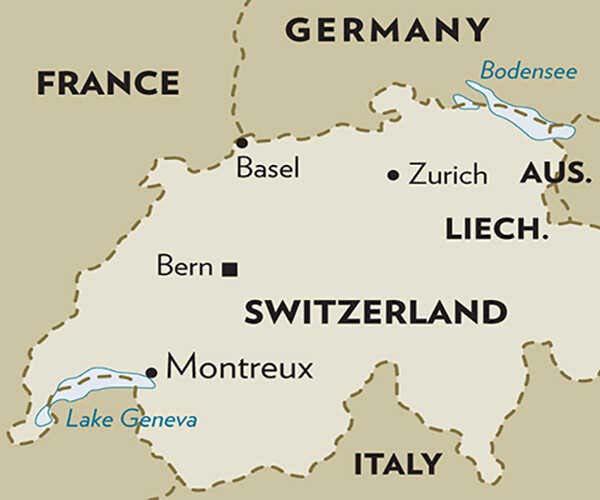 Getting There: Handily, there are direct rail departures to Montreux every 40 minutes from Geneva Cointrin International Airport—the closest one. Otherwise, the most convenient way to get there is by train from Geneva (or other European points). It takes about an hour with several departures per hour.
Getting Around the Area: You'll want to secure a Montreux Riviera Card—local hotels provide guests one for free. This little card is your key to a plethora of museums and activities either for free or up to 50% off (such as CGN's Belle Epoque Fleet, funicular rides, Chaplin's World Museum, and Château Chillon).
Travel for free on the buses and trains within and between Montreux and the historic little towns of Vevey and Vertaux—both of which merit exploring. It's a terrifically generous tourism perk, making your trip much more accessible on any budget.
When to Go: Montreux is a three-season resort town: During spring the high mountain meadows are blanketed with wildflowers, summer days burst with sailboats on the glistening lake.
In fall, the spectacle is one of blazing leaves as you amble along the promenade, autumn chill in the air and a mug of hot Swiss chocolate to look forward to. Winter sees snow bunnies scramble for higher ground at the numerous ski resorts in the Alps, though from late November to December the city hosts a Christmas Market reported to be magical and on a par with Strasbourg's.
Where to Stay: The Golf-Hotel René Capt offers a four-star Belle Époque grandeur that's been updated to include the latest conveniences at terrific rates on the off-season (as low as $150, with a luxe breakfast buffet available for $23). Set right on Lake Geneva at the south end of the promenade, I secured a cute little room with fleur-de-lis carpeting, a comfortable bed with gorgeous fluffy comforters, and niceties like towel warmers.
Best of all, it came with a small private balcony with eye-catching views of the lake and mountains. Don't miss their rooftop bar, where you can sip champagne in a cut-crystal glass as the sun sets over the Savoy Alps. Note that this hotel closes during the winter months and re-opens in April. (See: Golf-hotel-montreux.ch/en).
Get Your Free Report on Europe Here:
Learn more about countries in Europe and other countries from around the world in our daily postcard e-letter.
Simply enter your email address below and we'll also send you a FREE report - All the Charm and Romance of Europe…at a Price You Can Afford.
Related Articles
Europe's Top 5 Affordable Retirement Havens
Planning Your Roving European Retirement
The Best Towns and Cities to Retire in Europe
Upcoming Conferences
Make 2023 Your Best Year Yet. Discover Panama with International Living

Panama has it all: beaches, mountains, a world-class capital city, top-notch, low-cost healthcare and the "World's Best Retirement Program" that makes the already low cost of living even more affordable.
Join us for International Living's Fast Track Panama Conference to see all that Panama offers. There's no better place to be and no better way to make 2023 your best year.
Most Popular Products
Popular Articles You May Also Like