There are few things I love in life more than golf, incredible real estate deals, and stunning sunsets over the Pacific.
And in our upcoming Cabo San Lucas deal, we're getting all three…
On Thursday, August 5 at 1 p.m. ET, we can lock down ocean-view condos in an incredible amenity-rich community, in Latin America's golfing capital, from just $188,200.
There's no way I'm missing out…
I'm buying. I'm in. This deal is killer and I love Cabo…
Located at the tip of Mexico's Baja Peninsula, where the Pacific Ocean meets the Sea of Cortez, Cabo has it all…a rare alchemy of climate, natural beauty, and amenity-rich living.
It's a place I spend my winters. Where for nine months every year, the weather is perfect. Never too hot, too humid, nor cold… Just the ideal climate.
I wear short sleeves, I play golf when I want, stroll on the beach, dine outdoors, and when I open my laptop it's usually with an ocean view from my terrace or one of the many beautiful spots around.
There are countless golden-sand beaches to visit, world-class sportfishing, a lively food scene, and spectacular golf courses designed by some of the world's most legendary golfers.
All of this is complemented by breathtaking natural beauty…turquoise ocean waters and a striking desert landscape, with the fingers of giant Cardon cacti (some of which are 500 years old) pointing to the bright blue skies overhead.
As an established high-end destination, Cabo's market has long been dominated by multi-million-dollar listings. It's home to world-class resorts that charge thousands of dollars for a night…gourmet restaurants owned by Hollywood royalty…
The "entry point" of the Cabo real estate market is $250,000 to $500,000. This is the really broad and active segment of the market—the sweet spot. The kind with the broadest appeals for a swathe of long- and short-term renters.
Ideal for us when we can own luxurious ocean-view condos from an incredible RETA-only $188,200.
As you might recall, this is the deal that almost wasn't…
We came so close to launching in May, but an unexpected question about water held us back. I need to be 100% sure of every aspect of a deal before I put it in front of members, so I called a halt.
Now, my team is satisfied, our due diligence has given the green light, and our launch is set in stone.
Like I say, I'll be participating alongside fellow RETA members.
Our RETA-only price for what and where we're buying is unheard of in Cabo. You're a five-minute drive to the beach, seven minutes if you're going to my favorite beach at Santa Maria. You're close to grocery stores, banks, pharmacies…
And you're just off the main Cabo Corridor so within easy reach of everything and everywhere. Yet, because you are on this quiet road in a high-end gated community you have total privacy and tranquility.
In the community right across the road from where we have our opportunity, a two-bedroom condo lists for $475,000.
It's the closest fair comparison. And it doesn't come close…
Thanks to our group buying power and RETA-only deal, the two-bed ocean-view condo in the community where we're buying are from just $188,200.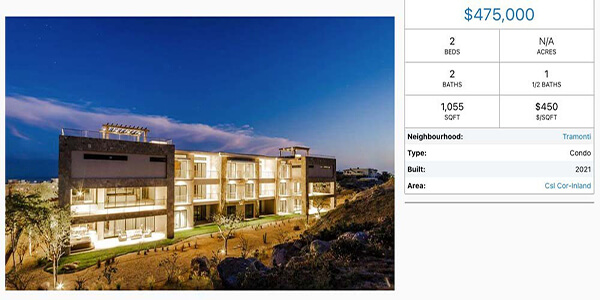 In the community of Ventanas, which is even farther back from the ocean, a two-bedroom condo lists for $339,000…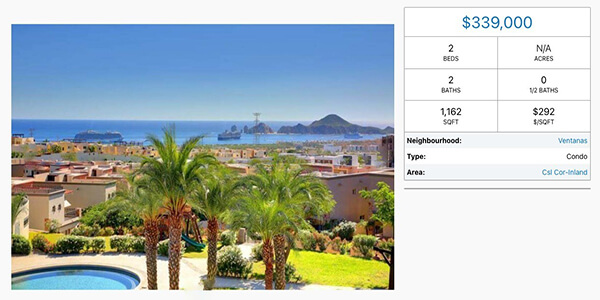 Our price is incomparable, which is why our new deal there is so unbelievable…
We're locking down ocean-view condos in an incredible amenity-rich community from just $188,200 (and exclusive developer financing is also available).
I'll be sending RETA members the full details of the deal in my report over the weekend.
Stay tuned…
Your Comments and Questions
Patricia says: Hello Ronan! My name is Patricia and I am interested in purchasing property abroad with the intent of turning it into a boutique destination wedding and event venue.
I would like to gain residency or citizenship so I can live there at least four months a year—I work in Los Angeles as a television producer and am able to work remotely, so I have been looking at options abroad.
I'm very new to all this and am combing through your old videos to learn more.
I am very curious about the Golden Visa programs, especially in Spain, possibly Italy, Greece, and Ireland. I don't know if it matters in Ireland that I can trace ancestry back there, but I know it can help in Italy with regular citizenship application…does it matter with property investment?
Anyway, curious if you've encountered these programs, or even feel they're necessary?
And then when I buy properties abroad, does it work the same way in the U.S. where you get a mortgage loan and put X% down upfront, or do you have to pay for it all upfront?
My goal is to buy in 2022-2023, and I can put around $40,000-$50,000 down potentially, but would rather put less down if possible? I don't need a massive property, ideally something under $500,000. My annual income fluctuates, especially with Covid, but monthly I make between $12,000 and $20,000.
Please feel free to just direct me to resources, as I can do research on my own as well, but I wanted to at least ask and see if you had thoughts.
Thank you! Your work is very helpful and awesome!
Ronan says: Hi Patricia. First, let's look at those residency options. You've touched on two different kinds. The first is the Golden Visa, which allows you to gain residency by purchasing real estate. The second is citizenship by ancestry.
If you qualify for the latter, you don't need a Golden Visa (as you don't need to apply for residency when you're already a citizen). So, if you think you might qualify based on your ancestry, it's worth looking into it. In Ireland, for instance, you can attain citizenship if one of your grandparents was born there, or they were a citizen at the time of your birth.
Italy has the broadest citizenship by ancestry program. It doesn't have any limit on how many generations back your Italian ancestry goes, provided they were alive after the unification of Italy in 1861.
However, if you're already looking at countries that offer Golden Visa options, and your budget is over the threshold, then this might be a better option. Remember, you don't need citizenship in order to live in a country, you just need residency.
In Spain, the threshold for Golden Visa investment is €500,000, which is a little over your budget. However, with a minimum real estate investment of just €250,000, Greece has the lowest investment threshold of any of Europe's Golden Visas. Plus, there are no restrictions on what kind of real estate you can buy. The one drawback I see is that while you're free to rent out your property, under Greece's Golden Visa rules, you are restricted from working there (which may include running an events venue). In which case, a different kind of visa might be more applicable.
Regarding financing, yes, it's a very similar process to taking out a mortgage in the U.S.
Banks will typically lend foreigners between 70% and 80%, at rates of as low as 2% or even as low as 0.8%—depending on the country. But I recently got word of a RETA member who got 100% financing on a property purchase in Portugal.
Get Your Free Real Estate Report Now
Sign up for our free daily Postcard e-letter and get a valuable free report on the The 5 Best Places to Buy Real Estate In 2023.
Related Articles
The Best Places to Invest in Real Estate
Los Cabos: Mexico's Gem of the Desert