Caye Caulker has long been a favored destination for travelers to Belize. People flock to this small island because it has a vintage Caribbean charm all its own—it looks like a postcard. The island has remained a rustic paradise, with candy-colored wooden buildings, sandy roads, and no cars. Happy travelers, locals, and beach dogs lazily stroll and enjoy the warm breeze that comes off the water and ample shade of the palm-fringed streets.
Caye Caulker has always been a budget destination and remains that way to this day. You can find many beach cabanas for around $50 a night, and there are no high end or chain hotels on the island.
In the near future, the Caye Chapel luxury resort will be opening right "next door"—a short boat ride away, one island over. In addition, "North Caye" is the undeveloped island north of "The Split," which is a narrow channel of clear, deep, seaweed-free waters that splits Caye Caulker in two. Until a few months ago, there was no water or power to this side of the island.
Koko King was the first large development on North Caye, and it has been a huge hit with everyone—expats flock there on the weekend, tourists choose to vacation there, and locals enjoy it as it has one of the best beaches on the island, an overwater bar and swings, beach beds, pool, and more. Since then, a large luxury condo development has begun a short distance from Koko King, and houses are cropping up all over the island.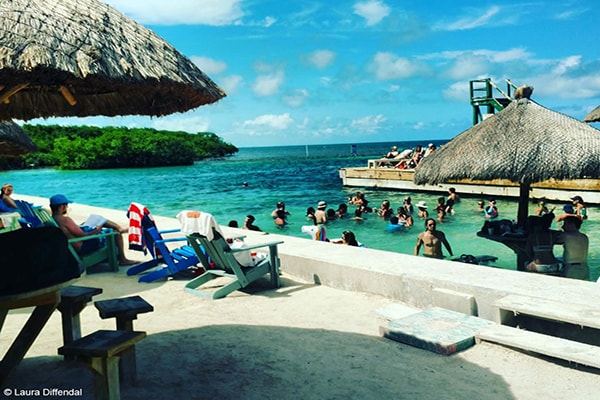 Travelers and expats now have a Goldilocks-like choice of destination: Ambergris is the busy, party central older sister, Caye Caulker is the laid-back middle sister, quieter and much smaller than Ambergris, and then North Caye is the very new, very rustic, natural paradise where the roads have just been cut into the jungle foliage, and you will be part of a brand new island development.
On the other end of things, Caye Chapel will be "millionaires' row" with a high end golf course and will be a more private island experience. The presence of this high-end development, however, will no doubt increase the level of service and amenities now available on Caye Caulker and North Caye.
Free Webinar: Belize, The Last Affordable Caribbean Paradise
This Special FREE Online Event, The Caribbean's Last Affordable Paradise will show you where you can...
  ➢ Recapture the carefree, contented days of time gone by...spend your time playing in the sea, fishing, swimming, sunning...
  ➢ Rent a luxuriously furnished two-bedroom condo just steps from the beach for just $1,200 a month. Or buy one—furnished—for as little as $139,000.
  ➢ Live all in...rent, utilities, groceries, fun and entertainment included...on as little as $1,700 a month—less than $20,000 a year—and vastly reduce your overall tax burden.
All in a friendly and welcoming English-speaking haven just 2 hours from Miami.
Your Hosts...Two of the Most Qualified Caribbean Experts are ready to share all their insights and first-hand knowledge about this often overlooked, low-cost paradise.
Sign up for our daily postcard e-letter and you'll get FREE and INSTANT access.
Related Articles
Living an Affordable Beach Lifestyle in Placencia, Belize
Finding Our Own Kind Of Relaxation In Small-Town Belize