With 17 miles of continuous golden-sand beaches, a low key, laidback Caribbean lifestyle, a small population, and plenty of top notch restaurants and funky beach bars, it's not surprising that expats are pulling up stakes to move to Belize's Placencia peninsula…
In February of 2014 Laura and Dave Diffendal left Cleveland, Ohio, for Placencia Village. They now live an entirely different lifestyle, as Laura explains, "Exactly two years ago, I was sitting on my couch in snowy Cleveland. Now we're having weekly adventures, spending days on the beach, afternoons in farmers' markets, and living a life we would only have tried out on vacation once a year if we had stayed back home."
Although quite comfortable in Cleveland, the Diffendals were ready for a change. "We both had the itch," Laura says. "We wanted to push ourselves…experience new cultures…and get out of the north-east winters!"
They traveled around Belize, seeking a new home. "We searched all over the country for something that felt like the right fit. The second we started driving down the Placencia peninsula, we looked at each other and said—'This is it!' It felt like home. The sparkling Caribbean on one side, Maya mountains and lagoon on the other, real estate right on the beach. Perfect!"
Laura and Dave are years from retirement. They visited Belize intent on finding a means to earn a living, to augment their rental properties income in Ohio. On that fateful first trip they found a tiny resort for sale on the beach…"We made an offer on a half-acre on the Caribbean Sea…sold our house and car back home, left our businesses…and changed our lives." They moved to Placencia and spent eight months renovating three cabanas on the beach. Then they opened for business. "We were at nearly 100% capacity our first season," says Laura.
The icing on the cake is that the Diffendals spend quite a bit less in Belize. Says Laura, "The cost of living is much less than in Cleveland, and Cleveland is considered inexpensive in the U.S. I would say it is about 60% of what we spent in Ohio. We just don't buy the things we bought back home. We buy basic local food and eat out where there are specials. You can enjoy so much for free here that spending money almost seems silly sometimes!" After keeping track they found that, as homeowners in Placencia Village, they were spending less than $1,800 a month.
The Diffendals have cut corners without effort. For instance, although they own a car, they seldom use it. "We don't need to drive much in town," says Laura. "We bike and walk mostly. You can walk everywhere in the village, to restaurants, shops, groceries, the farmers' markets, bars, to go kayaking or fishing…We can walk to the fish co-op by the pier and buy fresh fish daily."
Laura saves about 40% on her grocery bills, as compared to what she spent in Cleveland. She typically picks up four bags of fresh produce for $20 to $40. "The produce comes from local, organic, family farms. The variety of exotic fruits and vegetables changes weekly." And with so much fresh produce, she's inspired to make healthy meals that include huge salads, fresh salsa, and even pickled onions. She notes, "I've learned how to use the ingredients available and cook more like a local."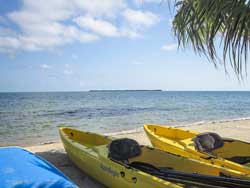 Most expats who move to the peninsula buy a house, a condo, or property where they then build their dream home. Property prices on the Caribbean Sea have escalated over the last few years and are no longer a deal. But you can find a reasonably priced plot of land off the beach or on the lagoon. There's much to be said for living on the tranquil lagoon, with its vibrant sunsets, majestic Maya mountains backdrop, and the abundant wildlife. Keep in mind that no matter where you live in Placencia you'll be within easy reach of a beach.
You can purchase a lot on the lagoon, or a canal, for $50,000 to $125,000. If you want to build your dream home it will cost $95 per square foot to build a concrete home with quality finishes on the Placencia peninsula. If you opt for a wooden home the cost of construction drops to only $65 per square foot.
The Diffendals have no regrets. "It's been almost two years since we moved with our dog Sticks to the small, quaint, funky village of Placencia, Belize," says Laura. "In that time we started a successful business, filmed a show for HGTV's Beachfront Bargain Hunt, hosted our best friend's wedding on our beach, and have had the best time of our lives. We have already replaced most of our income in the U.S., running a small resort on the beach. What a dream! No question about it…we'd do it again in a heartbeat."

Free Webinar: Belize, The Last Affordable Caribbean Paradise
This Special FREE Online Event, The Caribbean's Last Affordable Paradise will show you where you can...
  ➢ Recapture the carefree, contented days of time gone by...spend your time playing in the sea, fishing, swimming, sunning...
  ➢ Rent a luxuriously furnished two-bedroom condo just steps from the beach for just $1,200 a month. Or buy one—furnished—for as little as $139,000.
  ➢ Live all in...rent, utilities, groceries, fun and entertainment included...on as little as $1,700 a month—less than $20,000 a year—and vastly reduce your overall tax burden.
All in a friendly and welcoming English-speaking haven just 2 hours from Miami.
Your Hosts...Two of the Most Qualified Caribbean Experts are ready to share all their insights and first-hand knowledge about this often overlooked, low-cost paradise.
Sign up for our daily postcard e-letter and you'll get FREE and INSTANT access.
Related Articles
In Pictures: Corozal, Belize–A Subtropical Haven for Active Expats
Upcoming Conferences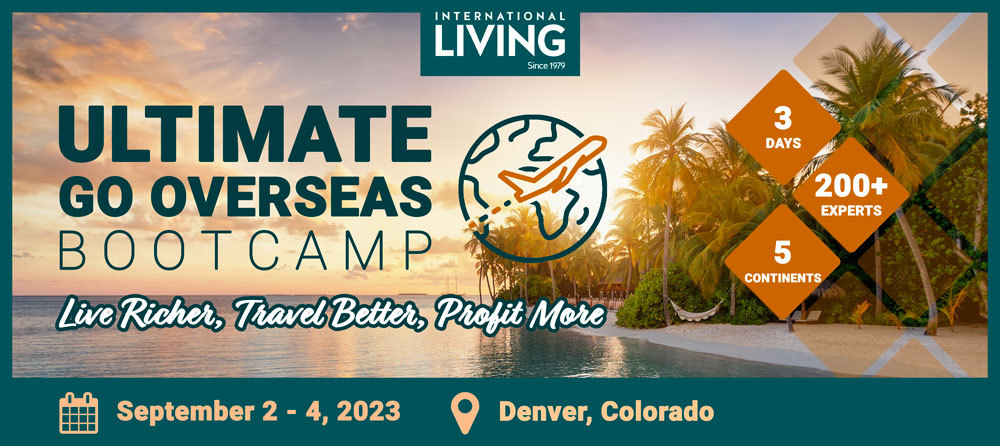 Most Popular Products