Recently, we had some friends visit us in our home in Cuenca, Ecuador. They only had one day before leaving for Lima, Peru, so we did our best to show them around our beautiful hometown in less than 24 hours.
Our first stop was the double-decker tour bus to the Mirador de Turi, a lookout point above town, which costs $5. An alternative is the 25-cent blue bus that says "Turi."  It's often a better option because it stops at Eduardo Vega's home and workshop, where a vast array of souvenirs can be purchased from the world-renowned ceramicist. After admiring the panoramic view of Cuenca from the Mirador, we toured the historic church of Turi too.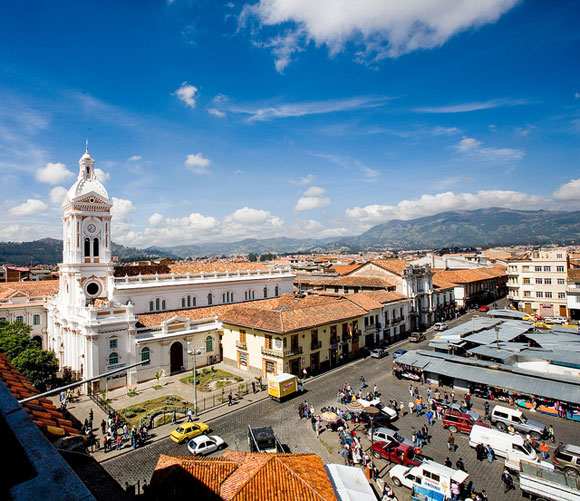 No trip to Cuenca is complete without a stroll through Parque Calderon—right smack dab in the middle of Cuenca—with a memorial to the hero Abdon Calderon, fountains, a gazebo, lush gardens, palms, and park benches. While there, you can visit the Nueva Catedral (New Cathedral) with its pink Italian marble gracing the floors and walls, Spanish-stained glass windows, and ornate architecture. For $2, you can climb the winding staircase to the terrace of Nueva Cathedral for a jaw-dropping view of the city with its famous blue domes.
If time permits, you can visit Iglesia Sagrario (the Old Church), which is directly across from the Nueva Catedral. Work began on the church in 1557 when the Spanish influence was most predominant. Our guests were enthralled by this gorgeous church, which is now a museum filled with religious artifacts, murals that reach from floor to ceiling, a representation of the Last Supper, and almost life-size wooden statues of the 12 disciples.
Plaza de las Flores is around the corner from the New Cathedral and is a favorite with tourists who marvel at a dozen roses for $2. Adjacent to the flower market is Carmen de Asunción Church, which has been meticulously preserved—right down to the gold pulpit and the Virgin Carmen, along with many religious works of art. If you're still looking for souvenirs, San Francisco Plaza is near the flower market and has everything from Alpaca scarfs to leather goods (and even some Panama hats).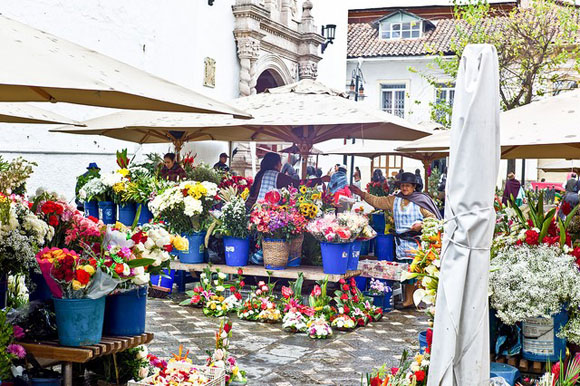 From the flower market, you can take a $2.50 taxi ride to Banco Central where the world-class Pumapungo Museum is located. We spent just a couple of hours there, but you could easily spend the entire day. It's Cuenca's Ingapirca and Smithsonian all wrapped up into one—filled with modern art, indigenous history, and the famous shrunken heads from the Shaur culture in the Amazon. The archaeological park continues outside with walking trails through the ruins, which are thought to be part of the old Incan city of Tomebamba. At the bottom of the trail is an exotic bird park and a lovely shaded area to enjoy a snack by the "Belgium Waffle Guys."
To end the day, we took a $10 taxi ride to Dos Chorreras—a lodge nestled in the foothills of the Andes—and enjoyed the rustic atmosphere with a crackling fire and a view of the waterfalls. The rainbow trout dinner was a treat for our guests and they vowed to return.
Get Your Free Ecuador Report Here:
Learn more about Ecuador and other countries in our daily postcard e-letter. Simply enter your email address below and we'll send you a FREE REPORT - Ecuador: Live Well on Your Social Security.
This special guide covers real estate, retirement and more in Ecuador and is yours free when you sign up for our postcards below.
Related Articles
Upcoming Conferences
Live Better, Spend Less, Retire Sooner
IL's Retire Overseas Bootcamp
October 21-23, 2022 in Atlanta, GA

In safe, warm, welcoming communities abroad, as little as $1,700 a month can bankroll a good life... this fall, our experts will show you where—and how.
Early Bird DISCOUNT—Save $200 When You Register by Sep. 29
Details Here IL's Retire Overseas Bootcamp
---
Registration Now Open for the Best of Europe Private Screening

In the Right Spots in Europe, You Can Retire in Style—in an Historic, Sun-Drenched Locale—for as Little as $2,300 a Month or Less—Especially Now With the Dollar and Euro at Parity for the First Time in Two Decades.
And We'll Show You How, October 1-2, During the Special All-Online Best of Europe Private Screening.
---
The Income Revolution Forum
What if You Had the Freedom to Enjoy the Good Life Anywhere in the World You Wanted to Be...and Get Paid While You're There?
We'll show you how—with hands-on guidance—you could beat inflation...secure your retirement...ditch your commute...and turn a skill you already have into a portable side income of $300, $600, even $3,000 or more a month.