When my wife, Patti, and I attended the November, 2016 International Living Retire Overseas Bootcamp in Las Vegas, we learned many things. Among the comments from the presenters, one topic focused on what you would do on a daily basis after relocating to the country and city of your choice. Each indicated that your social life would probably improve, and your schedule would be as full as you wanted it to be. However, I had my doubts. After all, we would be in a completely foreign city where we knew absolutely no one. We were moving to the other side of the world. How were we to meet people? What kinds of activities would even be available?  Do they even do the type of things we do in the States? And, more importantly, could I watch college football? In spite of these misgivings, we moved to Penang, Malaysia placing complete faith in what we were told.
Well, the presenters could not have been more correct. What has transpired with our relocation to Malaysia is that we have as many, if not more friends, than we had in the U.S., all the sports and activities we enjoyed are readily available, and the weather allows us to enjoy these activities year-round.
Most importantly, meeting people is staggeringly easy. The expat community is very open and welcoming to newcomers. Within the first week, Patti had attended a cooking class in our condo complex, met a Canadian/American expat and we were off to the races. This contact led to many other contacts and we have never looked back. Over time, these contacts have developed into strong friendships where we routinely get together for drinks, dinner, or activities. And, most of these friendships are with couples from all over the world—Europe, South Africa, Australia, India, and China.
We are fortunate that we live in a very active condominium complex. We have an amenity package that rivals any Hawaiian resort.
One-hour yoga classes are offered three mornings per week in our on-site aerobics room. One is offered by the condo complex on Saturday morning, free of charge. The other two classes are Wednesday and Friday mornings with another instructor that only charges around $6 per hour. We have taken full advantage of these, and I can now proudly state that I can touch toes I couldn't touch when I was 20!
This same outside instructor also conducts a one-hour body sculpt class on Thursday mornings and an aqua fit class on Tuesday mornings, each at a cost of $6. Patti also does another pilates class and yoga class with a third instructor that cost $4 each.
Our condo complex has a gym complete with weight machines and a full set of dumbbells along with stationary bikes, treadmills, and stair climbers. While this gym can more than meet our workout needs, we elected to join the Penang Sports Club to meet almost all of our sports interests.
The Penang Sports Club is located 10 to 15 minutes away and has 10 all-weather tennis courts, nine grass courts, a complete gym, badminton courts, squash courts, an 82-foot swimming pool, and a Chinese restaurant. Also, on site is a combination cricket and soccer field which hosts several international tournaments throughout the year.
While you can play tennis anytime, the majority of tennis takes place during "members tennis" at 4:30 p.m. and 6 p.m. every day. You preschedule a match with friends or just show up and join a group needing a player. This occurs seven days per week and balls are provided. After your match, you retreat to a beautiful outdoor area and have drinks with your fellow players. I play tennis anywhere from one to five nights per week. This has also proven to be a tremendous way to meet people.
The current one-time initiation fee is around $3,500 with a monthly fee of $39. If you should decide to move, you can resell your membership and recoup most of your initiation fee. This makes joining the club almost a no-brainer.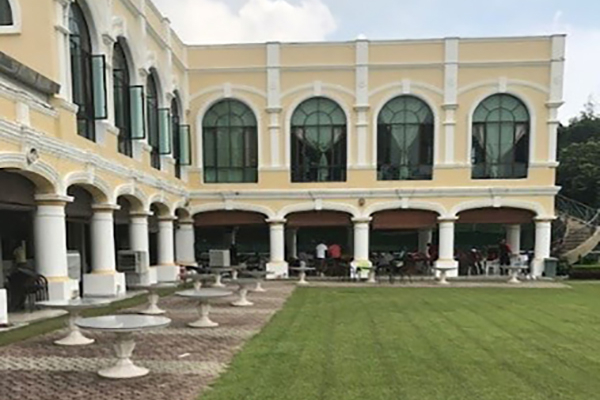 In addition to tennis, I usually play golf once per week. While there is one golf course on the island of Penang, we tend to cross over the bridge onto the mainland and play at the Penang Golf Resort. Formerly a 36-hole complex, they have just eliminated one 18-hole course in order to build homes. They have a well-stocked pro shop along with a driving range and several practice greens for chipping and putting. The cost of a round of golf, including cart, is $27.
After all this yoga, working out, and playing sports you work up an appetite. This is perhaps Penang's greatest strength: food! It is everywhere. We have found the street food stalls to be very good and inexpensive. Expect to pay no more than $5 per person to completely fill up. Slightly more expensive than the stalls are the numerous local restaurants where a great meal will only set you back $8 to $10 per person. Even the nicest restaurants will only cost around $25 per person. In fact, I think we would have a very hard time spending more than that for any meal in Penang. And, of course, Malaysian, Chinese, Indian, and Western food is plentiful on this island paradise.
Participating in all these activities has allowed Patti and me to meet people from all over the world. We have formed many great friendships. We have been invited into their homes to celebrate birthdays, New Year's, the Indian holiday of Deepavali, and Chinese New Year as well as numerous dinners out in local restaurants. I can safely say that we could probably schedule dinner out with friends every night of the week, if we desired. However, sometimes you just want to take a break and eat at home. This too, is very inexpensive. But, that's for another day.
Related Articles