Waterside Volcanoes and Maya Culture
Steep hills, cliffs, and a cluster of majestic volcanoes embrace an ancient volcanic caldera filled with cobalt-blue waters. Colorful, waterside towns and villages sprawl along the lakeshore, cling to the hillsides, or huddle in the shadow of the three towering volcanoes dominating the southern shoreline.
The foothills of Atitlán Volcano and San Pedro Volcano slope down to the water's edge while Tolimán Volcano peeks out behind Atitlán. The stunning volcano-rimmed Lago de Atitlán in the highlands of Guatemala is one of the country's top tourist attractions, and one of the most beautiful lakes in the world.
Lake Atitlán at about 5,118 feet above sea level, is the deepest lake in Central America, reportedly reaching depths of up to 1,120 feet. It's approximately 11 miles long by five miles wide with a surface area of around 50 square miles. It's about a three-hour drive from the capital Guatemala City and two-and-a-half-hours from the beautiful colonial town and UNESCO World Heritage Site of Antigua.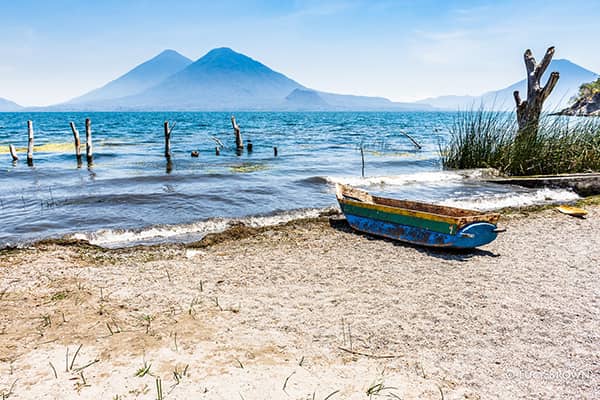 Atitlán translates to "between the waters" in the Nahuatl language and life here certainly does revolve around the water. As there's no road around the lake, people travel between the numerous lakeside villages by boat or from mountain roads that link some of the communities along the shore. Small motorboats called lanchas ferry passengers around and fishermen paddle placidly in their traditional, wooden, canoe-like watercraft.
Maya culture is prevalent in the villages surrounding the lake. Folk from each Maya community can be identified by their unique, traditional, indigenous garments designed by the ancestors of their pueblo. Worn every day, the streets, markets, buses, and boats, live and breathe color!
The primarily indigenous population is predominantly Kaqchikel and Tz'utujil and each group has its own language. Spanish is Guatemala's official language and although it's generally understood here, it's the second language of the Maya who speak their native Mayan tongue in the communities around the lake.
There are 12 lakeside villages and towns with a thriving international expat community scattered among them. As well as living off tourism, local communities subsist on fishing and farming. The hills are covered in lush coffee plantations, fields of beans and corn, and other crops that thrive here in the fertile volcanic soil.
Views of the lake are stunning, its character changing with the weather and hour. During frequent sunny days the verdant, green volcanoes contrast against sparkling, cobalt blue water and cloudless, azure skies. Xocomil, a unique wind meaning "the wind that carries away sin" in the Kaqchikel language, starts blowing daily across the lake around noon, ruffling the glassy surface of the water. While at dusk, the last rays of sunlight glisten on the water, and dark, conical, volcanic peaks silhouetted against the vivid sunset skies.
After living in Antigua and a nearby pueblo for many years, I'd still only made a few brief visits to The Lake as expats in Guatemala fondly refer to it. So, I decided to spend a long spell there to explore the area and diversify my photography portfolio. I ended up staying there for six fabulous months.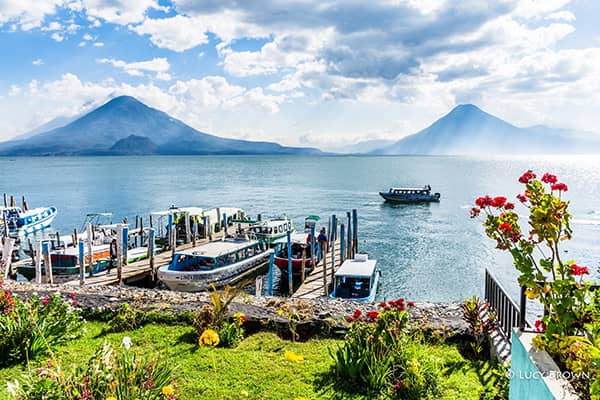 I rented a room at a friendly guest house in busy Panajachel. Pana, as locals and expats call it, is a principal gateway to the lake and home to many foreigners and international non-profit organizations. The economy is mostly based on tourism, and as well as a base for many visitors, it's also a transport hub to the communities around the lake.
Every morning I walked along the main tourist drag lined with restaurants, stores, and wooden stalls laden with colorful textiles and handicrafts. Then, the stunning view of three volcanoes standing sentinel from over the glistening water greeted me at the lakeshore. My route continued along the water's edge past restaurants just opening for breakfast, lancha moorings, and more souvenir stalls.
Still following the waterside and leaving the urban straggle behind, I ran across an open, grassy area, over a tiny rickety bridge spanning a small river, and along a tree-lined, dirt road by the shore. I passed a string of bare wooden stalls and lovely waterside properties set back in manicured gardens, to a leafy haven at the end of the trail. This was my favorite place and one time along here; I caught a runaway horse escaped from its tether and had to go searching for its owner!
Weekends are family outing time and every Sunday busloads of colorfully clad indigenous folk empty onto the beaches in front of the wooden stalls now filled with handmade souvenirs, street food, and smoking barbecues. Ministers preach loudly to their clustered congregation, sometimes standing waist-deep in the water baptizing the devout, while music blares from speakers.
At the guesthouse, I became good friends with two Kaqchikel Maya sisters working there. Every day we chatted in Spanish in the tiny open-air guest kitchen, and we regularly cooked and ate lunch together.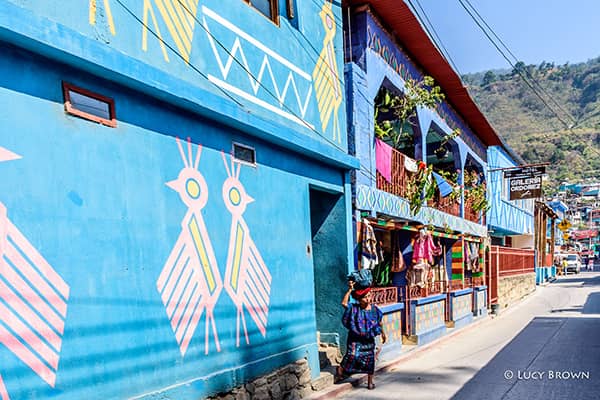 Rosario and Ana are from the nearby town of Santa Catarina Palopó, a pueblo sprawling up the steep hillside and spilling down to the lake shores. The majority of the population are ethnic Kaqchikel Maya, and the women wear blue, embroidered, huipil blouses and typical long skirts called cortes.
I went to Santa Catarina Palopó various times with friends to photograph this colorful, photogenic town. The short ride there from Pana in the back of a public pickup truck aka the local bus, along a winding, undulating, clifftop road with stunning views of the lake and volcanoes, is worth the trip itself. Many times, I walked and ran there and back as my morning exercise.
In addition to subsistence farming and fishing, income there now comes mainly from tourism including the manufacture of woven textiles, and the sale of handicrafts. An ongoing community art project "Pintando Santa Catarina Palopó" is transforming the pueblo into a colorfully painted patchwork of buildings decorated with distinctive motifs based on their ancestral indigenous garments. The aim is to preserve their weaving designs and transform the town into an attractive tourist destination to improve the local economy. "The design starts from the idea that Santa Catarina is a large huipil that is drying on the mountain and that connects the lake with the sky of Atitlán.", says the project website.
We explored the maze of steep, narrow, hillside paths between painted houses, photographing spectacular lake views and beautifully dressed Maya folk against the unique architectural backdrop mimicking the colors and designs of their clothing.
One day, I met Rosario and Ana in Santa Catarina Palopó and hailed a pickup truck to the next lakeside village San Antonio Palopó. I'd never visited before, so it was fun going there with local friends and exploring on foot in the sunshine.
I photographed twin white churches standing side by side draped in purple Lenten banners overlooking the lake, and ladies in the dark blue woven garb of the village washing their laundry on rocks by the lakeshore. Escaping the heat, we ate lunch at a waterside restaurant, peeked into tiny stores selling the signature ceramics of the pueblo, and visited the tiny produce market before heading back.
I often explored the lake alone, enjoying a lancha ride before disembarking at the jetty of a lakeside pueblo. One day, I climbed the steep hill from the dock up into Santa Cruz la Laguna clinging to the hillside above the lake. There I ate a traditional Guatemalan breakfast of black beans, eggs, cheese, plátano (plantain), and corn tortillas in an open hilltop restaurant with aerial views out over the lake. I then hiked the dirt path running along the cliff-top coastline to the tiny village of Jaibalito photographing the spectacular, elevated views along the way.
Every year, the indigenous highland towns of Sumpango and Santiago Sacatepéquez each hold a giant kite festival on All Saints' Day on November 1. Groups of Maya locals spend months designing and creating immense, elaborate masterpieces by hand. Made of flimsy brightly-colored tissue paper attached to a sturdy bamboo framework, each kite usually bears religious, social, political, or environmental messages.
Although I'd visited both festivals several times while living in Antigua, Lake Atitlán's first giant kite festival held on a remote hilltop against a backdrop of cobalt-blue water and volcanic peaks was difficult to resist.
My friend and I rode in the back of a rackety, doorless, three-wheeled tuk-tuk, aka the local taxi. Arriving in the tiny town of San Andrés Semetabaj a few miles from the lake, our driver had to ask for directions for the final leg of the trip where we jostled and bumped through clouds of dust along a rural, rutted, dirt track. Finally, we arrived on high, blustery hilltops with a magnificent panorama of lustrous, wind-ruffled water backed by three conical volcanoes on the opposite lakeshore. This view alone was worth the ride!
On the dry, open hilltop, groups were setting up a display of giant kites, impressive, intricate works of art, hitched upright to bamboo poles by ropes, and dwarfing people below. Most, however, were no match for the strong gusts lashing them from across the lake, and sadly many came toppling and tearing to the ground.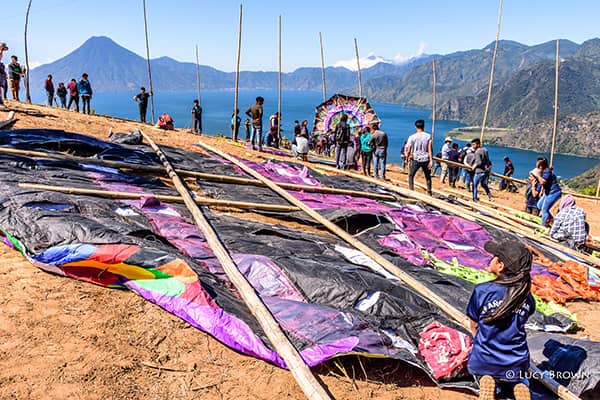 That day I also witnessed a Maya land blessing at the same site. After the ceremony, local indigenous men from competing villages clothed and painted as warriors, played the ceremonial Maya ballgame of their ancestors under the scorching sun in a dirt arena dug into the hillside. It looked painful, but no heads rolled!
Santiago Atitlán is overshadowed by three volcanoes and is the largest of the lakeside communities. Inhabited by indigenous Tz'utujil folk their Holy Week celebrations are a unique blend of Catholic and Maya traditions.
Men and women dressed in their town's traditional indigenous style of clothing perform candlelit ceremonies in an incense-filled Catholic church. On Good Friday, dozens of men dressed in matching red shirts and knee-length shorts beautifully embroidered with colorful birds, carry a colossal float bearing a statue of the crucified Jesus on their shoulders down the steep steps of the church into the crowded plaza.
At the same time, a wooden effigy of their indigenous Maya deity Maximón is carried out of a small chapel beside the church amongst hordes of black-suited musicians. Here, they not only celebrate the resurrection of Jesus but also the rebirth of Maximón.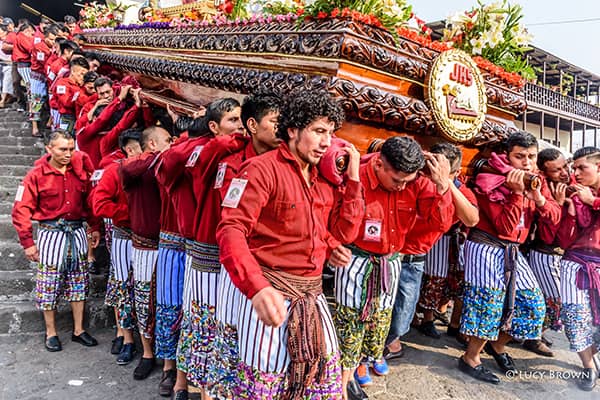 Rows of dangling tropical fruits hang over extravagant, vividly dyed sawdust and flower carpets adorning the processional routes along the streets. Indigenous folk clad in traditional clothing, and carpet designs incorporating Maya figures and deities, add a unique flavor of kaleidoscopic color to the festivities.
I spent my birthday weekend with my dear friend Abi and her family in her native village. We'd shared a house for a year in a pueblo near Antigua. San Juan la Laguna is a tranquil village on the lake shores sitting in the shadow of San Pedro Volcano. The locals are Tz'utujil Maya, and the economy is based mostly on coffee and corn. It's also known for its naturally dyed textiles and there are various local cooperatives including traditional Maya backstrap loom weavers and coffee growers.
We wandered down dirt paths and along the peaceful shoreline taking photos during the glorious golden hour before sunset. We explored the livelier neighboring town San Pedro la Laguna, a popular destination for backpackers, by motorbike. The town sits on a plateau beneath San Pedro Volcano with roads running steeply down to the waterside boat docks.
The highlight however of not only my weekend but my entire six-month stay at Lake Atitlán, was climbing with Abi and her dogs in the darkness to the Rostro Maya viewpoint. Translating to Maya Face in reference to the shape of the hill, it's commonly referred to as Indian Nose in English. Perched over 4,000 feet above the iconic Lake Atitlán, our reward was a spectacular view of the sparkling lake and a string of seven majestic volcanoes against the rising sun!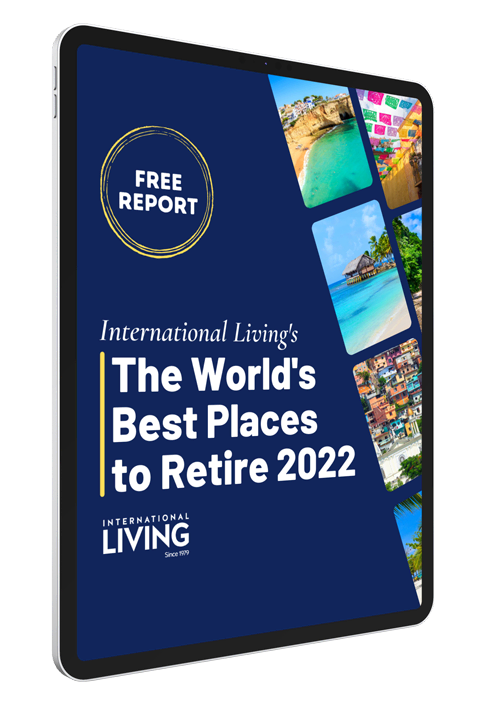 Get Your Free Report on the World's Best Places to Retire:
Learn more about the best places in the world to retire in our daily postcard e-letter.
Simply enter your email address below to sign up for our free daily postcards and we'll also send you a FREE report on The World's Top 10 Retirement Havens, plus access to over 10 more free reports. Our gift to you, on our favorite destinations.
Related Articles
Guatemala Beaches: In Search of Better Beaches on Guatemala's Trio of Lakes
5 Best Caribbean Islands to Live On… and 2 to Avoid
5 Reasons To Consider Guatemala
Upcoming Conferences
Live Better, Spend Less, Retire Sooner
IL's Retire Overseas Bootcamp
October 21-23, 2022 in Atlanta, GA

In safe, warm, welcoming communities abroad, as little as $1,700 a month can bankroll a good life... this fall, our experts will show you where—and how.
Early Bird DISCOUNT—Save $200 When You Register by Sep. 29
Details Here IL's Retire Overseas Bootcamp
---
Registration Now Open for the Best of Europe Private Screening

In the Right Spots in Europe, You Can Retire in Style—in an Historic, Sun-Drenched Locale—for as Little as $2,300 a Month or Less—Especially Now With the Dollar and Euro at Parity for the First Time in Two Decades.
And We'll Show You How, October 1-2, During the Special All-Online Best of Europe Private Screening.
---
The Income Revolution Forum
What if You Had the Freedom to Enjoy the Good Life Anywhere in the World You Wanted to Be...and Get Paid While You're There?
We'll show you how—with hands-on guidance—you could beat inflation...secure your retirement...ditch your commute...and turn a skill you already have into a portable side income of $300, $600, even $3,000 or more a month.