Right now, my scout Jason Holland is on Mexico's Pacific coast sending in reports by WhatsApp, Slack, and email…
I sent him there to get an update on the market and hunt for opportunities in the beach towns north and south of Puerto Vallarta.
It's a destination I've visited many times before, but when I was there on a scouting trip last March, it really clicked with me.
I had more time to explore, acquaint myself with the city, and dive deeper. And what I've found was very appealing.
Puerto Vallarta is one of the most successful expat communities in all of Mexico. Thousands of snowbirders come to escape the freezing weather back home. In Puerto Vallarta they can enjoy tropical weather, great dining, and the beach.
Not only have you the North American market. You also have a big domestic market. For the 1.5 million residents of Guadalajara, Puerto Vallarta is their beach town. The well-heeled locals snapped up a lot of the shiny new towers here, while gringos tend to buy in the Zona Romantica or in Nuevo Vallarta to the north.
Within town, I see opportunities for gentrification around Centro. There's a lot of charm here. Restaurants, bars, street vendors, and craftsmen. Within three to four minutes' walk of the malecon and within seven to eight minutes from the Zona Romantica you'll find overlooked and affordable properties. In Centro you pay lower prices, but you're buying along the Zona Romantica's path of extension and effectively getting a Zona Romantica experience.
Puerto Vallarta isn't a low-price market. It's mature, established, and by and large, prices are high. But in Centro we still have a chance to get in on the ground floor.
On my trip in March, I vetted opportunities in Centro and another on the marina. There are multiple potential RETA deals on the cards for us.
I asked Jason to retrace my steps and send me his observations and lots of photos and video so I can get a handle on progress since I last visited.
I'll be sharing his reports with you in the coming week…
Today, I want to give you Jason's first impressions from Day 1 of his trip.
Stay tuned for more…
***
Potholes and Pregnant Shrimp
By Jason Holland
"Pothole reported in road ahead," said the soothing female voice. Then, "Construction reported ahead."
I love Waze, the handy GPS app on my iPhone. Traffic cops watching for speeders around the next bend in the highway…alternate routes around heavy traffic…and warnings of potential hazards—Waze tells me all.
It's my go-to when I'm on the road just about anywhere in the world. Usually, its commentary is pretty sparse.
But when I was driving south along Mexico's Pacific coast, after coming over the Sierra Madre from Lake Chapala (that drive is another story), towards the famed resort town of Puerto Vallarta where I'm scouting this week, Waze started to get downright chatty.
For good reason. The twisting, narrow two-lane road past the bohemian beach towns of San Pancho and Sayulita (about an hour north of PV), is in bad shape. Pothole in the road? More like there are more potholes than road in some sections. And construction? Definitely.
Crews were working on the existing track in several areas. And looking to the side, I could see where a new road will be laid down. Above, newly constructed bridges. Crews carving out mountainsides for new lanes. And news reports I found noted that several tunnels are also being built.
Good news on a couple of fronts.
Vacationers heading up to Sayulita, San Pancho, Lo de Marcos, and Rincon de Guayabitos—low-key towns to the north of Puerto Vallarta, will have a much easier time getting there from the international airport. And well-to-do Mexicans from Guadalajara, of which there are plenty, will be able to get to Puerto Vallarta in under three hours.
It's a Path of Progress that means opportunity for vacation rental owners in those little beach towns…and those in and around PV will benefit from this influx of vacationers from one of Mexico's largest cities.
Some sections have been completed. But others have been delayed. It's complicated construction. Covid didn't help.
But once this new highway opens, look for this region to open up even more than it already has to expanded and new rental markets.
More about those little beach towns next week. I'm heading up there to scout listings with rental potential, unique homes, and bargain properties.
But for now, the pregnant shrimp…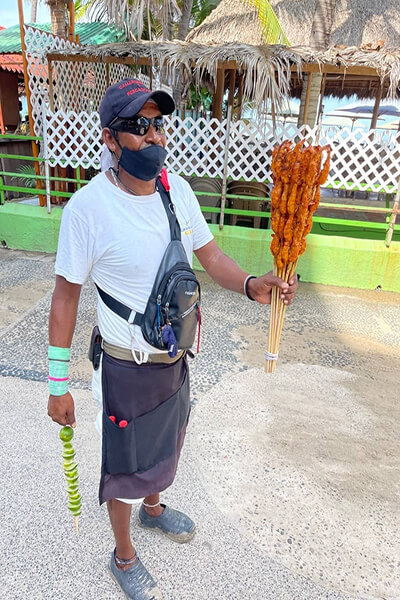 Last time I was in Puerto Vallarta was in June 2017. It was buzzing then. It's buzzing now in August, in what has, in the past, been a quiet time. As our RETA contact who lives here put it: "There is no low season in the pandemic."
Taking a stroll along the malecon, the seaside promenade, it was crowded with Mexican and foreign tourists. It was good to see a vendor selling the regional favorite, camarones embarazados, or "pregnant shrimp." They're marinated in achiote and citrus juice, then grilled. Pregnant refers to how plump they get when prepared. It's the perfect snack for strolling. I love any food on a stick.
You can check out a few clips I shot from my first day in Puerto Vallarta here: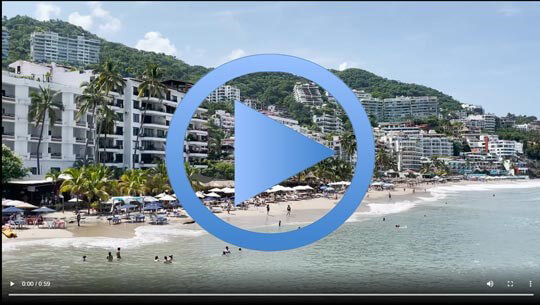 Of course, Puerto Vallarta has much more than street seafood. Italian, burgers, tacos, craft beer, sushi, cozy little coffee shops, steak houses…it's all here. A real foodie destination.
My favorite stop on my first day in town was at Barcelona Tapas, just up the hill from where the malecon starts at the north end of centro. Traditional Spanish-style tapas…with a full menu of specialty margaritas (it's Mexico, after all)…and what a view: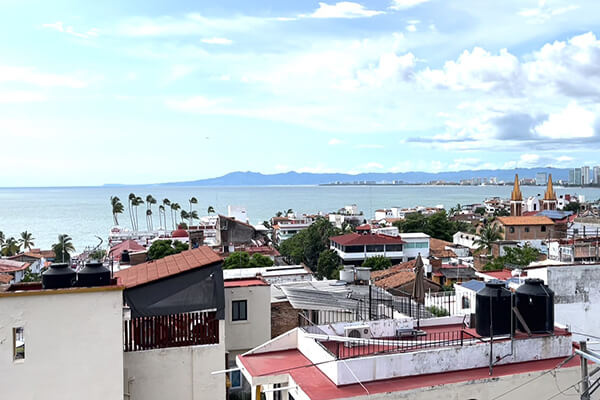 It was the perfect end to my re-introduction to Puerto Vallarta. This buzzing resort town offers so much…and for those seeking a more low-key existence in the beach towns to the north… there are plenty of options.
Get Your Free Real Estate Report Now
Sign up for our free daily Postcard e-letter and get a valuable free report on the The 5 Best Places to Buy Real Estate In 2023.
Related Articles
The Best Places to Invest in Real Estate
Top 3 Towns to Visit Near Puerto Vallarta
Real Estate in Puerto Vallarta