Living Like Crazy Rich Asians on a Budget
Singapore, also known as the "Lion City" and the "Little Red Dot," is recognized as one of the most expensive cities in the world. It is also known as a place that is safe, clean, and tough on crime. And if you saw the movie Crazy Rich Asians, you would have seen ultra-rich, gorgeous people clothed in couture, traipsing through Instagram moments—from rooftop restaurants to beaches and bayfronts—emphasizing the uber-luxurious modernity that has come to represent what the New York Times has called the "Switzerland of the East."
When we moved to Singapore, most of our friends didn't understand the motivation. We wanted a home base in Southeast Asia to begin our vagabonding life of global travel. "But why Singapore?" they asked us. After all, it's not Bali or Phuket, nor is it the Maldives or Koh Phi Phi or Boracay or a dozen other inexpensive, beautiful beach islands in Asia. Most people know Singapore as safe, expensive, maybe even boring. What we found instead is a thrilling melting pot—a metropolis embracing its rich colonial history even while skyscrapers multiply across the island; an island of contrasts that retains its Southeast Asian charm while offering the best of 21st-century life. You can literally have your cake and eat it too. Night on the town with cocktails and dancing to internationally renowned musicians and DJs? Check. Palm tree-lined beaches? Check. Michelin-starred restaurants? Check. The list goes on.
To do all the things that Singapore offers, as a tourist, comes with a hefty price tag—but while we do splurge on luxuries from time to time, we find that the things we enjoy on a daily basis are delightfully inexpensive. Here are the top five reasons to move to Singapore and how to do it on a budget.
1. The Food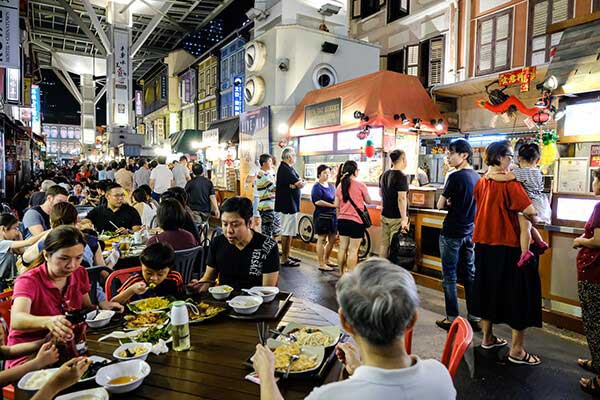 Anthony Bourdain famously quoted, "New York may be the city that never sleeps, but Singapore's the city that never stops eating. For a gastro-tourist, somebody who travels to eat, any kind of serious eater, Singapore's probably the best place you can go for maximum bang in a minimum period of time."
The best way to do this is at a hawker center, a collection of food stalls similar to Newton Food Centre featured in Crazy Rich Asians, serving everything from tried-and-true recipes handed down through generations to experimental twists on local specialties. One of our favorites is East Coast Lagoon Food Village, located right on the beach, where you can dine on anything from chili crab to grilled stingray while sipping a cold beer. It's the cheapest ocean-view dining in the city. Another one of our favorites is Lau Pa Sat which transforms a busy city street into a pedestrian-only satay street at night filled with rows of vendors selling exquisitely marinated and grilled satay. There are 114 hawker centers in Singapore all with unique characteristics and specialties, but the one thing they all have in common is you can comfortably dine on mouth-watering food for under $5.
For fine dining, Singapore boasts 41 Michelin-starred restaurants which range from innovative French cuisine to the freshest sushi omakase outside of Tokyo, with matching prices. At the budget end of the spectrum, Hill Street Tai Hwa Pork Noodle boasts a Michelin star, along with a daily line of avid fans who wait an hour to feast on springy noodles with minced and sliced pork in their savory signature broth all for under $5.
2. Amazing Architecture and Landscapes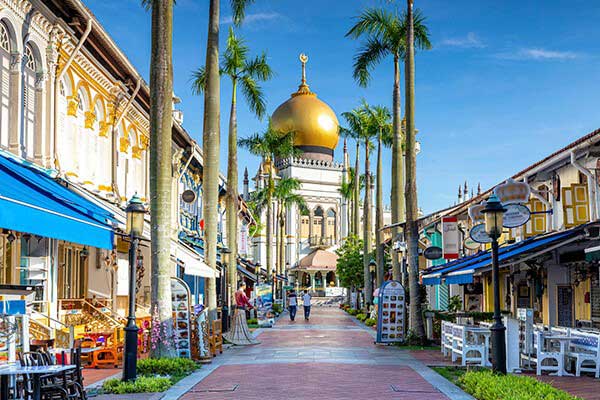 Far from boring, Singapore's skyline boasts innovative buildings in a modern downtown, unique sculptural structures lining the Singapore river, preserved Victorian-era buildings, and the iconic Marina Bay Sands. Most of the city can be reached via an efficient, safe, clean, and inexpensive metro system which links to a myriad of pedestrian walkways.
The Raffles Hotel with its genteel colonial splendor and the upstart Marina Bay Sands Hotel and Casino both feature prominently in Crazy Rich Asians and would set you back quite a bit if you were to stay there. However, Monday through Thursday you can enjoy happy hour at Spago's on the roof of the Marina Bay Sands; a great way to relish the million-dollar view without paying a hefty price. Similarly, enjoy the Raffles Hotel courtyard during happy hour for truly luxurious surroundings for a fraction of the price. All over the city you'll find similar rooftop and courtyard dining, as well as exquisitely manicured gardens and parks where you'll feel like you are in a movie set at all times.
The cultural diversity of Singapore also brings a richness of religious architecture, such as elegant churches, mosques, and temples, all intermingled within the fabric of the modern city.
Along with the seemingly endless architectural treasures to explore, Singapore's vision of being a "garden city" with abundant lush greenery means that there are also over 300 parks and four nature reserves to explore. From the pristine equatorial forests, manicured botanical gardens, and coastal parks, the abundance of nature walks and wildlife are a stark contrast to the glittering skyscrapers—though easily reachable from anywhere on the island.
The Flower Dome and Cloud Forest bring architectural wonder and gorgeous landscapes together into a living sculpture nestled within the equally impressive 162-acre Singapore Botanic Gardens, the only tropical gardens recognized as a UNESCO heritage center. Access to the gardens is free, with a small fee for the Flower Dome and Cloud Forest.
3. Pedestrian Life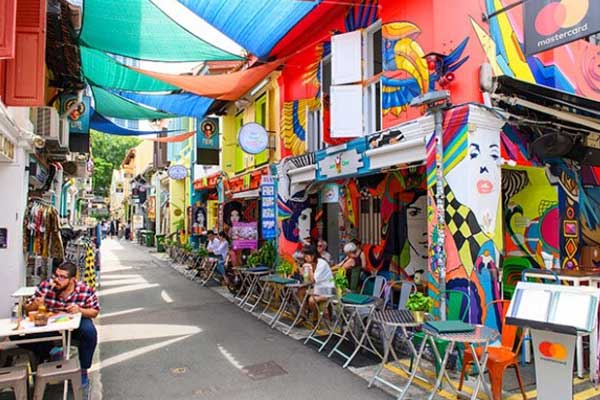 Aside from the incredibly inexpensive transportation options of the MRT, the bus system, public bike share, and reasonable ride share of Grab and GoJek, Singapore is also extremely pedestrian-friendly. The older buildings all boast a covered walkway called a "five-foot way" and many of the modern buildings typically incorporate parks and plazas. The alleys between buildings are sometimes completely closed to automobile traffic and, unlike many other large cities, the alleys are clean and safe at all times of the day.
My wife and I chose to live in a neighborhood called Bugis, directly adjacent to Kampung Glam and Little India. The pedestrian alleys of Kampung Glam are home to small shops and restaurants, boast a lively nightlife, and are adorned with street art. Ironically, despite the notoriety Singapore received for its strict stance on graffiti, the city embraces street art and is full of murals and sculptures.
On weekends, we often walk the quays along the riverbanks that lead to the more famous Marina Bay. Robertson Quay and Clarke Quay often host free outdoor performances but the walk is equally entertaining for people-watching and enjoying the boats going by.
4. Tropical Beaches!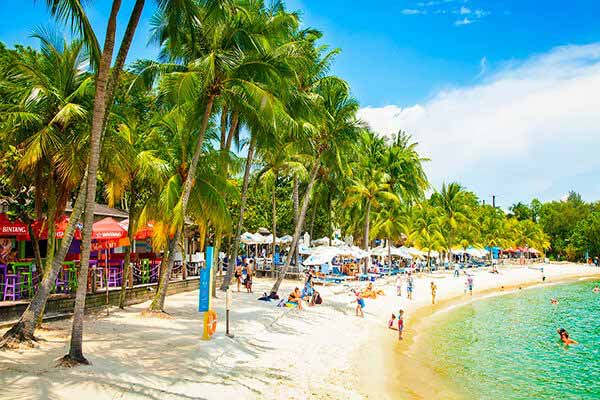 While Singapore is not known for its beaches, make no mistake: it is a tropical island laced with palm trees, white-sand beaches, and a wide variety of activities to suit all. Here you can bungee jump, zip line, paddle board, fish, or dance the night away in an energetic beach club complete with fancy cocktails.
The most touristy of the beaches can be found on Sentosa Island, where the private resorts intermingle with public beaches, amusement parks like Universal Studios, and a myriad of restaurants and bars where you can sit with your toes in the sand and enjoy a meal.
East Coast Park is another popular beach with a more laid-back atmosphere. There are no resorts and just a handful of restaurants and places to rent bikes and water toys. As the sun goes down, the park comes alive with joggers, dog walkers, roller skaters, bicyclists, and families picnicking along the nine-mile stretch.
If solitude is more your speed, there are smaller islands dotted all around Singapore where bird watching, fishing, and beachcombing are about as hectic as it gets.
5. Last But Not Least, Changi!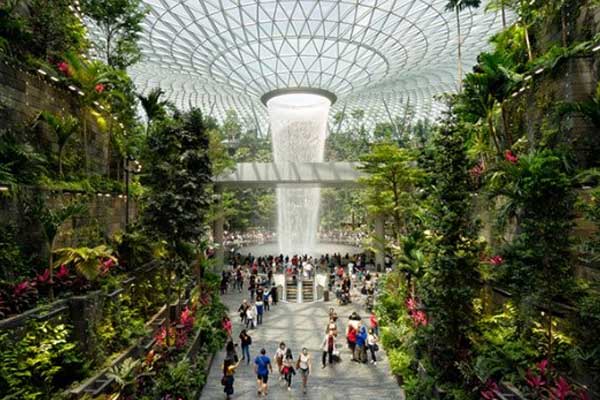 Recognized by Skytrax as the best airport in the world, Changi airport is a microcosm of Singapore—offering incredible service and efficiency, pristine cleanliness throughout (their bathrooms feel like you're at a spa), world-class food at reasonable prices, orchid, sunflower, and butterfly gardens, a movie theater, and an incredible shopping and entertainment center complete with the largest indoor waterfall in the world.
What's more, the gardens and movies are free, and the food at the airport doesn't have the mark-up common in other airports, meaning it costs the same as anywhere in Singapore. The efficiency behind the scenes means short lines, or sometimes no line and no wait, and despite the volume of traffic through the airport you can complete your check-in process quickly so you can enjoy delicious food and entertainment at the airport, making it an absolute delight to travel.
The fact that Changi has direct, inexpensive flights all over Asia was one of the main reasons we moved to Singapore to start our vagabonding adventure. It serves more than 100 airlines flying to 400 cities in around 100 countries and territories worldwide, making Singapore an appealing base from which to explore Asia easily, all while living in an amazing country. No matter where we go in the world today, we find ourselves admiring and appreciating our time in Singapore.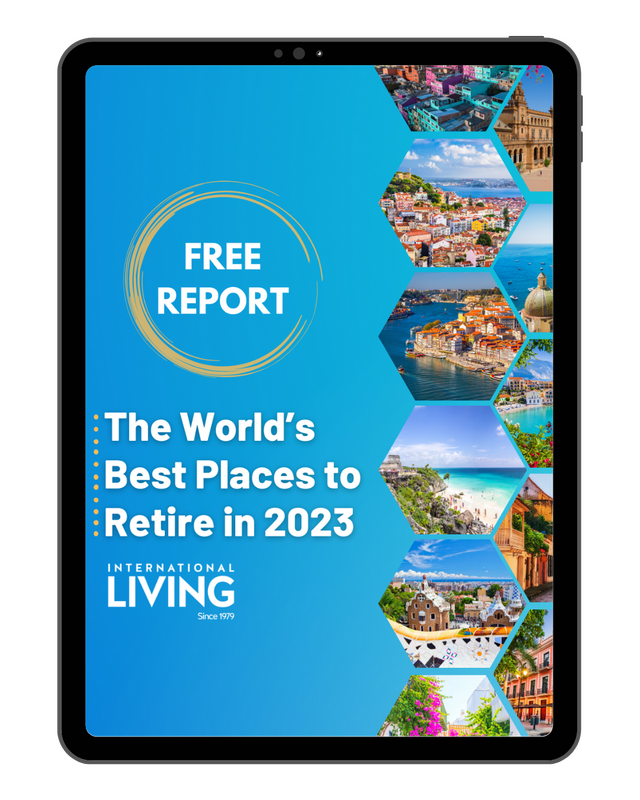 Get Your Free Report on the World's Best Places to Retire:
Learn more about the best places in the world to retire in our daily postcard e-letter.
Simply enter your email address below to sign up for our free daily postcards and we'll also send you a FREE report on The World's Top 10 Retirement Havens, plus access to over 10 more free reports. Our gift to you, on our favorite destinations.
Related Articles
The World's Best Places to Retire
The Cheapest Places in the World to Live
5 Places to Retire to With the World's Best Climate
Popular Articles You May Also Like