While the term "perfect climate" means something different for everyone, in International Living's 2023 Annual Global Retirement Index, we've compiled a list of countries with the most varied weather systems to suit every preference.
In this category, we've considered specific criteria such as temperature, rainfall, humidity, and sunshine, as well as the personal experiences of expats and our boots-on-the-ground correspondents, to score the nations with the most liveable climates.
Whether your idea of paradise is a sunny Mediterranean beach or the freshness of a high-altitude town, four seasons, or eternal spring, our climate category is designed to hlp you discover your ideal-weather haven.
Read why the countries below made our top five list, and discover the 2023 titleholder of the best in climate category.
Get Your Free Report on the World's Best Places to Retire:
Learn more about the best places in the world to retire in our daily postcard e-letter.
Simply enter your email address below to sign up for our free daily postcards and we'll also send you a FREE report on The World's Top 10 Retirement Havens, plus access to over 10 more free reports. Our gift to you, on our favorite destinations.
#4 France
Metropolitan France enjoys a temperate climate that varies greatly from region to region and is also heavily influenced by the country's topography.
Along the Atlantic coast, which includes a large swath of territory from the Loire Valley all the way to the impressive cliffs of Normandy in the northwest, the climate is characterized as oceanic. Temperature differences are moderate, with mild but wet winters. Chances of showers are frequent in the fall months through to the spring, and the region of Brittany is the wettest in all of France. Although the area boasts quite enjoyable summers, with average temperatures between 68 F and 77 F.
In Biarritz, the southernmost part of the Atlantic coast, winters are milder and summers hotter than in the north. This area—known for its surfing culture and Spanish influences—still sees a decent amount of rain due to its proximity to the Pyrenees.
The eastern part of the country has a continental climate and is generally drier than the Atlantic coast—apart from the area's prolific mountain ranges. Winters are colder, and summer temperatures climb higher than in the west. Well-known cities in this climate zone include Strasbourg in the Alsace region, Nancy in the Lorraine region, and Reims, the capital of the Champagne region. Temperatures can drop below zero in the winter, with a range of 10 to 30 days a year of subzero temperatures. Summers are pleasant and mild, with average temperatures in the mid-70s Fahrenheit.
In the regions of high altitude which include the Alps, the Pyrenees, Jura, and parts of the Massif Central—the biggest mountain range in France which occupies 15% of the country's total surface—winters are cold with significant snowfall. Above 600 to 800 meters, these zones see snow for three to six months per year.
These mountain ranges do experience a pleasant amount of sunshine and temperate weather in the summer, especially in the Alps—where the average summer temperature is 68 F.
The climate of the Paris Basin is considered transitional—a mix between oceanic and continental. The average yearly temperature is around 53 F with periods of heavy rain in the fall, spring, and early summer months. Summers are pleasant and the sun sets quite a bit later in the day—often as late as 9:30 to 9:45 p.m. Some years see dryer spring and fall months, and Paris residents are particularly lucky to be able to enjoy all the diversions of the City of Light with milder summer temperatures compared to southern France.
"Paris in the late spring to early fall is really a treat," says IL France Correspondent Tuula Rampont, "Walks along the Seine in the evening are particularly special. In July and August, you'll find pop-up restaurants strung with colorful lights where you can dip in for a cocktail and watch the bateaux mouches (cruising boats) take visitors up and down the river."
By far the best weather in the country can be found in the southeastern part of France, encompassing the regions of Provence-Alpes-Cote d'Azur and Occitanie—the administrative designations which house some of the most attractive cities for would-be France residents.  Seaside towns like Nice, Cannes, Antibes, and St. Tropez enjoy a Mediterranean climate with mild winters and hot, dry summers. Although average winter temperatures rarely dip below the 40s F, the area sees four distinct seasons with enough rainfall to supply the verdant vineyards for which Provence is famous.
"The French consider the southeastern part of the country their Southern California," says Tuula. "The weather is sunny most months of the year and life is lived out-of-doors. Even in November and December café and restaurant terraces are often full. Our neighbors in the south were thrilled to eat Christmas lunch on their patio a few years back."
Indeed, the southeast holds the record for the sunniest cities in the country. Marseille and Toulon often exchange places for the most hours of sunshine received each year – the former coming in number one last year with an average of 7.5 hours of sunshine daily. Other towns in the top 10 include Montpellier, Nimes, Nice, and Perpignan. The cities of Ajaccio and Bastia on the island of Corsica also feature prominently every year. With both a Mediterranean climate and a diverse, mountain-studded topography, this French island (situated near the coast of Italy) is a sought-after vacation destination.
Lastly, the semi-oceanic climate band that runs through Toulouse and the Midi-Pyrenees region provides a good comprise between the hot summers of the Mediterranean and the rainy cycles of the Atlantic coast. Average winter temperatures, at around 45 F, will be cooler than the east coast, but the months of July and August will also be less intense—all with a healthy dose of sunshine throughout the year. Toulouse holds the rank of #13 in terms of average hours of sunshine per year.
For a more detailed look at the climate in France, check out: France Weather and Climate.
3. Mexico
Many people know Mexico's climate from vacations to beach destinations like Cancún, Cabo, or Puerto Vallarta, which are known for warm, sunny weather.
But Mexico is a big country, about three times the size of Texas, with many different climates based on the variety of environments—from rainforests to mountains to desert—found within the country's borders that are influenced by topography and proximity to the equator.
As a result, there really is something for everybody, weather-wise, in Mexico.
It surprises many that there are parts of Mexico where you'll need more than shorts and flip-flops to stay comfortable.
IL Roving Latin America Editor Jason Holland lives in San Miguel de Allende, a historic town in the Colonial Highlands region which sits at 6,200 feet in elevation. Daytime temps are generally in the 70s and 80s throughout the year. But, says Jason, it cools off into the 50s at night…lower in January and February…with overnight freezes possible but rare. That means it's t-shirt weather most of the time when you are out about in the daytime. But if you're heading out in the early morning or the evening, be sure to bring a sweater or coat—and make sure to have a blanket for your bed for comfortable sleeping.
In other highlands towns in this region, including Queretaro and Guanajuato, you'll find a similar climate, which tends to be dry and arid. It very rarely rains outside of the rainy season, which is in summer and brings relatively little rainfall. Rain is mostly in the mid-afternoon, when it rains heavily for about an hour.
On the coast, it's a different story. On the Gulf of Mexico; the Caribbean, including towns like Cancún, Playa del Carmen, and Tulum; and much of the central and southern Pacific coast, places like Puerto Vallarta, Mazatlán, and Huatulco, the weather is warm and humid year-round. And the rainy season can be quite dramatic with heavy rains at times. It's a typical tropical climate…with the lush greenery that goes along with it.
"It does cool down in the winter months at the beach to a very comfortable level, with less humidity too," says Jason. "It was enough that we were able to shut off our air conditioning at that time of year when we lived on the Caribbean coast, which is definitely not possible—at least for my family—during the hot and steamy summers.
"It really doesn't rain in winter either…think cloudless blue skies nearly every day. That's why it's 'high season' in these destinations at that time of year for tourists and part-time expats—that and people are escaping the cold back home."
If you'd rather eliminate rain and humidity altogether, you do have options in Mexico too.
The northern mainland Pacific coast and the Baja California peninsula, including Los Cabos, Ensenada, Rocky Point, San Felipe, La Paz, and Rosarito, is more a desert climate…with a starkly beautiful landscape to go with it. Dry and arid—and hot during the day, cool at night—with very little rain. In Los Cabos, for example, there are only 15 days of rain in the whole year. The flipside of that is there can be issues with water access at times, especially as new development continues. Local authorities are working to address these issues.
Perhaps the place with the best weather in Mexico is the Lake Chapala region in the central part of the country, about an hour south of the major city of Guadalajara. The lake is the largest in the country, and there are several towns like Chapala and Ajijic along its northern shore that are popular with expats. They have what are among the longest-running expat communities in Mexico, popularly referred to collectively as Lakeside.
The area has a high elevation overall, and with the lake on one side and tall mountains on the other, the area in between on the lakeshore has a special microclimate. It's never too hot, never too cold. No wonder it's such a popular spot for expats, especially retirees. It is also a huge snowbird destination, with the expat population swelling in the winter months.
Although, like the Colonial Highlands, Lake Chapala does cool off a bit at night and there is a rainy season from about June to September.
Most expats say rainy seasons around the country are manageable. It tends to rain the afternoons. So you plan any outdoor activities for the morning and plan to be undercover by the time the clouds roll in for the afternoon showers. Most expats who live in these regions with a rainy season say it's not a deal breaker at all—in fact, many quite enjoy it.
For a more detailed look at the climate in Mexico, check out: Mexico Weather and Climate.
#2 Ecuador (tie)
If you like experiencing four seasons, then Ecuador may fit the bill. But as Ecuadorians say, the catch is the four seasons occur over the course of one day.  It's winter in the morning (the 50s), by mid-morning it's spring (low 70s), by noon it's summer (high 70s but feels 80s in the sun), and by late afternoon it's fall (60s).  Largely due to both the altitude and its proximity to the equator, Ecuador provides near-perfect weather no matter where you live.
The temperate climate insures there are no wide weather swings like those experienced in the U.S., with burning hot summers and freezing winters. Instead, the climate stays about the same pretty much all year round with minor temperature variances. Every day the sun rises at 6:30 a.m. and sets at 6:30 p.m., meaning the entire country enjoys 12 hours of direct equatorial daylight, 365 days a year.
The other variable to consider is because Ecuador is in the Southern hemisphere, the seasons are totally opposite of the Northern Hemisphere, so when it's winter in Florida, it's summer in Ecuador. "I have fun calling my sisters in Florida during the sweltering days in summer and show off that I'm wearing a light cotton jacket to stay warm while they drip from the humidity battling 95-degree weather," says Donna Stiteler, IL's Ecuador Correspondent in Cuenca.
"Although I jest, it's nice having weather I can go outside in every day, which opens up plenty of opportunities to get exercise all year long and explains why I've lost 20 pounds since moving here. In Florida, during the summer it was near impossible to go outside from May through September during the day. You're landlocked inside your home running up high air condition bills for five months out of the year. Now I have the freedom to be outdoors and hike, play pickleball, or go on long walks any day I want."
Although Ecuador is one of the smallest countries in South America, the mainland (i.e., excluding the Galápagos Islands) actually has three distinct geographical regions, which each have their own climates: the coast, the sierras (mountain highlands), and the oriente (the jungle). The benefit of being a small country, if you don't like the weather, just jump to one of the other geographical regions to get the temperature you want.
The coast is usually 10 degrees warmer than the Andes with temperatures ranging from the 60s to 80s, with the cool Humboldt Current providing a significant cooling effect, keeping the coastline from getting so hot your flip-flops melt on the pavement.
Ecuador's beaches and rainforests are at sea level. Humid, tropical breezes in the equatorial lowlands have temperatures ranging from 70 F in the mornings to highs between 80 F and 90 F during the daytime. Salinas is the most popular expat destination where you can sunbathe on the crescent-shaped beach lined with seafood restaurants.  The city of Manta is a booming expat destination, a larger city of 200,000 with warmer weather and long stretches of sandy beaches.  The smaller resort settlements of Olón, Montañita, and Puerto Lopez are popular tourist locations for whale watching, surfing, and snorkeling. For those that like to wear shorts and flip-flops all year, then the coast can be the ideal location, and many reasonably priced rentals are available right on the waterfront, where the ocean breezes keep temperatures much more comfortable.
In the Andes, altitude plays a big hand; the further up you go on the mountain the cooler it's going to be so temperatures range from the 50s to 70s. Because the mountains are sitting on a heating pad, better known as the equator, unless you are climbing the high peaks of Ecuador's Cotopaxi mountain, the world's tallest mountain, then you're not going to see snow.
In the Andes, Cuenca, a UNESCO Heritage site known for its architecture and has the largest expat community of 10,000, sits at an altitude above 8,400 feet but because of its proximity to the equator, heats up nicely to spring-like weather year-round: 50 F at night and 70 F during the day. In the smaller Andean towns popular with expats, Cotacachi just 20 miles north of Quito, Ecuador's capital, or Vilcabamba which is 96 miles south of Cuenca, experience the same Andean temperate climate.
"The weather in Cuenca is perfect. It was one of the factors I considered when deciding to move here. I wanted to spend a lot of time staying active outdoors, and that is exactly what I do. I play pickleball five or six days a week on an outdoor court at a park near my house. I walk to the mercado, to visit friends, and to do my errands. I take my backpack to the market, fill it with groceries, and carry it home. It's easy to walk two or three miles on a typical day. I don't even notice I'm doing it. And if I go out of my way to walk by our beautiful rivers, I can clock seven or eight miles with no problem," says Maureen Seals, a professional editor who has lived in Cuenca for several years.
As far as expats living in the Amazon, there are a few hardy souls who seek out the peace and tranquility that living in the jungle affords, but of course, the temperatures here are very humid and hot, with heavier rainfall year-round.
The main difference between the climate variances is not what time of year is it, but if it's the dry or rainy season.  The dry season (winter) runs from June to September and the weather is generally sunny but cooler, and the wet season (summer) is from October to May and is typically a little warmer, but prone to afternoon thunderstorms.  When it does rain in Ecuador, it doesn't usually last all day long, but makes surprise appearances throughout the day with short overtures lasting around 30 minutes.
"As they say in Ecuador," says Stiteler, "if you don't like the weather, just wait 15 minutes and it will change."
Overall, Ecuador offers a climate to suit every taste–whether it's sunning on the beach in Salinas or hiking in the Andes along mountain streams, there's a location for you that's not too hot, not too cold, but just right.
For a more detailed look at the climate in Ecuador, check out: Ecuador Weather and Climate.
Get Your Free Report on the World's Best Places to Retire:
Learn more about the best places in the world to retire in our daily postcard e-letter.
Simply enter your email address below to sign up for our free daily postcards and we'll also send you a FREE report on The World's Top 10 Retirement Havens, plus access to over 10 more free reports. Our gift to you, on our favorite destinations.
#2 Colombia (tie)
Imagine a country where you can find practically any climate to suit your taste—warm, tropical Caribbean beaches; mild, spring-like mountain air in the Andes; a dry, arid climate in the Tatacoa desert; or the hot and humid Amazonian rainforest. There is even a snow-capped mountain just 25 miles from the shores of the Caribbean Sea.
"The operative word for climate and weather in Colombia is microclimates," says Erin Donaldson, an IL contributor living in Pereira. "Everything related to weather in this country is dependent on elevation, humidity, and geographic factors like mountains or plains.
"Recently, I was told a story about a Colombian who invited an Irish expat to travel with him from Bogota to Melgar, Tolima. The man arrived at the agreed-upon time bundled up in a jacket, scarf, and hat appropriate to the high-altitude coolness of the city.
"Within only a few hours of travel, they were in a hot humid microclimate and he was a bit overheated. This is how the weather works in Colombia. The key is to always dress in layers and carry an umbrella right next to your handkerchief for wiping sweat."
In most cases the higher you go, the colder the average temperature. Bogota is always cool and rainy, and Manizales is quite similar. The commonality is that they are both at high altitudes with mountains bordering the cities. Mountains will tend to generate cool weather and rain.
Temperatures in Manizales and Bogota will be 65 to 75 during the day, and 45 to 55 at night. Expect cool breezes, but if it gets too windy then you know a storm is on the way.
The high-altitude climates pretty much have a wet and wetter type of season. Especially in Manizales, the dry season will come with bright sun and patches of clouds. The wetter season will mean intermittent sun but more clouds and rain for longer periods with an occasional hail storm.
Plan for cool windy days with patches of intense sun and cold nights. Always carry a scarf, jacket, and umbrella. A small space heater is handy but not common so this is a good thing to bring from home.
When you are in cities like Medellin, Pereira, or Bucaramanga you are typically above 1,000 meters. All three of these cities have cool night temperatures and might require a scarf or light jacket.
Daytime temperatures are pleasant enough to merit short sleeves and a hat/sunglasses if it gets sunny. Especially in Medellin and Pereira, it usually rains at least once a day, so carry an umbrella in your purse or backpack.
Most houses/apartments do not come with heating or cooling. In most cases, a fan will be sufficient during the day. Temperatures during the dry season can get up to 85 or even 90 degrees while during the wet season they might stay down around 75 or 80.
Keep in mind that during the wet season it will rain for longer periods of time during the day or through the night. If it begins to get breezy and cool the rain is coming and this is your signal to search for shelter or head home.
Low altitude in Colombia tends towards flat and marshy, although it can also be dry and desert-like depending on your location. Cali and Cartagena are characterized as being hot and humid. Try to wear clothes that breathe easily and dry quickly.
One of the towns we found particularly favorable for weather is La Union in Valle del Cauca, a grape-producing area that is almost identical to the central valley of California in summer. The climate is drier overall with more irrigation/sprinklers to disperse waterways into agricultural fields.
Be careful of polyester in these hotter climates because it can make you feel hotter if it doesn't breathe well enough. If you are in a rainy region, plan to carry an umbrella or a light rain poncho in case of intermittent storms.
Most houses/apartments at this lower altitude will have some kind of air conditioning or fan but it still doesn't come standard like our home countries.
Do NOT wear open-toed shoes in the cities due to the filth and dirt from vehicle traffic and homeless populations. You will also stand out as a tourist – especially in places like Pereira and Medellin. Cali and Cartagena tend to see more sandals, but it is a good idea to avoid flip-flops or thong-style shoes.
Places like Bogota and Manizales tend to dress formally and fancy. Especially if you want to meet a romantic partner or apply for a job, try to follow local examples.
Pereira and Medellin are more informal, but long pants and closed-toed shoes are recommended for any special event, theater presentation, or government office.
Overall the dress code for strata 5,6 is leather shoes, long pants/jeans, and some kind of collared shirt – even if it is a polo. Women can wear jeans, pants, skirts, or dresses. Avoid wearing splashy name-brand clothing except for going out on the weekends.
You can wear nice watches and jewelry – but consider taking a taxi instead of a bus, and going to nicer places where security is present. Street events are a green light for dressing down.
Avoid dehydration, but also avoid drinking the water. Despite the heat, you will be safer drinking hot tea or coffee than juice with water or lemonade when in hotter low altitude climates. Unless you know that the water was boiled, be careful about drinking tap water or beverages with ice/water. Bottled water is fine.
For the cold, always protect your neck and head. A scarf is your best friend in Colombia, especially in the "cold" climates which may not merit a jacket, but are breezy enough to cause your neck to get chilled. Drink plenty of warm beverages like "aromatica" (fruit infusion or tea) and/or coffee.
Most pharmacies sell over-the-counter electrolyte beverages like Pedialyte in case of extreme dehydration. If you are unsure about water quality, boil the tap water before drinking it.
For a more detailed look at the climate in Mexico, check out: Colombia Weather and Climate.
#1 Portugal
Portugal has some of the mildest weather in all of Europe with wet, temperate winters and dry, warm to hot summers, depending on location. Bordered by over 1,100 miles of Atlantic coastline the country has a mild Mediterranean climate with some variations throughout.
In the north near the city of Porto, the climate is characterized by rainy winters with temperatures ranging from 55 F during the day dropping to the '40s at night. Rarely do winter temperatures dip below freezing. Summers bring sunshine and far less rain with temperatures reaching 80 F and cooling off at night. The average yearly rainfall in and around Porto is 48 inches. But it is all that rain that makes it the perfect location for producing what the region is famous for, port wine.
Inland toward the Spanish border winters are colder than the rest of the country but still are mild compared to the rest of Europe.
In Central Portugal, the Serra da Estrella Mountain range at just over 6,500 feet above sea level is the highest point in mainland Portugal. The mountain forecast during the winter brings the country's only area of snowfall along with its only ski resort. Winter temperatures dip down to 40 F at night and hover around 55 F during the daytime.
Further south along Portugal's Silver Coast the winters are cold and rainy with abundant cloud cover and peeks of sunshine. Summers bring warm to spring-like temperatures with averages ranging from 65-70 F during the daytime to lows of 50 at night. The average yearly rainfall is 27 inches. And just as in the north the abundant rainfall in the region creates a myriad of stunning scenery with lush farmland, green rolling hills, orchards, and wildflowers. Portugal has microclimates where temperatures deviate from the norm and often cause a surprise for those who choose to live or visit. The city of Caldas da Rainha, a mid-sized city on the Silver Coast is one of these. Winters can bring weeks of rain, fog, and misery to some while others just love it.
"We spent our first two years in Portugal on the outskirts of Caldas da Rainha in a tiny village. The views from our rented house offered stunning views overlooking farmland, rolling hills, and orchards that we just loved," says Terry Coles, IL's Portugal Correspondent. "But come winter we were miserable with foggy mornings, days of dreariness and rain and cold temperatures. Summertime didn't bring much relief during those two years when temperatures rose only to 65 F during the day, and we still needed to use our pellet burner to warm up the inside of our old house. When we decided to move three hours south to the Algarve it was the first of August with highs of only 65 F on the Silver Coast and 95 F when we reached our new home."
One hour south of Caldas da Rainha is Portugal's vibrant capital city, Lisbon. Summers in Lisbon are warm and dry with highs reaching the mid 80's. Winters do bring rain like the rest of the country with cold temperatures dipping down to the 40s at night and reaching highs of 55 F during the daytime. Rainfall amounts average of 30 inches a year in Lisbon and the surrounding areas.
The rural inland region of the Alentejo is sheltered from the coastal winds by the mountains that cool off much of the country during the summer. This results in extremely hot, dry summer temperatures throughout the region with highs reaching 100 F or more with scorching sunshine. Winters in the Alentejo are cold with temperatures ranging from the 40's overnight to the 50s in the daytime with an average yearly rainfall of 24 inches.
Southern Portugal's Algarve region boasts of having over 300 days of sunshine annually and offers visitors and residents some of the best weather in all of Europe. Year-round temperatures in the Algarve are some of the mildest and sunniest in Portugal. Summertime brings fresh coastal breezes that keep the high temperatures bearable and pleasant. Average temperatures during the summer range from 80 F to 90 F while winters are mild with highs in the mid-'60s and lows in the '50s. Humidity in the Algarve is low averaging between 60 and 80% throughout the year. The Algarve receives much less rain than the rest of Portugal, averaging 18 inches or less per year.
"My husband and I love the weather in the Algarve," says Terry Coles, IL's Portugal Correspondent. "Summers are hot, dry, and breezy so we rarely need to turn on the air conditioner. In winter we find that hooded sweatshirts provide the perfect coverup for daytime outings but sometimes need a heavier coat for evenings."
From cool mountain temperatures in the north to hot, dry summers in the south with abundant sunshine there is much to love about this tiny gem of a country in the southwest corner of Europe.
For a more detailed look at the climate in Portugal, check out: Portugal Weather and Climate.
Get Your Free Report on the World's Best Places to Retire:
Learn more about the best places in the world to retire in our daily postcard e-letter.
Simply enter your email address below to sign up for our free daily postcards and we'll also send you a FREE report on The World's Top 10 Retirement Havens, plus access to over 10 more free reports. Our gift to you, on our favorite destinations.
Related Articles
The Best Places to Retire in the World 
The World's Cheapest Places to Live 
Upcoming Conferences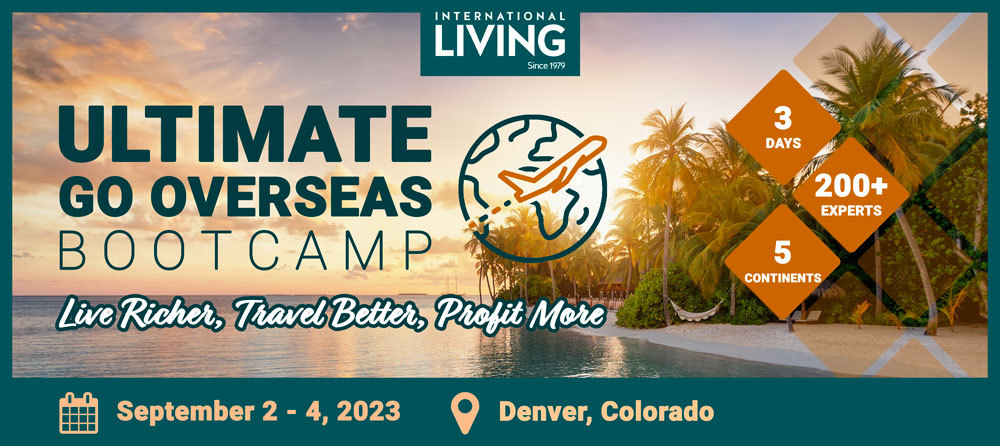 Most Popular Products
Popular Articles You May Also Like