Scoring a country on its climate is not an easy task, because everyone has their own ideas on what sort of weather they enjoy most. That's why, in IL's 2020 Annual Global Retirement Index, we've awarded our highest climate scores to the destinations with options for every taste.
In looking for the countries with the best climate, we assessed not only the hard data—temperatures, rainfall, and humidity—but we also assessed the comfort level of each destination's climate by talking to the expats and our own correspondents on the ground in each country.
From sunny beaches to humid rainforests, we've looked at every type of region that each country has to offer, so retirees can find the spot that best suits their tastes.
This year we have a hotly contested three-way tie for second place. Find out below which countries scored the best in the climate category and what country ultimately took the top spot for the best climate for 2020.
#3 Mexico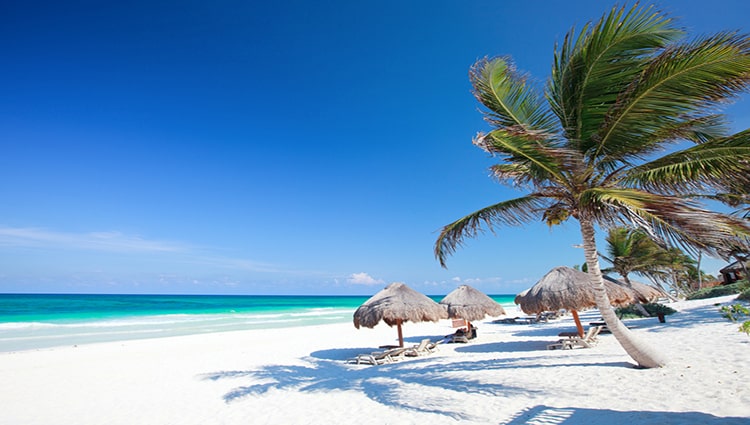 Mexico's climate comes in two parts—the Tropic of Cancer splits the country in two so one part is temperate and the other, tropical. This means land to the north experiences cooler temperatures during the winter months, while regions that are more southerly see temperatures remain constant year-round.
That doesn't mean the climate is the same in all southern or northern areas. There can be differences in temperatures, even in areas relatively close together, due to elevation—the higher the elevation, the cooler the average temperatures. The closer you are to sea level, the hotter that region is on average, and often more humid. In beach areas, high temperatures and humidity are tempered by delightful sea breezes.
Because of the country's topography, Mexico has one of the world's most diverse climate systems.
"Mexico is a big country—about three times the size of Texas," says Jason Holland, International Living Roving Latin America Editor. "And that means it has a wide variety of climates—there really is something for everybody.
"You have the spring-like year-round climate of colonial highland towns like San Miguel de Allende. In beach towns like Puerto Vallarta and Playa del Carmen, it's always warm—and humid too, although sea breezes help.
"For dry heat, head to arid Los Cabos. Further up on the Baja Peninsula you have towns like Rosarito, with a nearly identical climate to Southern California.
"Winter is actually one of the best times of year, weather-wise, to visit Mexico's Caribbean and mainland Pacific beaches because it's the coolest (highs in the lows 80s F) and least humid time of year."
For a more detailed look at the climate in Mexico, check out: Mexico Weather and Climate.
#2 Colombia (tie)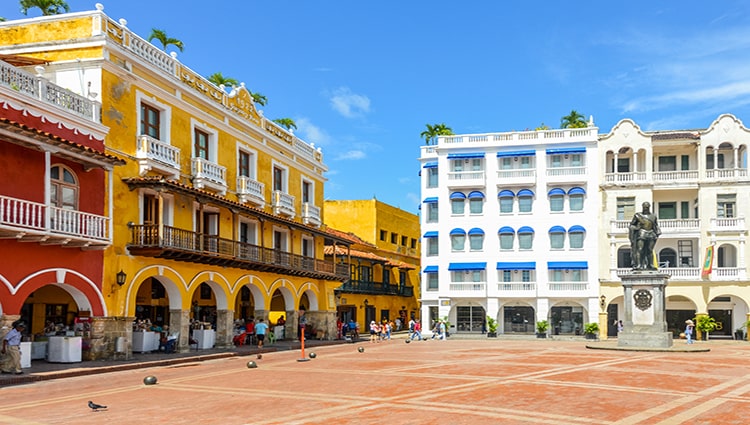 Located in the north of South America, Colombia has coastline on both the Caribbean Sea and the Pacific Ocean, borders the Darien jungle to its west, and the Amazon to its east. Sitting just slightly north of the equator, it has an equal 12 hours of daylight and darkness with very little variation during the year.
The weather here varies quite a bit from region to region within the country, making it one of the reasons Colombia is so fascinating. From tropical ocean beaches, temperate mountain areas, and even a snow-capped mountain, Colombia has it all.
Colombia is the only South American country that has coastlines on both the Pacific Ocean and the Caribbean Sea giving both cities and towns hot, humid, tropical weather. Living by the coast means evening sea breezes make the nighttime temperatures a bit more palatable.
Most people tend to live on the Caribbean coast rather than the Pacific side of Colombia, with the coastal cities of Cartagena, Santa Marta, and Barranquilla popular places to visit and retire. There, daytime high temperatures reach the low 90's F and cool down to mid-70's F at night. With humidity hovering around 80%, the "real feel" temperature in these cities can be even hotter.
Medellín, Colombia's second largest city, sits at 5,000 feet above sea level and is considered to have perfect spring-like weather all year round. Daytime highs here average in the mid-70s F to low-80s F with very little humidity. Evening temperatures dip down into the mid-60s F. So, you won't need more than a light jacket.
"I will admit that the perfect year-round, spring-like weather was the first thing that drew me to retire to Medellín," says Nancy Kiernan, IL's Colombia Correspondent. "I had lived my whole life in the north-eastern section of the U.S., and I never wanted to see or shovel snow again.
"But Colombia is the second most biodiverse country in the world, so you can find whatever climate and environment that suits your taste.
"If you want hot and tropical, then I think you should consider retiring to the lovely Caribbean coastal cities of Santa Marta or Cartagena where crystal-clear, blue water laps against warm, sandy beaches.
"For those of you who prefer more temperate climates, then I suggest my adopted mountain city of Medellín or anywhere in the 'coffee triangle' of Pereira, Armenia, and Manizales where you are surrounded by lush green mountain scenery."
For a more detailed look at the climate in Mexico, check out: Colombia Weather and Climate.
#2 Ecuador (tie)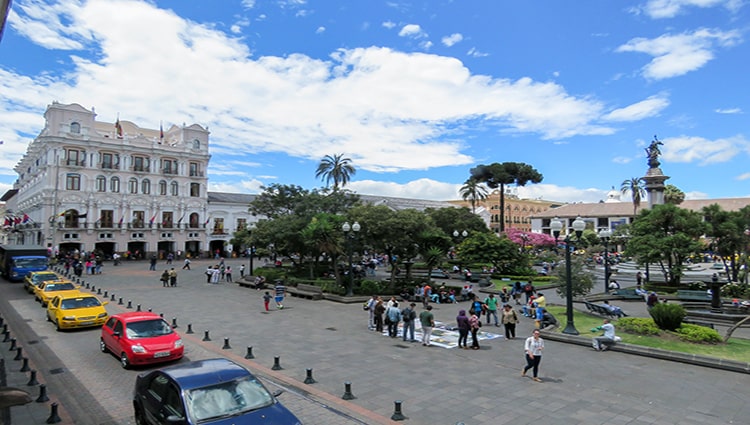 Ecuador lies right on the equator, so the entire country enjoys 12 hours of direct equatorial daylight, 365 days a year. However, the climate you will experience depends largely on where you are in Ecuador, since there are four distinct geographical areas—the Sierra (mountains), the Oriente (eastern rainforests), La Costa (Pacific coastal plains), and the Galapagos Islands.
For example, Ecuador's capital, Quito, lies between the Andean Mountains' eastern and western ridges. The equator is less than 20 miles north of the city, yet at an altitude of 9,250 feet (2,900 meters), Quito's climate is spring-like year-round: 50 F at night and 69 F during the day. The sun makes the difference. You can comfortably stroll out on a glorious Quito afternoon in shorts and a t-shirt, but you'll need to take along your wool sweater in case the clouds roll in. The equatorial sun is intense, but when it's obscured by clouds, you realize how high in the Andes you really are. In fact, cold-weather gear is needed for high-altitude hiking and mountain climbing.
The beaches and rainforests, on the other hand, enjoy the tropical temperatures that one would expect from equatorial lowlands, with highs ranging between 80 F and 90 F. Among the high Andes, coastal plains, and the jungle, you can find just about any type of weather in Ecuador.
"Climate in Ecuador varies by altitude, not latitude," says International Living magazine Editor Sean Keenan. "That's significant here, of all places, because the equator runs right through the country. In fact, Ecuador was named after it.
"What that means is that, at sea level at least, days and nights are evenly spaced at 12 hours each, and temperatures can get exceedingly hot. However, in towns and cities such as Quito, Cuenca, or Vilcabamba, the high temperatures are moderated by altitude, meaning that in the right spot, expats can live in year-round spring-like temperatures, with near-constant sun.
"At sea level, and on the coast, the dynamics are slightly different. You can expect hot, sunny weather with temperatures in the 80s F for half the year, and milder temperatures with cloud cover in the wet season from May to October.
"Even so, with such an indented coastline, microclimates offer a range of options to choose from, including cloud forest, tropical jungle, and dry scrub landscapes. Sometimes the microclimates are separated by less than 10 miles.
"And with some of the highest mountains on the planet, suffice to say, you'll find snow-covered peaks year-round too. Essentially, pick your climate, and you'll find it somewhere in Ecuador."
For a more detailed look at the climate in Ecuador, check out: Ecuador Weather and Climate.
#2 Peru (tie)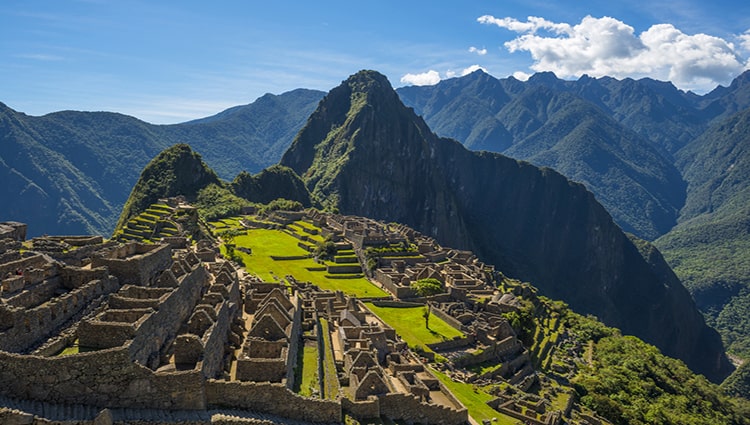 From the year-round blue sky and sunshine of Peru's tropical northern coast…to the humid, hot Amazon rainforest…to the cold weather of the Andes, there is a climate to suit everyone's taste.
It's impossible to describe an average temperature or overall climate. But it can be divided into three or four basic regions; the northern and southern coast, the Andean highlands, and the eastern lowlands or rainforest. Rainfall, cloud cover, and daily temperatures vary greatly for each of these locations. Remember that the seasons are reversed in the southern hemisphere. For most of the country, there are at least two distinct seasons. Summer peaks in January and February while the coolest months are generally August and September.
"After living abroad for over a decade in several locations, I think we have found our perfect weather," says Steve LePoidevin, International Living Peru Correspondent. Steve lives in Huanchaco, a northern surfing and fishing village located just 20 minutes from the larger city of Trujillo.
"With 28 of the world's 32 climates stretching from the Pacific to the Amazon, that's easy enough to do in this country.
"The temperatures here in Huanchaco range from the low 60s F during the coldest part of the year to the high 70s F during the summer months. With a light breeze and no bugs, we leave our doors and windows open for much of the year. No AC or heating is ever needed. And here, we get less than an inch of rain a year.
"The southern half of the coast is warm and dry during the summer months, but tends to be foggy and cool during the winter.
"While in the mountains, it is the opposite with rain and cooler weather prevailing during the winter months and dry sunny days during July and August."
(Colombia, Ecuador, and Peru tied for second place in the Annual Global Retirement Index 2020 Climate Category with a score of 87.)
For a more detailed look at the climate in Peru, check out: Peru Weather and Climate.
#1 Portugal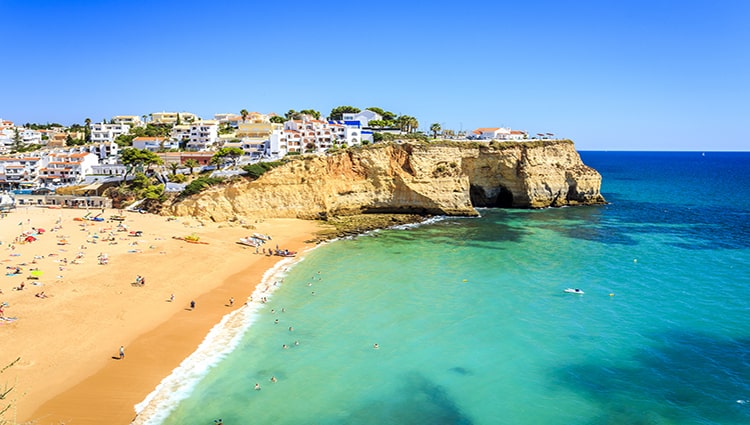 Portugal, the winner of International Living's Annual Global Retirement Index 2020, takes the top spot in the Climate category this year. It enjoys a warm temperate climate with wet winters, dry summers, and the highest temperatures averaging above 71 F.
As compact as Portugal is, about 349 miles north to south and only 135 miles east to west, there are distinct differences when it comes to climate within its borders.
Year-round warmth? The Algarve provides that. Four seasons? Head farther north to the wooded river valleys of the central wine country. Snowy winters and hot summers? You'll find those in the Serra da Estrela region of the northeast.
"Portugal's climate is a mix of temperate in the north to Mediterranean heading south, making it ideal in that it offers so much to so many in a space so compact," says Tricia Pimental, IL's Portugal Correspondent.
"The north, where Porto is located, is breezy, beautiful, and sunny in summer, with daytime highs of 80 F and above. Winter brings chilly, grey, and rainy days and an average 20-degree drop in the temperature, day and night. Moderated temperatures and precipitation are as you would expect in the shoulder seasons of autumn and spring.
"Heading south through the central region, including locations such as the University town of Coimbra, temperatures are a few degrees warmer each season, with less rain (35 inches per year compared to Porto's 49).
"The southernmost region of the Algarve is predictable, given the pattern I've outlined: it's the warmest, driest (with 20 inches of annual precipitation) area of the country. Summer temperatures range from 84 F in the daytime to 64 F at night, and in winter, daytime highs are in the low 60s, slipping to the mid-to-upper 40s F."
This variety means that in Portugal you're sure to find a place with the climate to suit your tastes.
For a more detailed look at the climate in Portugal, check out: Portugal Weather and Climate.
Related Articles
The Best Places to Retire in the World 
The World's Cheapest Places to Live