The Silver Coast – Coastal Havens, Medieval Wonders, and Rustic Charm
By Terry Coles
Ever dream of sipping wine on your balcony with a view of the Atlantic Ocean in the distance but thought you could never afford it? Or perhaps living in the shadow of a medieval castle is more to your liking? From rolling hills of vegetation to acres of orchards and vineyards, cathedrals, castles, and alluring legends galore make up the history, mystery, and splendor of the Silver Coast.
Nestled along the western side of the country—between Porto and Lisbon—this 93-mile stretch of rugged coastline extends inland to include traditional rural villages packed with Portuguese charm and affordable living.
The Costa da Prata, as it's called by the locals, begins near the canal city of Aveiro that meets up with the coast at Figueira da Foz. As the name suggests, figueira, is a fig tree that once stood at the mouth, or foz of the Mondego River. According to legend the town was named after a fig tree that fisherman once used to tie up their boats. Both Aveiro and Figueira are two of the tourist hubs along the Silver Coast—and for good reason. Colorful boats cruise the canals of Aveiro as they have for centuries. Once they used to carry seaweed, today they transport tourists past art nouveau homes along the bustling waterfront.
Further south is the fishing village of Nazaré where fisherman head out to sea in small boats just as they have for centuries. Behemoth waves entice daredevil surfers who embrace the challenge while others come to chill on the beaches. Summertime brings sunbathers but fall is when waves are at their highest, so tourists and locals alike come to watch.
Other seaside sanctuaries include São Martinho do Porto, with its scallop-shaped bay and calm waters and Salir do Porto with its colossal, captivating sand dunes to bring out the kid in everyone.
Foz do Arelho on the outskirts of Caldas da Rainha offers a two-for-one beach experience. One side features a tranquil lagoon—the perfect spot for children—while the other side opens to the sea but without large currents.
The walled medieval city of Óbidos is a short drive from the coast and a nice way to spend an afternoon. Continue south to Torres Vedras which hosts one of the largest Carnival celebrations in Portugal every year.
From stunning coastline, quaint cobbled villages, welcoming locals, and sizeable expat communities, the Silver Coast has much to offer, and the reason why so many foreigners call it home.
Retire to the Silver Coast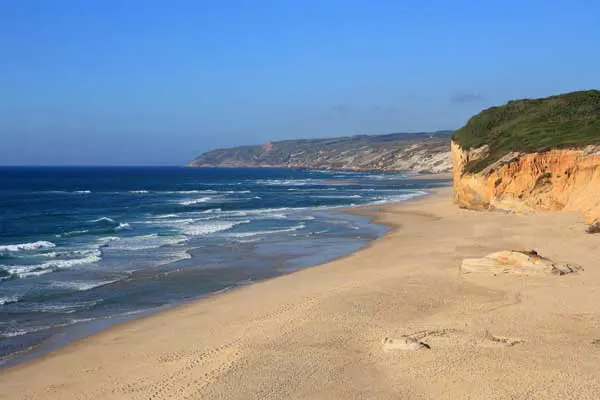 With thousands of foreigners already living on the Silver Coast life here can be jam-packed or laid-back and easy-going. Expat groups organize dinners, dances, and socials or gather to play board games, go bowling, hiking, biking, or horseback riding. Others enjoy bodyboarding or surfing, playing golf, or volunteering at local animal shelters and book clubs. Ladies' groups meet for coffee and to socialize, while friends gather at local cafes to sip wine and people watch as the hours pass by. Fitness buffs will delight in the local gyms that offer classes in spinning, kickboxing, Pilates, yoga, Zumba, and more. Many organize beach-side bootcamps or group classes held at local parks too.
Portugal rates number twelve in the world for top-notch, affordable healthcare, and both private and public hospitals and clinics can be found almost everywhere on the Silver Coast. Shopping is abundant here with large shopping malls, local's farmer's markets, and small mom-and-pop stores too.
Lifestyle on the Silver Coast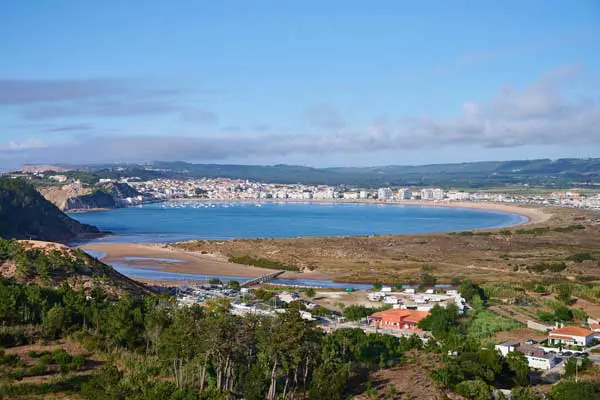 Life on the Silver Coast is as slow moving as the windmills that dot the green hills in the distance. Old-time farmers roll by on tractors often carrying their wives on the back. White vans cruise through small villages selling freshly baked breads, pastries or fish caught earlier that morning. Locals greet each other with double-cheeked kisses and hand over bushels of home-grown fruits and vegetables from their garden. Corner cafes are filled with silver-haired gents in berets who hobbled in from nearby homes with canes.
The Portuguese people are wonderfully simpatico, or nice, and always offer a bom dia or smile to all those they see. Walk into any clinic, government office, elevator, or restaurant, and everyone is greeted with a smile and a hello.
Lively farmer's markets in cities and villages offer colorful palates of produce, fish, baked goods, local honey, and handicrafts. Tiny shops sell assortments of ceramics still produced locally—an art form that is even taught at nearby schools.
Situated in the center of Portugal, the Silver Coast is one of the last affordable destinations in Europe that boasts all of the modern amenities. Buses and trains offer easy access to Lisbon airport and other larger cities throughout the country.
But with so much history, culture, and beauty purchasing a car is recommended to get around and enjoy all the splendor that the Silver Coast has to offer.
Get Your Free Portugal Report Here:
Romance, culture and adventure awaits in Portugal. Learn more about Portugal and other European countries in our daily postcard e-letter. Simply enter your email address below and we'll send you a FREE REPORT - Explore the Old World in Laidback Portugal.
This special guide covers real estate, retirement and more in Portugal and is yours free when you sign up for our IL postcards below.
Cost of Living on the Silver Coast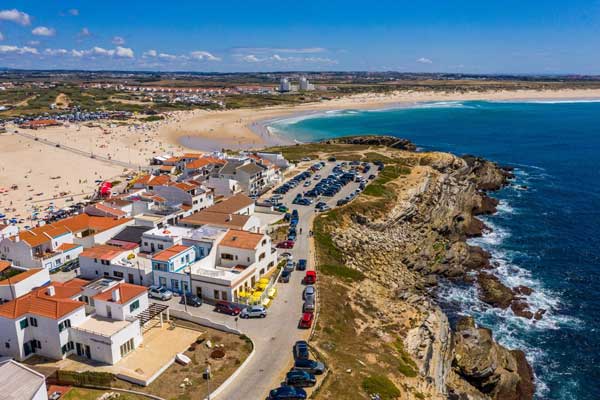 Buying a detached house with a pool close to area beaches in the Algarve will set you back a million dollars or more, but on the Silver Coast, this is not the case. In the seaside towns of Foz do Arelho or Nadadouro, homes with private pools not far from the coast can be found for $300,000 and up. Drive inland just ten minutes to Caldas da Rainha where massive, freestanding homes with gardens can be found for even less. Those who want something smaller can pick up deals on two-bedroom, city center apartments starting at $100,000.
The following cost of living is for a couple living with a car in the center of Caldas da Rainha. Just outside the city center private homes often rent apartments for much less.
| | |
| --- | --- |
| Item | Cost $ |
| Rent – two-bedroom, furnished, city center apartment | $700 |
| Utilities – Electric, heat, water, trash | $150 |
| Internet – cell phones for two | $65 |
| Health Insurance – (increases with age and health condition) | $150 |
| Transportation | $200 |
| Groceries | $500 |
| Gym membership | $65 |
| Entertainment – dining out, etc…. | $200 |
| Miscellaneous | $170 |
| Total: | $2200 |
The cost of living varies greatly depending on one's lifestyle. Dining out frequently and traveling will add to the budget. Residents of Portugal have access to the low-cost public healthcare system but to apply for a long-stay residency visa, foreigners must show proof of private health insurance. Most expats prefer to keep private health because it is so affordable and allows access to English-speaking doctors of their choice and no wait times to have procedures.
Three Must-See Silver Coast Towns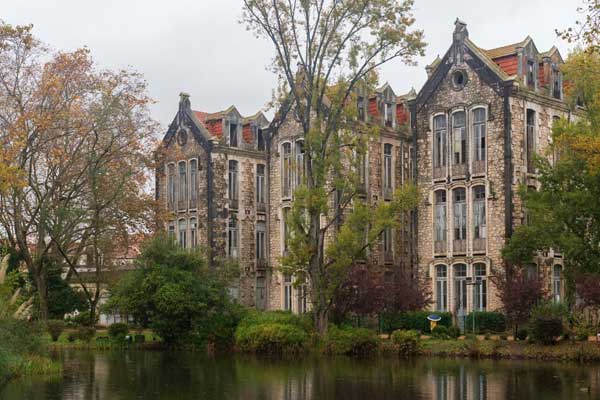 During the 15th century Queen Leonor was passing through the area when she spotted some pheasants bathing along the roadside in some murky liquid. Curious she questioned their strange habits and soon learned of the thermal water's healing powers. Impressed, she ordered a hospital to be built around the thermal spring and that hospital has been serving patients ever since.
The mid-sized city of 51,000 is located just one hour north of Lisbon, the country's capital city. The cobbled downtown comes alive daily with a daily farmer's market packed with luscious produce, baked goods, nuts, dried fruits, and more. Nearby a daily fish market is where locals head to find the freshest catch of the day. Every Monday a massive flea market sells just about everything. From nuts to bolts, clothing, hardware, household items, and even live animals can be found here all at bargain prices.
Dom Carlos Park is the perfect spot for family outings around the duck pond where tiny boats can be rented for fun. Nearby the spectacular façade of the original thermal hospital stands proud against a modern museum, restaurant, tennis courts, and playground. Cross the street to La Vie, a multi-level modern shopping complex with a cinema, large food court, and plenty of shops.
Caldas offers both a public and private hospital, several dental and medical clinics, a bowling alley, sports complex, municipal pool, badminton club, gyms, large grocery stores, and cobbled oldtown.
Coastal gems like Nadadouro and Foz do Arelho are close by and the perfect way to cool off in the summer. Beachfront bars and restaurants boast nightly entertainment to rock the night away with friends.
Just a short drive from Caldas there are many beautiful towns to visit. The walled medieval city of Óbidos is just a ten-minute drive from the city center. Stroll along the narrow lanes, stop to sample ginginha, a local sour-cherry liquor served in edible chocolate cups, or stop for lunch at one of many restaurants.
The town of Alcobaça with its magnificent 12th-century monastery hides within its walls the love story of Inês de Castro and Dom Pedro, star-crossed lovers forbidden to be together by the king. Marvel at the architecture of the monastery from the tiled plaza that surrounds it while sipping a cappuccino and indulging in a pastel de nata, the famous Portuguese cream pies that are so addictive.
2. Aveiro – Canals, Color, and Coastline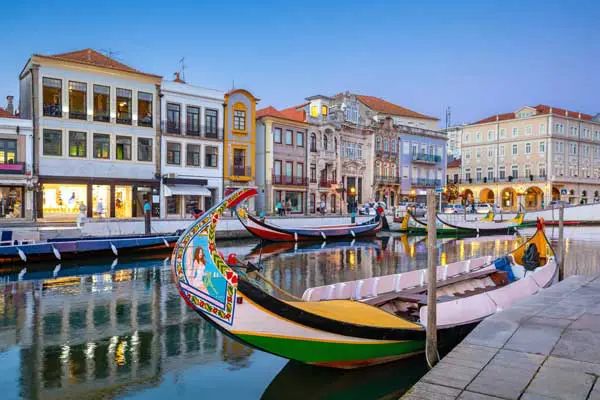 At the northern end of the Silver Coast is the lively city of Aveiro. Known for its canals filled with colorful boats called moliceiros that were originally used to harvest seaweed, the city is now a tourist hub. Art nouveau homes line the waterfront, buskers perform to entertain the crowds, and locals rub elbows at the city center shopping mall. Just a short drive from the city is Costa Nova, famous for its candy-striped houses and golden sandy beaches. These once tiny fishing cottages are today new builds that reflect the sunshine off their whimsical facades.
Since so many tourists visit Aveiro, English speakers are easy to find—a plus for easing into expat life here. Your medical needs are well covered as well with Hospital da Luz, accredited by the well-known Joint Commission International, who awards this prestigious stamp to only the best.
With a population of 80,000, Aveiro is a must to visit but could be a place to settle into life as an expat too.
3. Nazaré – Colossal Waves and Fishing People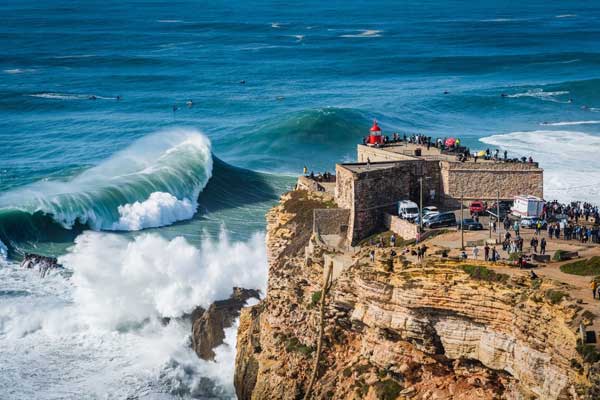 One of the most popular coastal towns along the Silver Coast is Nazaré. Tourists flock to the area to witness daredevil surfers tackle some of the largest waves in the world—the largest recorded was in 2020 and reached 101.4 feet. But step away from the coast and it's the fishing people that come to light in this once sleepy fishing village. For centuries fisherman wake before dawn and head out to sea in tiny boats. Their wives stay behind and wait for them on shore. Dressed in seven layers of colorful skirts that extend down to the knee, the skirts can be pulled up over their shoulders to keep warm. Wool knee-socks protect their legs, while head scarfs are wrapped tightly around their long hair, often braided to the sides.
Be sure to visit o sitio, the old village perched on top of a cliff. The Sanctuary of Our Lady of Nazaré is decorated inside with impressive blue and white azulejos (Portuguese tiles). Outside the fishing wives—or Nazarenas—sell handicrafts to help supplement the family income. Afterward stroll the narrow lanes where fish hang, drying on clotheslines next to family's laundry, a time-honored tradition.
Featured Image Copyright: ©iStock.com/DaLiu