Estoril: Luxury Living on the Portuguese Riviera
For decades the town of Estoril in Portugal was the playground of royalty and film stars, foreign dignitaries and mysterious spies. Today residents of Lisbon and tourists from around the world continue to flock to this oceanside haven known, together with its neighbor Cascais, as the Portuguese Riviera.
Located just 25 minutes west of the country's capital, Estoril's modest population of about 26,000 people occupies an area of less than two square miles. Oceanside restaurants and high-rise condominiums overlook stretches of sandy beach. Across the marginal, hilly rises slope upwards into tranquil neighborhoods of cobblestoned, tree-lined streets, home to both apartments and white-washed stucco homes adorned with brilliant bougainvillea. All of this combines to create the town's well-known air of easy elegance.
Retire in Estoril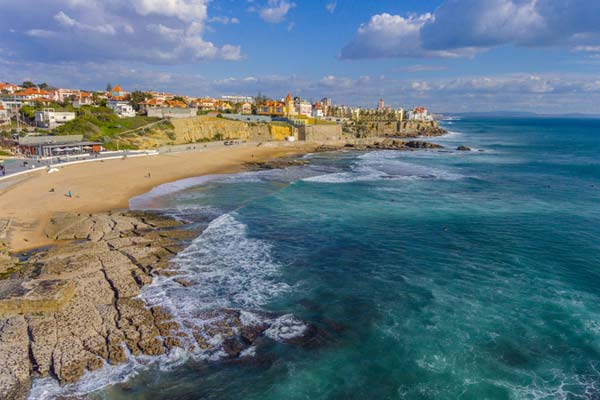 Estoril is an ideal choice not only for vacationing, but for retirement. There are many reasons for this, not the least of which is the fact this coastline is one of the areas of the country where English is so commonly spoken. Others include—naturally—Lisbon itself, Porto in the north, and the super expat-friendly southern region of the Algarve.
While it is not specifically a winter escape, like, for example, cities in the Algarve, the weather is still temperate. Daytime highs are around 60 F in winter, with overnight lows of about 50 F. Summertime brings a range from just above 80 F, which drops 20 degrees at night. November is the wettest month, with a little more than four inches of rain, but springtime means less than half that amount, and precipitation is almost negligible during the summer months.
For the most part shopping opportunities are found in neighboring Cascais, but there is both an organic and a gourmet market in town. In truth, the lack of bustling commerce is one of the sweetest elements of living in Estoril.
As the town is small, there are no conventional bus lines, although you can take a bus (and the train) to Sintra, the train to Lisbon, and use taxis, Uber, and town cars to get around.
Lifestyle in Estoril
From the inviting sands of beaches like Praias de Carcavelos, Tamariz, and others to the presence of one of the largest casinos in Europe, you'll find plenty to do in Estoril.
Championship golfing, musical spectaculars, and motorcycle rallies are just the start. Tennis lovers can attend the Estoril Open. Foodies and wine connoisseurs won't be disappointed, either.
Of course, all Lisbon is at your disposal. Hop on the train at the station in town and hop off at Cais de Sodré. (Cais de Sodré is also where you can take a ferry across the Tejo River to Almada, and dine on fresh seafood while enjoying a panoramic view of Lisbon.)
Nearby Sintra boasts attractions like the Palace of Pena, Moorish Castle, National Palace, and more—not to mention a panoply of cafés, bars, restaurants, and shopping venues.
You can stroll the marginal and arrive in Cascais in about 30 minutes. This town has a sense of the touristy, but places many resources at your fingertips. If you're looking for a group to share a traditional Thanksgiving dinner with, look no further than Americans Living in Portugal. Women of many nations, all using English as their default language, have formed more than a dozen groups within International Women in Portugal. There are other organizations to fill out your expat dance card, as well.
For a more low-key experience, head past Cascais to the rugged surf and cliffs of Guincho Beach, or some of the wilder, less-frequented beaches of Sintra, where Sintra-Cascais Natural Park offers hiking and horseback riding.
Cost of Living in Estoril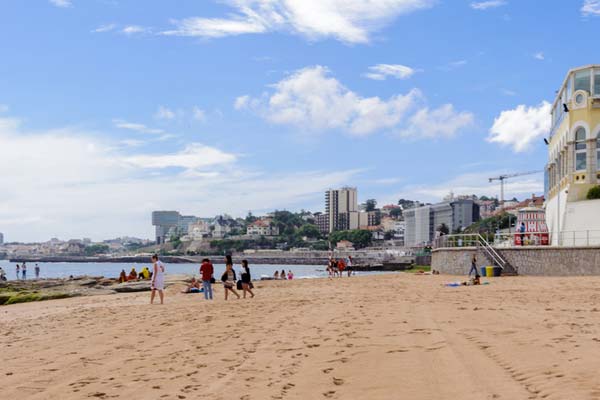 Estoril is generally considered to be one of the most expensive places to live in the country. Having said that, dining out in a popular Italian/Mediterranean restaurants will not break your piggy bank. You can enjoy spaghetti carbonara for $18.00 and grilled robalo (sea bass) for $20.25 at Choupana Gordinni, complete with a breathtaking ocean view. Meals at other area eateries can be had for more or less, depending on your taste and budget. It's your call.
What about entertainment? There's good news here as well. A ticket to a Las Vegas-style musical at the Casino Estoril averages between $13.50 and $22.50. Admission to a similar presentation in Vegas ranges from $75 to $300. That's not even taking into consideration productions like those of Cirque de Soleil.
The following is a breakdown of monthly costs for two people, based on recent real estate and general budget listings. Singles should plan on a budget approximately two-thirds this amount.
| | |
| --- | --- |
|  Rent (Two-bedroom, unfurnished apartment) |  $2,000 |
|  Utilities (Gas, electric, water, depending on season) |  $105 |
|  Internet/Telephone/Cell phones (X2)/Cable (Package) |  $70 |
|  Clothing and Miscellaneous |  $350 |
|  Maid (three hours every two weeks) |  $55 |
|  Groceries |  $550 |
|  Transportation: Public transit/Tank of gas |  $90 |
|  Dining and entertainment |  $400 |
| Total | $3,620 |
Old World Elegance in Estoril, Portugal
By Tricia Pimental
An elderly gentleman wearing a Panama hat and carrying a walking stick strolls leisurely down a cobblestone tree-lined street in a suburb of Lisbon. "That's what I'm talking about," says expat Dave Dougherty as he snaps a photo to preserve the moment. "Old World elegance is alive and well here in Estoril."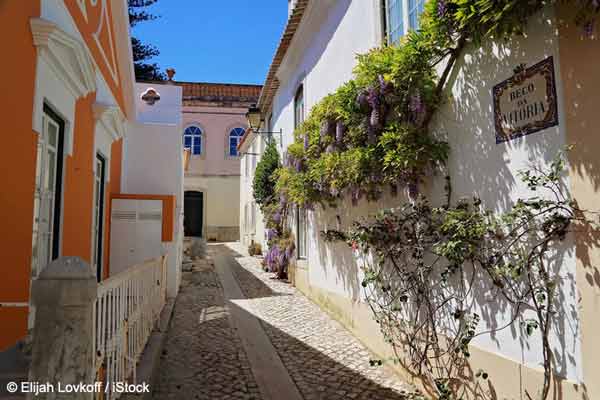 A native New Yorker, Dave and his wife Kelly had vacationed many times in Portugal. Then two years ago, they decided it was time to make a commitment to escape the hectic pace of life in Manhattan. They made a permanent move to the Iberian Peninsula. "We still go back to the East Coast, fairly frequently, to visit family in and around the metropolitan area. But we've definitely had enough of a daily dose of traffic, noise, and the tension of the big city."
Dougherty was in the construction business for many years, designing high-rise office buildings and dwellings. "I loved what I did, I admit it. I was good at it, made money, and enjoyed life with Kelly. But keeping up that pace requires you to take breaks—as frequently as possible—so you don't drive yourself crazy."
Now life is a permanent vacation. Estoril is located 20 minutes by car west of the capital of Lisbon. "What's perfect about this area is we also have quick access to Cascais village," says Dave. "The village is packed with restaurants and cafés, parks, shopping, and a little beach stretch."
There's more. Wednesday and Saturday mornings at 10 a.m. the local outdoor market offers bargains of all kinds, and the library hosts readings and signings by multi-national authors. At the Cascais Cultural Center and Hotel Bai'a, groups like Americans Living in Portugal sponsor events including Happy Hour gatherings, traditional Thanksgiving Dinners, New Year's celebrations, and Valentine's Day dances.
The cost of living in this area is higher than what you would find inland, for instance in the Alentejo. But this, along with Porto in the north and the southern Algarve, is one of the prime areas for American, Canadian, British, and Australian expats to choose as a base, especially since English is widely spoken.
"We bought a three-bedroom condo overlooking the water. Kelly and I wanted that view and needed the extra space because we have frequent guests. Everyone wanted to visit, once they heard where we'd settled," he adds, laughing, "but we love it."
Rentals in the area range around $875 for a refurbished one-bedroom and $1,850 for a two-bedroom. Purchasing rather than renting, however, is probably a better idea now for anyone considering a move to the country, because property prices are on the rise.
Dining out is still affordable, even in this upscale region of Portugal. While dinner for two can easily run $60 with wine, a lunch at a local pub can be had for around $12, and coffee and a pastry for $3.
Another plus is low-cost healthcare. CUF Cascais is a private hospital nearby, but the state system is virtually free, and available to anyone who has a temporary residence card (required if you intend to remain in the country longer than 90 days).
"We have the best of all worlds," concludes Dave. "Our free time is spent in museums, playing sports, sunning ourselves on the beach, and having a glass of wine with friends. Not a bad place to be in life."
Featured Image Copyright: ©iStock.com/Siempreverde22