Albufeira: A Sun-Drenched Retirement in Portugal's Algarve
By Kevin Casey
Albufeira, a former fishing village wedged between Portimao and Faro in Portugal's sun-drenched Algarve region, is the liveliest beach resort in southern Portugal. During July and August, its permanent population of 37,000 swells to 300,000 as visitors flock to its golden-sand beaches, nightlife district, and picturesque old town. During the rest of the year, it's much quieter.
As a coastal destination, Albufeira's strength is its versatility—it's as popular with families and outdoor enthusiasts as it is with chilled-out retirees and nightlife-seekers. Its modern marina, surrounded by candy-colored buildings, is a convenient base for diving, sight-seeing, and dolphin-watching adventures, and the waterfront promenades and pedestrian-friendly café districts all add to its old-world livability.
There are more than two dozen inviting beaches to choose from in the Albufeira area; many are adjacent to stunning rock formations and shady pine gardens. This is one of the sunniest parts of Europe and the ocean is clear and refreshingly cool, rarely getting above 70 F—even in mid-August.
Most visitors arrive via the international airport at Faro, 28 miles to the east. Albufeira boasts a train station and convenient regional bus services (e.g. Rede Expressos and Eva) connecting it to other parts of Portugal and beyond. Its centralized position along the southern coast makes it a handy starting point for further Algarve explorations.
Larger Portuguese hotspots like Lisbon and Porto are some of the most affordable cities in Western Europe, but Albufeira is even cheaper. Expect to pay at least 10% less here for groceries and up to 35% less to rent an apartment. If you avoid the more touristy hangouts and learn to live like a local, you'll stretch your dollars even more.
Retire in Albufeira, Portugal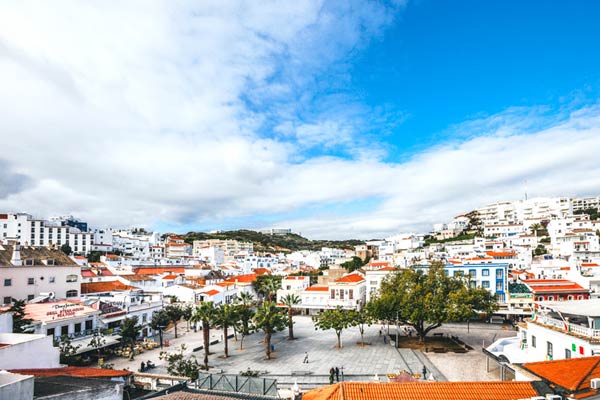 With a climate similar to southern California but a much smaller population, the Algarve has become a real magnet for discerning retirees, digital nomads, and other sun-worshiping expats, especially in the past two decades.
The traditional culture, beaches, cuisine, and natural scenery of Portugal's southern coast consistently place it near the top of the list for affordable retirement destinations in Europe. And because the Algarve district covers nearly 2,000 square miles, there's plenty of room for everyone.
Portugal is a friendly, stable, and relaxed nation offering first-world infrastructure, a low-stress lifestyle, and a huge range of attractive retirement locales, all with a cost of living that compares favorably to the U.S.
Because of its high expat/tourist numbers, English is widely spoken in Albufeira and throughout the Algarve, though there are plenty of language schools around if you want to brush up on your Portuguese: locals always appreciate the extra effort.
Albufeira has several well-equipped private hospitals as well as an International Health Center staffed by English and Dutch doctors that provides an emergency, 24-hour on-call service. There are numerous pharmacies scattered around town as well, including the open-all-hours Farmacia Albufeira at Rua das Telecomunicacoes 26. Dentistry is ultra-affordable in Albufeira and for such a small city, there are a surprising number of quality dentists to choose from.
Access to Portugal's free public healthcare system is available to all permanent residents but many expats choose to organize a private health insurance policy while living in the country.
One of the simplest paths to residency is the Golden Visa program, introduced in 2012. This allows you to select from a variety of investment options that can lead to permanent residency and eligibility for Portuguese citizenship within five or six years. Citizenship can be quite useful, as it permits you to live and work anywhere in the EU/EEA and travel freely in the Schengen area.
If you're registered as a tax resident and a Portuguese resident and can show proof of a habitual abode (bought or rented), you can access overseas-sourced income—including a pension—tax-free under Portugal's NHR (Non-Habitual Resident) plan.
Lifestyle in Albufeira, Portugal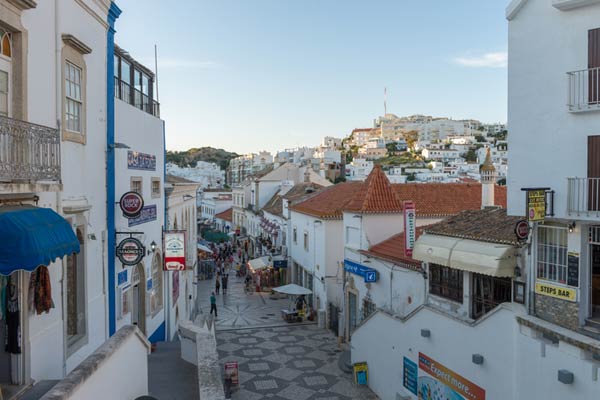 Albufeira offers ample opportunities to immerse yourself in Portuguese culture, stay active, and enjoy all the good things in life. Its reputation as a nightlife hub is well-deserved, with abundant restaurants, bars, and dancing venues dotted throughout the old town and along 'The Strip'.
This buzzing area is adjacent to Praia da Oura, a popular city beach. Don't expect things to kick off too early in this part of Portugal, though—many clubs don't swing into full gear until after midnight…and then power on until the sun comes up.
The food scene in Albufeira is exceptional. Choose between regional seafood, Indian, pizza, Portuguese tapas, and more. If you're looking to sidestep the more touristy eateries, head to the self-service Verde Minho on Rua da Dunfermline—it's always packed with hungry locals. You can fill up your plate and indulge in a dessert or two plus drinks for less than $15.
If fine dining is more your style, check out sophisticated Al Quimia in the Epic Sana Hotel or the Vila Joya restaurant, where the ocean view is as elegant as the cuisine. A beer—foreign or domestic—shouldn't cost you more than about $2.30 in Albufeira and the wine is good and ridiculously cheap.
Even during winter, Albufeira's beaches attract enthusiastic sun-seekers, with high sandstone cliffs providing shade and wind protection. In front of the old town, you can plop your towel down at Praia do Tunel and Praia dos Pescadores, popular sandy stretches where you can indulge in your favorite water sports. Two and a half miles west of the city at Praia da Gale, you'll have a much better chance of escaping the crowds.
Some of the most beautiful beaches in the Albufeira region include Sao Rafael, Falesia and Santa Eulalia. At Praia dos Olhos de Agua, natural freshwater springs are visible at low tide. In August, this beach also hosts the annual Sardine Festival, a celebration of wine, music, and tasty little fish.
One of the most satisfying ways to see this region's lesser-known beaches and sea caves is by taking a boat tour from the marina.
Things to do in Albufeira, Portugal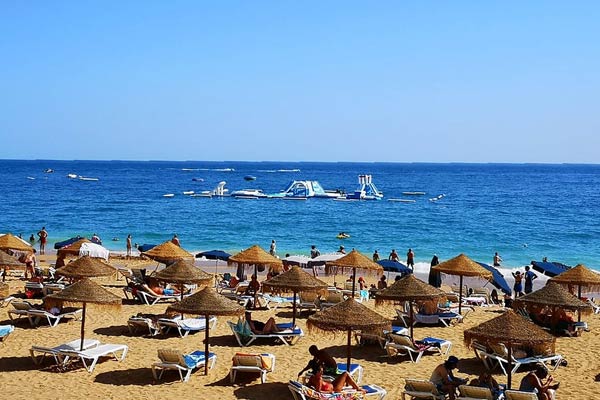 The great thing about spending time in Albufeira is that you can do as much—or as little —as you like, and experience the best parts completely independently or as part of a tour.
Hiring a car is cheap and convenient if you want to explore surrounding areas, but many locals just get around with taxis, buses, and train trips; a car is optional here. Uber is available too. The three-wheeled tourist tuk-tuk has also made it to Albufeira, but you'll never see a local in one.
Insider tip: if you buy your train tickets a week or more in advance in Portugal, you'll often get them up to 50% cheaper.
Some of the best things to do in Albufeira:
Stroll Through the Old Town
Albufeira's historic center is a delightful maze of narrow streets with mosaic tile patterns, whitewashed houses, and intriguing little shops. The main square, Largo Duarte Pacheco, is surrounded by bars and cafes, and is a fine place to sit in the shade and people-watch as you sip coffee and tuck into some freshly grilled fish or local chourico sausage.
The beaches in front of the old town can be accessed by elevator, escalator, or through a tunnel, and the viewpoint at Pau da Bandeira offers the best panoramic view of the city. Even with all the mass tourism here, you can still see fishermen mending their nets by hand and unloading their catch, just like in decades past.
Enjoy the Sea
The mind-boggling variety of boat trips and water sports available in Albufeira is impressive. Take your pick between surfing, stand-up paddle-boarding, kayaking, jet-skiing, and parasailing. Boat options range from luxury sailing yachts to high-speed jet boats—and everything in between.
Party Hard at "The Strip"
Just east of the old town, you'll find the nightlife center of Albufeira, where hen and stag parties, youthful graduation celebrations, painful karaoke, and excessive neon are the order of the day—at least during the June, July, and August peak. If you're after a slightly quieter vibe, head toward the north end of The Strip near the Montechoro Hotel.
Venture Forth
Albufeira makes a perfect base for checking out the rest of the Algarve to the east and west. Lagos, Praia da Rocha, and Vilamoura aren't far way, and Tavira, close to the Spanish border, is a breathtaking coastal oasis that should not be missed.
Albufeira is blessed with three top-notch water parks, all less than 20 miles away. Aquashow Park and Slide n' Splash are the places to be when the weather heats up, and Zoomarine also incorporates a sea life center.
Outdoor pursuits abound in Albufeira. If riding a horse on the beach, cycling through shady olive groves, deep-sea fishing, Paintball, zip-lining, off-road jeep touring, and snorkeling in crystal-clear waters sounds like your kind of lifestyle, you've come to the right place.
Featured Image Copyright: ©iStock/mtcurado