A Lifestyle Guide to the Medieval Town of Óbidos, Portugal
By Tricia Pimental
Óbidos, 1447. The fifteen-year-old princess from Coimbra, adorned in silk and pearls, trembled with excitement as she approached the church of Santa Maria. Built by the Visigoths in the 8th century, converted to a mosque during Moorish occupation, it had been restored to a historic Christian place of worship. Princess Isabella was about to make history, herself. By marrying her young cousin, King Afonso V of Portugal, she would become Queen Consort and go on to leave an indelible mark on Portuguese history.
Óbidos, present day. Visitors strolling Rua Direita in the medieval village portion of town linger at shops selling handicrafts and clothing. Some establishments have planted a stand in front, offering a taste of the local cherry liqueur called Ginja for $1, sipped from a chocolate cup which is then quickly consumed. Up the hill, on the way to the town's legendary castle, Santa Maria Church still sits, silently watching the passing centuries.
Retire in Óbidos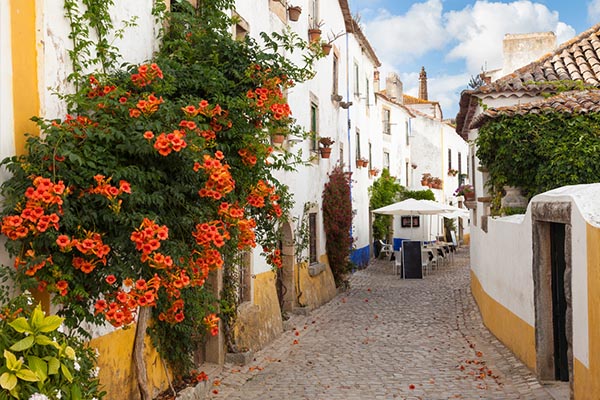 Tourists are a positive for the potential retiree because restaurant and shop owners necessarily speak English. And don't be surprised to find that the population in general (about 3,100 in Óbidos proper and 11,800 in the municipality) speaks at least some English due to the constant influx of visitors.
You can get along without a car here, but with the proliferation of so many fascinating nearby cities of interest, you may be tempted to keep one. What to consider? Like many of Portugal's medieval villages, narrow streets can make for difficult parking. There are, however, parking areas outside of the town gate (the Porta), by the train station, and elsewhere. Speaking of the train, Lisbon is about 50 miles south of Óbidos, and accessible by train, but it's a long, two-hour plus ride and the schedule is sketchy. Instead, take the Green Express route of the bus service operated by Rodotejo. Comfortable, clean buses with free Wi-Fi travel dozens of times each weekday to Lisbon. A ticket costs less than $9 and will have you in the capital in an hour.
If you like seasons, Óbidos may be for you. Summers are warm and mostly sunny, with daytime highs around 80 F, while in the winter rainy season, the mercury stays somewhere under 60 F.
With respect to health and safety, you most likely already know that Portugal is ranked the third safest country in the world according to the Global Peace Index, which rates 163 countries annually. Health care is offered locally, and you can choose from a variety of nearby hospitals located in Nazaré, Caldas da Rainha, Alcobaça, and of course, Lisbon.
Lifestyle in Óbidos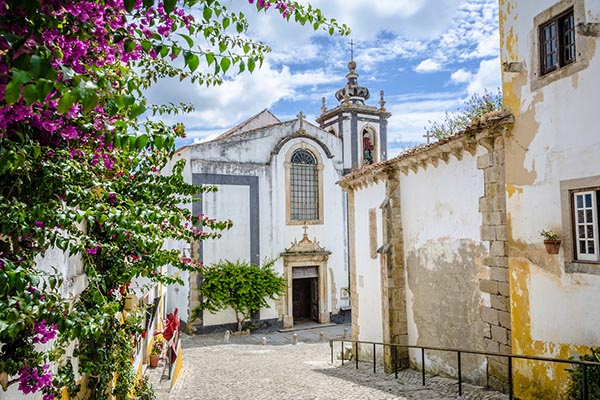 You'll have plenty to do in and around Óbidos, so your days can be as busy as you wish. For example, if you're a golfer, you'll find a number of championship sites nearby, including the 18-hole Royal Óbidos Golf Course in Vau, with sumptuous views of the Atlantic. Another possibility is arguably one of the most beautiful courses in the country, Praia d'el Rey, offering lush pine forests, rolling sand dunes, and sweeping views of the ocean.
If you prefer your time spent indoors, you might want to head to one of a number of unique bookstores in town. Bibliophiles delight in the Grande Livraria de Santiago, on the site of the 13th century Church of Santiago. That's not the only bookstore with unusual origins: a former vegetable market (which still does sell a bit of green) is one choice, as well as Livraria da Adega, a former wine cellar where, you guessed it, you can sip the fruit of the wine while checking out the tomes.
Even restaurants have gotten into the literary swing of things. At Book and Cook, books line shelves from floor to ceiling. It's conveniently located at—appropriately—The Literary Man Óbidos Hotel right in town. Head there for a serious gin and tonic in the gin bar after a day spent hiking in and around the hilly cobblestone streets. Or enjoy a selection of tapas at Arco da Cadeia on Rua do Hospital, a wine bar which formerly served as a medieval prison.
Several times a year your daily routine will be disrupted, but in the best possible way. Springtime brings the International Chocolate and Pastry Festival, where chefs create marvelous chocolate sculptures. In July, the Medieval Market transports the populace back in time, with authentic music, games, foods, and animals: you can hear bagpipes, watch jousting, eat roast pig, and watch a camel caravan all in one afternoon. And in December, enter the castle grounds to quaff wine and ale, sample delicious food, and enjoy shopping for handmade crafts. If you're inclined, you can even grab a pair of skates and try your hand at a double axel—or not.
 Cost of Living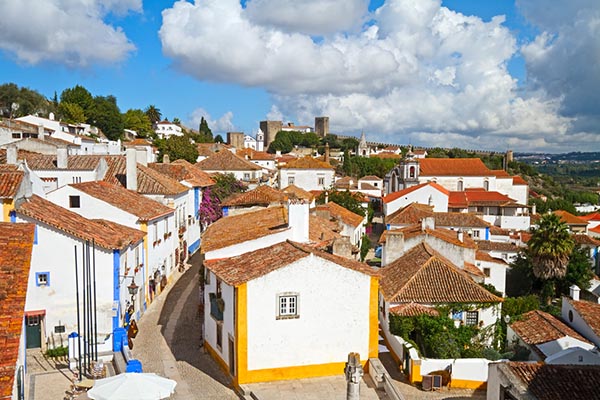 Real estate offerings in Óbidos proper are scarce, although you may be able to find a two-bedroom in town in the $900 range if your timing is right. But in cities like the nearby expat-friendly Caldas da Rainha, just 15 minutes from magical Óbidos, you can find a four-bedroom home to rent for $1,200 a month. Other cities in striking distance include Alcobaça and Fátima.
As is the case almost everywhere in the country, you can find breakfast at a café for a couple of dollars, lunch (soup, main dish, dessert, drink, and coffee) for about $11, and a range of dinner prices. Here's a sample budget for two. A single can expect to spend a third less on a monthly basis.
| | |
| --- | --- |
|  Rent (two-bedroom apartment, unfurnished) |  $900 |
|  Utilities (Gas, electric, water, depending on season) |  $105 |
|  Internet/Telephone/Cell phones (X2)/Cable (Package) |  $100 |
|  Clothing and Miscellaneous |  $350 |
|  Maid (three hours, bi-weekly) |  $  55 |
|  Groceries |  $500 |
|  Transportation: Mass transit/Tank of gas |  $  90 |
|  Dining and entertainment |  $400 |
| Total: | $2,500            |
The Takeaway
The Silver Coast of Portugal continues to grow in appeal for tourists and expats alike, and Óbidos and its environs is definitely an area to consider. If you're looking to connect with people who have already made the move, check out "Silver Coast Our Home" on Facebook.