Tomar, Portugal - A Historical Gem Along The Banks of The Nabão River
By Terry Coles
The village of Tomar, (too-mar), a historical gem in Central Portugal sits along the banks of the Nabão River, in one of the most fertile regions in the country. Visitors are first greeted by Mouchão Park, a quaint green space highlighted by a wooden waterwheel, covered with dangling willow branches from nearby trees.
The cobbled lanes, brimming with shops, cafes, and restaurants lead the way to the salt and pepper tiled town square called, The Praça da República. Prominently displayed in the center of the square is a statue of Gualdim Pais, founder of Tomar and the 16th-century church of Saint John the Baptist.
One of the last Templar towns to be constructed, Tomar rose to fame in the 13th century, when it served as the Orders headquarters for 700 years. The impressive Convento de Cristo, an imposing monastery, castle complex that overlooks the town was constructed in 1159. Once home to the Knights Templar, it holds within its walls some of the best-kept secrets of this mysterious order. Now a UNESCO World Heritage site, it is considered to be one of Portugal's most important monuments.
Retire to Tomar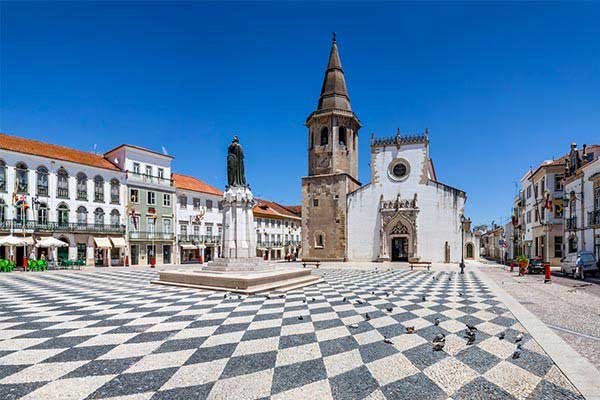 Tomar is home to 43,000 people, both Portuguese and expats who enjoy its relaxed atmosphere, year-round festivals, and affordable cost of living. Residents here enjoy hot, dry summers with little to no rain and wet winters with temperatures that rarely go below freezing. Summertime temperatures hover around 88 F but can exceed 100 F while winter temperatures average around 40 F.
Away from the touristy main plaza, Tomar is a tranquil, liveable town. Besides the small shops and restaurants, the town has larger grocery stores, a giant Chinese department store, good hospitals, clinics, and local buses that can be used to get around. Just a twenty-minute drive from Tomar is the larger city of Torres Novas with a large shopping mall that features a cinema and large food court.
Throughout Portugal, cinemas show movies in their original languages, usually English with Portuguese subtitles. Ticket prices average around $8.50 but deals can be found offering dinner and a movie for a discounted price. And unlike cinemas in the U.S., here adding popcorn and a drink won't break the bank.
Just a 10-minute drive from Tomar is Castello do Bode, with its 40-mile long, fresh-water lake, the perfect place to enjoy water sports and swimming. Just a one-hour drive south takes you to Lisbon to access its international airport for journeys back home. Instead of driving into Lisbon, head to the nearby city of Entroncomento and pick up an express bus for a relaxing fifty-minute commute.
The district of Santarém, in which Tomar is located offers both private and public medical facilities and the larger city of Coimbra is less than an hour's drive away, with some of the best medical care in the country.
Lifestyle in Tomar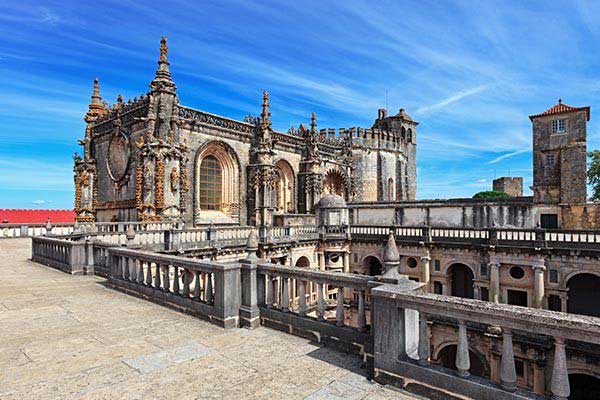 The Convento do Cristo is one of the main attractions that everyone who visits Tomar must-see. It can be reached by foot, although sits high on a hill above the town, or car. From the 12th century the convent served as a defensive stronghold for the Christians against the Moors. Step back in time upon entering this gem and admire the stone-carved walls, tiled cloisters, and mix of different architectural styles. Another fun way to reach the convent and tour the town is by hiring a tuk-tuk, three-wheeled vehicle from the main plaza.
While on the main plaza admire the Manueline style of the 15th-century church of Saint John the Baptist. Pop inside to admire the paintings from the 16th century including a finely detailed version of The Last Supper done by Gregório Lopes.
On the quirky side is the museum dedicated to a collection of 43,000 matchboxes from 127 countries around the world. The largest assortment of its kind in all of Europe, another 16,000 matchbox covers enhance this bit of nostalgia. Housed inside the former cloisters of a 17th- century church, a rather strange setting for matchboxes yet one that adds to the experience.
Another less-visited spot in Tomar is the Jewish Museum, housed in one of Portugal's oldest synagogues. Built in 1430 it served as a place of worship for only thirty-six years before King Manuel I ousted all Jews who refused to convert to Christianity.
Every four years Tomar becomes a spectacle of colorful flowers that decorate every square inch of the streets in preparation for its largest event, the Festa dos Tabuleiros. Translated to, "festival of trays," this religious event draws thousands of spectators from around the world. Each tabuleiro, or tray is composed of 30 loaves of bread, specifically shaped and weighing in at 400 grams each, spaced out evenly on five or six canes which are then tied onto a wicker basket. Topped off with either a dove or a cross, the festival is steeped in religious tradition dating back thousands of years. Each tray must be as tall as the girl who carries it on her head, as she marches proudly in processions through the town accompanied by a male partner. The girls are dressed in traditional long white dresses, each with a colorful sash across her chest. The boys dress in black pants, long-sleeved white shirts with rolled-up sleeves, a black tasseled cap, and a tie that matches the girl's sash. The males are there to help stabilize the trays if they topple over, and they do.
Busloads of tourists pack into the city from around the country to witness this spectacular event. Streets are covered with paper flowers, parades and processions take place over several days and special quilts adorn windows throughout the area. The next tray festival takes place in July of 2023. Be sure to wear sun protection and a hat since summertime temperatures can soar up near the 100 F mark.
Cost of Living in Tomar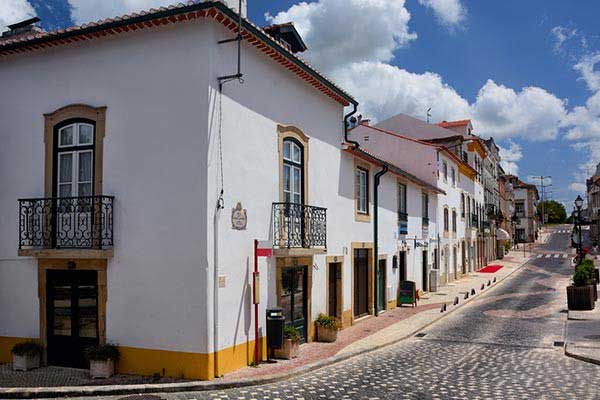 A couple could live nicely in Tomar on $2,500 or less a month depending on lifestyle.
Rentals in Tomar range from $500 to $1,000 a month for a two-bedroom furnished apartment. Property to buy starts from around $225,000 for a two-bedroom, country house with a garden and swimming pool.
| | |
| --- | --- |
| Rent – (two-bedroom furnished apartment | $1,000 |
| Utilities – Electric, Water, Trash | $150 |
| Food | $400 |
| Entertainment – Dining Out | $200 |
| Transportation – Gas or Public Transport | $200 |
| Cell Phone/Internet | $65 |
| Health Insurance | $150 |
| Total: | $2,165 |
Featured  Image Copyright: ©iStock.com/alxpin
Video Tour of Convento de Cristo
Video Transcription
My name is Terry Cole's and I'm International Living's correspondent here in Portugal. Today, I invite you to come along with me as we take a step back in time to visit an historic convent in Tomar, Portugal. The city of Tomar is just a 90 90-minute drive from Portugal's capital city of Lisbon, and it was once one of the most influential cities on the entire Iberian Peninsula. The entire city was constructed to be built within the walls of the Convento de Cristo, the former Roman Catholic convent and monastery built in the 12th century.
It has withstood the test of time and remains almost fully intact even today, once home to the Knights Templar, a secretive and powerful religious order that existed from 1118 to 1307. It remains today as one of the most important sites in Templar history in the entire world. In 1159, Alfonso Rodriguez who was the king of Portugal, gave a large plot of land to the Templars as a way of saying thank you. The Templars defended the city of Tomar for over 100 hundred years and helped in the conquest of Lisbon and Santaria from the Moors.
The convent is a majestic, magical place of mystery had holds some of the greatest secrets of the Templars within its walls. Come along now as we explore this beautiful place.