Move to Portugal
North Americans are just starting to realize what Europeans have known for decades: that Portugal offers comfortable, cultured living at a low cost. Whether you're looking to live in Europe full-time or part-time, sunny, pleasant Portugal deserves a look.
Here are some of the most popular destinations for expats in Portugal:
The Algarve
British and other European expats have been settling in the Algarve for years. Blessed with golden sand coves, almond groves, and Portugal's kindest climate, the Algarve runs along Portugal's southern Atlantic coast.
This region has numerous golf courses for those interested in outdoor sport, as well as plenty of sun, surf, and sandy beaches along the coast. And thanks to a strong expat presence, you can get by in English here.
The Algarve is relatively expensive, compared to the rest of Portugal. But for those seeking a sunny destination where it's easy to transition to expat life, and where you can enjoy a wealth of outdoor sports, the Algarve is hard to beat.
Lisbon and the Surrounding Area
Portugal's capital, Lisbon, is one of the most charming, yet underrated, capitals in Europe. Located along the estuary of the Tagus River, just before it pours into the Atlantic, Lisbon offers a pleasant river and seaside ambience. One of the world's oldest cities—it's well over 3,000 years old, Lisbon offers the faded grace of a great lady. Worn, centuries-old buildings climb its many hills, often offering magnificent views. Lisbon's central, downtown neighborhoods are popular for their shops, cafés, lively nightlife, and beautiful baroque buildings.
In Lisbon you'll find all the amenities you'd expect from a capital city—museums, concert halls, restaurants, chic cafés, widespread public transportation, and an international airport.
Just half an hour from Lisbon by public transportation are the seaside towns of Cascais and Estoril. These towns are popular with expats due to their small-town, cozy atmosphere and their beaches. They offer an alternative to big-city life, yet are within easy reach of Lisbon. You'll find large expat communities here, mostly British, so getting by in English is not a problem.
Porto
Porto, Portugal's second city, sits dramatically atop cliffs above the Douro River estuary, just a scant distance from the Atlantic Ocean.
Porto is famed as the home of port, the fortified wine so beloved by the British. You'll find the caves, or wine cellars, of all the major port producers across the river from central Porto, in lovely Vila Nova da Gaia. But there is so much more to Porto than its signature beverage. Broad boulevards, sidewalk cafés, chic restaurants offering delectable seafood or petiscos, little snacks that are Portugal's version of Spain's tapas… Lively and well-preserved, Porto offers big-city style and verve in a small, cozy package.
Porto's climate is cool and moist, rather like the U.S.'s Pacific Northwest. This is a walkable city. The historic center, with its shops, cafés, markets, museums, and more, is small and can be walked from end to end in less than an hour. You'll find attractive, walkable neighborhoods outside the center, as well. Pleasant river walks run all the way to Porto's Atlantic beaches on both the Porto and Vila Nova da Gaia sides of the Douro.
Coimbra
Lovely, historic Coimbra is also a lively university town, with as many as 20,000 students. A center for science, industry, and healthcare, the city is also rich in traditional handicrafts. The many students keep Coimbra's vibe young, helped along by its mild climate.
Coimbra has a thriving music scene and plenty of festivals, as well as numerous parks, museums, and more. There's plenty to do in this busy university town.
---
How to Move Out of the U.S.
(and Where to Escape to)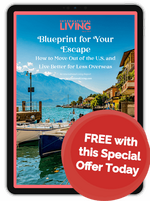 In lots of safe, warm, friendly spots abroad, a couple can live well for around $2,000 a month. Hundreds of thousands of Americans have already escaped—and you could, too. International Living shows you—step-by-step—how (and where) to go. You may be stuck at home right now—but it's the ideal time to put your escape plan in place.
Subscribe to International Living with this special discount offer today—and we'll give you a blueprint for your own escape.
Claim Your FREE copy of this Special Report now when you subscribe to International Living
---
Why I Moved to Portugal
By Tricia Pimental