By Terry Coles
Although Portugal is one of the oldest countries in Europe, the resort town of Vilamoura offers something much different. Here the Portuguese charm is replaced with manicured perfection that has turned it into one of the largest resort complexes in all of Europe.
Vilamoura is home to six golf courses, the largest marina in the country, stunning beaches, and miles of walking and biking trails throughout. Lined with cafes, restaurants, and a casino featuring dinnertime shows, there is always plenty to do. And with Faro International Airport a mere twenty-minute drive away, it is no wonder that Vilamoura is so popular with tourists. But there are those of us lucky enough to call Vilamoura home, long after the tourists have gone.
Even in the middle of pristine newness, history is never far away here. The ruins of two Roman villas serve as a reminder of how life once was here, thousands of years ago. Cero da Vila, shows the remains of two houses, baths, a necropolis, dams and stations for salting and drying fish. Located in the middle of Vilamoura the ruins are open to the public.
During the summer many come to sink their toes into the golden sand on one of Vilamoura's beaches, for a day of family fun in the sun. As night falls the massive, marina complex overflows with tourists and locals alike all enjoying a walk, jog or bike ride along the waterfront. Others who prefer to people watch sit in nearby restaurants and pubs, sipping a glass of Portuguese wine.
Located smack in the middle of the Algarve, Vilamoura is just a twenty-minute drive from the larger cities of Albufeira, Loulé, and Faro. Nearby are mega-shopping centers, a designer name outlet mall, gigantic home stores like Ikea, and some of the finest hospitals and clinics in the country. The central Algarve has it all. Not to mention that expats from the United Kingdom have long called this place home making English almost as common as Portuguese.
Vilamoura sits nestled inside the larger, city of Quarteira, a typical Portuguese town packed with shops, restaurants and lively markets.
Just a few steps from the ocean the fish market features whatever was caught earlier that day. Nearby, the fruit and vegetable markets come alive with the sweet aromas of fresh produce, baked breads and pastries, local honey and more. Locals head into the old town every Wednesday to pick up some cheap finds at the flea market.
Retire to Vilamoura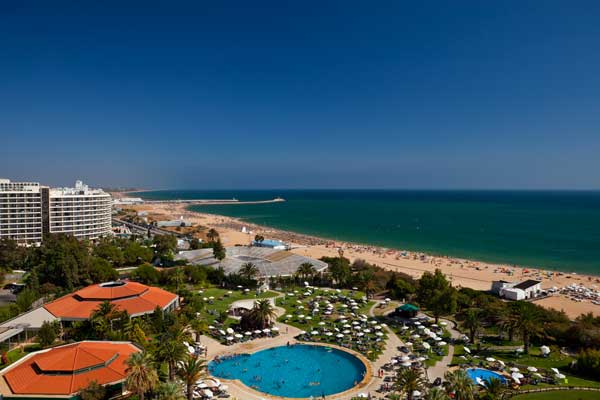 The Algarve has some of the best weather in all of Europe. With over 300 days of sunshine per year, hot, dry summers and mild winters, much of life happens outdoors. And unlike most of Portugal with its rolling hills, Vilamoura is flat and easily walkable.
Those who choose to live without a car can stock up at small supermarkets dotted throughout the town. It is easy to walk from the main town to the marina to have lunch with friends, visit a doctor or get your teeth cleaned at a local dental clinic.
While the low cost, public healthcare system is available to all foreign residents here, most expats prefer to carry private health insurance because it is so affordable. This helps to avoid long wait times ensuring that they can choose the best possible professionals to meet their needs. Depending on age, health conditions and how comprehensive of a policy you might want, cost can vary greatly. But even paying out of pocket one can see an English-speaking doctor at a private clinic in Vilamoura for just $36.
Sit at any roadside cafe and listen and you will be surprised to hear English spoken all around. Although it typically will be British English, which from some may sound like a foreign language, it does make it easy to integrate.
Although Vilamoura is an expensive area by Portuguese standards, cost of living for retiree's greatly depends on one's lifestyle. Those on a budget may prefer to find lower cost housing on the outskirts of town, choose smaller dwellings or pass on dining out too often. Those blessed with money may opt to pay thousands per month for a rental on the marina or spend a million on a house.
Lifestyle in Vilamoura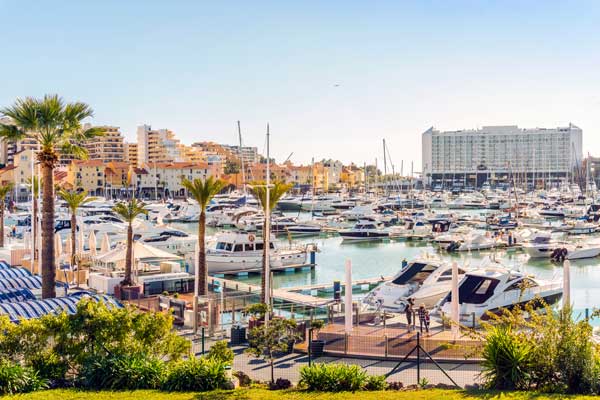 A typical day in Vilamoura for most begins with a walk, run or bike ride along one of the extensive trails. Perfectly maintained, some are framed with colorful flowers, palm trees or pines while others run along the waterfront. Dotted with public exercise stations that some people choose to use for lifting weights that they have dragged from home. It is common to see men doing pullups or sit ups along the way while fit ladies go running by. Nothing like being among the fit and healthy to get one motivated.
If the sound of the ocean calls to you, perhaps you would prefer a walk along the seafront to watch the surfers, body boarders and paragliders soar by? Vilamoura has some of the finest beaches in the country, if not in all of Europe. Praia da Falésia, literally translates to, "cliffs beach" because of its red and tan cliffs that form a wall against the green forest above. Paths that run along the tops of the cliffs overlooking the beach below offer breathtaking views, making exercising a bit more fun. Reward yourself when the exercise is done with a dip in the ocean or have a lie on the beach and catch some rays.
For golf lovers, Vilamoura has six golf courses that host pro golf tournaments throughout the year. The Equestrian Centre has a full schedule of horse show jumping competitions along with a cafe that welcomes all.
Feeling lucky? Vilamoura Casino is the best known one in all the Algarve. It has over 500 gaming machines, rooms for playing blackjack, roulette and poker along with Vegas style music and dance shows.
When it is time to eat head out to one of Vilamoura's many restaurants. From budget friendly fish and chips, pizza or burgers to fine dining, it has something for everyone. Indian, Thai, Chinese, Portuguese, Swedish, Italian, steaks, vegetarian, and even American fast food, it is all here.
Cost of Living in Vilamoura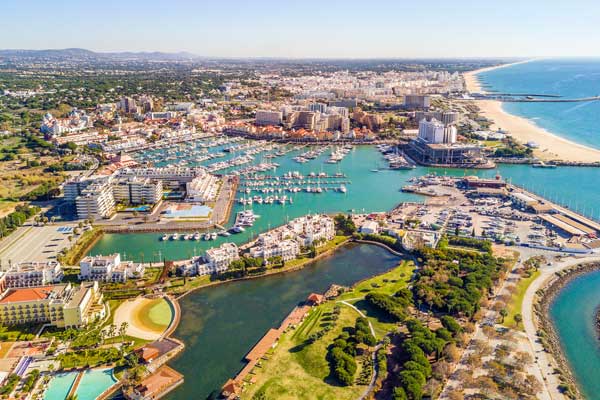 But isn't the Algarve an expensive place to live? Can people on a budget afford to live here? The Portuguese typically make between $850 to $1,200 per month and many of them live here, so if they can afford it, so can you.
Here is an example of what a typical monthly budget for a couple looks like in Vilamoura, based on our own experience:
| | |
| --- | --- |
| Item | Cost in USD |
| Rent for Two-Bedroom, Furnished Apartment | $1,000 |
| Utilities (gas and electric) varies greatly | $140 |
| Water | $44 |
| Internet, Cable, Mobile Phones | $100 |
| Maid (3 hrs, twice monthly) | $55 |
| Groceries | $500 |
| Transportation, Gas, Diesel | $100 |
| Dining Out, Entertainment | $100 |
| Total: | $2,039 |
Other expenses may include health insurance which varies greatly by age, pre-existing conditions and how comprehensive the policy is. Dining out frequently increases a budget as does excessive use of air conditioning and heating since electricity rate is high in Portugal. Since we live on a budget, we do not have a maid, but many expats enjoy this luxury.
Things to Do in Vilamoura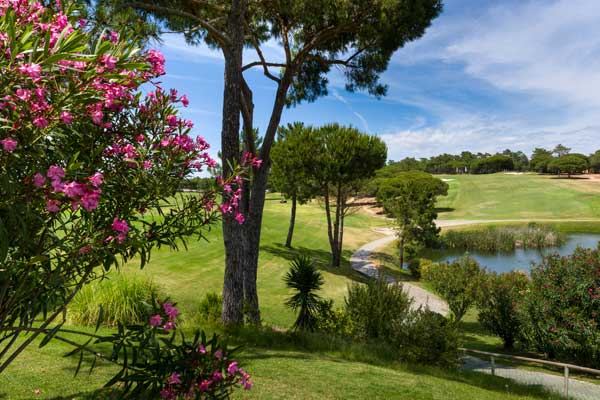 What is the best part about living in a city that is frequented by summer tourists? Those of us who live here year-round can also take full advantage of all that it has to offer, and Vilamoura has plenty. And when the tourists are gone in the fall, some of these tourist attractions offer discounted rates up to 50% off to locals who can show proof of residency.
Not far from Vilamoura, the cities of Silves, Albufeira, Loulé, and Alte are oozing with Portuguese history and charm.
Silves, once the ancient capital of the Algarve under the moors from the 9th to 12th century, was a defensive stronghold. Today it is a bustling city of whitewashed houses perched on the hillside, surrounded by the ancient wall that once protected its castle. The imposing red brick castle looks down over the city as a reminder of the past. Stroll along the cities cobbled lanes, stop for a coffee and pastry in the city center and become one with Portuguese life.
Stop for coffee most anywhere in Portugal and if you are lucky, you may be offered a free shot of brandy to go with it. Always a pleasant surprise.
The largest and liveliest city in the central Algarve is Albufeira. Stroll along the quaint old town with its tiled streets and hundreds of family-friendly restaurants. Looking to party, then head over to The Strip. Lined with restaurants, bars and clubs to dance the night away this is where the action never stops. Albufeira's marina has a fun yet tranquil vibe where you can enjoy a reasonably priced dinner for two with a lovely water view.
To mingle with the locals, head to the market town of Loulé. At the center of the town is the lively, Arabic inspired market that sells handicrafts, produce and fish daily. Saturday mornings savvy locals look for bargains at the gypsy market that sells a bit of everything. And no trip to this typical Portuguese town would be complete without a stop at its castle.
Take a step back in time and visit what some consider to be the most Algarvian village there is, the town of Alte. Dating back to Roman times the village, is a rainbow of colorfully painted houses. The focal point of Alte are two springs where villagers used to go to do laundry in the fresh, clean water. Today the famous springs offer a cool respite from the summer heat or enjoying a brew at a waterside cafe.
Head to the marina in Vilamoura and plan your day out on the water. Book a tour to visit the famous Benagil caves and spot some dolphins along the way. Charter a boat for a half or full day of deep-sea fishing and catch something for dinner. Feel the sea spray on your face on an adrenaline-filled speed boat adventure or rent a jet ski or kayak. Looking for even more adventure? Learn to parasail, surf or bodyboard for an exhilarating time at sea.
Feeling hungry? Head to one of hundreds of restaurants for some traditional Portuguese fare like grilled sardines or bacalhau, a type of salted cod. Not a seafood fan then try some piri piri chicken, a spicy dish brought here from Africa. For those that prefer plant-based cuisine just ask and most restaurants are happy to accommodate. Some restaurants will even offer diners a cocktail on the house after the meal, to aid with digestion, so they say.
From fine dining to budget-friendly, family fare, Vilamoura has something for every budget. Restaurants on the marina can be pricey but walk a few blocks inland and prices are more affordable.
A Tour of Vilamoura, Portugal
Featured Image Copyright: ©iStock/Jacek_Sopotnicki