Guimarães: "The Cradle City of Portugal"
The former Roman city of Guimarães was chosen by the first king of Portugal in 1128 as his administrative base. Today it is designated a UNESCO World Heritage Site. The city is one of the most popular day trips from Lisbon and draws tourists from around the world to visit sites like its 10th-century castle.
Not much remains of the castle, but the ramparts and tower areas offer sweeping views of the town below. Visitors also come to see the Ducal Palace with its distinctive, tall, red-brick chimneys, built by the first Duke of Braganza between 1420 and 1422. Designed in the style of a French château, it is graced with stained-glass windows, painted ceilings, finely carved antiques, and spectacular tapestries.
Despite its historical attractions, the population of this very Portuguese city of 52,000 goes on about its workaday business, creating an interesting blend in the general tone of the city.
Retire in Guimarães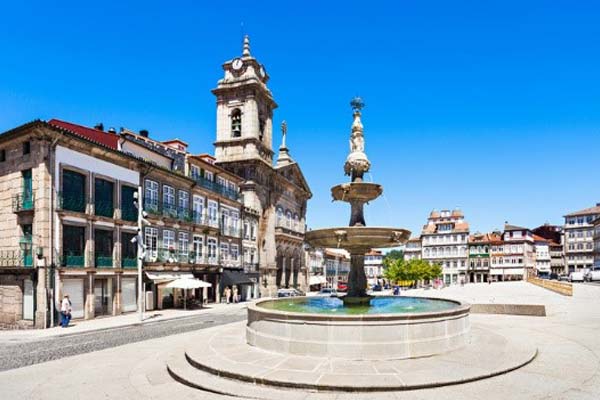 In part because of tourism, you'll find shop and restaurant owners who speak English. The younger generation is taught English in school, and there's a university in town, which attracts Erasmus students from all over Europe and the Far East. Add a modest number of British, American, and other expats, and the active group InterNations in nearby Porto (35 miles to the southwest), and you'll find it easy to make connections.
Summers here are short, warm, dry, and mostly sunny, while winters are chilly, wet, and partly cloudy. Over the course of the year, the average daytime temperatures typically vary from 41 F to 82 F, although extremes can make the mercury dip below 32 F or rise above 92 F.
Guimarães is a walkable city, if a bit hilly. Descending the slopes of the castle area, you arrive at narrow, twisting passageways between stately granite buildings and pleasant squares like Largo da Oliveira, named for the majestic olive tree growing in its center. Here you can while away time and people—watch at any number of outdoor cafés.
Every historic district in Portugal has its share of impressive convents and churches, and Guimarães is no exception. These, together with grand homes trimmed with wrought iron balconies, Gothic arches, and treasures like the Alberto Sampaio Museum offer a feast for the senses.
Shoppers will find all they need here, between GuimarãeShopping, Centro Commercial São Francisco, and Espaço Guimarães, in addition to small stores and markets dotted around the city.
The reliable public bus system offers transportation around town, and even to France and Spain, while the train goes to Porto, Lisbon, and elsewhere. Taxis and Uber are also available to take you around if you opt not to own a car here.
Lifestyle in Guimarães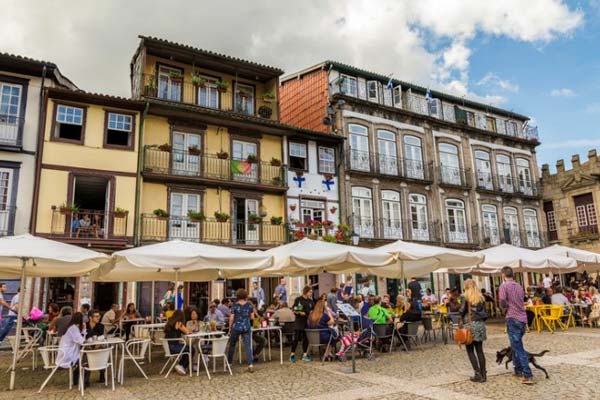 Largo da Oliveira is considered by many to be the heartbeat of the city, a place to sip coffee and dine at leisure in a relaxing atmosphere. It is also where film festivals, art events, and concerts take place. You may even be treated by an elder statesman, a local who occasionally performs live in the plaza, to the delight of passersby.
The weekly market on Fridays behind the castle is an excellent place to pick up goods, socialize, and let the realization sink in that life can, after all, be stress-free.
"One's man's junk is another man's treasure." The adage is true, and Feira de Velharias proves it. In fact, this flea market is frequented by antique collectors from around the world. On the first Saturday of the month, local residents bring their unwanted items for sale: old, handmade toys, paintings, old magazines and rare books, and jewelry and vintage clothing.
The cuisine in Guimarães is weighted toward the Portuguese (pork, beef, fish, and seafood), but living here means also dining at pizza, pasta, sushi, and more.
Cost of Living in Guimarães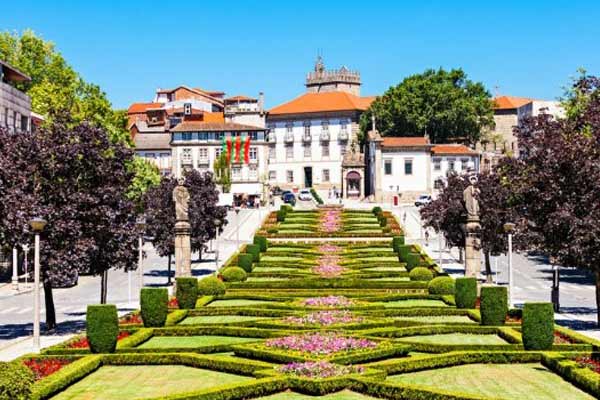 If you're a regular reader of International Living, you already know this: You can travel around Portugal from north to south and west to east, to large-, medium-, and small-sized cities and enjoy a three-course lunch of soup, main dish, and dessert with beverage for somewhere been $8 and $12. The same is true here.
Of course you can always spend more on a meal. Cozinha por António Loureiro is located in the historic district and offers pre-fixe menus ranging from $60 to $90. So, now you also know you have an option to celebrate a special occasion if and when you visit or move to Guimarães.
The following is a breakdown of monthly costs for a couple, based on recent real estate and general budget listings.
 Rent (three-bedroom apartment)
 $905
 Utilities (Gas, electric, water)
 $105
 Internet/Telephone/Cell phones (X 2)/Cable Package)
 $70
 Clothing and Miscellaneous
 $250
 Maid (3 hours twice a week)
 $50
 Groceries
 $495
 Transportation: Mass transit/Tank of gas
 $75
 Dining and Entertainment
 $300
Total
$2,250
 
Things to do in Guimarães
By Kevin Casey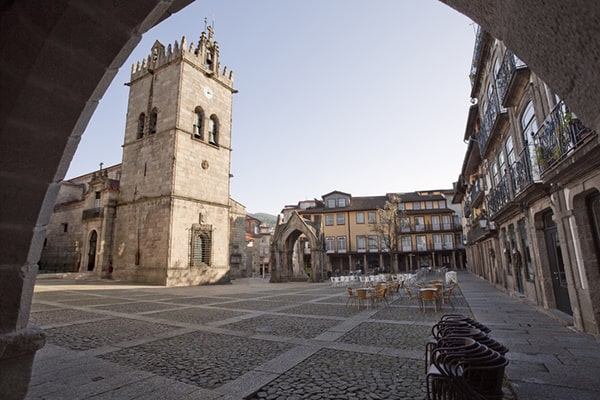 Finding amazing places to see and fun things to do in and around Guimarães is never a problem. This city is one of Portugal's premier cultural hubs and is also ideally positioned between coastal Porto (35 miles to the southwest) and the ruggedly beautiful Peneda-Geres National Park to the north, along the Spanish border.
So aside from all the attractions of the city itself, you also have easy access to some of the finest beaches, rural landscapes, and mountains Portugal has to offer. You could spend months in Guimarães and barely scratch the surface of its never-ending charms.
Here are some of the most interesting things to see and do in and around Guimarães:
Palaces, Castles, and the Old Quarter
If you're the kind of history buff who loves ancient buildings, you'll be in absolute heaven in Guimarães. The World Heritage-listed Old Quarter here is a real treat: walls covered in attractive Portuguese tiles, old stone houses, inviting archways, and ancient street lamps greet you as you wander through the warren of cobblestoned streets. The oldest and prettiest street in town is the Rua de Santa Maria, lined with enchanting ancient architecture.
Overlooking it all is the Palace of the Dukes of Braganza, a 15th-century residence that has had a hard life over the centuries but is still one of the city's most visited attractions. Just up the hill from the palace is the photogenic Guimarães Castle, a medieval structure dating back to the 10th century. The view from its walls and towers is superb.
Largo do Toural Square
If you like the idea of being completely surrounded by traditional architecture, just stand in the middle of this large square. It sits at the edge of the Old Quarter near a delightful park. Look for the big sign that says 'Aqui Nasceu Portugal', which means 'Portugal was born here'.
The sign refers to the battle for Portuguese independence that took place in Guimarães in 1128. That battle's leader (Alfonso Henriques, Portugal's first king) was also believed to have been born in Guimarães. These days, the sign serves as a handy meeting point for free walking tours guiding you around the city's important attractions.
Insider tip: another beautiful square worth visiting is Praca de Sao Tiago. It radiates authentic old world style—right down to the occasional items of washing hanging from the windows of its traditional houses.
Take the Cable Car to Mount Penha
There's only one thing better than riding the Teleferico de Guimarães up to Mount Penha: the spectacular landscapes and soothing walks that await you at the top. Here, you'll find fresh air, huge moss-covered boulders balanced on top of each other, shady paths winding through lush, green forest, and some of the best views of the city.
If you decide to hike up instead, you'll get plenty of exercise, but keep in mind it's steep in some sections. Take a map: more than one tourist has briefly lost their way, especially on the walk down. Riding the cable car (up and back) costs $8.50. The café at the top is only open during the warmer months.
Stroll Along the Largo Republica do Brasil
This elongated square has a beautifully-kept garden running right through the middle. There's a church at one end and a fountain at the other. The avenue starts near the Old Quarter and is a handy place to enjoy a peaceful café break. Sit down, order a $1.20 cappuccino and devour a few tortas de Guimarães—flaky, crescent-shaped pastries filled with ground almonds, egg yolk, cinnamon, and gila squash, dipped in light syrup after baking.
Insider tip: Café food prices in Guimarães are nearly 20% cheaper than in nearby Porto, and apartment rental costs are almost half as cheap—two more excellent reasons to spend more time in this livable city.
Enjoy a Day Trip to Porto by Train
Comfortable, frequent, and direct trains run from Guimarães station (in the southern part of the city) to the Sao Bento train station in central Porto, so it's easy to check times and organize a day trip. The journey normally takes around 80 minutes and costs $3.60.
Because the Porto train station is right in the middle of the main tourist district, you can see many of that city's best attractions by simply wandering around for most of the afternoon, enjoying a seafood lunch along the Douro River on the way. Make sure you check out the beautiful tile paintings on the walls of the Porto train station.
Reconnect with Nature in Peneda-Geres National Park
Driving north from Guimarães for an hour will bring you to Peneda-Geres, a large and spectacular national park boasting diverse wildlife (including wolves and golden eagles), towering mountain ranges, natural amphitheaters, primeval forest, and sparkling rivers.
This preserved region lies along the border with Spain and is a part of Portugal more visitors should see. Geres Mountain and the upper valley of the Homen River are particularly scenic and the region is dotted with traditional villages, ancient castles, and even some Roman ruins.
The park is open year-round and can be explored by foot and by car—the roads are quite good. There's no shortage of walking trails, so just pick one that matches your goals and level of hiking experience. The park has private accommodation and designated camping areas if you want to stay longer.
Dine Like a Local
Sampling the cuisine of Guimarães is pure bliss for the taste buds, and the more adventurous you get, the greater the rewards. Portuguese food is some of the best on earth, whether it centers on succulent seafood, prime cuts of meat or fresh, locally grown produce.
Because Portugal is the most affordable country in Western Europe, you'll get great food value for money. In Guimarães, try the caldo verde soup, cod fish fritters, giblets rice, seasoned pork loin and Caldo River cabbage and bean stew. When it comes to desserts and wine, just pick one—in Portugal, they're all good.
Featured Image Copyright: ©iStock.com/Sergey_Peterman