Tavira, Portugal
By Tricia Pimental
A former Roman seaport once occupied by the Moors, and a town formerly known for carpet making and tuna fishing, Tavira lies 23 miles east of Faro, in the Algarve. Like many towns in the southern region of Portugal, Tavira was basically destroyed in the Great Earthquake of 1755, so many of its lovely buildings were constructed in the 18th century.
Situated on the Gilão River, the town invites visitors to experience a warren of cobblestone streets, traditional white-washed houses, and dozens of churches, many with exquisite azulejos, the classic ornamental blue and white tiles so prominent in Portugal. To the south of the city are the protected waterways, mudflats, bird sanctuaries, and salt pans of the Natural Park of Ria Formosa.
Retire in Tavira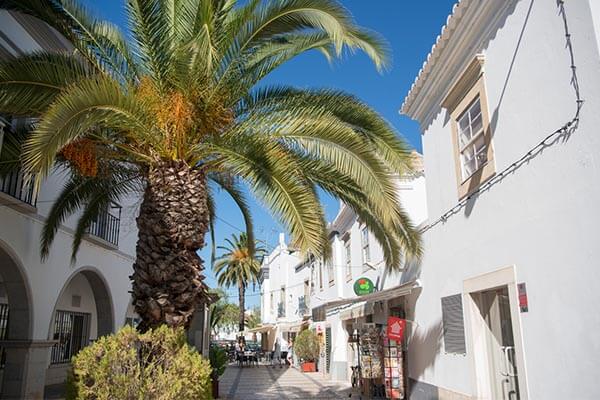 The Algarve in general, and Tavira in particular, offers some of the most beautiful weather in the country. Ideal months for a scouting trip are May, June, and October, with average temperatures falling between 68 F and 77 F.The warmest months are July and August, with an average maximum temperature of 82 F. In winter, the rainy season runs from November through February, with December the wettest month. January, the coldest month, brings an average maximum temperature of 44 F. Despite the chill and precipitation, the area still averages about six hours of sunshine a day in winter.
It's not necessary to own a car here. Buses pull up at the terminal by the river, a two-minute walk from the central square, Praça da República.The train station is about a half mile from the center of town, straight up Rua da Liberdade. Hop on at Vila Real de Santo António and arrive in Faro in 40 minutes. From the Faro station, you can travel to Lisbon and the rest of Portugal. Or stay on and travel west to other popular Algarve towns like Portimão, Lagos, and Sagres.
Shopping will keep you busy in Tavira. Casa das Portas and Blossom offer (and ship) beautiful prints and carefully selected handmade products from around the world. Local craft markets like those found in the gardens at Largo da República and Mercado da Ribeira offer goodies as well, including handsome handmade ceramics and edible treats like luscious fig cakes.
As far as healthcare goes, there are plenty of choices. In addition to a clinic in Vale Formosa and a health center in the nearby picturesque town of Olhão—famous for its riverfront markets—there is access to more than a half dozen hospitals spread throughout Faro, Loulé, Alvor Portimão, and Lagos.
 Lifestyle in Tavira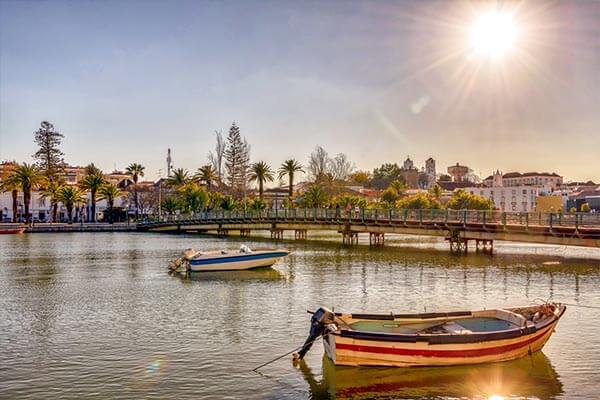 The medieval castle of Tavira lies in partial ruins but offers spectacular views. Inside the castle walls lies a lovely garden. If you're careful (there are no handrails) you can climb up old stone steps within the walls to get even better views of the city. Another draw: in the old water tower next to the castle, a camera obscura gives visitors a 360-degree, virtual tour of the city.
Prefer water to terra firma? Head to the dock at Quatro Águas. After savoring a glass of chilled vinho verde, board the ferry. The brief 20-minute journey, at a roundtrip cost of $2.50, will end in your arrival on one of the finest beaches in all of Portugal. Welcome to Ilha de Tavira, where you'll discover an extensive white-sand beach backed by dunes, a half dozen restaurants offering fresh seafood, tropical-style outdoor bars, and a smattering of vendors selling handicrafts at bargain prices.
There are world-class golf courses in the area, as well as superb snorkeling and scuba diving. If water sports interest you, make your way to Udiving, conveniently located in the Hotel Vila Galé Albacora (there's another in Faro, as well) for equipment and lessons.
This hotel is actually theformer fishing camp Arraial Ferreira Neto, where tuna fisherman of the past lived. Set in the Natural Park of Ria Formosa, their lodging has been converted into a hotel. Today the former chapel hosts weddings and christenings, and the former bakery is now a small museum devoted to the tuna industry.
You can try your hand at fishing yourself, including for marlin and shark, by signing up for a boating excursion at a number of companies offering excursions. If you'd rather just touch on the area's fishing past, make the trip only a couple of miles outside of Tavirato Praia do Barril. On this beautiful beach, rows of rusty anchors have been laid to rest. More than a marvelous photo op, the Anchor Cemetery pays unique homage to the men and women whose livelihood was inextricably intertwined with the sea.
The town of Tavira is perfect for sitting in a plaza or a riverside café to indulge in a cup of freshly pressed coffee and some serious people watching. There are several cafés with outdoor seating in Praça da República, at the Mercado da Ribeira, to the left of the Roman bridge, and on the right of the bridge on Rua Borda d'Água da Assêca. In other words, you won't have trouble finding a spot to laze away a pleasant afternoon.
If you have a sweet tooth, definitely you will want to find a Gelataria Delizia (there are three locations in Tavira) whose 100% natural artisan ice cream comes in flavors like the combo of honey, thyme, and ginger.
With all Tavira offers, your life here will be full. But if wanderlust strikes, know that you are a mere half hour from Castro Marim and the glorious Guadiana bridge spanning the river of the same name. Cross over and you can be in Sevilla, about 90 miles away, in an hour and a half.
Cost of Living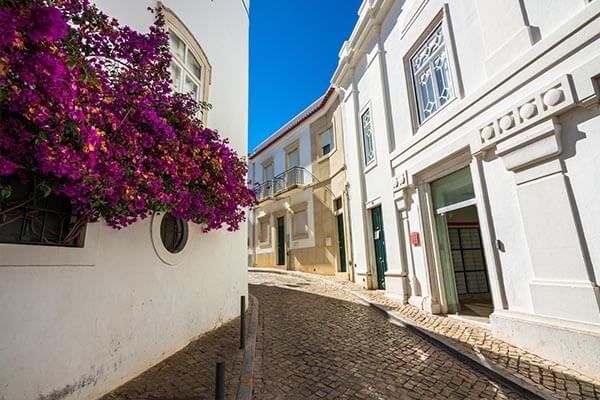 A succession of bars and restaurants line the bank of the River Gilão, which flows through the center of town. On the higher end, Restaurante Mares at Rua Jose Pires Padinha, 134 serves up grilled salmon for $17.50 and octopus rice for two at $48. Vegetarian pasta dishes are available for $14.75. Save room for one of the dozen desserts priced from $3-$4 each.
| | |
| --- | --- |
|  Rent (two-bedroom apartment, furnished, terrace with view of Gilão River) |  $1,200 |
|  Utilities (Gas, electric, water, depending on season) | $105 |
|  Internet/Telephone/Cell phones (two)/Cable Package) |  $100 |
|  Clothing and Miscellaneous | $350 |
|  Maid (three hours, bi-weekly) | $55 |
|  Groceries | $500 |
|  Transportation: Mass transit/Tank of gas | $90 |
|  Dining and entertainment |  $400 |
| Total: | $2,800 |