Braga: The Hub of Northern Portugal
Like so many cities in Portugal, Braga's history was influenced by Roman occupation, and the city's architecture and landscape vividly recall those ancient days. Considered the oldest city in Portugal, it's located in the north, about 20 miles east of the wind-surfing destination of Esposende.
Another factor in Braga's architecture is that it is the seat of the oldest Portuguese archdiocese of Roman Catholicism. Churches, chapels, and convents abound. And, as in most major and in even minor cities in the country, grand fountains and statues punctuate its thoroughfares.
The population of almost 200,000 is primarily Portuguese, but there's a sprinkling of residents from Brazil, Africa, China, and Eastern European countries. The University of Minho adds diversity to the populace as well, with Erasmus students coming from all over Europe and the Far East.
That youthful influence gives a lift to an otherwise very traditional city, and many of the younger locals speak passable English. This, and the fact that many shopkeepers and restaurant owners cater to tourists, makes Braga an easy spot for some expats to adopt as their own. It seems to go under the radar, but as the third largest metropolitan area in the country, it has much to offer.
Retire in Braga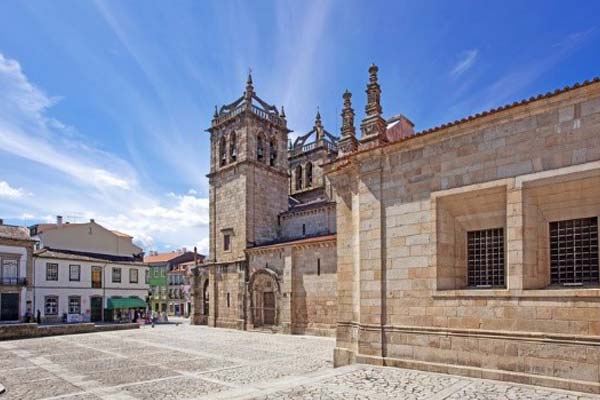 Living here means doing what you want, indoors and out, virtually all year round. The climate is moderate. In summer, temperatures average around 69 F, while in winter that falls to around 47 F. December is the wettest month, with rainfall of about seven inches—similar to nearby Porto's.
The centerpiece is a large plaza and pedestrian promenade in the downtown area. Figuring prominently is the oldest cathedral in Portugal, erected several decades even before the founding of the country.
You can find everything you need here. Braga has two main shopping areas with the typical stores as well as large hipermercados, similar to WalMarts.
Braga's 70 square miles has a fairly spread out feel to it. A reliable bus system enables anyone to get anywhere in the city, even to Porto Airport. Braga is a hub of Northern Portugal, and its train system provides access to major cities in the region and elsewhere in the country.
You'll find taxis too, of course, and it's a fun city to explore on foot—just remember those good walking shoes, a must, really, for all of Portugal.
Lifestyle in Braga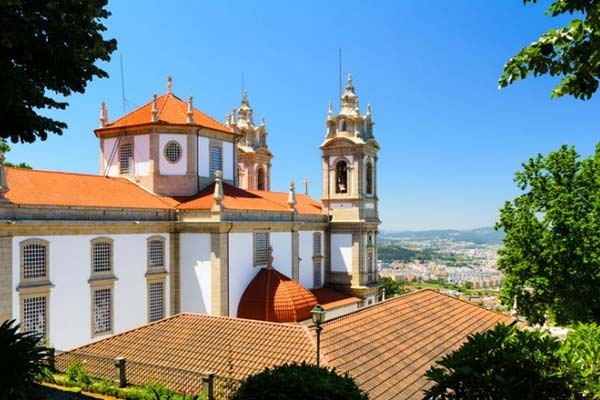 Sports are part of the lifeline of Braga, which boasts a top division futebol team. Culture seekers can immerse themselves in dozens of museums and art galleries. One lovely way to spend time here is at Centésima Página bookstore on Avenida Central, housed in one of the best preserved examples of Baroque architecture, Rolão House. Browse its books and changing art exhibitions before enjoying pasta or a piece of cake in the shop in the rear—or in the garden, weather permitting.
In the district of Braga, the city of Barcelos is famous for its centuries-old open-air market, where you can buy traditional pottery and handmade linens, as well as inexpensive imported clothing every Thursday. You can also find live cattle for sale, as well as poultry and most anything you might want in the way of groceries.
The city has the advantage, as mentioned above, of being only 30 minutes from river- and ocean-side Esposende, and just 40 minutes from cities like Porto, Guimarães, and Viana do Castelo. Many smaller historical towns and villages lie just beyond the city's borders, making for those wonderful scenic outings all expats long for.
Cost of Living in Braga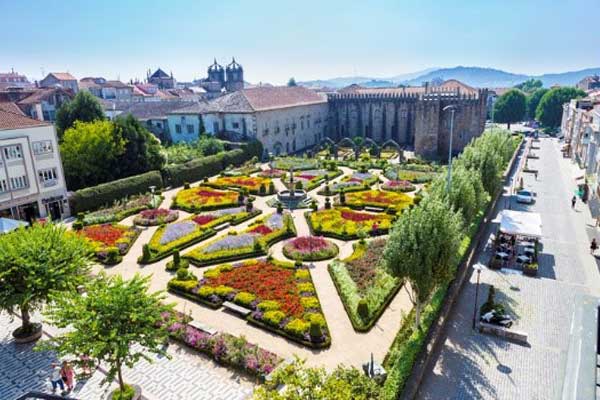 For all its richness, life in Braga is consummately affordable. As it is basically everywhere in the country, the prato do dia, a typical lunchtime meal in an inexpensive restaurant, costs around $10. For that you will receive homemade vegetable soup, main course of meat or fish, potatoes and or rice, and a glass of wine or beer followed by the dessert of the day and coffee.
For about $34 a month, health club membership will help keep all those calories at bay, and for the same price, a monthly transportation pass will take you all around town, as mentioned above.
As far as entertainment is concerned, a movie ticket is less than half of that in Los Angeles: $7 versus $15. And real estate is 81% lower in Braga than the City of Angels. If you think that's an unfair comparison, consider the Midwest city of Indianapolis: Braga still compares favorably, at 58% lower.
Following is a breakdown of monthly costs for two, based on recent real estate and general budget listings:
| | |
| --- | --- |
|  Rent (Three-bedroom, two-bathroom apartment) |  $690 |
|  Utilities (Gas, electric, water) |  $105 |
|  Internet/Telephone/Cell phones (x2)/Cable (Package) |  $70 |
|  Clothing and Miscellaneous |  $250 |
|  Maid (three hours twice a week) |  $50 |
|  Groceries |  $495 |
|  Transportation: Mass transit/Tank of gas |  $90 |
|  Dining and entertainment |  $300 |
| Total | $2,050 |
Featured Image Copyright: ©iStock.com/StockPhotosArt