By Terry Coles
Portimão, the largest city in the western Algarve region of southern Portugal, once known for its fish processing and shipbuilding, has turned into a mecca of shopping and tourism. With a population of around 65,000, most tourists only pass through the city en route to one of its lovely beaches, while others reap the benefits of daily life here.
From the early 20th century Portimão became known for its fish canning industry throughout Portugal, but when the industry declined decades later it had to adapt in order to thrive. Tourism became the focus, and the cities old fishing docks were turned into pedestrian walkways lined with trees and dotted with shops and restaurants.
Retire to Portimão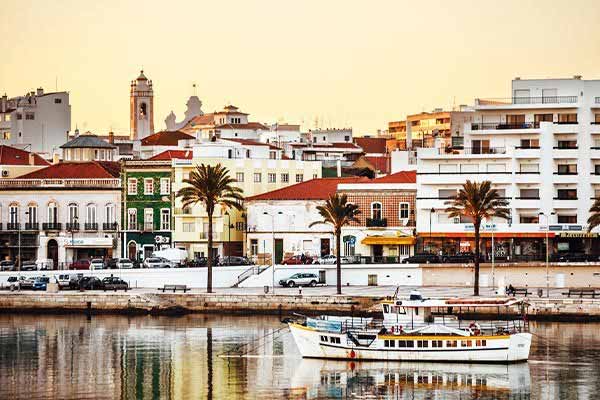 Like the rest of the Algarve Portimão has its share of foreigners who take advantage of big city living. Shopping malls, medical, and dental clinics, and both public and private hospitals provide everything that you need. Hospital Particular Alvor, part of the well-known group with its Joint Commission International stamp of approval can be easily accessed from the city, just a 10-minute drive by car.
The city has more of a Portuguese working-class feel than some of the more touristy towns in the area, but since this is the Algarve English is widely spoken by most.
The interstate highway system in Portugal is one of the best in Europe, with perfectly maintained roads with an automatic toll system, so no need to stop and pay. Side roads, even in rural areas are also well-maintained making driving here easy and enjoyable.
Because Portimão is a large city, expats living here can get around using public transport, eliminating the need for a car if desired. Buses, trains, both inner-city and long-distance offer connections throughout the country along with taxis and Ubers around the town.
Faro International Airport is just a 45-minute drive from the city center making it easy to travel back home and receive visitors
Lifestyle in Portimão
Stroll along the Arade riverfront and nearby marina, or head to the old docks that have been transformed into a promenade of restaurants. Enjoy the fresh catch of the day or other typical Portuguese delights to satisfy your taste buds. The nearby Museu de Portimão, known locally as the sardine museum is housed in what used to be the sardine canning factory. Most of the original machinery is still in the factory where entire families worked; men, women, and children each with their own designated tasks. Visitors are advised to start the tour by watching the film that explains the whole process from catching the sardines through to packing them in neatly boxed tins ready for export. The film, produced in 1946, was first shown in theatres as an attempt to boost demand for sardines which had fallen after World War II. Still today Portugal consumes loads of sardines, typically grilled, drizzled with olive oil, spices, and lemon juice, and served over a slice of bread which helps to absorb the grease. Sardines are served whole and because they are small, the bones can be eaten, too.
Just to the north of the town center is Igreja da Nossa Senhora da Conceição, a Roman Catholic church built in 1476 in Gothic style. Most of the original structure was destroyed during the great earthquake of 1755 but it has been reconstructed in Manueline-style and still serves as the main church for the local community. Vendors outside sell a variety of handicrafts like baskets, traditional lace, ceramics, and leather goods.
Of course, no visit to Portimão would be complete without a stop at the famous beach area, Praia da Rocha, two miles south of the city. The golden sand is flanked by steep limestone cliffs that face the blue sea water decorated with jagged rock formations. Enjoy a slice of history at nearby Fortaleza da Santa Catarina, a medieval fort built in 1691 to protect the mouth of the river Arade. Views from the fort can be lovely, with the beach in one direction and the marina and river in the other.
Expats have long called the Algarve home so it will be easy to fill up your social calendar living here. Nearby towns like Lagos and Albufeira have well-established expat communities that hold events throughout the year. Meet to socialize, play golf, cards, or tennis, join a yoga group, learn to paint, or dance the night away, and more. The choice is yours as to how busy you want to be.
Cost of Living in Portimão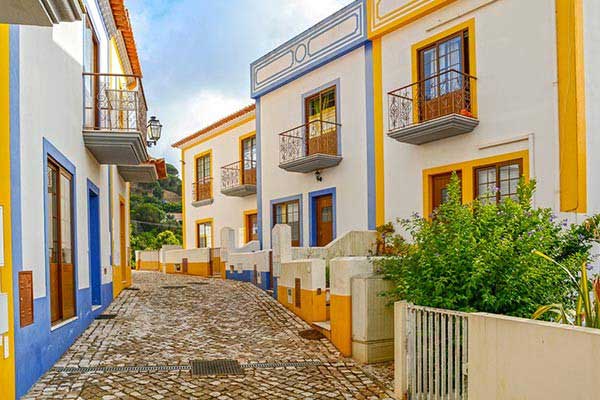 A couple can live in Portimão on a budget of around $2,500 a month, depending on lifestyle, of course. Private health insurance is affordable in Portugal, starting at around $50 a month per person. This cost will increase with age, pre-existing conditions, and how comprehensive the policy is. As residents in Portugal, expats can also take advantage of the low-cost public healthcare system throughout the country. Many healthcare professionals do speak some English, especially in the private system.
A two-bedroom, furnished apartment in the city center can be found for $660 a month or spend a bit more to live in a gated complex with a swimming pool for around $1,100 a month. Local restaurants offer lunch deals for around $10 which usually includes soup, a main course, and a drink. A wide variety of cuisines can be found here to suit every taste, including typical Portuguese fare and vegetarian options.
Expect to pay around $150 per month for utilities, but this too will increase with excessive use of heat in winter and air conditioning in summer. Just like the rest of Europe, the rate for electricity is higher here than in North America but since other things like health insurance, groceries, and dining out costs less the saving are there.
Portugal also has reliable internet, WiFi hotspots are everywhere, and Netflix is available too. Many of the cable packages included programs in English. Cinemas throughout the country show first-run movies in their original language, which means that films from the U.S. and Canada are shown in English with Portuguese subtitles.
The Takeaway
If you like big-city living, want a moderate year-round climate, and long to be a bit more immersed in the Portuguese way of life, perhaps the city of Portimão could be for you.
Featured Image Copyright: ©iStock.com/EunikaSopotnicka