By Terry Coles
If ever a town was founded on curiosity, Caldas da Rainha would be that place. It was in the year 1484 when Queen Leonor was passing through the area and spotted peasants bathing in peculiar, smelling water near the roadside. She questioned them about their strange pastime, and they boasted of the waters healing powers. Her curiosity took over and she had to try out the thermal water for herself. She was so impressed that she ordered a hospital to be built around the spring and the city of Caldas da Rainha was born. That hospital is the oldest purpose-built institution in the world and is still in operation today. Caldas da Rainha literally translates to, "Baths of the Queen," in Portuguese.
Steeped in history this mid-sized city, in central Portugal, has a traditional city center with cobbled lanes, a vibrant fruit and vegetable market, and a bustling shopping area. Located one hour north of Lisbon, Portugal's capital, Caldas as it is commonly called lies on the beautiful Silver Coast. Just minutes from the beaches of Foz do Arelho, the city is packed with plenty to do and thousands of expats to do it with.
The artistic side of Caldas comes alive with larger-than-life statues made by its most famous resident. Rafael Bordalo Pinheiro, a Portuguese artist, caricaturist, and sculptor he is credited for his depiction of the working man called, Zé Povinho. He opened a ceramics factory and school in the city in 1885, both of which are still in operation today. Ceramics are displayed throughout the city and for sale in many of the shops.
Despite its size, Caldas da Rainha has nine museums featuring art, history, cycling, and of course ceramics. The ceramics museum is housed inside a beautiful former palace surrounded by lush gardens.
An afternoon stroll through Dom Carlos Park is a great way to spend the day and stop at yet another museum. Artist José Maloa was born and raised in the city and leaves his mark with an extensive gallery of his paintings and sculptors.
The city is mostly flat and easily walkable making it possible to live without a car. A bus station in the center can take you almost anywhere in the country and even into Spain. Hop on an express bus to Lisbon that takes just one hour and costs $7 for those over 65. A train station also offers long-distance trains to major cities. Taxis are abundant and cheap too.
Retire to Caldas da Rainha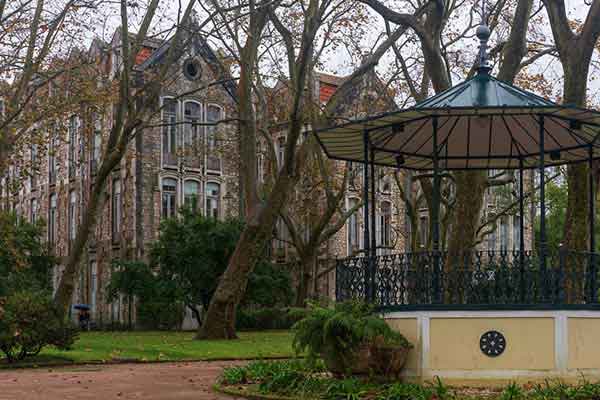 Caldas just might be the perfect place to retire with its low cost of living, large expat community, plenty to see and do, and great healthcare. Mingle among the locals and pick up some healthy options at the Praça da Fruta. Fruit, vegetables, baked good, nuts, dried fruit, and more can be found daily at this lively market. Up the hill from the center is another market that appears every Monday morning. This massive, outdoor market sells just about anything you could be looking for and is fun to browse through. Clothes, shoes, hardware, fabric, live animals, baked goods, ceramics, books, tools, toys and so much more. This is where the locals go for bargains and even on rainy days this place draws quite the crowd.
Portugal offers foreigners top-notch healthcare and Caldas is no exception. Clinics specializing in dental and medical care are abundant and many of the doctors speak English. A public hospital with a 24-hour emergency room sees patients for a cost of just $21. Many expats prefer to use the private hospital with little to no wait time at a cost of less than $40. Pharmacies are easy to find and medication costs, even without a prescription, are quite affordable.
If you are not a fan of extreme heat in summer Caldas may be for you. Summer temperatures are warm or spring-like while winter brings a cooling rain. Mornings on the Silver Coast often begin
with an eerie sea-mist that blankets the area, later giving way to the sunshine. The rural landscapes on the outskirts of town offer stunning views of rolling hills, lush farmland, and orchards of oranges, olives, apples, and pears. Farm wives dressed in cotton, aprons can be seen picking up groceries at the corner markets or on the back of their husbands' tractors.
There is no shortage of things to keep you busy or plenty of other expats to do them with. Groups for hiking, bodyboarding, volunteering, group sports, card and board games, bowling, dances, expat mixers, coffee socials, a historic society, book exchange, boot camps, and more.
 Lifestyle in Caldas da Rainha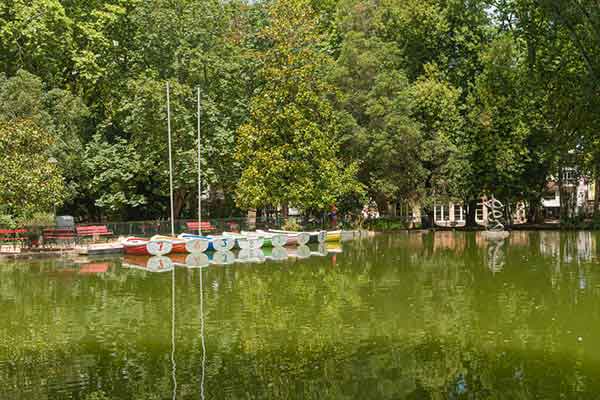 For those who live in the city center, a typical day might begin with sipping coffee at the corner cafe with friends. Those living a more rural life outside the city center can sip a cappuccino on their balcony watching the tractors roll by. Head to one of the five gyms, or take a walk in the clear, crisp air. A gym membership in Caldas costs around $73 a month for a couple and includes a full schedule of classes to enjoy. Although classes are in Portuguese you may be surprised to discover that most of the staff speak English.
Perhaps you need to get some shopping done at La Vie, a modern, three-stored mall full of shops, restaurants, a movie theater, and even a dental clinic. Or simply cross the street to meet up with friends at the restaurant in the park. A virtual gathering spot for the town, Dom Carlos Park is a family safe space full of people, fun, and relaxing spots.
With the Atlantic coastline just a short drive away perhaps a day on the beach or in the water is on today's' agenda? Foz do Arelho has a lagoon that offers safe swimming for families along with a boardwalk for gorgeous views of the coastline. Or take a short drive to Salir do Porto and play on the largest sand dunes in the country to feel like a kid again.
Cost of Living in Caldas da Rainha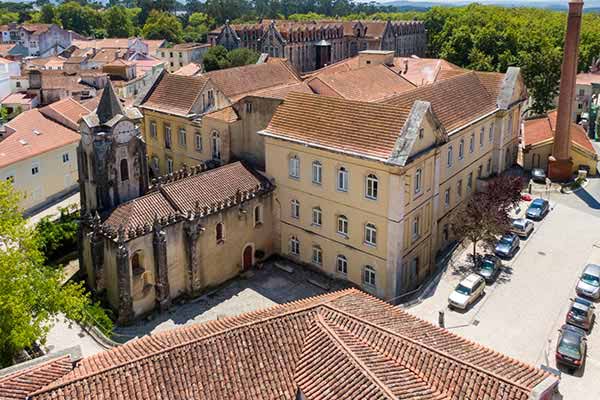 Dining out in Caldas da Rainha is inexpensive with the, "prato do dia," or meal of the day running between $4 to $7, depending on the restaurant. A small, strong cup of espresso can be had for about 60 cents while a milkier coffee similar to cappuccino costs around $1.50. A glass of house wine will not break the budget either, costing around $2.50. A handful of restaurants offering vegetarian/vegan or healthier options can be found also with prices starting at $8.
Below is a sample budget for a couple living in Caldas da Rainha:
| | |
| --- | --- |
|           Expense |       US Dollar |
|           Rent (two-bedroom apartment) City Center |         $450 to $550 |
|           Utilities (gas, water, and electric) |         $100 |
|           Internet, Cell Phones, Cable Package |         $90 |
|           Maid (three hours, every two weeks) |         $55 |
|           Groceries |         $500 |
|           Dining Out-Entertainment |         $400 |
|           Public Transport-Tank of Gas |         $90 |
|           Monthly Total: |    $1,685 to $1,785 |
In addition, to the above expenses, many expats choose to carry health insurance to access the private healthcare system. The cost can vary greatly depending on the person's age, health condition, and how comprehensive the policy is.
Things to do in Caldas da Rainha
By Terry Coles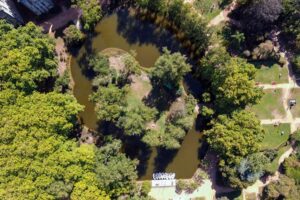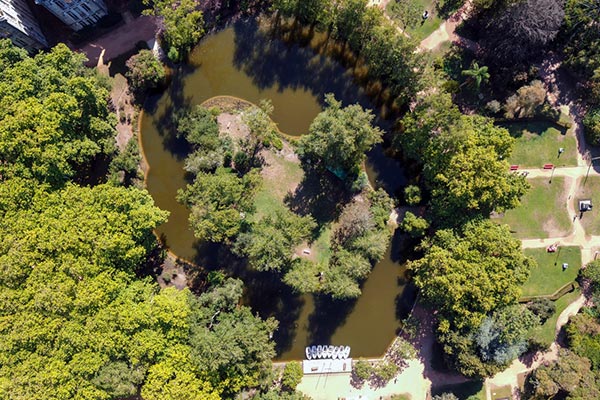 The city of Caldas da Rainha is bursting at the seams with things to do. Its compact design and mostly flat pavement make it a walkable city. At the heart of the city is Praça da República a fruit and vegetable market. Local vendors set up stalls featuring freshly picked produce from nearby farms, baked goods, dried meats, nuts, and flowers. Mingle among the locals, make a few friends and pick up some bargains.
Every Monday morning, up the hill from the fruit market is a massive, outdoor market. Vendors come in droves from all over the country to sell everything from nuts to bolts.  Browse through hundreds of stalls selling clothing, shoes, household items, fabric, tools, toys, live animals and more.
Look around at the artistic vibe that decorates the city on every corner. Witness the larger-than-life, ceramic statues that portray the working class. Created by one of the cities most famous residents, Rafael Bordalo Pinheiro, his cheerful designs are displayed everywhere.  He founded a ceramics school to keep his legacy alive, and still today students work hard to hone their skills.
Caldas as it's commonly called, it is home to nine museums that offer exhibits on art, history, cycling and of course, ceramics. The ceramics museum is housed inside a former mansion surrounded by lush gardens.
Caldas da Rainha literally translates to, "Baths of the Queen," since it was built around a thermal, hot spring back in 1485. Queen Leonor was passing through the town when she noticed peasants bathing in the thermal spring. After taking a dip for herself she ordered a hospital to be built to allow all to benefit from the waters healing powers. So naturally there is a museum dedicated to the hot spring that can be visited too.
From the cobbled old town, it is an easy walk to La Vie, a modern shopping center. It comprises three levels, a large food court, cinema with first run movies in English, and even a dental clinic. The food court features a large-screen television where old men wearing traditional berets often gather with friends to watch soccer.
Across from the mall is Dom Carlos Park, a romantic garden set amongst the facade of the original thermal hospital. Once a space for patients from the hospital to convalesce in nature, the park was remodelled in 1950. Today the park a meeting place for friends, families and nature enthusiasts alike. Stoll along the manicured paths, admire the statues along the way and stop to feed the ducks at the man-made lake. Rent a small boat to row across the lake or just sit a spell on a nearby bench. Throughout the year the park hosts flea markets, equestrian shows, and festivals.
The Cultural Center and Expoeste both have a varied schedule of performances, exhibitions, festival and music to entertain throughout the year. In the center of town, the bullring is still present and opens in the summer for bullfights. Although opinions on bullfighting differ, it has long been a part of the Portuguese culture. Like it or not, we must respect the customs of our adopted country.
Bowling anyone? How about joining a non-competitive, weekly bowling group for a night of socializing and fun? A cost of less than $20 includes three games, rental of equipment and a choice of dinner with wine.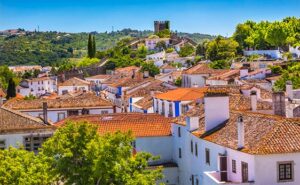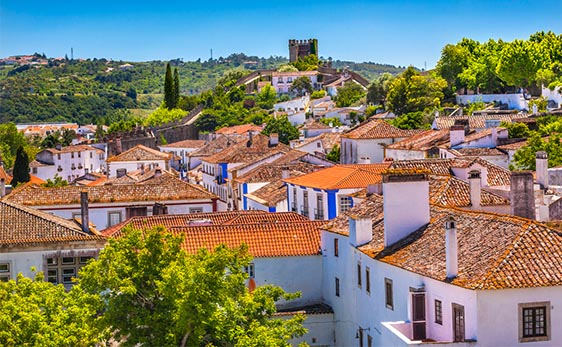 No visit to the Silver Coast would be complete without a stop in the walled, medieval village of Óbidos. Wander the narrow streets and enjoy a taste of "ginga," a sour cherry liquor served in a chocolate cup. Walk uphill past the tiny shops selling local handicrafts, food, and alcohol. Stop for a peek at the well-preserved castle that once protected the village.
The Silver Coast Volunteers provide a variety of services to help better the community and hold a regular book exchange in the nearby village of Óbidos.
Animals lovers can donate their time, money and talents to one of several local shelters.
Popular UK group sports like rounders and netball are held regularly and welcome new participants.
If the sound of the ocean calls out take a short drive to the coastal village of Foz do Arelho. Here the Atlantic Ocean meets a tranquil lagoon that provides a safe spot to cool off on summer days. Continue to drive along the stunning coastline with a stop in Salir do Porto, home to the largest sand dunes in the country. Visit the former fishing village of Nazaré to watch daredevil surfers tackle the biggest waves in the world. Stand among the spectators and watch in awe as the colossal waves pound the coastline.
Trek up the small hill to, "o sitio," and leave the tourists behind. Here traditional fishing wives dressed in petticoats of seven layers and head scarves sell their handicrafts. Pop into the sanctuary and hear the legends of Nazaré from long ago.
Go inland to the city of Alcobaça, to visit the monastery and hear the love story of Pedro and Inês. Pedro, being of royal descent was forced into an arranged marriage to a woman he did not love. Fortunately, for him, she died soon after marriage and he was able to flee with his one true love, Inês. The couple escaped to Coimbra, but Pedro's father intervened and had Inês murdered. The ornate tombs of these star-crossed-lovers are on display in the church.
The town of Batalha is dominated by a gigantic, jaw-dropping monastery in the city center. Feel like royalty as you stroll down the center aisle and witness the radiant hues from the stain-glassed windows reflecting on the massive walls. The town name means, "battle" and serves as a reminder of the Portuguese victory in the Battle of Aljubarrota in 1385.
My husband, Clyde, and I began our lives in Portugal on the outskirts of Caldas da Rainha where we lived for two years. We were amazed at the number of expats living there full-time and the never-ending list of things to do, all so close by.
Featured Image Copyright: ©iStock.com/Atlantico Press