Laidback Lagos: Your Ideal Portugal Destination
Northwest Portugal conjures up images of verdant landscapes and terraced rows of plump, luscious grapes of the port wine-growing region in the Douro Valley. The capital of Lisbon evokes thoughts of iconic yellow tram cars rattling over the city's seven hills, descending to the Tejo River and Atlantic Ocean—a bustling destination offering a multiplicity of cafés, restaurants, specialty bakeries, night spots, museums, and parks.
Regions like Trás-os-Montes in the northeast, Beira Interior, and the Alentejo hint at authentic Portugal, where cork-lined country roads stretch for miles, dividing fields of red, yellow, and purple wildflowers, and where you had better have a working knowledge of the native language to facilitate your daily life.
But the Algarve? That's a whole other story.
Not long ago I received an email from a couple who attended our Bootcamp Conference in Santa Fe this past November. Nick and Lynne were considering expatriation, but weren't sure which country to choose. They had narrowed it down to three, wisely planning to spend a month in each location to test the waters. Mexico was on the list, but only because of proximity to the States and the availability to easily visit family. One preference was Spain; the other, Portugal.
The two chose the southern portion of the country, the Algarve, as their possible Portuguese retirement locale. This is where expats seeking both pure relaxation as well as sports enthusiasts of many stripes find their needs are met. In their email, the Greves asked if I could recommend specific cities in the region. Perfect timing, I wrote back, I'm about to write a piece on Lagos. Now it's perfect timing for you, too.
Retire in Lagos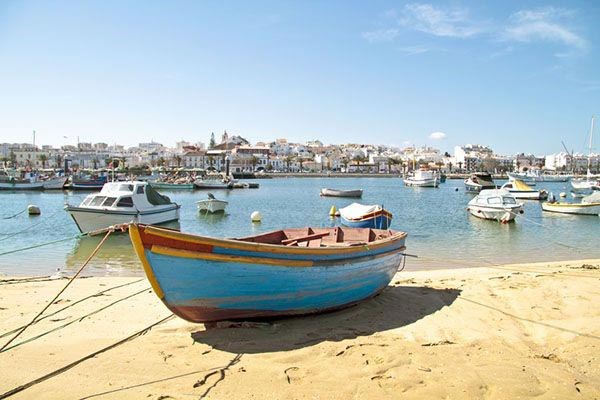 One of the most important components of a successful expatriation is, as they say, to know thyself. Ask yourself every question you can think of about your patterns, personality, goals, and tastes. Take your time with the answers. For example, do you want to see the shoreline when you sip your morning coffee? Or do you prefer a mountain vista? Maybe you're a native New Yorker like I am, and living in the hear-a-pin-drop countryside would be unnerving. (It isn't for me, by the way.) If so, perhaps you'd be better off in the capital, in the "second city" of Porto in the north, or in the centrally-located university town of Coimbra. Or one of those cities' suburbs could offer the perfect balance for you.
If you're one who said yes to living near the ocean, there's no better place to explore than the expat haven of Lagos. The town is blessed with a year-round moderate climate, with average temperatures ranging from 52 F in winter to 75 F in the summertime, when the normal average population of 22,000 swells with visitors from Europe and elsewhere. While landlubbers enjoy golfing, tennis, horseback riding, and hiking, the ocean offers the best of conditions for kayaking, paddle boarding, surfing, kite surfing, windsurfing and more in the area's tourist-based economy.
It's easy to get around Lagos on foot. Much of the city is fairly flat, especially around the lovely marina, although you should always wear comfortable shoes for the cobbled streets and whatever hills you might encounter. Buses and taxis will also help you get around, and trains can take you to other regions of the Algarve and even up to Lisbon and beyond.
About thirty minutes to the west of Lagos is the town of Sagres, famed for its historic connection to the Portuguese Age of Discovery. Head north from there and you'll encounter the ruggedly beautiful Natural Park of Southwest Alentejo and Costa Vicentina. To the east, important cities include Albufeira which boasts a lively (there are 100 bars and restaurants in Old Town alone) nightlife, and Faro with its International Airport, just one hour from Lagos. As you approach the Spanish border, you'll discover Tavira, and Rio Formosa Natural Park.
All these ingredients—a pleasant climate, lovely natural surroundings, dining and party venues, and easily available transportation—make Lagos an ideal choice for retirement.
Lifestyle in Lagos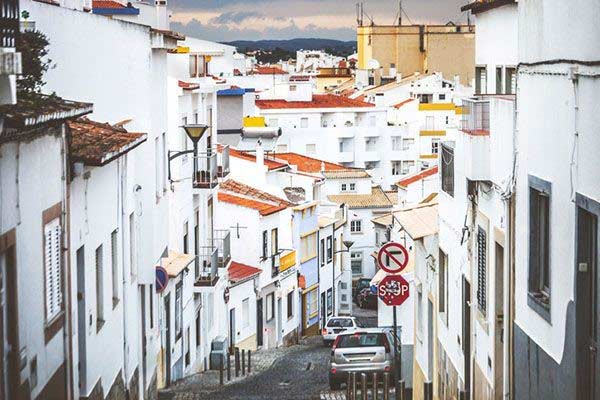 What would your life look like in Lagos? A typical day might begin with an early cup of coffee and warm custard tart known as pastel de nata, savored on your veranda overlooking the brilliant blue Atlantic, sparkling with sunshine. Then perhaps take the 6:58 bus to Loulé to visit the famed Moorish-inspired covered market. You'll arrive by 8:15, still in time (the site opened at 6:00 a.m.) to pick up fresh dorado, salad greens, roasted peppers, and olives drenched in garlic and oil. Pack up your goodies in a freezer bag (or if you do have a car, a cooler) and take a moment to select some fresh-ground, organic coffee and a bottle of wine for dinner. Looking for home décor? You'll find a wide variety of hand painted ceramics and lovely linens to add just the right touch to your retirement haven.
Back home, stow your purchases in the kitchen and opt for a stroll through the historic district. Stop into an Irish pub for a snack and a brew, or shop for more home furnishings at a design store specializing in Indian imports. Or spend a relaxing afternoon on arguably one of the loveliest beaches in the region, the wide expanse of Meia da Praia. Whatever you choose, you'll be ready and relaxed to prepare a dinner for friends among the expats you've met since arriving in town.
Together you'll all toast to the life you dreamed about, wondering what took you so long to arrive in this warm and welcoming country. In fact, the global expat network InterNations recently revealed the results of a 2018 study of 13,000 expats from 188 countries: Portugal is the "the friendliest country in the world."
Cost of Living in Lagos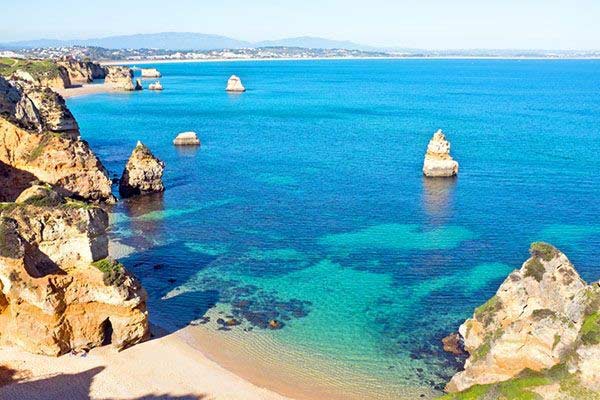 Despite the tourist-oriented nature of Lagos, particularly during the peak season of July and August, prices are not as high as you might think. Here's what you can expect in the way of expenses, based on a monthly average for two people.
| | |
| --- | --- |
| Item | Cost in USD |
|  Rent for two-bedroom furnished apartment |  $900 |
|  Utilities (Gas and electric) |  $100 |
|  Water |  $30 |
|  Internet/Telephone/Cell phones (2)/Cable (Package) |  $100 |
|  Maid (three hours bi-weekly) (Average rate $7.50/hour) |  $50 |
|  Groceries |  $500 |
|  Transportation: Mass transit/Tank of gas |  $100 |
|  Dining and entertainment |  $300 |
| Total | $2,080 |
Things to do in Lagos
By Kevin Casey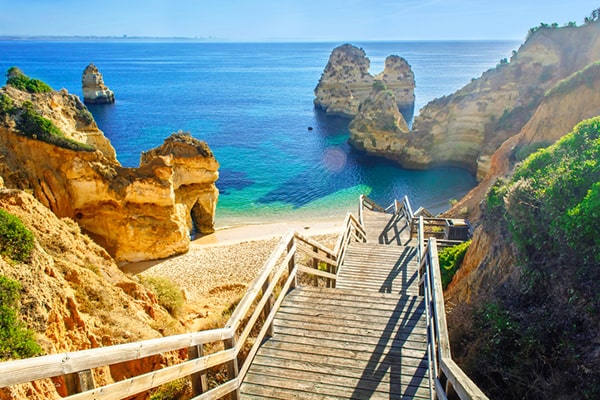 Lagos offers some of the most stunning beaches in the Algarve, a rich history, a buzzing café and nightlife scene, and an abundance of natural beauty. No matter what you like to do, you'll never be bored here. Many of the best attractions and activities are easy to access and budget-friendly.
Here are some of the best ways to spend your time in beautiful Lagos:
Embrace the Beach Life
The entire coastline around Lagos is magnificent. One of the best ways to explore the many cliff-lined beaches, secret coves, and fishing villages is to hop on a local bus or rent a car. Another option is to rent a bicycle, which only costs about $20 per day.
There are a few nice beaches within walking distance of the old town, too: small and secluded Praia do Camilo (an attractive snorkeling spot), Praia Dona Ana (sheltered and surrounded by ochre-colored cliffs), Praia da Batata (pretty but crowded in summer), and the sandy expanse of Meia Praia (ideal for surfing).
One of the delights of visiting this part of the world is that there's a perfect beach for every purpose. Serious surfers head to Sagres, about 35 miles from Lagos, where towering cliffs and turbulent seas come together. To immerse yourself in a quiet, authentically Portuguese fishing village, try Burgau, just nine miles away.
Across the water from Meia Praia is the spectacular town of Alvor, a 13-mile drive from Lagos. Its whitewashed houses, Moorish history, and riverside vibe make it a pleasure to stroll through, and its Praia da Rocha beach is one of the most inviting in Europe.
Wander the Historical City Center
Few cities in southern Portugal compare to Lagos for sheer variety of historical buildings and monuments, stretching back through more than two thousand years of Carthaginian, Roman, and Moorish influence. The old town's maze of narrow, wave-patterned streets are partially enclosed by 16th century stone walls and easy to navigate on your own—you don't need to pay for a guided tour.
Amble past small cafes and traditional houses to reach a number of intriguing buildings, including the Bandeira Fort, the San Antonio church, and the first slave market in Europe—Mercado dos Escravos.
Get Out on the Water
To truly appreciate the beauty of southern Portugal's coast, hop on a boat tour departing from the Lagos Marina. A typical dolphin-watching trip will take about an hour and a half and cost around $55. A journey to the area's best caves and sea grottoes is also around 90 minutes and will set you back $25 to $30.
If you want to try your luck with deep-sea fishing, expect to pay around $60 for a three-hour fishing trip with a local captain. Mackerel and snapper are common targets, and the occasional grouper is also caught.
In Lagos, you'll find speedboat tours (yes, you will get wet), sunset sailing cruises, and all the usual water sports options for hire: jet skis, paddleboards, kayaks, etc.
Hike the Algarve Coast
The western Algarve boasts some outstanding coastal walks. One of the most accessible is the hike between Burgau and Lagos. Just take a local Onda bus (Line 4, about 40 minutes, $3) from Lagos to the village of Burgau and then walk east back along the well-signed track to Lagos. This walk takes about four hours and is much more pleasant during the cooler months.
Try the Local Food
Because tourism is big business in Lagos, you won't have trouble finding an assortment of Western-style foods as well as Indian, Chinese, Thai cuisine, and other possibilities, if that's what you're looking for. But half the fun of visiting Portugal is trying its many authentic regional dishes, preferably washed down with local beer or wine.
One dish you won't want to miss is cataplana, a rich seafood stew with rice and clams that's cooked and served in the same copper dish. And if you've always wanted to sample some fresh grilled octopus, Lagos is the perfect place to give it a go.
Grilled sardines and piri-piri chicken are Portuguese staples, and for dessert, try the dangerously addictive pastel de nata, a creamy custard tart sprinkled with cinnamon that tastes divine fresh out of the oven.
High Rope Adventures in the Forest
One way to counteract the effects of all that delicious Portuguese food is to get some exercise—and test your skills at the same time. A company called Parque Aventura runs high ropes courses just east of Lagos featuring a range of different circuits leading from tree to tree along bridges, rope nets, and zip-lines. You can choose between three levels of difficulty (Curious, Adventurous, and Fearless).
Once you've been provided with the right safety gear and received instructions, you tackle the trees, monkey-style. These high ropes courses are suitable for adults and children, well-supervised, safe, and loads of fun. And if you're game, there's no law against completing all three levels in the one day for the ultimate sense of personal accomplishment. This same company also offers paintball adventures.
Come Alive at Night
When the sun goes down and temperatures cool off, Lagos shows off its chilled nightlife. It's the kind of place where backpackers, European tourists, and families all manage to have quite a good time, gravitating to their favorite bars, restaurants, ice cream shops, and stroll-worthy avenues. If you're after a cheap but hearty meal, Lagos won't disappoint—you just need to avoid the overly touristy parts of town and cast a wider net for eateries.
The two most popular beer brands in Portugal are Sagres and Super Bock, but many lesser-known craft beers are available too. Wine buffs will love the Algarve reds including Aragones, Syrah, and Alicante Bouschet.
Portugal is one of the best places in Europe to get affordable, good-quality wine.
Insider tip: it's cheaper to order wine by the pitcher than by the glass: a liter of the house wine (vinho de casa) in a Lagos restaurant can cost as little as $4.50.
 Featured Image Copyright: © iStock.com/Nisangha