Porto, Portugal: A Full Guide to Portugal's Charming Second City
Porto, the second largest metropolitan area in Portugal after Lisbon, is located on the Douro River where it flows into the Atlantic. The city is home less than 240,000 people in the city center (about 2.4 million in the greater metropolitan area) and has a small city's feel and friendliness. But it's also a thriving international business city, with many expats finding all the amenities they need, including an international airport.
Retire in Porto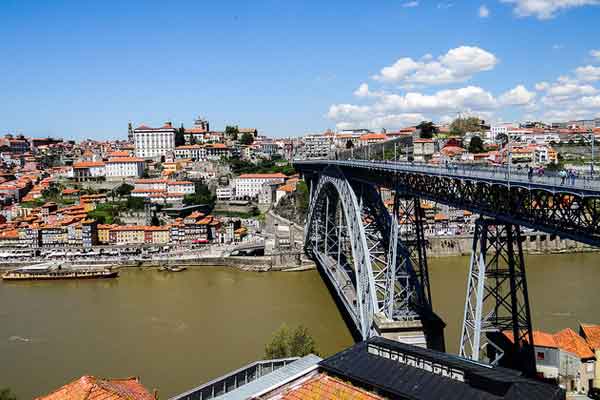 The richness of culture available makes the city an ideal place for retirement. You'll be surrounded by elegant parks with fountains, statues, and exotic plants, leafy boulevards, and cobbled streets lined with historic buildings. Porto's cool, mild, climate means temperature averages around 65 F in the dry summer season, and 50 F in winter, which lasts from December through March and can be wet.
However, in Porto, there's no need to own a car. There's an extensive bus network and a tramway—the first on the Iberian Peninsula—using vintage cars, and the metro will take you to the golden sands of the Atlantic in just 15 minutes. But the town is best experienced on foot and its scenic riverfront provides the perfect backdrop for an anytime stroll.
Retiring in a city that boasts beautiful architecture creates a sense of perpetual vacation. One impressive edifice is the São Bento train station. The station, the oldest and most beautiful in Porto, was built on the site of a Benedictine monastery. The big draw is the panels comprised of 20,000 blue-and-white azulejo tiles, a glazed colored tile traditionally used in Portuguese buildings. Dating from 1905 to 1916, they are the work of famed craftsman Jorge Colaço.
Another example is the Cathedral, or Sé, dating from the 12th century. Fortress-like in design, its walls are also covered in azulejos. The Romanesque gem is where famed explorer Prince Henry the Navigator, known in Portugal as "Infante Dom Henrique", was baptized.
The Church of São Francisco, Porto's most important Gothic monument, is another impressive site.  It's 17th and 18th century Baroque interior, is filled with spectacular gilt-covered wood carvings and features a polychromed altarpiece from 1718 depicting "The Tree of Jesse"
Speaking of lovely buildings, Café Majestic, opened in 1921, is considered one of the most exquisite cafés in the world. With a long tradition as a gathering place for the literary, artistic, and political elites, you will surely sense the glamour of that past when you pass through its Art Nouveau doors. The restaurant is located on Rua Catarina, a street that also boasts plenty of stores for browsing and shopping.
Rua Santa Catarina is the main shopping street in Porto. Here, Zara, H&M, and other trendy stores mingle with fine jewelers and souvenir shops to offer a satisfying variety for every taste. Part of the street is closed off to traffic, so you can stroll, dine, drink, and people-watch at your leisure.
Lifestyle in Porto
Besides history and culture, this is a city where food and wine are inextricably interwoven into its residents' lifestyle.
Perhaps the most iconic dish in the north of Portugal is francesinha, literally, "Little Frenchy." Tradition says it was invented in the 1960s by Daniel David Silva, who had lived in France, basing his creation on the classic croque monsieur, a toasted ham and cheese sandwich with béchamel sauce. A daunting concoction, the francesinha is made of bread, wet-cured ham, linguiça, fresh sausage, and steak or roasted meat, all topped with melted cheese and a hot thick tomato and beer sauce. Sometimes an egg is thrown in for good measure. Silva is said to have invented this dish while working at A Regaleira, a Porto restaurant.
Porto is of course famous for its fortified wine of the same name…port. Walk across the Dom Luís I Bridge over the Douro River to Vila Nova de Gaia, and dip into one of the many wine cellars or caves. There you can take a tour and participate in a tasting for about $6. Popular choices are Graham's, Taylor's, Sandeman, and Quinta de Noval. Another good option is Cálem, all the easier to visit as it's the first place you'll encounter when you exit the bridge onto Cais de Gaia. One lesser-known house is Vasconcellos, family-owned and in operation since the 18th century. Some houses provide fado, the country's iconic song accompanied by stringed instruments, for your sipping pleasure.
Porto loves to party. In midsummer, you can catch the Festa de São João, the Festival of Saint John. A tradition dating back more than six centuries, it is the city's most important celebration. Beginning in the afternoon of June 23, thousands of people flood the streets of both the city center and small neighborhoods to celebrate.
Originally a tribute to John the Baptist, during the 19th century the populace introduced activities with roots in pagan courtship rituals. Festival-goers pelt each other with garlic flowers and soft plastic hammers, jump over flames, and eat boiled eggs and sardines (sardinhas) grilled on outdoor barbecues. Midnight brings a fireworks display and dancing continues into the wee hours of the morning.
Cost of Living in Porto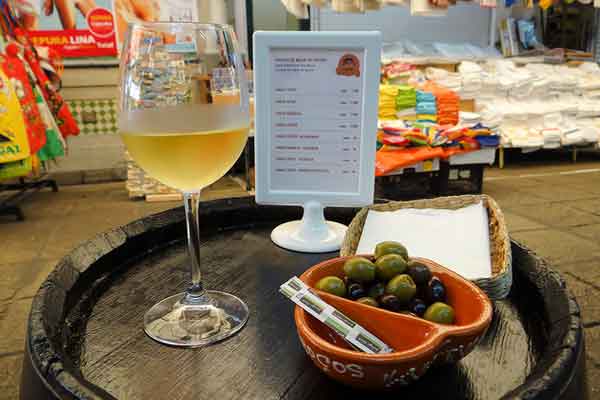 For all Porto's natural and architectural beauty, fine food and wine, and pleasurable pastimes, it's surprisingly affordable to live here. A cup of coffee in a café is a dollar or less, fresh fruit $1 per pound, and a three-course lunch for two including wine at a mid-range restaurant will cost you just $30. Senior discounts are offered in many museums, trains and other points of interest. Here's some useful monthly cost of living information, to help give you an idea of what you might expect to spend living in Porto:
| | |
| --- | --- |
|  Item |  Cost |
|  Rent (one- bedroom apartment) | $750 |
|  Utilities (Gas and electric, depending on season) |  $150 |
|  Water |  $50 |
|  Internet/Telephone/Cell phones (x2)/Cable (package) |  $100 |
|  Maid (3 hours bi-weekly) |  $50 |
|  Groceries |  $500 |
|  Transportation: Mass transit/Tank of gas |  $100 |
|  Dining and entertainment |  $300 |
| Monthly Total | $2,000 |
Many European cities have been sought out by expats from the U.S., Canada, and Australia in recent years. What Porto offers is an enchanting combination of Old World charm and First-World convenience wrapped in a consummately affordable and attractive package.

Get Your Free Portugal Report Here:
Romance, culture and adventure awaits in Portugal. Learn more about Portugal and other European countries in our daily postcard e-letter. Simply enter your email address below and we'll send you a FREE REPORT - Explore the Old World in Laidback Portugal.
This special guide covers real estate, retirement and more in Portugal and is yours free when you sign up for our IL postcards below.
Video Tour of Porto
24 Hours in Porto: What to See, Do, and Eat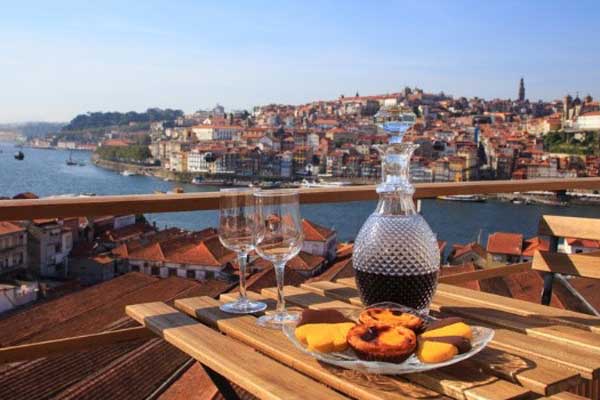 By Jeff D. Opdyke
There is a notion, afoot for years now, that pastries for breakfast are death on a plate. Dear, Lord: Please never allow this madness to migrate to Portugal. By which I mean, I woke up in Porto, starving, and immediately set out for the Majestic Café to begin my 24 hours in Portugal's second city.
Most cities have their unique charm. Porto's is that it is a less-polished, quieter, more Bohemian and touristically less-mature city than its big brother to the south, Lisbon. Yet Porto's picturesque location along the Douro River, its compact central tourist area, and the colorful tile work and pastel rainbow that exploded across the ancient buildings means Porto is a great city to spend a day wandering and eating… and wandering some more.
And, as every day should by law, it starts with…
Breakfast at the Majestic Café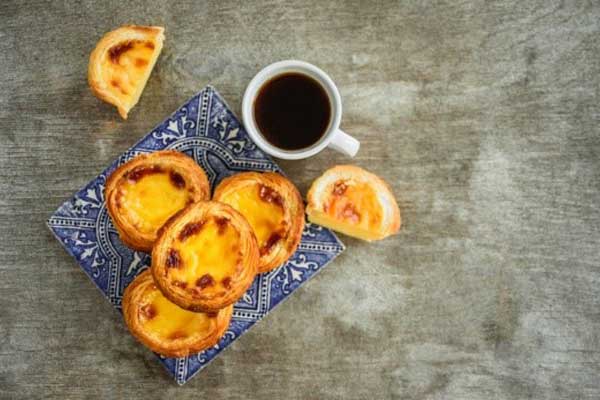 Few Belle Epoque eateries evoke an era as much as the Majestic. Built in 1921, this café in the center of Porto is the place for a languorous breakfast before the day's walking commences. Sure, you can order a full plate of food, but why? All one really needs to gather the morning's necessary fuel (before what will be a calorie parade at lunch) is a velvety tart known as pastel de nata—a couple of bites of egg-custard in a pastry shell, dusted with cinnamon. Pair it with an um galão directo (a milk-and-coffee drink with an added shot of espresso) and this is the true breakfast of champions, or at least those trying to win the game of life by experiencing some of the best of what every culture offers.
You can find pastel de nata all over Porto. But again, why? The smell of old leather. The wood. The glass and mirrors. The high ceilings and plaster frieze. Stepping into the Majestic is like stepping into 1920s Paris. As much as this is about pastel de nata for breakfast, it's also about starting your day with a sense of history and elegance.
Wander … Just Wander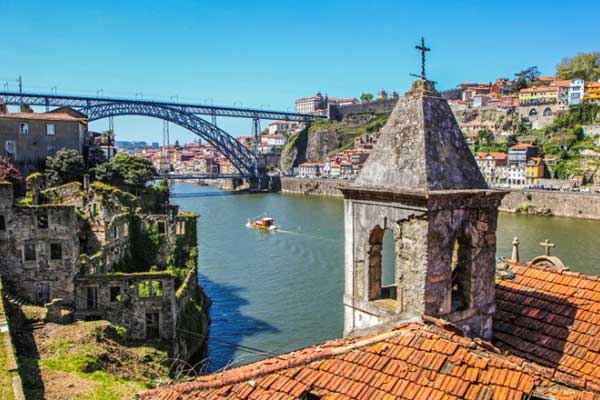 Porto is a beautiful city in perfect disrepair. It's like seeing an elderly person and instantly knowing that, back in the day, they were an elegant stunner. That's Porto. And the best way to experience her charm is to wander her streets aimlessly. Slip into the various churches you'll inevitably pass, including the Sé do Porto, the main cathedral begun in the 12th century. Stroll the gardens. Climb the stairs through the small alleys you'll find; you'll often end up in a wondrous spot with a Kodak-moment view. Walk along the Douro. Hike the 225 steps of the Baroque-era Clerigos Tower. Pop into shops and outdoor, neighborhood markets. Your legs will scream; this is a hilly town. But the experience won't leave you disappointed.
Lunch with Locals on a Porto Belly Bomb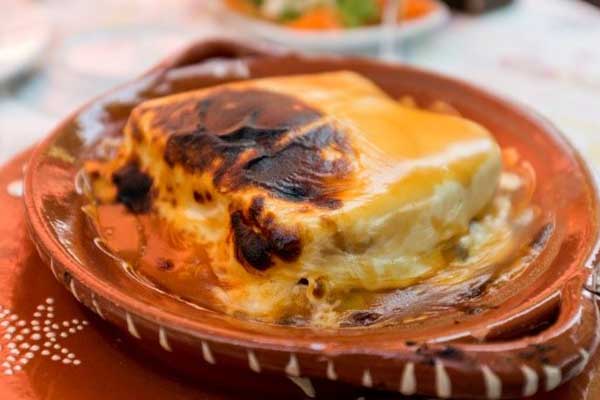 I am not going to tell you that the francesinha is the world's best sandwich—not when our world is filled with sandwiches such as Vietnam's bahn mi, Uruguay's chivito, and a hot, debris po-boy from a hole-in-the-wall in the New Orleans French Quarter. But I am going to tell you that, unless you're a vegetarian, you cannot leave Porto without the experience of a francesinha (sounds like: fracis-zeenya).
This obscene bastardization of France's famous croque-monsieur marries ham, sausage, and a thin steak between fat slices of bread, that's then swaddled in a blanket of melted cheese, bathing in a tomato-beer sauce, all gussied up with a fried egg on top. Thus, you now see the wisdom of my proposal that you subsist on but a single pastel de nata for breakfast.
You'll find many eateries with francesinha on the menu. For me, it was O Golfinho, located on a downtown side-street, which mean it's off the typical tourist trail. This is one of the best places to find the calorie monster. But arrive early. O Golfinho opens at noon and it's a thin, shotgun-house of a restaurant that seats less than 30 people—and those 30 people (and more) routinely show up for lunch, packing the place. Arrive early; leave stuffed.
Walk across the Ponte De Dom Luis I.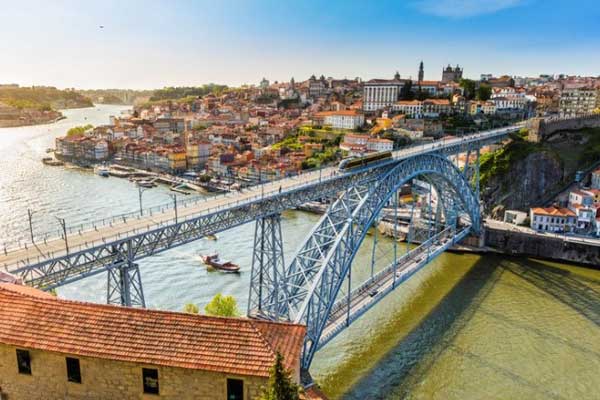 You will, of course, demand sleep after an O Golfinho outing. Resist the Sandman's call. Instead, it's time to burn off some of that francesinha. For the same reason walking across the Brooklyn Bridge is a thing, so, too, is trekking Porto's iconic and scenic Dom Luis bridge spanning the Douro River. Here you find one of the postcard views of Porto.
There are two ways to do this, so do both. This is a double-deck bridge: take the lower bridge on your way across, and the upper bridge on your way back into the city (or vice versa). Up top, you will share the bridge with Porto's modern metro rail. Down below, you'll share it with cars. Either way, you'll have beautiful views of the city.
Don't Drink the Water! (Drink the Port)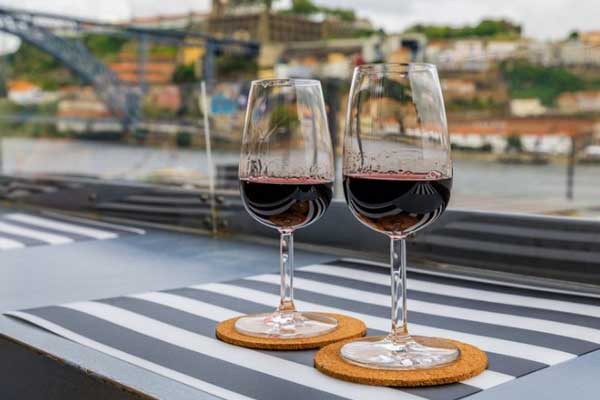 Port wine was born in Porto. And the city is home to famous port cellars including Sandeman and Taylor. Just across the Dom Luis bridge, take a right—and in less than 10 minutes you're at Sandeman, where you can tour the cellars and taste the end product.
Afterwards, amble back toward the bridge, aiming for the upper deck. When you reach the metro tracks, hang a right (away from the river) and walk a few blocks. You will come to the entrance, on the left, to the Serra do Pilar Monastery, where you'll find a small park with one of the best views of Porto and the Dom Luis Bridge.
Tapas, Portuguese-style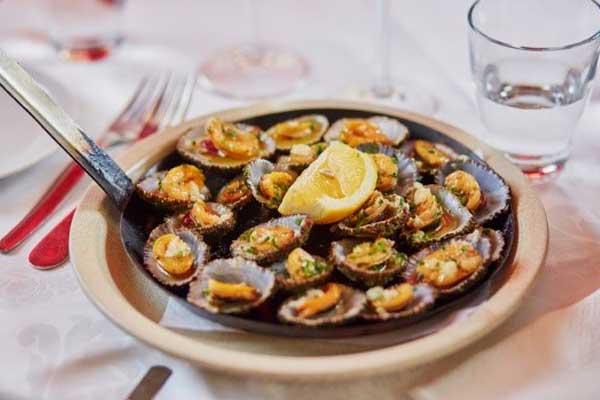 Spain has its tapas, Portugal has petiscos. Lots of spots claim they're the best at petiscos in Porto—and, really, who can say? For me, I'd argue Alfredo Portista is one of the tops. It's a tasca, the British equivalent of a neighborhood pub, and it looks the part. Don't expect Michelin-star ambiance. Do expect lots of memorabilia on the walls dedicated, shrine-like, to the local soccer club, FC Porto, and lots of locals jabbering about soccer and politics. The food here is fresh, flavorful and, best of all, dishes are generally between $1 and $3. But the doors shut by about 8:30 p.m. —allowing you to get back to your hotel early and pass out from all the walking and eating in Porto.