The Venice of Portugal
Written by Tricia Pimental
Brightly-colored boats cruise a network of canals as seagulls sail effortlessly overhead. The gondola-like transports, moliceiros, were historically used to carry seaweed—moliço, from which they take their name—salt, and fresh fish from the Ria de Aveiro lagoon.
Today these crafts carry different cargo: tourists. As in Venice, Italy, this is one of the favorite pastimes of visitors to this second most populous city (78,000) in central Portugal.
That population is distributed over roughly 76 square miles, a community whose industry is now centered on the production of ceramics and software. By both embracing the future and retaining its history of salt production and shipping, Aveiro offers an interesting blend of energy and laidback living.
Retire in Aveiro, Portugal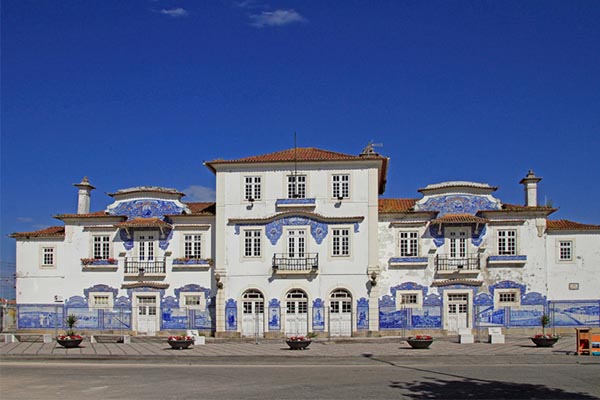 Aveiro draws visitors on day trips from Porto, just 45 miles to the north. Tourism, coupled with the presence of a university, are a plus to the potential retiree: you can get along quite nicely speaking only English.
Just as vacationers take day trips to Aveiro, as a retiree you'll have access to Portugal's "second city" and all it offers. Leave for Porto in the morning by train, spend the day, and then head to Porto's azulejo-adorned São Bento Train Station, arriving home in Aveiro about an hour and 15 minutes later.
Summer temperatures range from daytime highs of 70 F to an overnight low of 60 F, while winter brings temperatures of 58 F down to the low 40s F. Typical for Mediterranean climates, summers are dry and winters are wet; Aveiro receives about 37 inches of rain a year. But remember this positive: its proximity to the Atlantic translates to those comfortable summer temperatures and the rarity of frost in winter months.
The city of Aveiro has numerous shopping centers and malls, so you can find everything you need in the way of groceries and other necessities. Many of the shops are chain stores that you'll find in any Portuguese city, but the Forum complex is largely open air and built alongside one of the canals.
For a less sterile shopping experience, expats head to contemporary craft shops and gourmet stores like those found on Rua dos Combatentes da Grande Guerra and Rua do Principe Perfeito.
With respect to security, you might already know that Portugal was ranked the third safest country in the world in 2020 according to the Global Peace Index. Public healthcare is offered at clinics, and private health care is easily attainable and affordable at Hospital de Luz.
Lifestyle in Aveiro, Portugal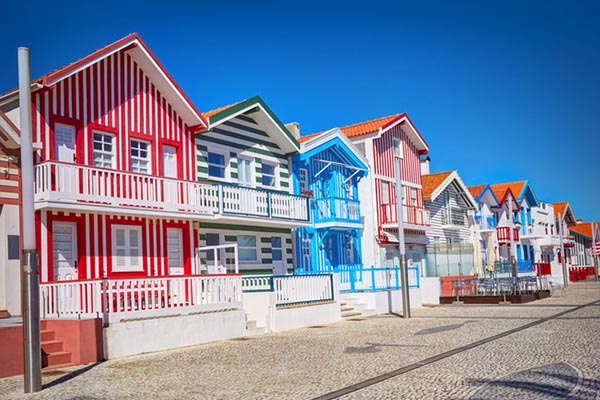 You might want to begin your day in a historic building dating from 1937 overlooking the Central Canal. The Hotel Aveiro Palace, within walking distance of many of the city's attractions, is known for the tiled walls of the room where its breakfast buffet is served.
Strolling in Aveiro is an adventure, when you can enjoy the classic black-and-white Portuguese pavement, calçadas, designed with maritime motifs echoing the city's location and history. Streets like Ria de Aveiro are famed for shops selling local specialties and their Art Nouveau architecture. One example is the lovely blue building located on Rua Dr. Barbosa de Magalhães. This is where you can visit Casa de Chá, a café with outdoor garden, and a modest but interesting Art Nouveau museum upstairs.
Speaking of cozy cafés and treats, one regional goodie to sample is ovos moles, a sweet pastry made from eggs yolks and sugar, wrapped in rice paper. Another is pão de ló, the lemony sponge cake traditionally prepared at Christmas and Easter, whose recipe dates from the Middle Ages.
Yet another choice is artisanal ice cream from Gelados de Portugal. They offer unusual flavors like requeijão (Portugal's version of ricotta cheese), and pumpkin jelly.
When you're close to the main canal, visit the outdoor market next to Jardim do Rossio to watch artists at work, then pick up something for your apartment or to give to the inevitable visitors you'll receive in your new home.
If markets in general interest you, head to the indoor food market at Praça do Mercado to get some ideas for dinner. Depending on how early in the day you arrive, you can watch the fisherman bringing in the catch of the day at the Praça do Peixe.
The Aveiro Museum (and others) holds treasures to discover, but if you prefer to remain outdoors, borrow a bike for free from a kiosk near the municipal market and take a leisurely ride to the sand dunes of Costa Nova, less than seven miles from Aveiro. Home to a collection of colorful striped buildings and waterfront restaurants, it's an ideal place to spend a relaxing afternoon, as is Praia de Barra, just to the north, where the waters are calmer.
Return your bike and wrap up your day with a well-deserved salt body scrub at the spa in Marinhas Grã Caravela e Peijota.
Cost of Living in Aveiro, Portugal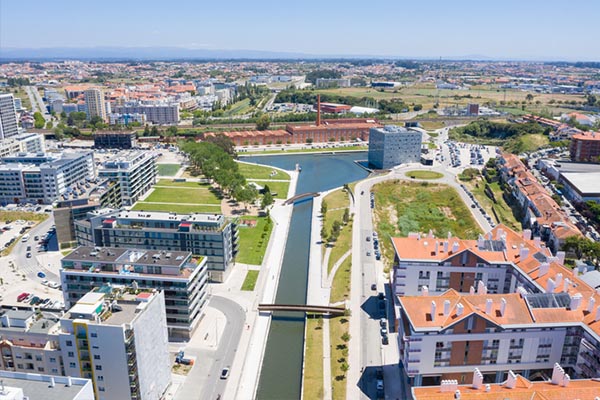 Eating out in Aveiro, as in all of Portugal, is consummately affordable. You can enjoy a quick sandwich at a local padaria for about $5 or linger over a sumptuous seafood lunch (or gluten-free option) at the popular A Peixaria ($35 for two, with drinks). Either way, it will not be a strain on your wallet.
Following is a breakdown of monthly costs for two people based on recent real estate listings and the usual budget costs, which are consistent throughout the country. Singles can expect to pay approximately two-thirds of the total figure at bottom.
| | |
| --- | --- |
|  Rent (three-bedroom, two-bath apartment, city center) |  $900 |
|  Utilities (Gas, electric, water, depending on season) |  $150 |
|  Internet/telephone/cell phones (2)/Cable (package) |  $100 |
|  Clothing and miscellaneous |  $350 |
|  Maid (three hours bi-weekly) |  $55 |
|  Groceries |  $500 |
|  Transportation: monthly pass |  $45 |
|  Dining and entertainment |  $400 |
| Total | $2,500 |
As always, the best way to decide where to move is to plan a scouting trip and see a location firsthand. So when you visit Portugal and see the capital of Lisbon, and hopefully, the North, don't just explore Porto and its sister city of Vila Nova de Gaia. Head south a bit and check out the charming "Venice of Portugal" for yet another expat option.

Aveiro: Old-World Cruising in the Venice of Portugal
By Seán Keenan
The canal's waters reflect the sun and soft light dapples the façade of a grand old mansion. I'm on a gondola-like boat gliding alongside cobbled slipways, lush parks, and ornate art nouveau townhouses, beating the crowds to an undiscovered European gem.
It may sound like Venice, but Aveiro, in central Portugal, is a smaller, more relaxed affair. No hordes of tourists here. With a population of around 78,000, Aveiro is an easy day trip by train, car, or bus from Lisbon— two hours away—and Porto— about an hour.
Curiosity brought me here on a relaxing overnight stay. Atmospheric cafés and restaurants ply their succulent wares on pavement terraces, as the sun glints off the city's lagoon. A lunch of locally caught scabbard fish or grilled mackerel at a canal-side restaurant will cost you less than $15, including wine. Enjoy a coffee and delicious pastry to the sound of church bells and chattering starlings, and you'll see change from $2.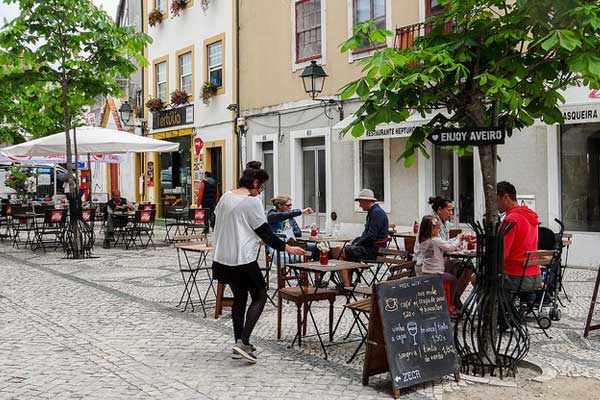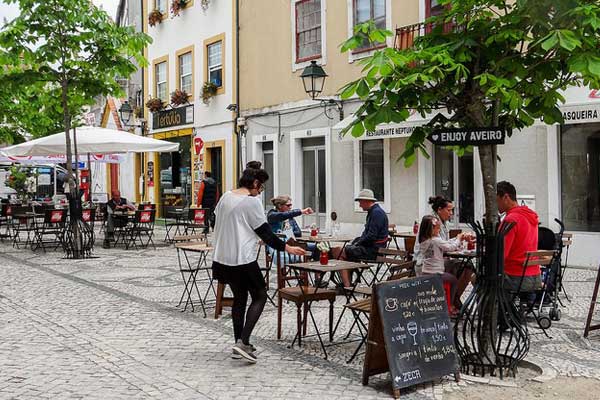 If you do only one thing in Aveiro, though, make it a guided tour on a typical moliceiro boat. These brightly painted craft are a lot like gondolas and were once used for the local trade in salt and seaweed.
A cruise of just under an hour takes you through Aveiro's maritime past, its ornately tiled historic architecture, and its bustling fish market. Cruises leave from the central Rossio area every half-hour from midmorning until dusk and cost less than $10. You may have time to sample the 15th-century Aveiro City Museum's intricate splendor while you wait.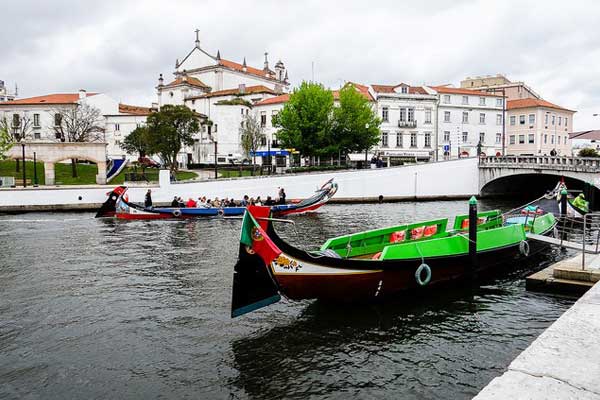 The city itself is no museum, though. You'll find a vibrant community of students keeping things lively and a relaxed hospitality industry ensuring English-speaking guides and hotel staff year-round. It's also worth noting that excellent surfing beaches are just a few miles west.
At the Vera Cruz grocery on decoratively cobbled Praça 14 de Julho, the staff roast coffee and dispense the regional specialty, ovos moles (rich, egg-based sweets), from dark wooden drawers more steam-age than information-era. Finding it? Just follow the smell of roasting coffee.
Feature image copyright: ©iStock/Acnakelsy